How Mobile Apps are Revolutionizing the Health and Fitness Industry?
Do you want to track your health and fitness in a hassle-free manner? Are you looking for a tool that can help you track your calories and eating habits to stay healthy? If the answer to these questions is yes, then choose the high-quality health and fitness apps to achieve your goals. There is no denying that the zeal of healthier and longer lives have lead to continuous advancements and research in the healthcare industry. One of the breakthrough changes in this industry is the mobile apps development. Health and fitness apps have already initiated a huge sea change in the way patients relate to doctors and vice-versa. Well-developed apps are already empowering people to have an active role in their own healthcare.
There is no exaggeration in saying that health and fitness industry is one of those sectors that have undergone a radical transformation due to app revolution. Apps developed to monitor and improve the health of people are becoming ubiquitous. There was a time when it was very difficult for a hospital to manage the bills, reports or any other details about patients. However, there are apps that can fetch the complete patient-specific data to their system. Thus, patients can easily download their health reports. Apart from this, it is important to know about some other ways in which mobile apps are changing the health industry.
Mobile Apps Development: Changing The Way of Maintaining a Healthy Lifestyle
Now is the time to have a look at some important benefits of mobile app development for health and fitness industry:
Fitness has Become More Accessible and Affordable
With the advent of apps for the healthcare sector, there is no need to go hunting for a yoga class or gym in your neighborhood. Apart from this, you don't have to hire costly trainers to maintain your health. All you have to do is look up a suitable mobile app that is capable of meeting your needs. After finding such app, simply install it in your phone and start doing exercise. Hence, it can be said that now distance and money can no longer prevent an individual from doing exercise.
Monitor Workout Routines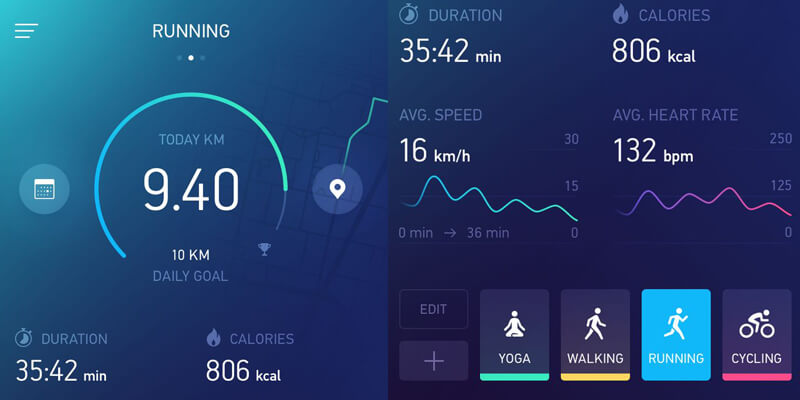 There are numerous
mobile apps
that will enable you to put data like your daily routine, calorie intake, and your fitness goals. Apps will then monitor your calorie intake as well as calories burnt throughout the day and will motivate you to perform better.
Set Realistic Fitness Goals
Many of us aspire to look fit regardless of our lifestyle. With the help of apps, you can set up realistic goals within the desired time frame. This way you can move to the next level after achieving the first target.
Track Personal Training Efforts
By using an app designed for training tracking mechanism, you have the chance to track your training efforts and monitor your progress. The best thing about such apps is that they work on GPS system and thus, can easily track your speed as you walk or run.
Ensure Good Diet
There is nothing wrong in saying that correct diet is of utmost importance to stay healthy. If your major concern is about the food you are eating, then you will be able to find a lot of apps that will help you in eating healthy food. In addition, you will get to know about the nearest dietary store, healthy methods of cooking. So, choose the best app in this category and improve your health.
Better Availability of Medicines
With the emergence of mobile apps in the healthcare industry, You can compare prices as well as facilities before visiting any healthcare service provider. By having a look at the reviews of previous clients, easily check the quality of service of that particular service provider.
Stay Connected with People Having Same Motive
There are many health and fitness apps that are linked to social networking sites. With those apps, you can stay connected with people having same fitness goals. In other words, you can be a part of an inspiring community of health lovers. Also, you can have healthy competition among the members.
Hassle-free Search for Doctors and Hospitals
There are many healthcare apps that can help you in making the search as per your geographic location. Some advanced apps even help in calling the doctor easily. You even have the chance to see the facilities available at a particular hospital.
Save Time
You have an option of doing video chat with health experts. This way you not only save your time but can get the desired service easily. In order to ensure the authenticity of the prescription, you can connect to many doctors.
Concluding Note
By witnessing all the above-mentioned advantages, you can say that healthcare or medical app development is a boon for all those who want to live a healthy life. However, healthcare apps offer an affordable as well as convenient way to satisfy your needs. Consumers using health related apps are found to have reduced their visits to physicians. Apps are making this industry more convenient. Applications meant for doctors help them to be more effective, whereas apps for patients give them control over their healthcare.
Related Articles:
Continue exploring the landscape of product design with these helpful resources:
fitness app development
health app development
medical apps