Have you ever doubted the usefulness of Mobile App Push Notifications? Or maybe you discarded the whole notion as a mere inconvenience for the user? Or you were simply oblivious about its potential? In this article, we have sworn to tell you all there is to know about the magic of engaging push notifications which can turn your app from a "One-tap wonder" to users' favorite.
Here are some statistics showcasing the role that push notifications can play in the future of mobile apps –
A

Report by Localytics

on

Push Notification statistics

showed that push notifications can increase your app retention by multi-folds.

On average,

users open an app 14.7 times per month after accepting push notifications,

as opposed to an average of 5.4 times when they don't.

Users who consented also engage with the app 3 times more and 65% of which also returned to the app after 30 days. In addition, after 90 days one-third of the users who accepted push notifications were still active on the app, whereas only 11% of users were inactive.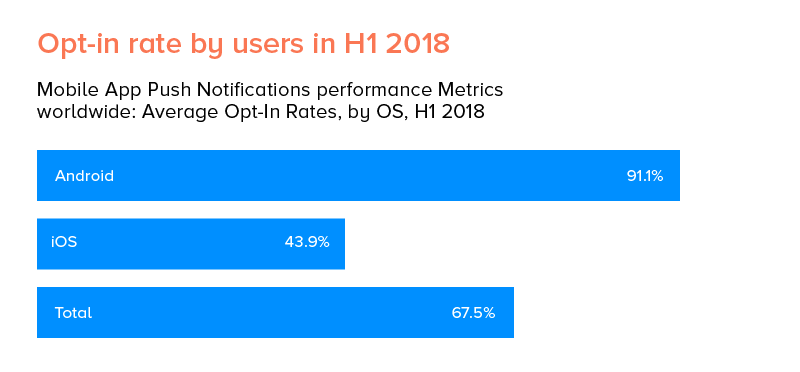 So, you see how this one small mobile app promotion strategy can bring you a huge loyal customer base. Well, to fully understand why all business giants prefer and adopt this method, you will have to reach deeper into the core of it all. So, we have diligently dissected the whole concept of―why mobile app push notification is so popular, how many types of push notifications are there, when it is used, what it is used for and how to use it effectively.
Types of Push Notifications
1.

Informational

As the name suggests, Informational push notifications are used by the providers to render information regarding news alerts, app updates, etc.
2.

Transactional

Transactional mobile app push notifications are used to inform the users of recent transaction activities detected by financial institutions. It also comprises information related to flight delays, sale & discounts, a shipment of a package, and more.
3.

User

This type of notifications is used solely for the accord of the end-user. It appears as a red badge on your app icon with the number of notifications. This lets them know of the pending notifications on the app.
4.

System

These notifications are used in order to highlight some announcements within an app. Information regarding new features in the app, sale on a product, etc., is delivered via System push notifications.
5.

Geolocation

Notifications used to inform users about local events and promotions, restaurants available in the area, weather forecasts, traffic conditions, and more.

All the above-mentioned types work best in both Android and iOS. Choosing the right Push notification for Android and iOS app is a viable way to make it more popular.
Why are Mobile App Push Notifications preferred at all?
1.

Prompt User Engagement

What Mobile app push notifications do is that they provide a reason for the users to open the app. If you play your cards right, your app will definitely reap the benefits of mobile push notifications for they are remarkable in stimulating user engagement. For users tend to find Push Notifications very beneficial – a statement highlighted in statistics in the graph below.
2.

Increase Turnover of Inactive Users

Many a time, users download the app but hardly ever use it. You don't want your app sitting idly by watching other apps being used, do you? A well-devised push notification marketing strategy can turn your inactive users into active and loyal ones.

You can employ a push notification strategy to deliver insightful information to the users about personalized offers, breaking news, or even thoughtful reminders.
3.

Increase Conversion Rates

We came across a study by Urban Airship where we found that leveraging mobile push notifications for app retention can accelerate the retention rates of apps by 3 to 10 times.
4.

Helps Target Right Audience

Targeting the right audience is a trump card that can win you the game of retaining active users on your app. And a mobile app push notification can be just the perfect feature for you.

After acquiring the location-access permission from the users, you will be able to personalize the notifications as per each user. It will help you reach your audience right on their doorstep.
5.

Track User Behavior

Another prominent benefit of this feature is that it allows you to follow user behavior and analyze it. The push notification feature helps in making sense of complex analytics with the data on delivery receipts, open times, open rates, etc.

It enables you to acquire valuable insights into users' behavior patterns along with interaction times and click-through rates to analyze which messages the users are more likely to open. After properly analyzing the user behavior data, you can also launch campaigns that will help connect with them more efficiently.
The Best practices for User-centric Push Notification Strategy That Appinventiv follows
Here are some Push notifications best practices that our experts use:
1.

Make Use of Dynamic Content

Dynamic content refers to the data collected from the app use patterns or from users' profiles. It is interchangeable message content that personalizes each user's notifications.

A solid example is Netflix; it uses the data on user streaming habits and sends push notifications that often consist of a user's name to enhance the personalization factor. This is one of the many ways in which push notifications for business are used.
2.

Use Location-Data

We have discussed this point above in brief acknowledging how it helps you target a specific audience based on their location data. You can send tailored messages for real-time updates.

According to Localytics survey, location tracking is one of the most helpful types of trigger for push notifications. In fact, the conversion rates grew to 3.8% for Geo-push notifications as compared to 1.5% for Push notifications.
3.

Perfect your notification timing

Timing plays an eminent role and can also pay off in spades once you get it right. It determines whether your push notification marketing strategy is competent or not. If you send notifications to the users at night, they might not open it till morning, and the information may become futile, the same would happen if you send notification about a sale which is about to expire.

Due to this, the users will not be able to take any action that may benefit them, so they will not engage with the app anymore. What we learn from this is that the performance of mobile push notifications depends partially on how effectively and cleverly you use them.
4.

Keep the relevancy factor in check

Make sure the notifications containing information are relevant to the individual user. A tested method is segmenting your audience to ensure they are served with appropriate and valuable information.
5.

Keep Improvising

One sure way to increase your loyal customer demographic is to keep improvising. Yes! Continuous development and improvisations in your push notification content and strategy will take you a long way. Experiment with the words, length, content, use of emoticons, and other rich media is a great way to start. One more thing you should bury in mind is testing before implementing is crucial.

The other thing that we do here at Appinventiv is to know the mistakes that should be avoided at all costs.
Conclusion
All the points we have discussed so far render Push notifications technology as a powerful tool to use in Mobile app development, in order to keep your app users engaged and committed to your app.
However, you must have heard it "With great power comes great responsibility"; so make sure to choose an effective mobile app development company that knows how to utilize this tool to its maximum potential and is proficient in building an app with push notifications, lest your app will be ditched like a hot potato.
Frequently Asked Questions (FAQs)
1. Why push notifications are important?
Mobile app push notifications play a prominent role in keeping the user engaged on apps. This strategy is now employed by all organizations in order to increase their retention rate. Push notifications also enable providers to send useful information to the users regarding app updates, traffic conditions, transactional information, weather forecasts, and a lot more.
2. What is the use of push notification?
Mobile app push notifications are used for defining customer lifecycle, taking feedback from customers, Loyalty program, Transactional purposes, promotions, reminders, etc. Push notifications are emerging as an indispensable tool for increasing traffic on apps and also for maintaining the app retention rate on them.
3. How to Target Your Mobile Users with Push Notifications
Here are some tips for you that will help you target audience with push notifications:
Use dynamic content

Utilize location data

Keep your timing on-point

Always keep your notifications relevant to users' preference

Keep experimenting and improvising
4. Why do mobile apps need Push notifications?
The goal of your app is not to get downloads only, but to engage and retain users as well. You wouldn't want your app to just sit in the users' phone and not getting used. So, here push notifications come to save the day for you. You can send messages via push notification about sales and discounts, new feature updates on your app, and other information. You should always make use of rich media content like Emoticons, images, videos, etc., to make your notifications attractive and impossible to ignore.
Read more blogs
We are operating in a time where the wave of digitalization has evidently spread in not just the business space but also governments. Since the last decade, owing to the convenience, security, and demand of nationals and citizens, government bodies from across the world have started turning towards the digitalization of government-level processes such as…
Sudeep Srivastava
16 Aug 2023
VisionOS is an advanced operating system developed specifically for spatial computing, a unique computing paradigm pioneered by Apple with their Vision Pro headsets. Unlike conventional desktop or mobile computing, spatial computing creates a work environment seemingly hovering in front of the user. This innovative approach to computing offers users a highly immersive and intuitive experience,…
Sudeep Srivastava
26 Jul 2023
The mobile app market is growing by leaps and bounds in today's fast-paced world. As a result, digital enterprises are trying to implement every possible app strategy to stand in the competition. Many enterprises now regard mobile application development as a goldmine because of the revenue the apps are capable of generating. According to Statista,…
Sudeep Srivastava
10 Jan 2022