Opendoor, the real estate startup that buys homes for resale based on a black-box pricing algorithm has set the foundation to become one-stop-shop for home sellers and buyers.
Founded in 2014, the company present in over 21 markets, made its name at the back of high-tech home flipping offering – enabling property owners to sell home online, sprucing the place up and reselling it.
Today, taking its digital prospects ahead, Opendoor has announced its mobile app through which buyers will be able to browse homes, schedule tour, and make an offer – all in one place.
Talking about the new on-demand powered real estate offering Eric Wu, the CEO and Co-Founder of the real-estate startup said "We've always been very explicit that we wanted to simplify the transaction for both buyers and sellers. A vast majority of our sellers are also buyers."
Here's a mockup of how the Opendoor on-demand buying process would look like –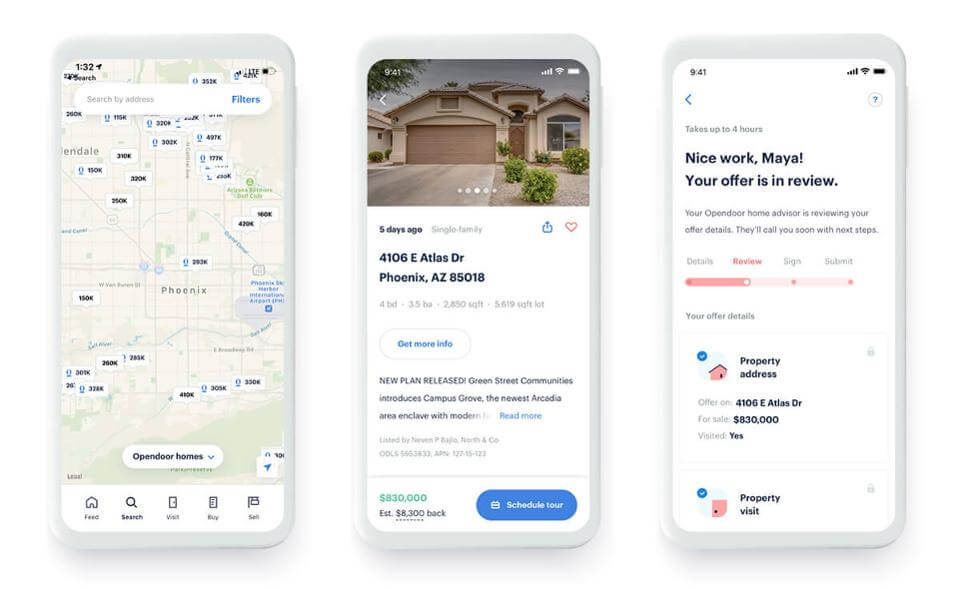 Besides the ease of on-demand, Opendoor is introducing an 'all-cash offer' functionality within the application, in order to give itself a competitive advantage in the real estate market. The feature will help buyers make competitive all-cash offers to the sellers once both parties have agreed on the dollar value.
The functionality is poised to fend off Opendoor's competitors who are made up of names like Redfin, Keller Williams, and Zillow.
The ease of iBuying process that Opendoor openly advocates through its website and now via its on-demand application is a fairly new segment in the real estate industry. Mike DelPrete in one of his reports on iBuying stated that the process contributed only 0.2% of the total real estate transactions in 2018.
But the investors are, nonetheless, betting on space's growth. A growth which they are making Opendoor the torchbearer of.
With big names like Softbank Vision Fund by its side, Opendoor recently raised $300 million in March, which put the valuation of the company at $3.8 billion. Comprehensively, the company has raised over $1.3 billion in equity and more than $3 billion in debt financing to date.
With the help of the fundings, Opendoor has been able to mark its per month buying and selling count at an average of 3500. A sales figure that is translating into an expectation of reaching $5 billion gross merchandise volume by the end of this year.
The growth chart that Opendoor has drawn for itself is expected to open several new avenues on the real estate app development front, with a special focus on the on-demand side of the property market.
"What I realized was that there's a lot of tailwinds with people wanting to transact with their mobile device," Wu said. "We see this with Uber and Lyft and Amazon. I believe the future of real estate will be on-demand and that's the centerpiece of Opendoor's thesis, making the transaction real-time and instant. I realized there were going to be tailwinds, and that real estate was in need of being transformed."
Read more blogs
The victim-count of Coronavirus has increased to 28,276 while taking 565 lives already.  With the virus epidemic being on the verge of becoming pandemic, there is a cloud of concern hovering over not just the affected nations but also the rest of the entire world.  The grim picture of Coronavirus is not just of the…
A few days ago, Dropbox acquired an open-source Store library. The aim behind taking the ownership was to modify it to make it more suitable to the prevailing Android developer ecosystem. Now, Store also includes Google JetPack collection of libraries which poses as a solution for creating current-day Android apps. Google JetPack makes it possible…
Google recently announced that they have acquired AppSheet, a Seattle based no-code mobile app development platform. The terms of the acquisition have not been disclosed yet, but it has been revealed that AppSheet will continue to serve its existing customers. AppSheet was founded back in 2014 by Praveen Seshadri and Brian Sabino to help businesspeople…
Bhupinder Kour
15 Jan 2020