In the present Retail era, brick-and-mortar stores are undergoing a myriad of changes in their processes. They are not only coming up with different lucrative discounts and offers to lure their target audience, but are also exploring different channels for driving higher incentives.
They are looking into ways to provide a seamless and interactive experience to their target user base across all the channels, for which they are focusing on Omni-channel Customer experience strategies – something which we will discuss in this article.
But before that, let's look into why the current Retail business needs to invest in Omni-channel approach. Or better say, the challenges they are currently facing and the way Omni-channel marketing system is going to help them out.
Ways Omni-Channel Retailing Is Improving the Current Retail Scenario
While retailers, in the present scenario, have succeeded in making their business presence on multiple platforms, like websites, mobile apps, social media, chatbot, etc., they are still facing various issues with catering to the needs of the target user base and ensuring efficient outcomes. A few of such challenges are:-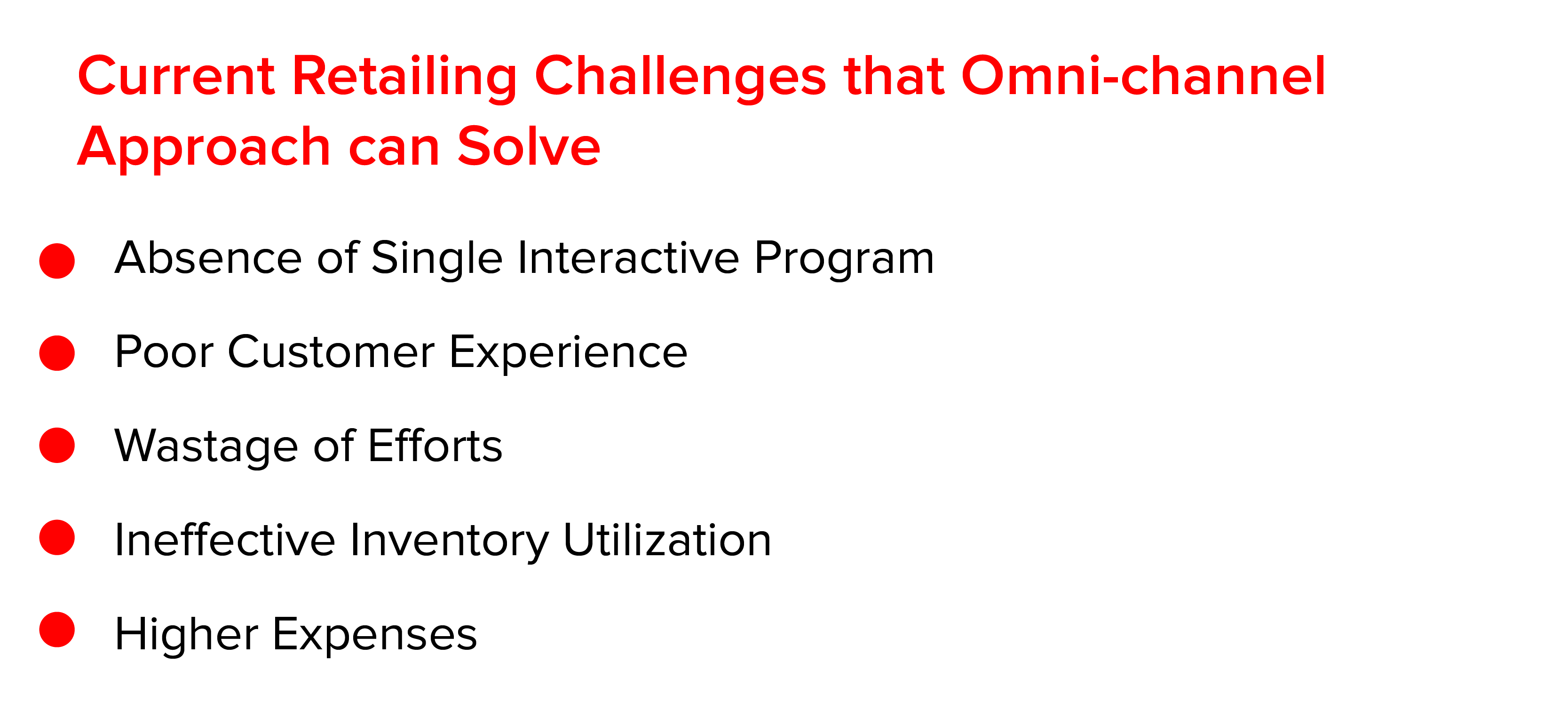 Absence of a Single Interactive Program Currently, all the communication channels are acting as independent and individual entity, where different teams build their own database and work with different styles to bring traffic and other profits from their source. They are having no clue of the challenges that the other communication channels are facing and the ways they can help in resolving them.

Now, when it comes to Omni-channel processes, all the marketing channels act as a single entity. The teams are well-versed with the concept, strategies, and stages of progress related. This enables them to come up with a single strategy and speed up the process (and not just fall for the same processes individually). Besides, the Omni-channel strategy involves a centralized database only, which means all the connected channels can get access to the data and insights recorded by each other and improve their processes effortlessly and profitably.
Poor Customer Experience Another challenge that is ruining the retail customer experience is that they have to connect on the same communication channel for any query. For example, they cannot buy a product online and return it in the local offline store.

But, when it comes to interacting with a retailer business that have been following Omni-channel customer engagement strategies, they can easily get leverage of this opportunity. They can interact on different platforms at different or the same time without losing the essence of the context and ensuring a seamless and unforgettable customer experience. All of this, however, calls for a greater inclusion of digital transformation in customer experience.
Wastage of Efforts In the current online Retail scenario, the retailers take up all the hard work associated with packing the products and delivering to customers's doorstep. But, when the customers return the product, all of their efforts go in vain.
However, with Omni-channel approach, one can empower

consumers

to return the products directly to their local stores regardless of which mode was used for buying the product. This enables the retailers to bring more customers to their in-store and increase the chances of selling something else to them, while the return process is being followed. In this way, the retailers are making it possible to prevent getting their efforts wasted by creating an Omni-channel shopping experience.

Ineffective Use of Inventory Inventory management has been a pain for various retailers who have been selling their products and services across various channels. They are facing challenges with managing multiple warehouse at the same time and so, often focuses more on the inventory in the location with higher possibilities of sales – making that property nothing but a liability for their business.
But, by looking forward to building a unique omni-channel experience infrastructure, they can introduce an end-to-end supply chain management that allows them to sell products and services across different inventories. They can also look into which inventory is nearest to the location of customer and thus, make use of old and outdated inventories as well as make the delivery faster.
Higher Expenses Another challenge that businesses are facing in the Retail arena is higher expenses. The number of efforts and funds they are putting into targeting customers from different channels and the strategies involved with the process are not bringing equal outcomes.



But,

with the use of Omni-channel marketing

, they are able to build a shipping model that caters to local community and thus, cut down the additional labor cost.
Now, while we have looked into why is the omni-channel strategy important in the Retail industry, it is obvious that you must be looking to invest in the approach and bringing more profits to your end.
But, before we directly jump into how to create the Cohesive Omni-channel Customer experience, let's first go through the basics, i.e., what is Omni-Channel Retailing and its characteristics.
What is Omni-channel Retailing?
The answer to what is Omni-channel retailing is something like this – it is a marketing approach in which all the existing online and offline channels are connected to each other such that the customers get a unified and cohesive experience irrespective of how or where a user has reached.
To understand this concept, let's take an example.
Suppose a customer gave a voice command for buying a shirt for him. The customer then checked for some nice collection on website, but wish to try first. They went to the local brick and mortar store and tried the shirt.
Once ready to move, they paid using mobile app rather than hunting for a credit card. Two weeks later, the customer connected the support line on call to know if the same shirt is available in another color.
When the product comes in stock, the service representative interact with customer on chat, and describe the further steps – ultimately, offering an engaging experience across the different communication channels. This is what is called as Omni-channel retailing.
Now, though you all are familiar with the terminology Omni-channel retailing, it is possible that many of you would be relating it to Multi-channel retailing. You might have been considering Omni-channel retailing as a synonym or extended version of Multi-channel retailing.
So, to clear your doubts, let's look into the difference between the two terminologies first and then look into what are the features of Omni-channel marketing approach.
Omni-Channel vs Multi-Channel Retailing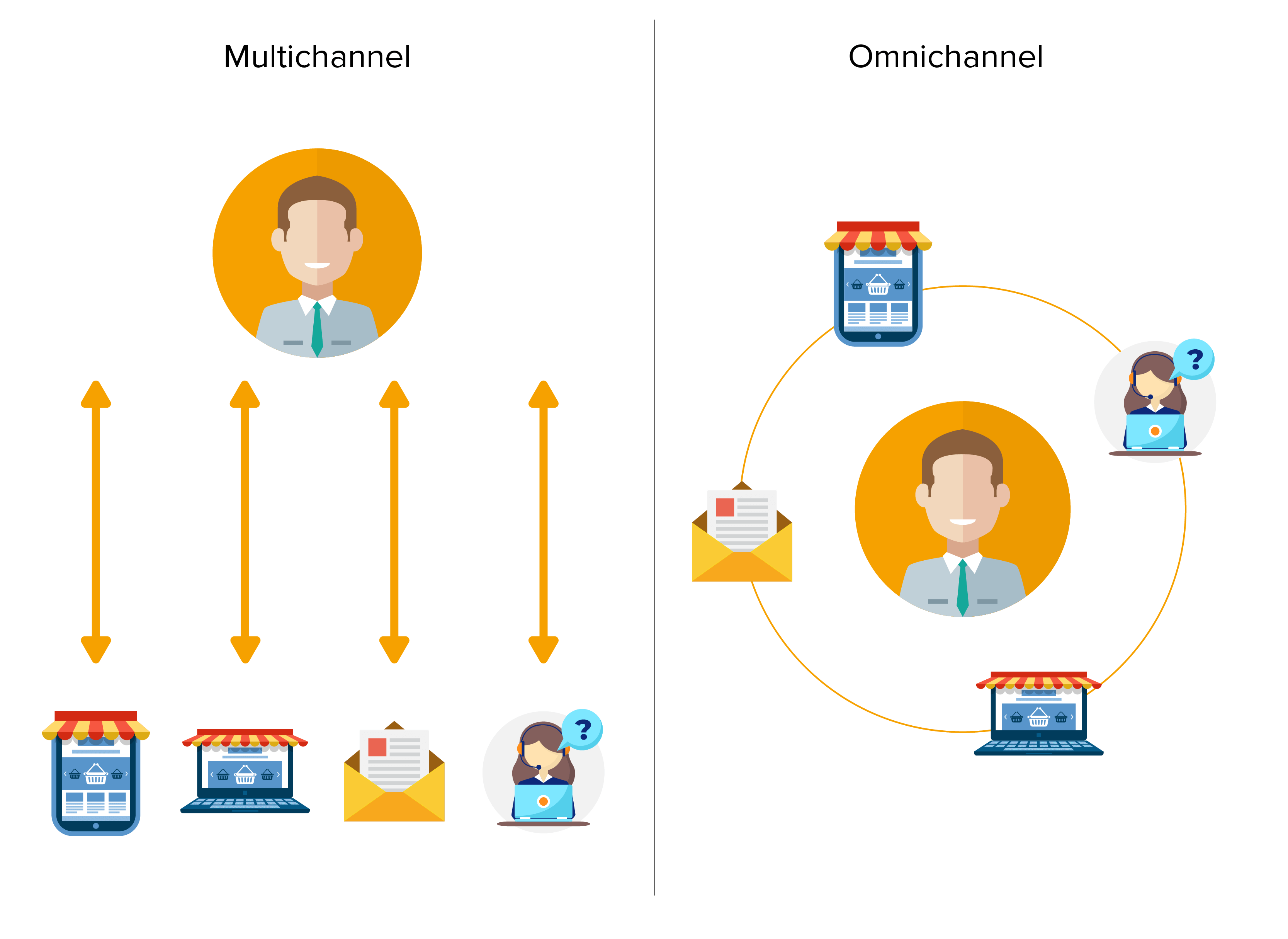 In Multi-channel Retailing, your brand operates on different communication channels, but they hardly interact with each other. Whereas, in the case of Omni-channel retailing, your brand operates on different interconnected communication channels.


While every channel gathers and manages its own database in the case of Multi-channel Retailing, Omni-channel Retailing is associated with building and managing a single centralized database from where every communication channel can get access to any data.



When talking about Multichannel Retailing, buyers have to use the same communication channel throughout the process. That implies, they cannot purchase a product using one channel and request for return from another. Whereas, it is not so in the case of Omnichannel Retailing. A buyer can jump from one mode to another while completing a single task.
With this attended to, let's jump directly into what are the characteristics of a successful Omni-channel Retailing approach.
5 Basic Features of Omni-Channel Retailing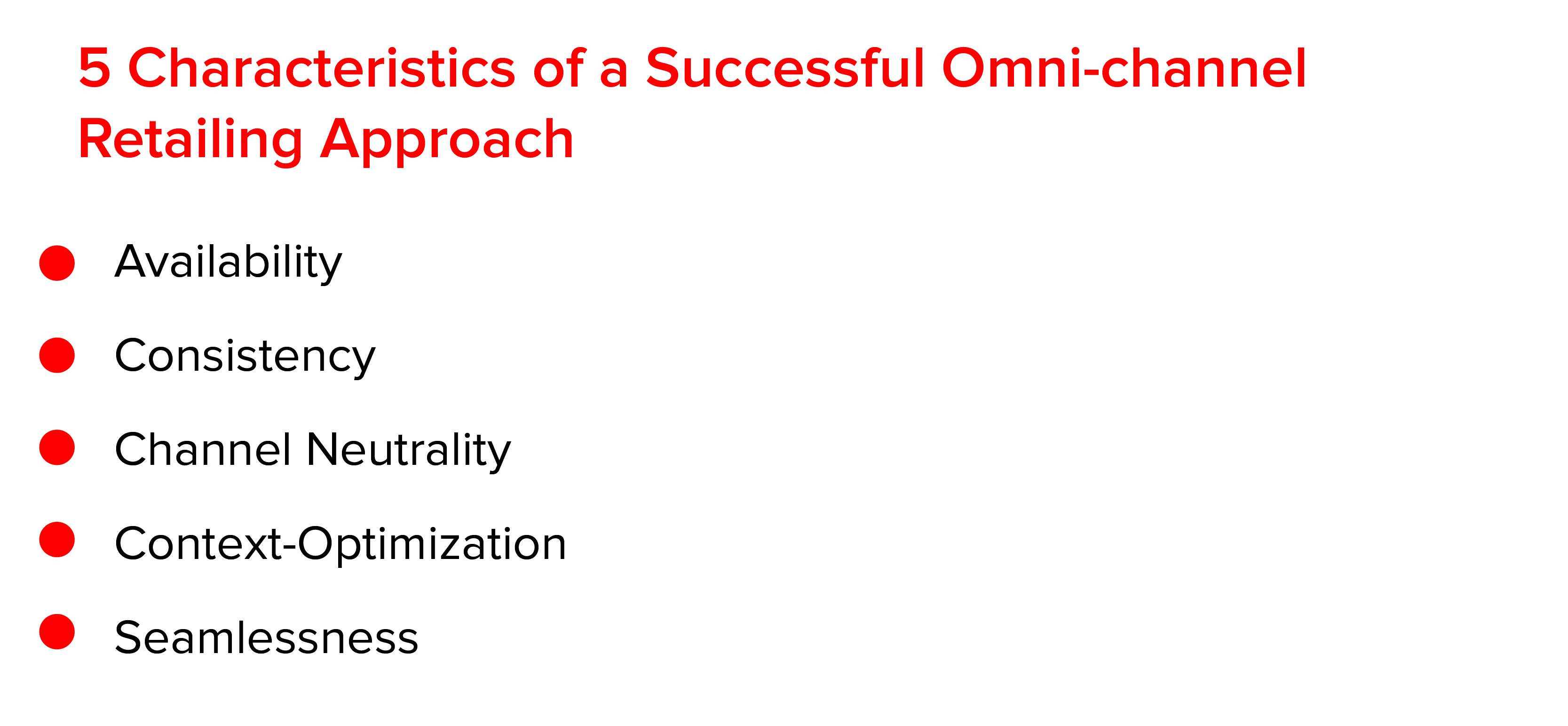 Availability
Since a customer decides when, where, and how to interact with your retail brand depending on their personal habits and motivations, make your brand presence on multiple channels. Or simply say, ensure that your brand is available on multiple touchpoints from where they can interact easily and effortlessly and add to your success numbers.

The finest example to understand this concept is Amazon. Amazon let users buy Kindle tablets and books from their Kindle application, while they enable the users to buy eBooks from Amazon website and send them to their Kindle device. Also, they have offered multiple apps for both Android and iOS so that the users get access to their product and services easily – despite the device they have.


Consistency
The second characteristic is Omni-channel consistency. This means you need to make it certain that all the screens, buttons, functionalities, and the tone of the voice similar across different channels and thus, build credibility. This is because when the elements are not similar at both the end, the users might get confused when moving from one screen to another or might take more time to get in flow, which can eventually act as a barrier in getting sales.


Channel-Neutrality
When customers move from one marketing channel to another, they expect that they find the same data across all the platforms and complete their task, rather than beginning from scratch. This is why Omni-channel approach is supposed to be channel-neutral.


Context-Optimization
Context-optimization let the retailers enjoy the best perks of Omni-channel retailing approach by offering the opportunity to boost customer engagement and create your brand value by integrating cutting-edge technological possibilities across each channel, such as GPS, in-store kiosks, printing, etc.)


Seamlessness
A Successful Omni-channel retailing approach keeps all the elements similar on different platforms and ensures that customers can switch between different channels within a single task. Or better say, it blurs the line between physical and digital world to provide a holistic experience to the users.

When discussing upon seamlessness of a retail business, the best example to look into is Disney. The brand application enables the park guests to check for the waiting time for every event and even offers 'MagicBands' connected bracelets to perform different tasks including purchasing food and unlocking hotel rooms.
Now as we have covered the basics of Omni-channel retailing, it's the best time to learn how to embrace the concept in your retailing business. So, let's look forward to how to make your retail business omni-channel.
A Step-By-Step Strategy to Make Your Retail Business Omni-channel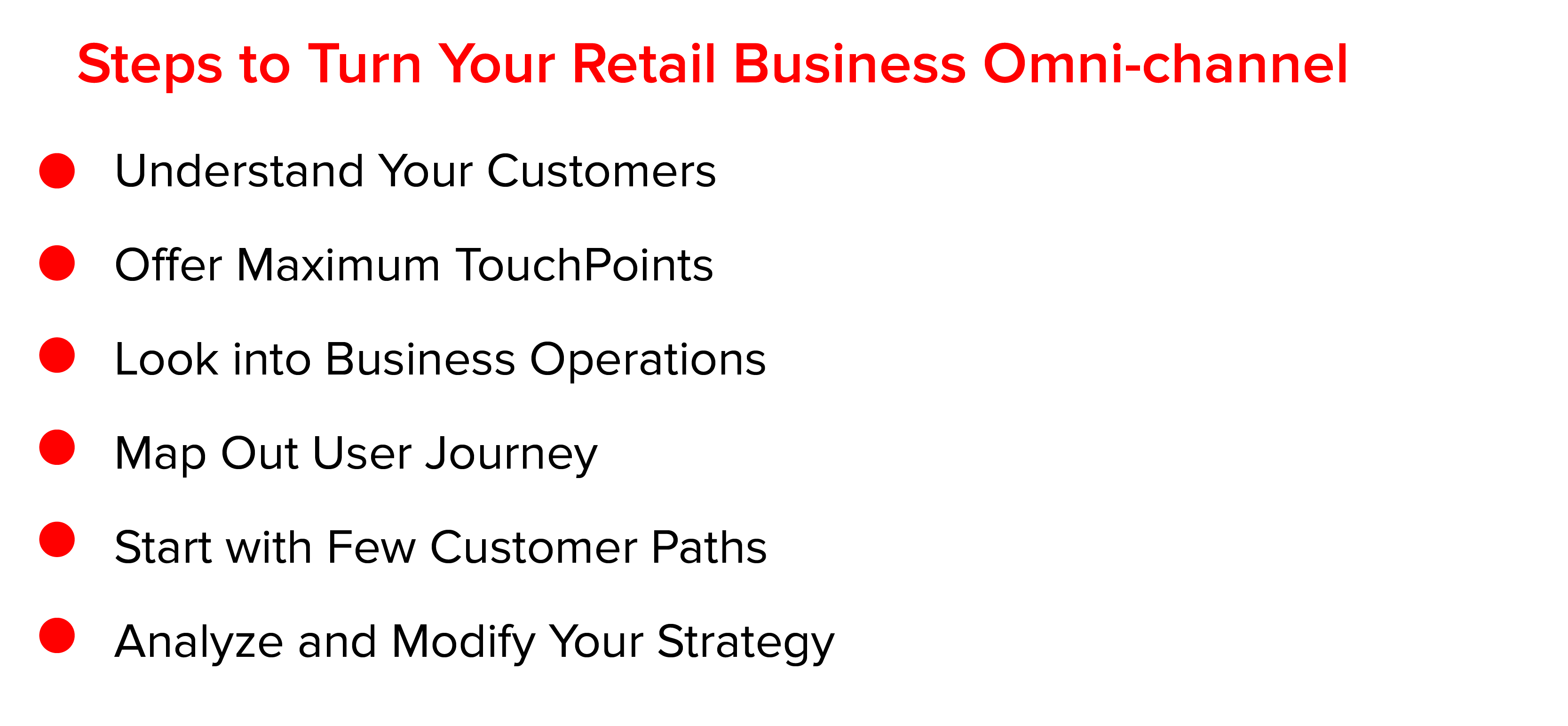 Understand Your Customers


The foremost step to consider when planning to

implementing an Omni-channel experience

is to get a basic understanding of when and how your customers interact with your business. Take a deeper look into how often do they connect with you using a specific platform and what are the associated success key metrics, what are their pain points, what is the severity level of the concerned issue, how eagerly they would contribute in referral program, and more.

All these insights will help you to figure out which communication channel should be integrated in your Omnichannel retailing approach and to what extent, and thus, gain better profits from this investment.


Make Sure You Offer Ample of Touch Points
Before beginning with implementing Omni-channel approach to your retail business, ensure that you have enough required touchpoints. That means, make a list of channels on which your customers can connect with you, as well as perform a market analysis to determine which touchpoints are missing in your case.

For example, there are still various retailers who have their own website and offline store, but have not yet invested in Retail app development. Likewise, there are various brands that are not using the power of social media for their business growth.


Take a Look into Your Business Operations
To ensure a successful Omni-channel retailing business, you need to ensure that every single business operation is connected to another. And for making this possible, look into the type and duration of interactions that occur between different departments.

This implies, you have to look into ways by which you can bring interactions from one channel to another and ultimately, encourage them to work for a single long-term goal rather than putting their efforts into their individual short-term goals.


Map Out User Journey
The next step to consider while creating an Omni-channel approach for your retail business is to look into ways buyers interact with your brand and take the decision to buy some products.

When you map out a complete customer journey based on this data and insights, you will find it easier to determine how and which communication channel has to be traversed. Besides, if you find out that any section of the online/offline marketing missing, you can invest your efforts into filling the gap.


Begin with a Few Customer Paths
Just like we turn towards MVP approach for Retail app development, begin investing in Omni-channel retailing from a few channels. This, on a broader scale, implies figure out which user paths can bring more value to your business from sales and engagement front and thus, start with one on the top of the list to blend online and offline retailing.

For example, let's suppose, customers add products to their carts only after seeing the reviews, introduce a touchscreen in your brick-and-mortar store that enables the customers to look for reviews. Likewise, if are failing to gain higher success even after paying attention into

how can apps lower cart abandonment rate,

look forward to initiating a free in-store pickup for orders placed through your app or website. This will not only improve the trust value in your business, but also increase the chances of encouraging them to have a look into your in-store collection and buy something additionally.


Analyze and Adjust Your Strategy
Last but not least, do not take a backseat after introducing Omni-channel approach to your retail business. Keep looking into the analytics and measure the results obtained at regular times. This will help you to decide how to tweak your Omni-channel retailing approach to gain better profits.

Besides, keep yourself updated with the latest Omni-channel retail trends 2019 to ensure that you do not miss out anything that can bring a great impact on the success level of your Omni-channel approach.
With this attended to, we have covered the different factors and communication channels that enhances the omni-channel customer experience in the retail arena, let's wrap up this article with the one that become the need of the hour, i.e, mobile.
Mobile – A Crucial Element in the Omni-Channel Retailing Transformation
Smartphones are proving to the core pillar of success in retail business. They are acting as a bridge that connect online and offline retail business. They are also aiding in discovering untapped opportunities for delivering better omni-channel customer experience and growing your business.
For example, while the mobile applications are empowering the online buyers to purchase a product and make payment, they are helping the customers gain an extensive information about the in-store products and check their availability while shopping in the offline store.
Likewise, the retail mobile apps are helping the customers to try a product virtually both when shopping from their smartphones and when inside the brick-and-mortar outlet using the power of AR/VR technology.