Today we will take a look at the Android market i.e Google Play on its 10th anniversary. We already know that Android has a massive audience and the number of downloads it has reached till date has crossed more than 65 billion.
In a recent report by App Annie, it was found that the Android market has double the downloads than the iOS market. Although the revenue generated by iOS apps is more than Android yet the downloads are much more for Android. Google Play has 70% of the worldwide download as on 2017.
However, when it comes to the revenue generated Android has only 34% of worldwide consumer spent whereas iOS has 66% of the consumer spending. But this is not something new. iOS market has always stayed ahead in the revenue generation.
Though Apple App Store statistics more percentage of revenue yet Android is consistently increasing the number of downloads each year.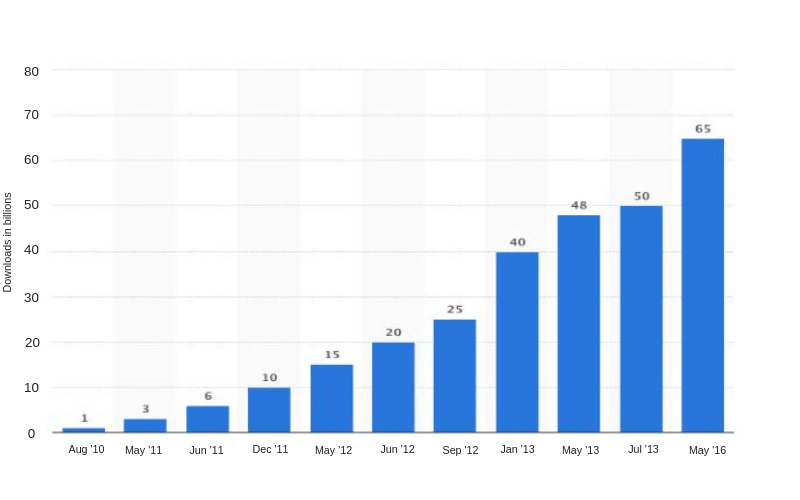 The huge number of downloads shows that Google has a larger reach worldwide. It is probably due to so many Google devices distributed all over the world. Below are some of the apps on which consumers have spent largely.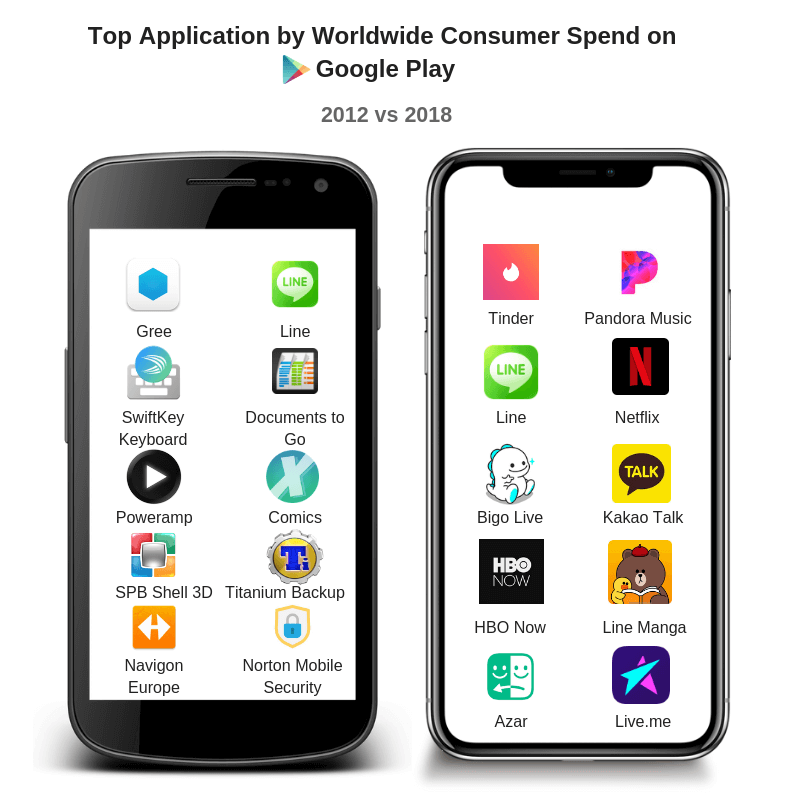 It is not easy to get an app to reach so many downloads. There are certain ways to prepare your Android app for Google Play store so that they reach maximum downloads while earning for it.
As per the report from App Annie, Japan was the highest spender on Google Play store with $25.1 billion spent on apps. The next in line to spend the most on Android apps was the USA at $19.3 billion followed by South Korea at $11.2 billion. These numbers show that most of the downloads come from the APAC (Asia-Pacific) region.
This revelation has resulted in Android app development companies spending more on marketing and promotion in the APAC region. The market in South Korea, Thailand, Singapore and Taiwan is seeing more consumer spent after the promotions.
If you are wondering what the users spend so much on then let's look at it.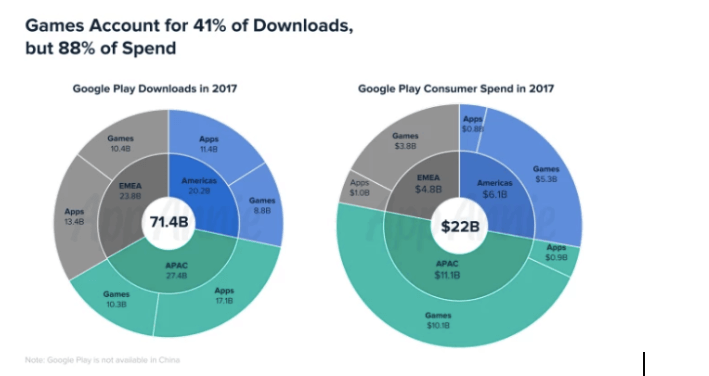 Image Credit: Techcrunch.com
Games! Gaming apps are the most downloaded apps in the Google Play store. The gaming apps account for 44% of the total Android app downloads but 88% of the total revenue is generated from gaming apps. The gamers spend on buying apps or premium versions of it or spend on in-app purchases.
As per the Google Play Store policy updated recently, they have allowed app developers to earn through subscriptions. These subscriptions through apps generate huge revenues for Google.
The non-game apps earn about $2.1 billion. Some of these apps are LINE, Tinder, Netflix, Pandora and HBO NOW. These apps have earned through subscriptions, premium memberships and in-app purchases for additional features.
Social media apps like Instagram and Facebook have more than 1 billion downloads each. It is no surprise as these platforms have highly active users and regular user interactions. These apps reached a billion downloads each for the reason that these apps are social media and have a large audience base.
Another thing that was found in the report was that Android users had more apps on their mobile as compared to iOS users. Around 60 apps were installed in most of the Android phones and 30 out of the 60 were in regular use every month. This 60 is for most of the Android users around the world. But the US, Australia and South Korea had about 100 installed apps on their mobile phones.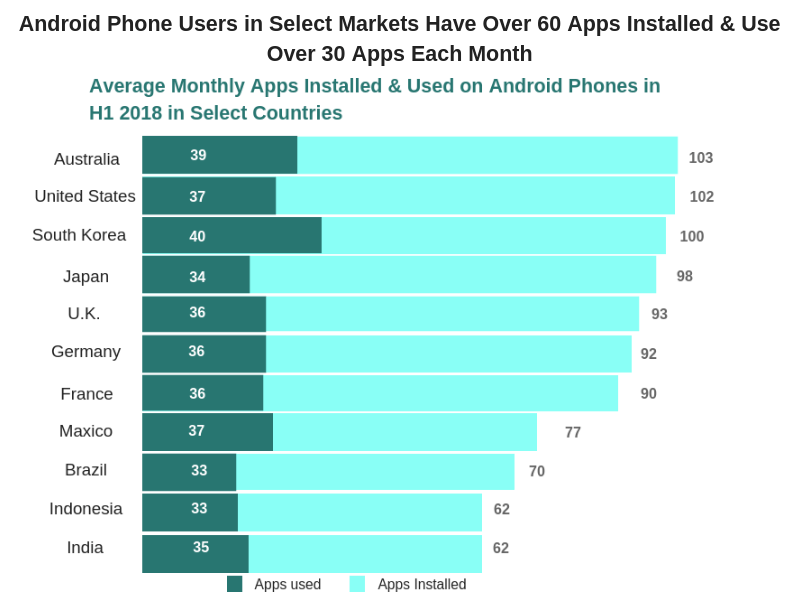 App Annie also reported a rise in the number of apps launched on Google Play store since 2008. There have been 10 million app launches since 2008 but today only 2.8 million of them are active. Not every app can make it till the end and Google deletes apps that don't follow its guidelines. In 2017, Google deleted 70,000 apps from the Play Store for the same reason.
For any app to start earning well with downloads should have great Google Play store optimisation for their apps. This will attract more audience and eventually result in more downloads. App developers can earn from in-app purchases if buying the app is free on the Play Store.
These apps reaching millions of downloads have been built by great app developers. We at Appinventiv develop high performing apps with rich UI that reaches a large audience. If you wish to get yourself an app and want it to land on the top grossing chart on Play Store, feel free to contact us.
Read more blogs
The victim-count of Coronavirus has increased to 28,276 while taking 565 lives already.  With the virus epidemic being on the verge of becoming pandemic, there is a cloud of concern hovering over not just the affected nations but also the rest of the entire world.  The grim picture of Coronavirus is not just of the…
A few days ago, Dropbox acquired an open-source Store library. The aim behind taking the ownership was to modify it to make it more suitable to the prevailing Android developer ecosystem. Now, Store also includes Google JetPack collection of libraries which poses as a solution for creating current-day Android apps. Google JetPack makes it possible…
Google recently announced that they have acquired AppSheet, a Seattle based no-code mobile app development platform. The terms of the acquisition have not been disclosed yet, but it has been revealed that AppSheet will continue to serve its existing customers. AppSheet was founded back in 2014 by Praveen Seshadri and Brian Sabino to help businesspeople…
Bhupinder Kour
15 Jan 2020