"I want to learn French", "I wish I knew Spanish", "I'm thinking of learning Chinese".
With the whole world getting connected, such phrases have become trivial. People have started showing interest in not just in traveling to different parts of the world, but also in learning their native languages.
They have started realizing the importance of mobile apps in the education industry and turning towards these mobility solutions to learn vocabulary, practice the words they heard, and become fluent in the language.
An impact of which is that the mobile language learning market is thriving.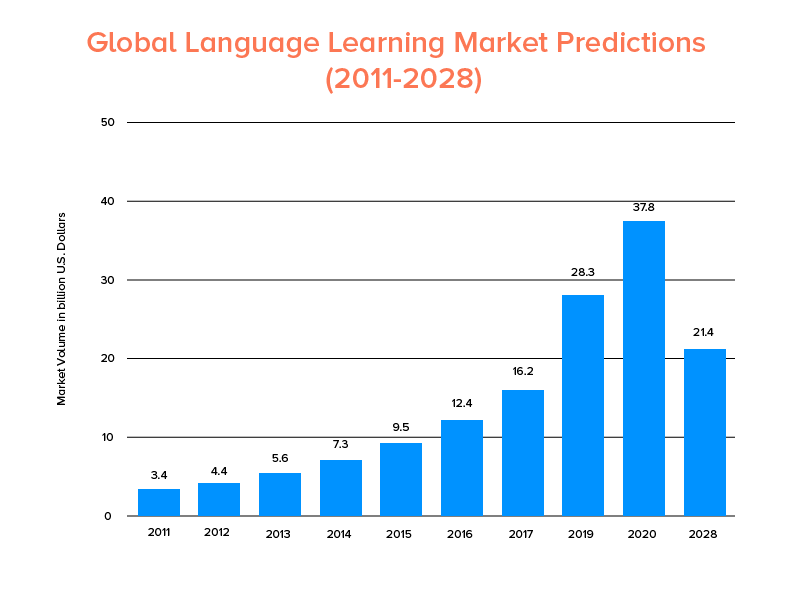 This market growth is so vast and significant that the competition in the market to emerge as the ultimate leader is on the rise.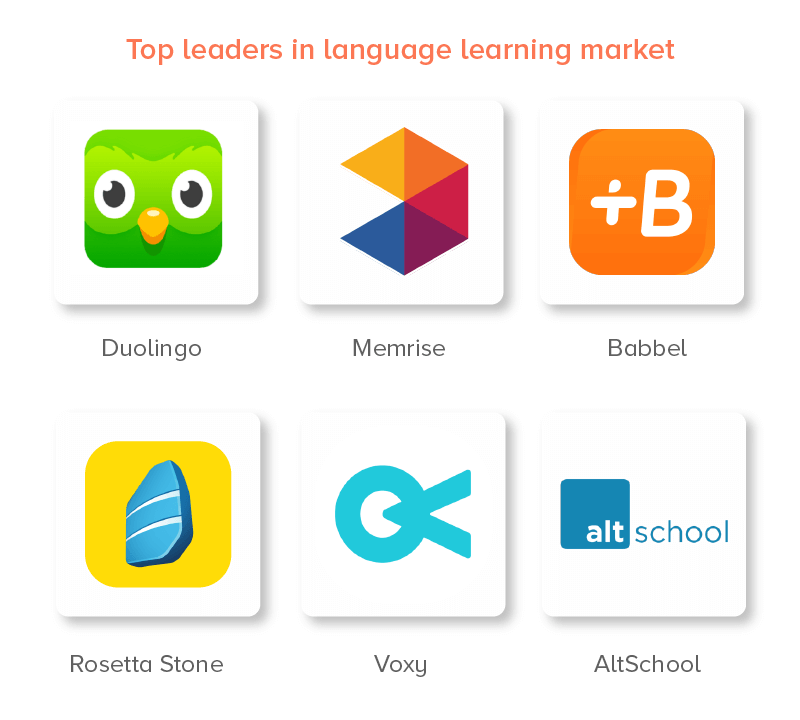 While all these language learning web and mobile portals have proven to hold a momentous position in the market, the one that is leading the show is Duolingo.
About Duolingo – The App Ruling the Language Learning Domain
Duolingo is a language-learning platform that offers 94 courses in nearly 23 different languages. The platform, founded in 2011 by Luis von Ahn, has made a valuation of $1.5 Bn and gained 300M user acquisition so far.
The application works in a very simple and hassle-free manner, something that is well-explained by the video below.
The application received the credit of being the first educational app to receive the fame of 'iPhone App of the Year' in 2013 and 'Most Downloaded App' on Play Store for 2013 and 2014. It has also been rewarded with many other titles, including being announced as one of Forbes's "Next Billion-Dollar Startups 2019".
Because of all these achievements and appreciation, the application has not just become users' favorite, but has also proven to be a profitable idea for the education industry enthused entrepreneurs to enter the mobile market. A ripple effect of which is that various startups and Entrepreneurs have started showing interest in getting familiar with the cost of development of an app like duolingo, along with other requirements. Something about which we will discuss in this article in detail.
But firstly, let's get familiar with what issues Duolingo solved, which resulted in its popularity.
Language Learning Issues that Duolingo App Solves
1.

Boring Learning Process

Regardless of whether you pick a book or turn towards some mobile education platform, the learning process was hectic and uninteresting.

Duolingo added fun to learning and made users more excited to achieve their desired goal via Gamification.
2.

Low Credibility of App Content

With most of such applications running on software and algorithms, it was a question for users, if to pick these apps over real tutors or not.

Duolingo solved this issue by ensuring that the content delivered to users is not just checked by AI-based algorithms, but also verified by users. For this, the app looks into the answer offered by users and validates the one selected by the majority.

Not only this, the application has also initiated a certification process making you leverage the same perks as offline learning programs. Something that again adds to the benefits of language learning apps like Duolingo.
3.

No Customization

Above all, the existing web and mobile learning portals were not offering any personalized services. Users were compelled to go through the same journey as others, irrespective of whether they have the same goal or not.

But, with the advent of Duolingo, the situation took a 180-degree turn. The application came loaded with personalization elements, making it easier for users to plan their own journey and enjoy.

With this covered, it is time to get into the technicalities related to how to make an app like duolingo. So, let's begin with taking a walkthrough of app features, and then jump to the duolingo-like app development cost estimation.

Note: While there are a plethora of features available in Duolingo app, we will talk about the most basic (MVP) features only.
Top Features of Language Learning App like Duolingo
1.

Profile and Settings

The foremost feature to consider while performing Duolingo like education application development is Profile and Settings.

Here, users can save their personal details and see all the activities they have performed so far. Also, they can make some changes in the content shared or its privacy, ultimately enjoying a safe and satisfied experience on the platform.
2.

Course and Levels

Here, users are offered an opportunity to pick from 94 courses related to 23 languages and decide the pace at which they wish to learn. Meaning, they can choose if they want to learn on a daily, weekly, or monthly basis.
3.

Language Practice and Revision

This is the feature that defines the actual purpose of the application. Here, users come across different speaking and listening exercises, alongside those requiring choosing from multiple options or translating the displayed content.
4.

Push Notification

Push Notification is yet another feature that you must consider while creating an app like Duolingo. This feature reminds users to complete their course, if they miss out any. Also, it contributes in terms of motivating users about leaving their laziness and focus on achieving their targeted goal soon.
5.

Gamification

Gamification is one of the core features of Duolingo-clone app.

This feature deals with adding gaming elements into your application, and is used in different forms in the application. Two of the prime area of usage are:

1. Experience and Levels – Gamified elements, like Animation and Sound effects, are used to make the screen super-engaging.

2. Achievement and Badges – Whenever you complete any course or task, you are awarded with a badge and associated items. Also, there's a leaderboard screen where you can see all of your achievements and feel motivated.
6.

Social Media Integration

Last but not least, the Duolingo application offers users an opportunity to login via their existing social media accounts.

While this feature impresses users looking to learn a new language or polish their skills at one they already know, what makes them pick Duolingo over Babbel or any other mlearning app is their UX strategy.
Duolingo UX Takeaways
1.

Simple yet Engaging Onboarding Experience

Many business enthusiasts and education app development services providers make the mistake of considering On-boarding screens as the area where they could share all of their apps' features. However, there are various users that wish to explore the app on their own or get irritated by seeing this user manual.

This is where Duolingo has outshined in the market. The application has minimal screens with short and crispy content; making a way for users to land onto the platform at the earliest and explore it themselves.
2.

Delayed Registration Process

This language learning application does not force users to create an account at first. Rather, it lets users choose the course, level, and perform a few lessons. After this, it displays a positive message to encourage users to register for an account, "Time to create a profile to save your progress and continue learning for free".

This way, it shows what the application can do and how, before making it imperative to create an account. Something that increases the chances of user conversions.

Besides, the application has made the registration process short and faster to give a pleasant experience to users.
3.

Push Notification

Knowing the fact that building a push notification strategy can increase conversions, Duolingo has also introduced different push notification mechanisms into the app. They have used this technique to remind users about their daily/weekly/monthly goals and encourage them to take another course with some positive and personalized content.
4.

Progressive Onboarding Experience

Another mistake that app designers and businesspeople make is that they limit the scope of onboarding experience to the point the user enters the app. This is where Duolingo has proven to be an expert.

The application has introduced onboarding elements throughout the application. This way, they have succeeded at simplifying the workflow and delivering a higher level of personalized experience to users.
5.

Speed and Convenience

The application has also worked on delivering higher speed, convenience, and a valuable experience to their users – something that only a few applications like Netflix have nailed.
6.

Positive Messages and Encouragements

Duolingo app has also worked on adding positive vibes into their design. They have introduced positive messages to encourage users, in case they fail. This way, they have given an impression that they understand their user pain points and have the knack of how to bring them back.

The effect of which is that more than 25M users use the application every month.
7.

Voice Recognition

Lastly, they have looked into how to use voice recognition and Artificial intelligence for delivering better user experience.

These features make Duolingo enjoy limelight in the language learning industry. However, they are able to perform smoothly and deliver exceptional experience because of the tech stack used. So, before we look into the cost of developing an app like duolingo, let's uncover the tech stack these apps are backed with.
Tech Stack to Consider for Building a Duolingo-clone App
The tech stack of Duolingo app, that power up the features and make it darling of every user, includes:
It uses Java, Kotlin, Objective-C, Swift, Scala, and Swift for native development while backend is backed by Python, Vue.js, React.js, and Angular.js. CSS, jQuery, and Bootstrap are used to create the UI/UX design journey, whereas MySQL, Postgres, MongoDB, HBase, and Cassandra are considered for meeting the database management needs.
Likewise, Hadoop and Spark big data frameworks, Apache, and IBM are often considered for real-time analytics, and Amazon Data Services or Google Cloud Storage for cloud storage needs.
Now that you know the features and technology stack for language learning app development, let's make no further delays. And see how much does duolingo-like app development costs.
How Much Does a Language Learning App like Duolingo Cost?
The cost to develop an app like duolingo depends on multiple factors. The prime one among those are:-
1.

App Platform

The choice of building an application for Android, iOS or both makes a difference in the cost value. This is because the tech stack required, app complexity, and other factors varies as per the platform involved.
2.

Front-end Development

While some programming languages and frontend development environments are open-source and secure, others demand a higher fee to use. Also, a few of them do not offer customization in terms of tech stack. All these factors again create a significant difference in the language learning mobile app development cost.
3.

Backend Development

When it comes to developing education and mobile web platforms, backend development languages, frameworks, hosting servers, etc. adds to the cost of creating an app.

For example, when you choose microservices architecture over monolithic, you get better futuristic services but at a higher cost. Likewise, use of Node.js costs less when compared to that of Java's.

[Here above, we asked you to choose microservices over monolithic architecture. But, in case you wish to know the reason behind, check our Microservices vs Monolithic architecture article.]

Likewise, when you do not ask your hired development team to pay for backend hosting services, you get an opportunity to reduce app development cost.
4.

Design Process

Again, the cost to design a mobile app also affects the overall development cost. So, it is imperative to be familiar with the factor that influences the designing cost, which includes not having a clear vision of what design elements to use, what design tools to prefer, the use of animation content, and more.

Besides, various companies charge separately for user persona, UX research, and user journey mapping. In such a scenario, it is better to hire an elearning app development company like Appinventiv that does not charge separately for the research and guesswork.
5.

Testing

Last but not least, the tools and efforts related to the quality assurance process also reflects the difference in the overall app development cost.

To know the cost estimate while incorporating more features in your application, Contact our mlearning app experts today.

But, wait!

Before you choose our education mobile app development team or hire any, it is good to get a clear understanding of the development challenges and the ways you can earn back the money.

So, let's check for the development challenges you might face in the process to build duolingo similar apps.
Challenges You Might Face While Duolingo-like App Development
While there are various challenges associated with developing a Duolingo-like application, the two main ones are:-
1.

Deliver Impeccable Chatbot Services

Duolingo's bot is available in more than one language and delivers longer sentences. To create one such language-learning chatbot, you need to dive into complex algorithms and integration processes, especially when starting from scratch. This demands higher efforts and budget, and many times does not even deliver results in the form of intelligent conversation as expected. So, it is a risky investment both for businesspeople and developers.
2.

Integrate Voice Technology with Bot

Another such challenge that can be faced by the development team is to integrate chatbot with Voice-recognition technology. This is so because the voice technology is still immature with less sources to make this possible. Something for which we advice to go with top mobile app development companies only.

With this covered, let's see how this language learning mobile app makes money (and you can too.)
Business and Revenue Model of Duolingo
Just like reCaptcha, the Duolingo business model is Crowdsourced. It makes some text/content available to users for translation as a part of their learning course. When multiple users give the same translation for any particular content, the website considers it as the right translation and saves it as translated text. This text is then shared with organizations like BuzzFeed and CNN in return for some monetary benefits.
Besides, Duolingo also earns money by embracing the following two monetization models:-
1.

In-app Advertisement

Under this business model, the application allows users to enjoy free content but loads it with advertisements from brands who pay on the basis of CPC and CPI.
2.

Subscription Model

Here, the application provides an ad-free experience alongside various other perks to users, when paid. The app lets users gain gems and in-app currency to unlock content beforehand and get more chances in competitions.

Also, the language learning app asks for a fee of $49 for enrolling for a certification in any language.

While these are the business models that Duolingo prefers, there are various other strategies that new-age businesses can emulate to earn money from a mobile app, with Affiliate marketing being on the top of the list.

With this covered, let's wrap up this article covering a few tips that can make your app prepared for the future.
Tips to Make Your Duolingo-Clone App Successful
1.

Focus on Customers

One of the reasons Duolingo is leading in its respective domain is that it solves users' pain points better than others. So, taking the same forward, keep planning as per your user expectations and needs. Target local markets to get a microscopic understanding of their requirements and implement them in the global market.
2.

Introduce 'Real-Time Translation' and 'Writing' Feature

There's hardly any language learning application that offers the functionality of translating any word in real-time or learning how to write them. So, it is again a profitable opportunity to consider while building a Duolingo-clone app.
3.

Localize Your App

App localization can help to get more conversions and loyal customers. So, hire the experts and localize your app content in languages spoken in your target audience (usually in those that are majorly used by them).
4.

Embrace Latest Technologies

Gamification and Artificial Intelligence are making a good profit. No denial to this. However, with the changing market, it is necessary to welcome other technologies too.

So, look ahead to integrate AR/VR, IoT, and other such trending technologies into your process of creating a language learning app like Duolingo.
5.

Follow UI/UX Trends

Knowing that the UX is the secret sauce of Duolingo's success, it is again a profitable act to consider the top mobile app UI/UX design tips and trends.
6.

Promote Your App

Last but not least, it is necessary to take the right steps for promoting your application. While Duolingo team relied only on 'Word of Mouth' marketing, you can turn towards other effective methods to promote your app and get better results.

In fact, it is better to invest in pre-launch app promotion to prepare market for your application and enjoy higher downloads. And eventually, get back the money invested in the form of Duolingo-like app development cost.
Read more blogs
Mobile apps are making the world go round. As of the first quarter of 2021, Google Play Store had nearly 3.48 million apps available, which were downloaded 108 billion times. The App Store, on the other hand, had roughly 2.22 million apps in the same quarter. These stats project the unprecedented growth and popularity of…
Sudeep Srivastava
06 Dec 2021
In February 2021, the jewelry industry in the US sold jewelry worth nearly $3.4 billion, as per a report by Statista. Certainly, the US offers a pool of opportunities for jewelry businesses to flourish. However, great results come to those who improvise. With over 290 million smartphone users in the US alone, it won't be…
Sudeep Srivastava
15 Nov 2021
Remember how before the advent of technology, going to the market to get anything was a tedious task for us. And here we are talking about buying or selling things that often get cumbersome. Before technology was introduced, this task was tough. But now with the internet and online selling apps, it has become easy…
Sudeep Srivastava
20 Jul 2021