"I want to learn French", "I wish I knew Spanish", "I'm thinking of learning Chinese".
With the whole world getting connected, such phrases have become trivial. People have started showing interest not just in traveling to different parts of the world, but also in learning their native languages.
They have started realizing the importance of mobile apps in the education industry and turning towards these mobility solutions to learn vocabulary, practice the words they heard, and become fluent in the language.
An impact of this is that the mobile language learning market is thriving.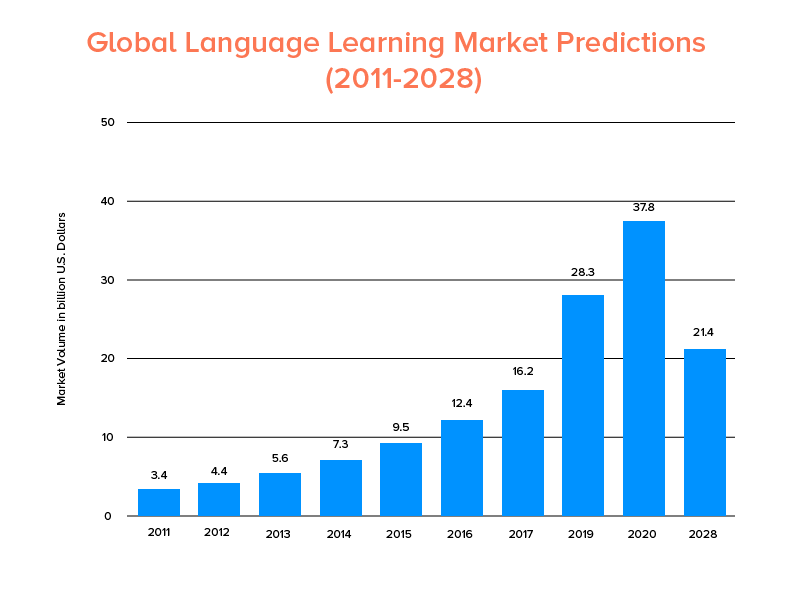 This market growth is so vast and significant that the competition in the market to emerge as the ultimate leader is on the rise.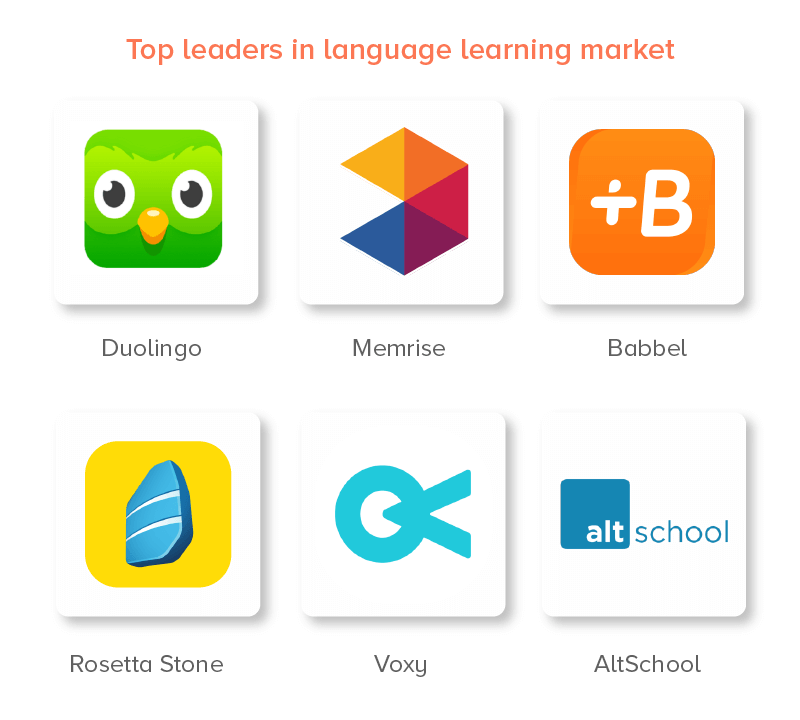 While all these language learning web and mobile portals have proven to hold a momentous position in the market, the one that is leading the show is Duolingo. Now, if you are wondering how to make an app like Duolingo, what features you should implement in it, and what would be Duolingo app cost, then you have just landed in the right place.
About Duolingo – The App Ruling the Language Learning Domain
Duolingo is a language-learning platform offers over 95 courses in nearly 23 38 different languages. The platform, founded in 2011 by Luis von Ahn, has made a valuation of $4 Bn and gained 500M user acquisitions so far.
The application received the credit of being the first educational app to receive the fame of 'iPhone App of the Year' in 2013 and 'Most Downloaded App' on the Play Store for 2013 and 2014. It has also been rewarded with many other titles, including being announced as one of Forbes's "Next Billion-Dollar Startups 2019".
Because of all these achievements and appreciation, the application has not just become users' favorite but has also proven to be a profitable idea for the education industry and enthused entrepreneurs to enter the mobile market. A ripple effect of which is that various startups and entrepreneurs have started showing interest in the Duolingo app cost, along with other requirements. Something about which we will discuss in this article in detail along with the Duolingo app development cost.
But firstly, let's get familiar with what issues Duolingo solved, which resulted in its popularity.
Language Learning Issues that Duolingo App Solves
1. Boring Learning Process
Whether you pick a book or turn towards some mobile education platform, the learning process is  hectic and uninteresting.
Duolingo added fun to learning and made users more excited to achieve their desired goals via Gamification.
2. Low Credibility of App Content
With most of such applications running on software and algorithms, it was a question for users if to pick these apps over real tutors or not.
Duolingo solved this issue by ensuring that the content delivered to users is not just checked by AI-based algorithms, but also verified by users. For this, the app looks into the answer offered by users and validates the one selected by the majority.
Not only this, but the application has also initiated a certification process, making you leverage the same perks as offline learning programs. Something that again adds to the benefits of language learning apps like Duolingo.
3. No Customization
Above all, the existing web and mobile learning portals were not offering any personalized services. Users were compelled to go through the same journey as others, irrespective of whether they had the same goal or not.
But, with the advent of Duolingo, the situation took a 180-degree turn. The application came loaded with personalization elements, making it easier for users to plan their own journey and enjoy.
With this covered, it is time to get into the technicalities of making an app like Duolingo. So, let's begin with taking a walkthrough of app features and then jump to the Duolingo app development cost.
Market Demographics of Duolingo 
As per Forbes, Duolingo supports more languages than any of its competitors, which is 38 approximately. This shows how promising is Duolingo's performance in the real world. It gives a clear picture of why and how to build a language learning app like Duolingo.

Duolingo, not just supports commonly spoken languages like English, French, Spanish, and Chinese, but also other uncommon languages like Gaelic, Hawaiian, and Navajo. It even supports language from the fictional world and has 500 million registered users. 
Duolingo has also been phenomenally performing well in emerging markets like India, with 3.4 million registered users. Over 60% of the user base in India is utilizing Duolingo for learning English. 
With the global pandemic, people are getting slowly dependent on online platforms for their language learning programs. Duolingo has crossed the revenue of $6 billion every year. Also, the number is estimated to grow by around $8.7 billion by the end of the year 2025
Step-By-Step Process to Create an App like Duolingo
According to Statista, Duolingo has 500 million worldwide users, which is expected to increase in the upcoming days. Therefore, businesses are now planning for e-learning mobile app development and follow a strong strategy for developing an educational app. Here is the step-by-step process for creating a successful e-learning app like Duolingo:
1. Get a Complete Idea of the Language Learning App
Before you step into the world of mobile app development, get a clearer idea of why a language learning app is necessary. You need to have a clear idea about what type of e-learning app you want, which begins with clear research. Soon after, you can start planning out the functionalities, features, technical stack, and other things you would like to implement in your e-learning application.
2. Choose a Proper Platform for Educational App Development 
Businesses are often confused about the right platform they need to choose for their educational app development. It is always suggested first to determine the type of development platform and then move on to the development process. 
In this competitive world of the online learning market, choosing the best platform for your application is a major factor that can determine the success of your mobile app. Make your choice based on the factors like app development, time, complexity, location, business needs, target audience, and so on.
3. Utilize the Latest Tech Stacks
Depending on the type of language learning app development platform you choose, pick the technology stack accordingly. Various platforms consist of different technology stack methods and needs. 
For instance, for developing an Android app, the programming languages required are Kotlin and Java, while iOS app development requires programming languages like Objective C and Swift. The same is applicable for the development parts of your educational app like Duolingo.
4. Create an Appealing UI/UX
A poorly-designed e-learning app will only lead to uninstallation and nothing else. The users will uninstall an app if they find it difficult to navigate the features or unattractive. Thus, it is crucial to keep the design attractive and simple, ensuring that your e-learning application does not experience frequent uninstallations.
You need to keep a check on the following factors:
App's usability

Wireframe

Information architecture

Visual design
5. Start with your Development Process
Once you are completely done with the steps mentioned above; you can now begin with the development process of your language learning app. Start with creating an MVP version of your mobile app to know the viability of your app idea. 
Creating an MVP is not only cost-effective but also helps you to know how your target audience is interacting with your app idea. Read this blog to know why MVP is important in software development. 
6. Test your Educational App 
Testing is a crucial part of your mobile app development process. Once you develop an educational app, test it for bugs in order to keep your application 100% bug or error-free just before its launch in the app stores. 
Testing your mobile app will help you identify the loopholes of the app and other errors that can be rectified on time. Testing is a quality assurance process that will help smoothen your e-learning app development process while boosting the chances of revenue coming your way.
7. Go for its Launch 
This is the final step of your language learning app after you have performed all the steps mentioned above successfully. Having an app launched isn't the end but the beginning of taking your business to new heights. Once your app is successfully launched, start on its marketing aspects immediately for increasing the reach and visibility of your e-learning app. Hire an education app development company that can offer you an intuitive e-learning application.
Top Features of Language Learning Apps like Duolingo
To create an app like Duolingo, you need to implement an advanced set of features to ensure high engagement and scalability. Check out the top features required to build an educational app.
1. Profile and Settings
The foremost feature to consider while developing  Duolingo-like education application development is Profile and Settings.
Here, users can save their personal details and see all the activities they have performed so far. Also, they can make some changes to the shared content or its privacy, ultimately enjoying a safe and satisfying experience on the platform.
2. Course and Levels
Here, users are offered an opportunity to pick from 100 courses related to 40 languages and decide the pace at which they wish to learn. This means, that they can choose if they want to learn on a daily, weekly, or monthly basis.
3. Language Practice and Revision
This is the feature that defines the actual purpose of the application. Here, users come across different speaking and listening exercises, alongside those requiring choosing from multiple options or translating the displayed content.
4. Push Notification
Push Notification is yet another feature that you must consider while creating an app like Duolingo. This feature reminds users to complete their course if they miss out on any. Also, it contributes in terms of motivating users to leave their laziness and focusing on achieving their targeted goal soon.
5. Gamification
Gamification is one of the core features of the Duolingo-clone app.
This feature deals with adding gaming elements to your application and is used in different forms in the application. Two of the prime area of usage are:
Experience and Levels – Gamified elements, like Animation and Sound effects, are used to make the screen super-engaging.

Achievement and Badges – Whenever you complete any course or task, you are awarded a badge and associated items. Also, there's a leaderboard screen where you can see all of your achievements and feel motivated.
6. Social Media Integration
Last but not least, the Duolingo application offers users an opportunity to log in via their existing social media accounts.
While this feature impresses users looking to learn a new language or polish their skills in one they already know, what makes them pick Duolingo over Babbel or any other e-learning app is their UX strategy.
Top 3 Factors to Consider While Developing an App Like Duolingo
The top features of an app like Duolingo that we just discussed will not only entice the users but will also enhance engagement. Other than the features, there are also a few other key factors that we need to put into consideration while creating an app like Duolingo. Let's put the spotlight on those.
1. Your App Should be Engaging and Easy to Use
While building an app like Duolingo, you need to ensure that your app doesn't irritate your users. They are here to learn something, and you have to make their learning process easier. Therefore, keep the application as simple and engaging as possible. Focus on the UI and UX concept of your app and avoid excessive ornamentation. 
With too much graphical ornamentation, your users will find it difficult to interact with the app and navigate it freely, thus going for uninstallation. Make your app fun and engaging by including simple exercises. Read this blog to learn the tips and tricks for reducing mobile app uninstallation. 
Follow a simple approach to make the exercises easy to understand. Create a clean UI to select puzzles, challenges, games, and other numerous language choices to ensure your users are engaged and interact well with your app.
2. Know the Relation Between Gamification and Learning 
E-learning applications like Duolingo take complete advantage of the gamification process for keeping the users engaged. With gamification, the learning process becomes fun. The entire learning process revolves around solving quests, puzzles, and getting points. 
These apps are now transforming the entire learning procedure with the inclusion of exciting games with incentives, achievements, and challenges. So, if you are planning to create an app like Duolingo, then start with gamification at every step in order to make your app a success.
3. Chatbot Integration
Language learning bots are just exceptionals. Duolingo is majorly popular because of its bots. The bots help practice vocabulary and foreign language. But where to start if you are also planning to build a language learning chatbot app like Duolingo? The AI power chatbot learning framework will soon replace human tutors. 
In case you have used Duolingo, then you will notice that the chatbot prompts you to submit the right response. In fact, bot texting has now become more effective than any other communication platform. And who knows, your billion-dollar learning app idea may just work. 
Duolingo UX Takeaways
1. Simple yet Engaging Onboarding Experience
Many business enthusiasts and education app development service providers make the mistake of considering onboarding screens as the area where they could share all of their apps' features. However, there are various users that wish to explore the app on their own or get irritated by seeing this user manual.
This is where Duolingo has outshined in the market. The application has minimal screens with short and crispy content; making way for users to land on the platform at the earliest and explore it themselves.
2. Delayed Registration Process
This language learning application does not force users to create an account at first. Rather, it lets users choose the course, and level, and perform a few lessons. After this, it displays a positive message to encourage users to register for an account, "Time to create a profile to save your progress and continue learning for free".
This way, it shows what the application can do and how, before making it imperative to create an account. Something that increases the chances of user conversions.
Besides, the application has made the registration process short and faster to give a pleasant experience to users.
3. Push Notification
Knowing the fact that building a push notification strategy can increase conversions, Duolingo has also introduced different push notification mechanisms into the app. They have used this technique to remind users about their daily/weekly/monthly goals and encourage them to take another course with some positive and personalized content.
4. Progressive Onboarding Experience
Another mistake that app designers and business people make is limiting the scope of the onboarding experience to the point the user enters the app. This is where Duolingo has proven to be an expert.
The application has introduced onboarding elements throughout the application. This way, they have succeeded in simplifying the workflow and delivering a higher level of personalized experience to users.
5. Speed and Convenience
The application has also worked on delivering higher speed, convenience, and a valuable experience to its users – something that only a few applications like Netflix have nailed.
6. Positive Messages and Encouragements
Duolingo app has also worked on adding positive vibes into its design. They have introduced positive messages to encourage users, in case they fail. This way, they have given an impression that they understand their user pain points and have the knack of how to bring them back.
The effect of which is that more than 42M users use the application every month.
7. Voice Recognition
Lastly, they have looked into how to use voice recognition and Artificial intelligence for delivering a better user experience.
These features make Duolingo enjoy the limelight in the language learning industry. However, they are able to perform smoothly and deliver exceptional experiences because of the tech stack used. So, before we look into the Duolingo app cost, let's uncover the tech stack these apps are backed with.
Tech Stack to Consider for Building a Duolingo-clone App
The tech stack of the Duolingo app, that power up the features and make it a top choice  of every user, includes:
It uses Java, Kotlin, Objective-C, Swift, Scala, and Swift for native development while the backend is backed by Python, Vue.js, React.js, and Angular.js. CSS, jQuery, and Bootstrap are used to create the UI/UX design journey, whereas MySQL, Postgres, MongoDB, HBase, and Cassandra are considered for meeting the database management needs.
 Likewise, Hadoop and Spark big data frameworks, Apache, and IBM are often considered for real-time analytics, and Amazon Data Services or Google Cloud Storage for cloud storage needs.
Now that you know the features and technology stack for language learning app development, let's make no further delays. And see how much Duolingo-like app development costs.
What is the Average Cost to Develop an App like Duolingo?
An educational app with a basic feature can cost you around $10K – $30K, if you wish to develop it for a single platform like Android or iOS. In case you want to develop it for a hybrid or react native platform, then it would cost you around $50K. 
Now that you have got a rough estimate of your educational app development cost, you must have realized that there's no such exact cost. It can be higher or lower depending on the type of advanced technologies and features used. Apart from that, there are also certain factors that influence the cost of creating an app like Duolingo. Let's move on to discuss those. 
Duolingo App Cost: Factors to Consider
If you are keen to know how much does Duolingo app cost, then you must consider a few factors. The prime ones among those are-
1. App Platform
The choice of building an application for Android, iOS, or both makes a difference in the cost value. This is because the required tech stack, app complexity, and other factors vary per the platform involved.
2. Front-end Development
While some programming languages and frontend development environments are open-source and secure, others demand a higher fee to use. Also, a few of them do not offer customization in terms of tech stack. All these factors again create a significant difference in the language learning mobile app development cost.
3. Backend Development
When it comes to developing education and mobile web platforms, backend development languages, frameworks, hosting servers, etc. add to the cost of the Duolingo app.
For example, when you choose microservices architecture over monolithic, you get better futuristic services but at a higher cost. Likewise, the use of Node.js costs less when compared to that of Java.
Here above, we asked you to choose microservices over monolithic architecture. But, in case you wish to know the reason behind it, check our Microservices vs Monolithic architecture article. 
Likewise, when you do not ask your hired development team to pay for backend hosting services, you get an opportunity to reduce app development costs.
4. Design Process
Again, the cost to design a mobile app also affects the overall cost of creating an app. So, it is imperative to be familiar with the factor that influences the cost of the Duolingo app, which includes not having a clear vision of what design elements to use, what design tools to prefer, the use of animation content, and more.
Besides, various companies charge separately for user persona, UX research, and user journey mapping. In such a scenario, it is better to hire an e-learning app development company like Appinventiv that does not charge separately for the research and guesswork.
5. Testing
Last but not least, the tools and efforts related to the quality assurance process also reflect the difference in the overall cost of creating an app.
To know the cost of creating an app while incorporating more features in your application, Contact our e-learning app experts today.
But, wait!
Before you choose our education mobile app development team or hire any, it is good to get a clear understanding of the development challenges and the ways you can earn back the money
So, let's check for the development challenges you might face in the process to create a language app.
Challenges You Might Face While Duolingo-like App Development
While there are various challenges associated with developing a Duolingo-like application, the two main ones are:-
1. Deliver Impeccable Chatbot Services
Duolingo's bot is available in more than one language and delivers longer sentences. To create one such language-learning chatbot, you need to dive into complex algorithms and integration processes, especially when starting from scratch. This demands higher efforts and budget, and many times do not even deliver results in the form of intelligent conversation as expected. So, it is a risky investment both for business people and developers.
2. Integrate Voice Technology with Bot
Another such challenge that can be faced by the development team is integrating chatbot with voice-recognition technology. This is so because the voice technology is still immature with fewer sources to make this possible. Something for which we advise to go with top mobile app development companies only.
With this covered, let's see how this language learning mobile app makes money (and you can too.
Bonus Read- How Do Apps Make Money?
Duolingo Business Model
The Duolingo business model is Crowdsourced. It makes some text/content available to users for translation as a part of their learning course. When multiple users give the same translation for any particular content, the website considers it as the right translation and saves it as the translated text. This text is then shared with organizations like BuzzFeed and CNN in return for some monetary benefits.
 Besides, Duolingo also earns money by embracing the following these monetization models:-
1. In-app Advertisement
Under this business model, the application allows users to enjoy free content but loads it with advertisements from brands who pay on the basis of CPC and CPI.
2. Subscription Model
Here, the application provides an ad-free experience alongside various other perks to users, when paid. The app lets users gain gems and in-app currency to unlock content beforehand and get more chances in competitions.
Also, the language learning app asks for a fee of $49 for enrolling for a certification in any language.
3. Freemium 
Educational apps are now offering freemium features or access to special courses through payment. Freemium is one of the best ways to gain a huge user base for your e-learning platform; as it gives a chance to users to explore your app and know more about it. 
In case, your users want to explore a few special courses or features of that application, then they need to pay for it. 
4. Paid Apps
Paid apps business model simply means that your app is not free to download. If people want to utilize your app, then they must first purchase it from the App Stores. Paid apps for e-learning platforms can cost as per the services provided. 
With paid apps, brands are now generating upfront revenue with each new user. The key to success with this model is your capability to showcase the value of your app with an amazing app listing that includes 5-star reviews, screenshots, and so on. This would help you to differentiate your app from your competitors.  
While these are the business models that Duolingo prefers, there are various other strategies that new-age businesses can emulate to earn money from a mobile app, with Affiliate marketing being on the top of the list.
With this covered, let's wrap up this article by covering a few tips that can make your app prepared for the future.
Tips to Make Your Duolingo-Clone App Successful
1. Focus on Customers
One of the reasons Duolingo is leading in its respective domain is that it solves users' pain points better than others. So, taking the same forward, create a language app by planning as per your user expectations and needs. Target local markets to get a microscopic understanding of their requirements and implement them in the global market.
2. Introduce 'Real-Time Translation' and 'Writing' Feature
There's hardly any language learning application that offers the functionality of translating any word in real-time or learning how to write them. So, it is again a profitable opportunity to consider while building a Duolingo-clone app.
3. Localize Your App
App localization can help to get more conversions and loyal customers. So, hire the experts and localize your app content in languages spoken by your target audience (usually in those that are majorly used by them).
4. Embrace Latest Technologies
Create your own language app by embracing the latest technologies in your business. Gamification and Artificial Intelligence are making a good profit. No denial of this. However, with the changing market, it is necessary to welcome other technologies too.
 So, look ahead to integrate AR/VR, IoT, and other such trending technologies into your process of creating a language learning app like Duolingo.
At Appinventiv, our experts worked on a blockchain-powered LMS, Nova Learning that aims to transform the education sector. The client wanted a blockchain use case for solving the prevalent challenges of LMS agencies; one of them being fraudulent course certification. 
Our tech experts increased the magnitude of Blockchain's inclusion with the help of cryptocurrencies and smart contract-based certificate issuance for transparent data storage.
5. Follow UI/UX Trends
Knowing that the UX is the secret sauce of Duolingo's success, it is again a profitable act to consider the top mobile app UI/UX design tips and trends.
For instance, the Appinventiv experts came up with an intuitive online learning platform like Gurushala. We collaborated with Vodafone in their initiative to bring a positive change in the education sector through an online learning platform like Gurushala. 
We created smarter digital tools for teachers in Gurushala, that aimed to save time while presenting an engaging and exciting lesson format. We ensured that the website is easy to navigate and user-friendly for both teachers and students. 
6. Promote Your App
Last but not least, it is necessary to take the right steps for promoting your application. While the Duolingo team relied only on 'Word of Mouth' marketing, you can turn to other effective methods to promote your app and get better results.
 In fact, it is better to invest in pre-launch app promotion to prepare the market for your application and enjoy higher downloads. And eventually, get back the money invested in the form of Duolingo like app development cost.
Create a Scalable App like Duolingo 
In this highly dynamic e-learning market, there are numerous apps that are gaining acceptance and popularity among the masses. E-learning platform like Duolingo has now gained momentum. The demand for e-learning apps is now skyrocketing, which is enhancing the revenue of ed-tech organizations like never before. 
Learning apps are now leveraging the best abilities of AR and VR technologies that are enhancing the overall language immersion process. If you are planning to create an app like Duolingo, then you must consider the best features and monetization strategies. In case you want to e know the Duolingo app cost or what it takes to build a similar app, get in touch with our e-learning app development experts to create your own language app. Our tech wizards can help you come up with the best educational app to bring more users to your e-learning app while driving the intended sales and profit for your business.
FAQs
Q. What is the development team's structure for creating an app like Duolingo?
A. For creating an app like Duolingo, a development team's structure should be as follows:
Project Manager

System Architect

Business Analyst

Art Director

2D Artist

Web Designer

3D Artist

SFX Composer

React Native Developer

React Native Lead

.NET Developer

.NET Lead

DevOps

QA
Hire a professional e-learning app development company like Appinventiv, to get these professional skills in order to make your app a reality.
Q. What are the types of educational apps?
A. Before you jump into developing an educational app, you need to first decide what kind of application you want to create. There are mainly two types of educational apps. One is for students and the other for teachers. 
However, both these types have a bunch of subtypes as well which satisfies different user groups like kids, college and university students, tutors, language learners, lifelong learners, or specialists in various fields.
Q. What are the features of Duolingo that made it famous?
A. Duolingo, the popular e-learning platform is famous because of these reasons:
The platform provides 10000 + words and 23000 sentences per language. 

Any user can enhance their skills with this platform as they can start as a beginner or an experienced learner. 

The app has 40 most popular languages, including French, English, Portuguese, Hindi, etc.

It includes everything about a particular language, for example, grammar, basics, phrases, etc. 

The app has a skill tree which is divided into 9 units and these units get complicated as the learner passes the previous unit.

The application also has vocabulary lessons where the users can match images with words. 

It also has a resource library that contains stories, practice sessions, podcasts, and other specific events that a learner can follow up on. 

Leaderboards make it more interesting for the users as they can compete with the other users around the globe.
Q. Why do you require a language learning app?
A. Learning a new language enhances all aspects of your life. It will make you a better person as it will boost your career opportunities and you will find out more about the world around you. Although many people would prefer physical learning over virtual learning but in this current situation of the ongoing pandemic, virtual learning has become prevalent. 
Also, people now believe that virtual learning is the future of learning. This is where the language learning application comes in and plays its own role. Virtual or online learning through a language learning app can save your time and cost of the Duolingo app, thus giving you more time to build your skills and save money. Other than that, it promotes inclusivity, flexibility, and comfort in learning, along with ease in accessibility.
Q. How long does it take to build an app like Duolingo?
A. App development is time-consuming. Building a language learning software requires a lot of patience as it involves the complex tasks of engineering both frontend and backends like UI design, data integration, and development
Not only this, but the developers also need to ensure that they meet the vision of the client along with letting them know the cost of creating an app. After completion, the e-learning app has to go through specific tests to assuring a bug-free app. All these things require around a few months to go for the final launch.
Q. What are some of the effective monetization strategies for building an app like Duolingo?
A. Are you planning to earn more revenue from your language learning app? Try the below-mentioned app monetization strategies today:
Pay-per-course

Premium Subscription

Freemium

Additional Option

In-app Purchase

Ads Model
Read more blogs
Traditional education has undergone changes as a result of the COVID-19 pandemic. More and more learners of all ages are becoming attracted to online learning. As a result, Google Play and Apple's App Store reported the largest number of downloads of educational apps during the first quarter of 2017 to 2020, at 467 million and…
Our daily lives revolve around two things: data and Artificial Intelligence. Whether we realize it or not, AI has become an essential component in every given industry. Starting from AI in sports, mobile apps, and construction to AI in education, the technology keeps carrying impact across every domain with new applications and use cases. When…
The pandemic has jump-started the transformation of an educational system that has been known to be too slow to evolve, historically. With COVID-19 shutting down schools, over 1.2 billion children were forced out of their classrooms. While their homes become classrooms, their parents became both tech support agents and co-teachers, and the internet became their…
Sudeep Srivastava
29 Dec 2020