Wireframe: A Phase of Mobile App Design You Can't Miss Out!
2. min read
Last update on:
July 16, 2020
With the whopping increase in smartphone user base, it is obvious that companies would want their mobile apps to reserve 'hot seat' in the user's phone and hit the market at the earliest. For this, they might want to skip the wireframing phase, but is it right? We have developed a gamut of applications till date and with our understanding and experience, we find wireframing as important as any other app development phase. Believe us, it might be a bit time-consuming and costly, but can be the table turner in your application development process.
Researchers revealed that designing alone takes 30% of development time, which is an exorbitant amount of investment a firm puts in the development. Hence, designing a mobile app is a crucial part of application development lifecycle and must be devised for favorable results. For this, the best industry standards like creating wireframes, mockups, and prototypes must be taken into account.
For many, the term 'wireframe' may sound unfamiliar, so we will begin with a small introduction to what wireframe is, followed by reasons to design a mobile app wireframe.
Wireframes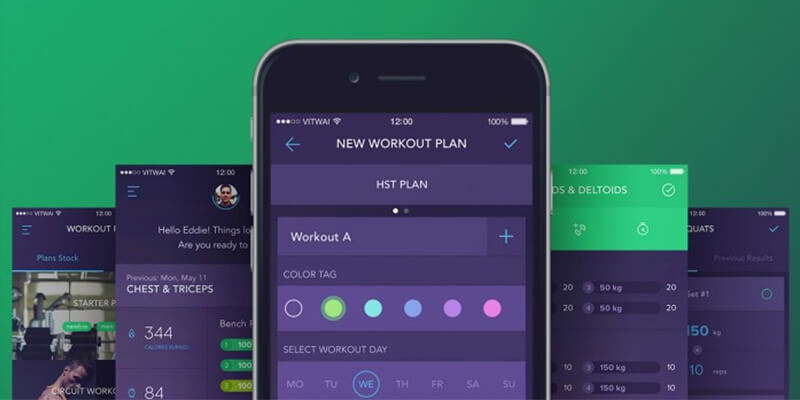 Wireframes, in simpler terms, are a representation of the skeletal structure of the app. It can be considered as the blueprint of the application where the structure, hierarchy, and relationship between the different app elements is clearly defined. In other words, it shows the basic design of the application without paying attention to colors, shapes or details. All the wireframes are connected to each other with a link so that you experience a clickable prototype of the app. This is the reason it is one of the core things that someone looking forward to making a UX design career must consider.
Very often, the term 'wireframe' is replaced with 'mockup', but both aren't same. Wireframes represent the app architecture while mockups show how the app's visual elements will appear when you reach to the final version of the app.
The wireframing process begins at the early stage of app design but does not end there. It is an ongoing activity enabling strategic arrangement of the elements of the app. It seems a perplexed activity but is actually a quick and straightforward task.
Reasons to Design a Mobile App Wireframe
Now as you know the basic of wireframes, let's discuss the importance of wireframing in the application development cycle. Being one of the top mobile app development companies in USA & India, we recommend wireframing due to the following reasons:
They validate your app idea and make a room for improvements: When you think of developing an application, it is possible that you might have a rough idea only. The wireframing can help you to find how feasible your idea is. It can let you know if your app needs further market research or re-planning. It can guide you to validate the usability of the mobile app by visualizing and navigating through different screens without getting distracted by the visual design.
They enable to verify your idea with the team: If you are outsourcing your app need to a mobile app designing company, it is very much necessary that they get complete knowledge of your idea and expectations associated. In such a scenario, the wireframes can assist you to know if you both are on the same page. You can rely on wireframing to ensure that the team has not misunderstood the idea and does not build something unexpected.
They optimize real-time communication and teamwork: Our experts make it certain that wireframes are shared among the team so that each member can remain in the loop and can be updated about how the mobile application is being created. The communication between the designers, developers, testers and other team members reduces the errors and increases the app efficiency. This implies you will get a fully-functional, bug-free mobility solution. On the top of it, the wireframes make you as an active member of the whole mobile app development process and ensure that your suggestions are not overlooked.
They help in staying focused throughout: When you design a mobile app, it is likely that you get distracted from the main functionality and work extensively on additional features. In this situation, a wireframe can clarify for you what the idea is, what are the prime features and what is the best way to offer high-end experience.
They save time and cost of app development: With a well-structured wireframe, it would be easier for the experts of the mobile app designing company you hired to build the app effectively. They would have a clear idea of the flow throughout the app and will be able to make the app faster. Besides this, lesser changes will be observed due to wireframing, which means you need not pay double for doing the same work with a few required changes.
They offer visual materials for promotion from day one: Wireframes are an excellent ally when talk about app promotion since they can highlight the design process from the initial stages itself. They also give you an escape from a long text description, since the whole functionality of the application is shown visually to the targeted audience. They also set the ground for the perfect combination of a robust marketing and information sharing tool. From our experience till date, the wireframes are also helpful to find the potential investors and keep them hooked.
Wrapping Up!
Wireframes are often underestimated and not well-appreciated, but they play a pivotal role in turning your app idea into reality. They help in maintaining communication, remaining focused, promoting your app and much more. Thus, this phase should not be ignored at any cost. So, now as you know the need to design a mobile app wireframe, are you ready to design one? Go with the top-rated app development company and give wings to your idea. Again, to get our exemplary services and make the best out of it, contact our experts immediately!
In search for strategic sessions?.
Let us understand your business thoroughly and help you
strategies your digital product..
Related Articles: