Every year, Apple holds a WWDC (Worldwide Developers Conference) to share what they've cooked up for developers and users in the form of apps, devices, features, and tools. But, what happened this year was more than what was expected.
The 4-day Apple event, which was held at the McEnery Convention Center (San Jose, California) between 3rd and 7th June, 2019, was completely focused on providing higher speed, privacy, and responsive experience.
The event, as we have already covered in our Apple WWDC 2019 Event Expectations blog, unveiled iOS 13, iPadOS, tvOS 13, watchOS 6, SwiftUI, an update in Siri and other software, and more – about which we will talk about in this blog.
29 Announcements Made So Far in WWDC Developer Conference 2019
iOS 13
iOS 13, the upcoming iOS Operating system, is coming up with Dark Mode – something that has recently been added as one of the notable Android Q features as well a move to become more conscious of users' eye health.
It is also coming with a new swipe to type option in the default system keyword – now making it unnecessary to install third-party keyboard apps anymore.
Also, iOS 13 is coming up with unbeatable performance improvements. As revealed by Craig Federighi – Apple's Senior Vice President of Software Engineering, the platform will enable applications to run twice as fast as what was ever possible in iOS 12 update and also will make unlocking phones using FaceID 30% quicker than before.
It will also reduce the app size to nearly half when downloaded from the App Store – making it possible for the iOS app developers to maintain a balance between memory consumption and features availability.
They also made iOS 13 available in beta for developers and announced that a public beta will be in the market by July, which means you won't have to wait longer to experience all these features for real.
WatchOS6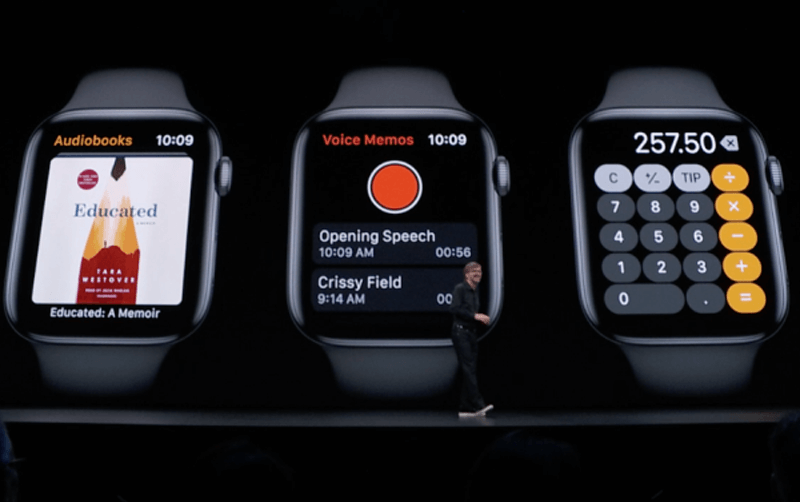 Apple has taken another step in the direction of cutting down the necessary connection between the iPhone and Apple Watch. The company earlier provided the Apple Watch with its own cellular connection and now, it is introducing App Store to the watch – enabling Apple users to easily install apps on their Apple Watches and enjoy its facilities.
Besides, the Apple Watch is also coming with several cool features like a voice recorder and a calculator as a part of the latest WatchOS6 upgrade.
tvOS 13
tvOS is getting remarkable updates that will revamp our Apple TV experience. It will now have a home screen with richer, full-screen content previews and multi-user support feature. It will also have a personalized recommendation feature that will share suggest you watch to watch on Apple TV and what to listen on Apple Music. Not only this, tvOS on Apple Music will also add lyrics to each song so that you could sing the song in sync with the tone.
Besides, the upcoming tvOS 13 will also support Bluetooth controllers, XBox One and PlayStation 4 game controllers, which will eventually revamp users' gaming experience.
Redesigned Health App
Apple's Health App, an initiative towards providing a better and seamless access to personal health data in real-time, also observed an overhaul design. The application, now comes with a new summary view with data and highlights, charts and other visual graphics.
The app will also help you to compare your last 90 days data with 365 days's data and get personalized advice – thanks to Machine learning.
The Apple developers also took a special step towards promoting women's health. They launched a Cycle App for women that will enable them to monitor their menstrual cycle and relish better health benefits.
macOS Catalina
Apple also introduced MacOS Catalina as the latest update to their OS for desktops and laptops. This update will provide the users with a myriad of new features and options, including accurate voice interactions, refined user experience, and the opportunity to use iPad as the second display surface.
Besides, the team also revealed Project Catalyst, a new moniker that will empower iOS app developers to make their applications accessible on both iPad and desktop without putting efforts in terms of shipping of codes for the two.
Upgraded Siri
Siri, the digital assistant of Apple, will get a more natural sound this year. It will also be able to accept, analyze and respond to complex instructions rather than single piece of commands, along with reading and replying to messages via AirPods. These updates might bring it back to the competition against Google Assistant.
[Read here: 43 features that Make Google Assistant Better than Siri]
Swift UI and XCode 11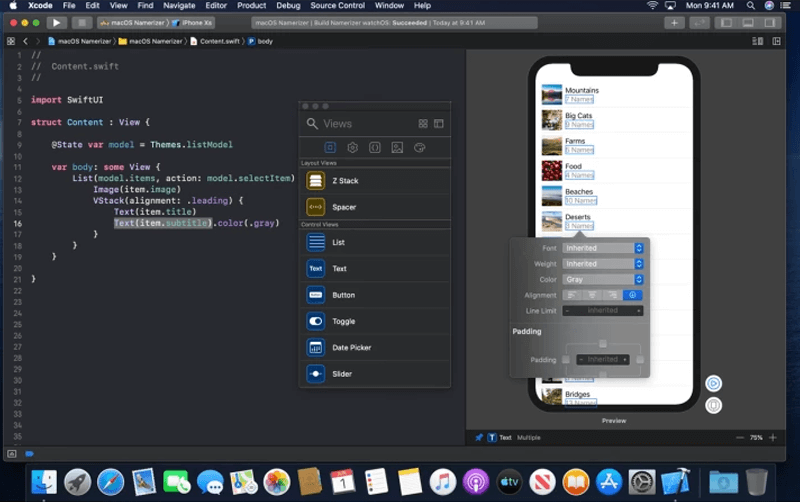 At WWDC 2019 Developer Conference, the team also announced the introduction of Apple's new UI framework, SwiftUI. This framework will provide developers with a functionality of embracing smoother animations using simple and demonstrative code, which will cut down their time and efforts required for designing a bug-free application.
The SwiftUI will also make it possible for the iOS app developers to embrace the code reusability options across different platforms and therefore, enter into the cross-platform app development realm quickly and effortlessly.
Besides, SwiftUI will come alongside XCode 11, the new Xcode version equipped with impressive graphical UI design tools and features. This will make it easier for the app developers to design interactive user interfaces without writing a single code and preview changes in real-time, and test every change to deliver an impeccable experience.
RealKit, ARKit 3
This year, Apple has taken a step to take its position in the world of AR to the next level. The tech giant launched ARKit 3 with motion capture technology that will make it easier for you to record and place yourself in an AR environment. This innovative step, in the long run, will give a push to developers and businesses to invest in AR app development more effectively.
CoreML 3
Considering the growing opportunities in ML technology, Apple has announced a new Machine Learning app development framework, CoreML 3.
This ML-enabled framework will provide developers with an opportunity to develop and deploy apps integrated with Machine learning technology – even when they are not an expert in the technology. This, along with other improvements like Metal and CreateML, will make it easier for the developers to design quality applications easily and effortlessly.
Feedback Assistant
Apple also announced that they are discontinuing Bug Reporter feature. From now, Feedback Assistant will be available on iPad, iPhone, Mac, and other Apple platforms for developers to submit their bug reports and request for an update in APIs and other development tools.
Also, the Apple experts shared that a Feedback ID will be sent to the developers when they file for a bug, which will eventually help them to track the status of the bug and relish other benefits.
Accessibility Features
Apple also took a step ahead to deliver better experiences for disable people. The team, one one side, introduced a feature called Sidecar with which Apple users will be able to turn their iPad into a second display for Mac devices. While on the other side, it facilitated visually impaired users to control their devices using the Siri recognition technology via the voice control feature of iOS and macOS – something that will encourage developers to look into how to design accessibility app for visually impaired.
iPadOS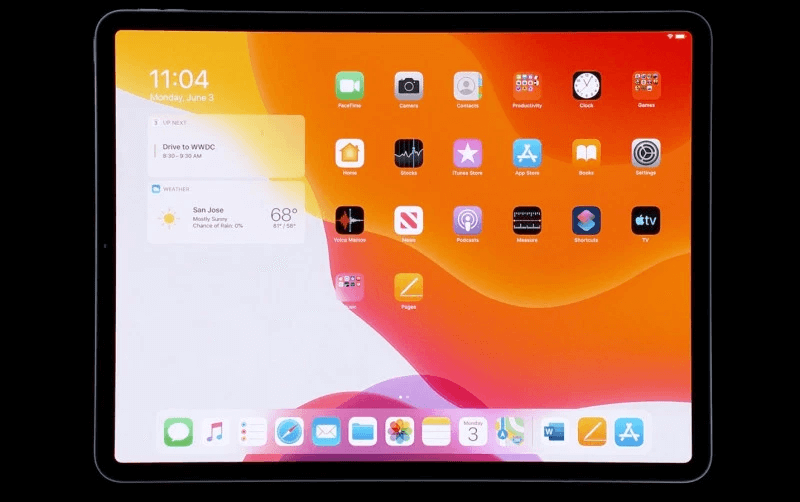 Another significant announcement made on the 2019 WWDC event is the introduction of iPadOS. This platform will serve as a unique operating system for iPads and focus majorly on establishing iPads as a laptop replacement rather than just a bulky, non-cellular iPhone.

The iPadOS, as highlighted in the event, will come up with various features like opening multiple apps in different windows, access to web browsing environment, and support for USB thumb drives and micro-storage cards.
Sign In with Apple ID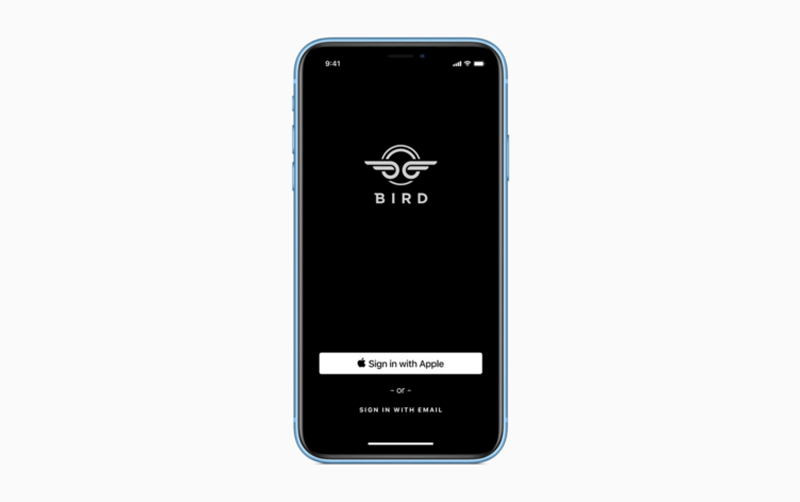 Apple also joined the bandwagon of providing a 'Single Sign in' option to ease the process of logging into third-party applications. The 'Sign in with Apple' feature, as disclosed by Apple software chief Craig Federighi, will prevent sharing of your personal information – even the email address – by generating a unique and random email address to be shared with applications and easily cut off the interaction when find these emails no more useful.
Apple Maps
Another announcement that kept everyone intrigued in the 2019 conference is redesigned Apple Maps.
Apple has made major changes in Maps with the focus to provide a smoother and enhanced navigation experience. They have also announced to provide users a better control on their data, including their GPS location and email address that apps often use.
This, as a whole, is expected to make iOS users switch to Apple Maps as their default navigation application.
iTunes
The most significant announcement made at Apple WWDC conference 2019 is that the iTunes will no longer be a part of the Apple world. The app will now be replaced by three apps – Apple Music, Apple TV, and Apple Podcasts. The reason behind this major step is said to be an effort towards bringing simplicity and user-friendliness in the environment, with every application providing a particular set of features and facilities.

Apart from this, it has also been recorded on the first day of the WWDC 2019 event that Apple Podcast's will now work using a new machine learning approach that will ease the process of searching for a podcast based upon the words showcased on the screen.
Mac Pro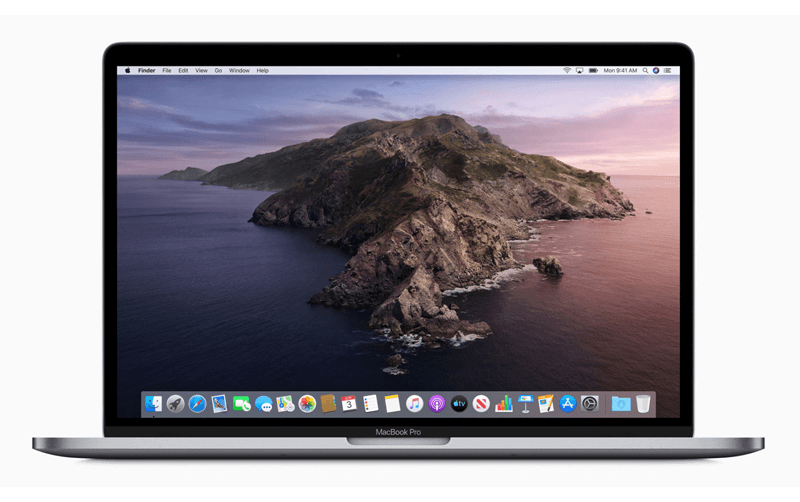 Apple brought Mac back to the limelight in the market by launching Mac Pro. This new Mac device is considered as the most configurable and expandable device meant to deliver the utmost CPU performance. The device will be the right choice for almost everything – ranging from product rendering to simulating an iOS mobile application on multiple devices at the same point of time.
With such features, the device is expected to provide professionals with limitless capabilities and opportunities, and take the innovation to the next level.
Pro Display XDR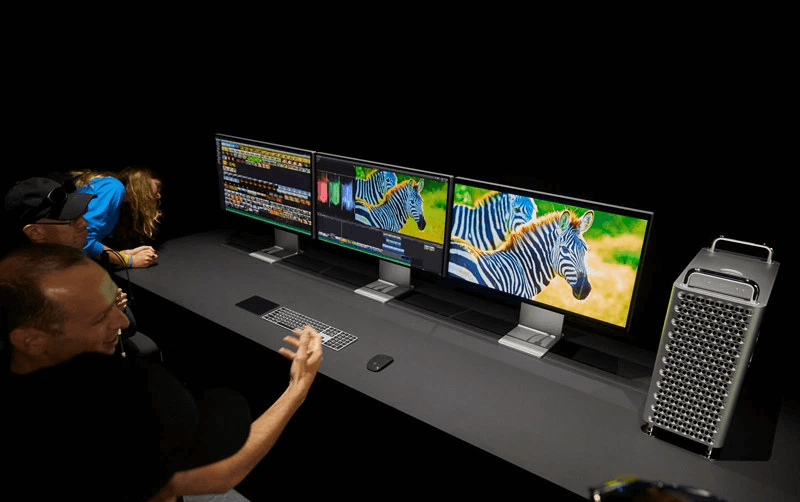 Apple also introduced the Pro Display XDR in the event which brought a wave of excitement in the crowd. This device, with true reference modes, 1600 nits peak and 1000 nits constants, P3 gamut 10-bit color, 6K (around 20 million pixels), single-cable connectivity, and other such features, is expected to fulfill everything one demands from a PRO device. However, it will be available at a price of $5K for basic model, while $1K extra for low-reflectivity finish and $1K for the stand.
Apple Arcade
Besides the aforementioned hardware and software update, Tim Cook also introduced Apple Arcade – a video subscription service that will be available on Xbox, AppleTV, and Sony PlayStation.
Screen Timing in Mac
Just like iOS, Mac will also come up with Screen Time feature. This implies that now even the Mac users will be able to look into how much time they spend on their devices and what apps they interact the most – eventually making it easier for them to work in the direction of reducing the time they spend on these devices and enforce better health conditions.
This feature, as Apple highlighted, will be a feature meant basically for families, with parents getting an opportunity to limit the time their children put in interaction with Mac devices.
Memoji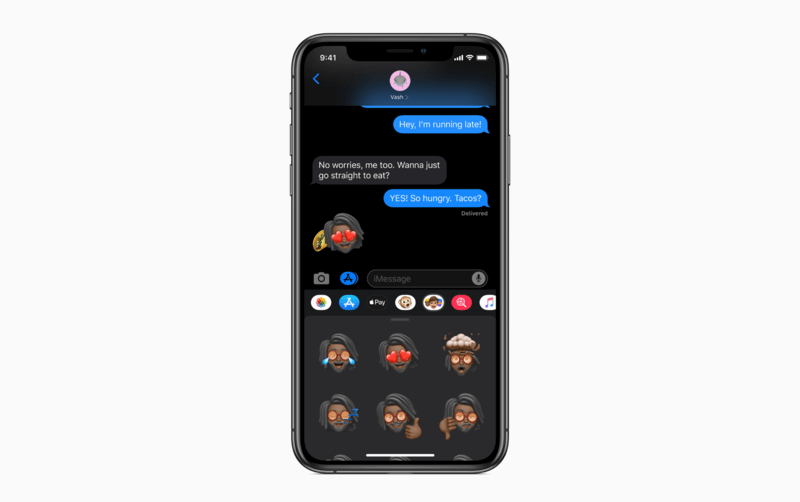 The iPhone's emojis, called Memojis will now deliver a more personalized experience. Now, users will be able to customize their emojis with far more details including multiple piercings, gap in teeth, and so on.
And the best part is that these memojis, unlike the iPhone X's animojis, won't rely on True Depth Camera; you will be able to create them using any device with an A9 chip or later.
Messages
Now, the messages application will let users set a name and a profile picture. This might seem like a minor update provided there are various chatting applications like WhatsApp in the industry, this change will give you an escape from guessing who is texting you when the contact number is unknown.
Find My
Apple expanded its 'Find My iPhone' service to other platforms. They introduced an app called 'Find My' which will be available on Mac devices as well, and help users locate their devices even when offline or in sleep mode. Also, the new Activation Lock option will make it tricky for a thief to get access to a stolen Mac.
Apple Photos
Apple Photos will now help you manage your pictures in a far more streamlined and effective manner. It will automatically differentiate screenshots and other unnecessary pictures from your actual, meaning photos using the power of Machine learning. And, in this way, it will help you to clear out your camera roll.
Edit Videos Seamlessly
The photo editing features like rotating photos, color balancing, and adding filters will now be available in video editors too. This will bring a game-changing difference in the lives of videographers.
Security Feature in Homekit
Besides 'Sign in with Apple' option, Apple has introduced various other upgrades in the security protocols of Homekit also. Now, the Homekits will come with a security video mode, which will firstly encrypt video clips and then send it to the Cloud. Likewise, encryption support will be offered to routers, with Eero, Linksys, and Charter Spectrum as the partners.
Refreshed Apps
Not just the Operating systems, mobile apps will also get a refreshed look. For example, Reminder application will send a reminder containing everything you had noted, when you message the person you tagged in a reminder.
Dashboard
Another shocking announcement made at WWDC 2019 Developer conference is that the dashboard will be removed from Mac environment with the advent of MacOS Catalina update.
The dashboard app was launched 14 years ago and gained a huge momentum in the Apple market because of its desktop Sticky Note facility and skeuomorphic approach. But since 2011, the application stopped receiving any update and even Apple disabled it as a default application.
But now, the users will officially not having any access to this app and its features on their Mac devices.
3D Touch
3D touch, a feature introduced somewhere around the launch of iPhone 6S, will no longer be a part of the iPhones.
The feature, though being in the market for longer, could never establish itself as a pivotal element of UI because of the fact that older iPhone devices did not possess the pressure sensitive layer required for activating this feature and the developers could not estimate its future.
Noise App
Apple also not missed the chance to blew our minds, like what Google did at Google I/O Event 2019, in the form of Noise app.
The application will monitor all the background sounds in real-time and send an alert if any sound that might affect your hearing is found. In this way, this Apple app ensures that you enjoy the melodious music without leaving a harmful impact on your ears.
So, these were the announcement made at Apple WWDC 2019 event for developers and users. These apps, features, and tools will soon be in the marketplace, making it easier for all of us to experience what was said in the event and thus, making our lives easier.
Read more blogs
The victim-count of Coronavirus has increased to 28,276 while taking 565 lives already.  With the virus epidemic being on the verge of becoming pandemic, there is a cloud of concern hovering over not just the affected nations but also the rest of the entire world.  The grim picture of Coronavirus is not just of the…
A few days ago, Dropbox acquired an open-source Store library. The aim behind taking the ownership was to modify it to make it more suitable to the prevailing Android developer ecosystem. Now, Store also includes Google JetPack collection of libraries which poses as a solution for creating current-day Android apps. Google JetPack makes it possible…
Google recently announced that they have acquired AppSheet, a Seattle based no-code mobile app development platform. The terms of the acquisition have not been disclosed yet, but it has been revealed that AppSheet will continue to serve its existing customers. AppSheet was founded back in 2014 by Praveen Seshadri and Brian Sabino to help businesspeople…
Bhupinder Kour
15 Jan 2020