In recent years, a number of technologies and trends have entered the Insurance domain. From AI and Machine learning to cloud computing and Blockchain, these digitized solutions have given an innovative outlook to the insurance businesses, while offering solutions to cope up with multiple challenges prevailing in the market.
One such technology trend that has changed the landscape of the domain is on-demand insurance. 
The on-demand mobile app model in the insurance industry has brought into greater opportunities for users and have made it easier for them to claim an insurance policy as per their needs. Variety of services, speed, convenience and quality have made on-demand app development popular among businesses. 
on-demand insurance apps have not only attracted users, but have also encouraged emerging insurance businesses to invest positively in app development solutions. To get started with on-demand insurance app services, one needs to cover every whereabout of the cost factor. 
An average on-demand insurance app development cost ranges from $30,000 to $300,000 depending on various aspects of your business requirement. But before we disclose the cost value, it is good to know who you are competing against and prepare yourself accordingly. 
In this article, we will take you through several factors affecting your on-demand app development cost, starting from types of software to must-have features in your insurance app. Discover how to make the most out of insurance app development here. 
So, let's dive into the market and see what are the top on-demand insurance apps.
Top Players in the On-demand Insurance Market
On-demand insurance delivery apps and software work as a mediator between a customer and a business. These apps bring along special offers and deals to grab maximum attention from insurance customers. With an on-demand insurance app for your business, your customers can avail all your products and services from the comfort of their homes. Let's take references from some of the popular on-demand insurance apps in the market. 
Below are top six on-demand insurance applications known for best selling insurance services:
All these applications, one way or the other, have given a lift to the traditional on-demand insurance domain. Something about which you will learn better by going through the next section looking into the issues these apps have solved.
Issues That On-demand Insurance Apps like Trōv Have Solved
Popular insurance apps opt for custom on-demand app development services to cover the pain points of their targeted customers. With personalized recommendations, Apps like Trōv focus on satisfying users by solving prevalent issues like:
1. Insurance for Multiple Things
Earlier, there were limited types of mobile insurance apps. Users were able to claim insurance only for vehicles, mobiles, traveling, and healthcare solutions.
Also Read: How on-demand doctor app development is revolutionizing the healthcare industry.
But, with the advent of on-demand insurance applications like Trōv and Verifly (now Thimble), insurance for various other professions and devices has come true. This has opened a whole new world of opportunities for businesses to enter the domain.
2.

Short-term Insurance

With the changing working model, the need for long-term insurance coverage was becoming a less-required thing. Users were expecting flexible insurance models, just like their jobs. 

This is another gap that Trōv-like insurance apps filled by providing short and on-demand insurance to their user base.

With this now attended to, it is likely that you would want to know the On-demand insurance app development cost and make your entry official in the domain.

But, before you get to the state of knowing the estimate of the cost of Verifly clone app or that of Trōv, it is imperative to be familiar with the features and functionalities that are common in both.
Features to Introduce in Your On-demand Insurance App Development Process
To develop an on-demand insurance app the right way, make sure you integrate intuitive and user friendly features for your user base. Here are some of the must-have features for a successful insurance mobile app development.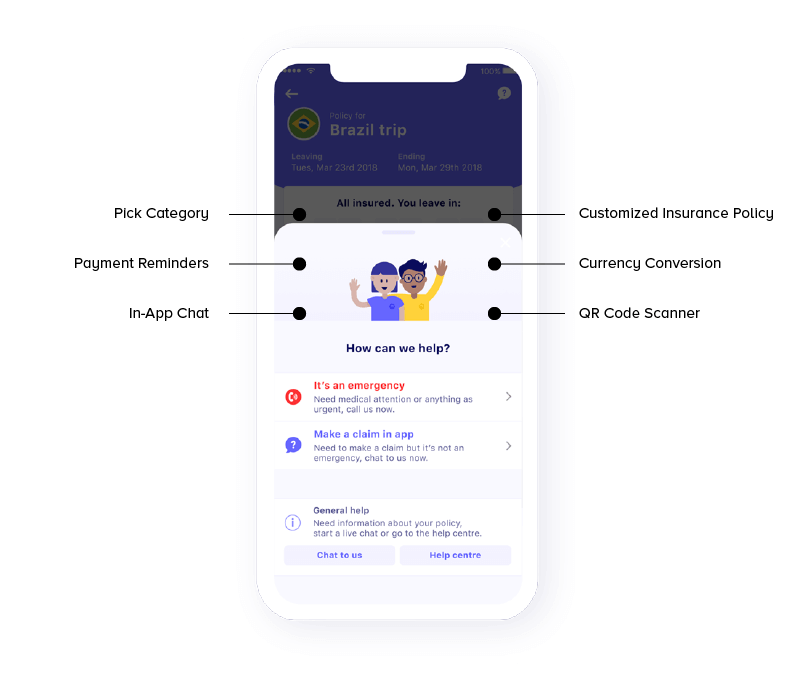 1. Pick a Category
Since applications like Trōv and Verifly covers insurance of over 100 different items, and not just on automobiles like what State Farm does, picking a category is the foremost feature to look at.
Some of the best selling insurance categories on-demand service companies prefer are:
Health insurance

Car insurance 

Mobile Insurance 

Life Insurance 

Automobile Insurance etc.
This feature gives users an opportunity to choose the type of insurance they want out of hundreds of available options .
2. Secure Transactions and Payment Reminders
Your users do not need to be insecure while crediting payments and transactions through your insurance app. Therefore, ensure to integrate secure payment gateways options such as Net banking, UPI payments, credit and debit card payments or crypto transactions.  
Payment reminders facilitates users with on-time reminders about fulfilling the requisites, and other payment-related services.
3. Customized Insurance Policy
Here, users get an option to customize the available insurance policy options based upon the time frame and other basic needs. Users can also get multiple service options within one tab where they don't have to go back to log in credentials. 
4. In-App Chat
In-app chat is yet another feature that should be introduced in the process to develop on-demand insurance apps like Trōv, verifly, sure, and cuvva.
This feature enables users to have real-time communication with agents through in-built chatbots and get clarity of what type of insurance plan they should invest in, alongside finding solutions to other challenges they are facing.
5. QR Code Scanner
This feature is also a must-have in the application from the perspective of verifying the authenticity of any policy.
6. Currency Conversion
Another feature that is often seen in Trōv-like mobile apps is currency conversion. That gives users the opportunity to convert currencies from one form to another in real-time.
While these are the features that should be taken into account while designing an on-demand insurance application, it is also good to have an understanding of their UI/UX design to ensure that you build a profitable app out of the investment you did in terms of cost to develop Trōv clone app.
Apart from these must-have features that can make your insurance mobile app development successful, also focus on general features such as admin panel, user panel, Agent or user sign-up, push notifications, document upload etc. 
When you are done with listing the essential features, do not undermine the design factor in your insurance app development process. You would require a team of experienced designers to guide you with the market trending app designs and interfaces.
UX/UI Takeaways of On-Demand Insurance Apps
Below are top three UI/UX takeaways from insurance industry experts that can make your app stand apart from the competition. 
1. Simple and Easy Sign-up Process
on-demand insurance apps like Cuvva, Trōv, and Verifly ask for limited information during the sign-up process and encourage users to fill out all the personal details later.
This experience, which is one of the key drivers behind their popularity, is in sync with their goal to offer insurance in the case of emergencies.
2. Hassle-free Search Functionality
Rather than just adding a search button on the top of the screen, they have also mentioned the top searched phrases. This makes it easier for users to proceed further in case they want to search around the same keyword/phrase.
3. Card Design Layout
Card layout, which was one of the top mobile app UI trends last year, also contributed to making these applications popular.
This makes it easier to differentiate between different elements present on the application; giving them a clean and finished look. Something that reduces the chances of users getting confused and exiting the platform before a speculated time.
Also, these apps have embraced the idea of minimal design which has made it easier for users to focus on the main purpose, rather than getting distracted by the animation, and other such options available on the screen.
So, these are the experiences that have made users attracted to on-demand insurance apps. However, they have not made this possible single handedly. These features are backed by a complete set of programming languages, frameworks, and tools that makes them capable to perform efficiently and rule users' minds.
Choosing the best technology stack for your mobile app plays a huge role in its success rate. This, in turn, means that having a knowledge of what tech stack applications like Trōv and Verifly use, is very helpful.
So, let's look into their tech stack, before jumping onto the on-demand insurance app development cost section.
Tech Stack for On-demand Insurance App Development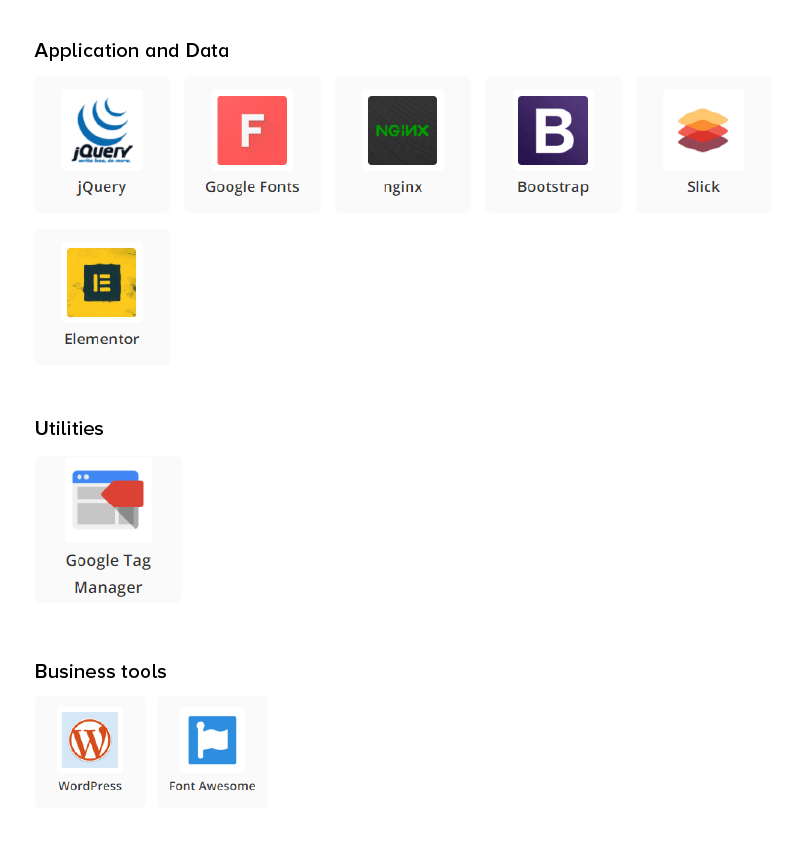 While all the information that you now have on on-demand insurance mobile app tech stack and features, might make it seem like the app development process is easier, it is not so.
The process to build Trōv & verifly like insurance mobile apps is accompanied by various challenges that on-demand service companies and on-demand insurance business enthusiasts have to deal with. 
So, to help you be familiar with such challenges and build better strategies for a successful entry into the on-demand app market, let's uncover some of the common business and development challenges here.
Business and Development Challenges You Might Face While Building Trōv-like App
1. Insurance Frauds
The foremost challenge that every on-demand app builder and business people has to solve is to deliver a secure experience.
The architecture of an on-demand insurance platform is complex in terms of the preparation that has to be done for fraud tracking and fraud management. It is difficult to distinguish between a genuine and fraud incident, which makes it more vulnerable to hacking, phishing, and identity theft.
Besides, the claim handling process is not translucent. This makes it difficult to deliver a personalized and secure experience to consumers. Therefore to make sure your on-demand insurance app doesn't suffer from cyber frauds, integrate modern AI/ML based solutions that help in fraud detection. 
2.

Data Breach Threat

Data breaches are also one of the biggest challenges in developing on-demand insurance mobile apps.

This is because such applications gather, store, and process a heap of customer personal data, because of which it becomes a playground of several hackers and cyberintruders looking for loopholes in the architecture.
3.

Lower Revenue Generation

Unlike traditional insurance apps where users pay a premium amount for long-term, these applications offer short-term and on-demand insurance plans. Here, the risk of occurrence of an accident or calamity is higher, which indicates less probability of making profits.

With all the technicalities discussed, let's move to the on-demand insurance app cost estimate section.
How Much Does On-demand Insurance App Development Costs?
The answer to how much does it cost to build an insurance app like Trōv and Verifly is not certain. This is because mobile app development cost differs on the basis of several factors like app complexity, number of platforms you target, the devices you make your app available on, the location you target, the app development team you hire, the type of design and development tools you pick, etc.
On a general basis, you can opt from three on-demand insurance app development categories based on your app requirements: 
Simple on-demand insurance applications 
These applications come with a basic set of features, therefore, it is a great way of developing MVP products. Simple on-demand insurance apps have a primitive user interface and are designed for only one platform. Such insurance app development costs range from $30,000 to $120,000. However, this is an approximate range, the accurate estimate will entirely rely on your specifications. 
Medium complex on-demand applications 
These insurance apps are more challenging to develop. Mobile app development for medium complex apps requires sophisticated functionality such as in-app chat support,  payment gateway integration, custom UI designs etc,. Hence, the insurance app development cost for medium complex range will be somewhere between $120,000 to $300,000.
Complex on-demand applications 
Custom on-demand insurance app development consists of high-level advanced features such as geolocation, BI tools and analytics, predictive market forecast etc. These are primarily built for regularizing business processes and hence will cost from $300,00 to $450,000. 
However, the most optimal method to follow to know the exact Trōv like app development cost breakdown is to consult with your on-demand app development company.
Now, while this might help you with getting an understanding of how much you need to invest in the on-demand insurance app development process, let's uncover how to earn the money back
Business and Revenue Model of On-demand Insurance Apps
Trōv like insurance apps operate with different usage-based insurance models to make profits. However, the three common monetization strategies they follow are:-
1.

Advertising Model

Most of the on-demand insurance apps make money by allowing other companies to publish their advertisements on their platform.
2.

Subscription Model

An on-demand short term insurance app also considers a subscription model for earning money. 

This is one of the best monetization strategies where a user has to pay a subscription fee to enjoy premium features of insurance apps for a period of time. Once the time period expires, they are asked to pay the amount again.
3.

Referral Marketing

Referral marketing, the key player behind e-commerce success, is also considered by these on-demand insurance platforms for earning higher downloads and revenue.

The process encourages users to share the application with others in return for some reward. And this way, make it easier for insurance applications to come across a new user who would apply for insurance without putting much effort.

Now, while this on-demand insurance app revenue model is apt for the present time, it might not be enough for the future. And the prime reason behind is that the target audience in this market are millennials. They demand more conventional insurance solutions and better integration of technologies in the process, which makes it necessary to keep updating your app offering.

So, while focusing in this direction, it is good to look into tips and trends that will make your application 'millennials-ready' both for present and future time. Something with which we will wrap up this article with.
Tips and Trends to Watch Out for Making On-demand Insurance App Successful
Here are some bonus tips from the industry experts that might come handy in your insurance app development process. 
1.

Introduction of Blockchain and AI

While AI is already being in use in the form of chatbots, there's more to what this technology can offer to the insurance domain. It can gather, analyze, and provide better personalized and secured options using the power of predictive analytics.And, when talking about Blockchain, it introduces must-required transparency and security to the sensitive consumer data that these apps deal with.
2.

App Localization

Most on-demand insurance applications are confined to a particular region or country. Because of this, only the native citizens of those areas are able to take advantage of their services. 

But, by localizing your app, you can make the benefits of on-demand insurance apps available to a wider range. This will not only increase your app downloads, but will also make it easier for you to target a wider audience and enhance your brand reputation in the market.
3. Top KPIs 
Success of any on-demand insurance app largely depends on top KPIs of the field.  Make sure you are aware of the basic components such as client base stability, income efficiency of your customers, processing acceleration etc. Having these well balanced KPI elements with you, helps in high productivity and growth of the initial insurance app ideas. 
4. SMEs and User Protection 
Cybersecurity occupies the top positive in financial technology trends for a reason. User protection, customer retention, stable client base, customer turnover and profitable cooperation. 
On the contrary, SMEs also require protection in the perspective of bad debt write-offs and non-payments. 
These insurance app development tips have saved several businesses from going off-route. Although you may find more technical suggestions and solutions , if you are backed up by a reliable on-demand insurance app development team. 
How Can Appinventiv Help You With On-Demand Insurance App Development? 
Appinventiv is a leading on-demand app development company that offers feature rich applications aligned with custom business needs. Our suite of on-demand solutions include social media integrations, in-app payments, instant alerts, Geo-IP location, analytics and more, 
Check out how we crafted an on-demand recruitment solution "JobGet" for blue collar workers that has now revolutionized the entire industry. To get started now, talk to our insurance industry development experts now. 
Read more blogs
Childcare has been a rapidly growing phenomenon worldwide, particularly in the US. The number of working parents is continuously rising, making it increasingly challenging for them to balance their personal and professional accountabilities, thus leading them to opt for daycare centers and track their children's activities using childcare apps. As per a report by Grand…
Jai Rawat, one of the co-founders and VP of Product Strategy at Zinrelo, a loyalty and rewards platform, wrote in a Forbes article, "To retain customers, brands are under intense pressure and have been forced to look at loyalty from a value-generating perspective with an eye toward loyalty experiences and rewards for their customers." He…
If we have to find an anecdote, think of video editing apps as the scalpel in the hands of content creators and video makers. With surgical precision, these apps allow content creators to carve out the best moments, stitch together seamless transitions, and add the perfect finishing touches to the videos we consume daily.  In…