As you read this line, someone in the world is becoming a victim of a road accident. 
Every second, a mishap happens on the road. Various vehicles turn into trash and their drivers get heavily injured. This scenario has not just made it imperative for vehicle owners to follow traffic rules religiously, but also keep their vehicles insured.
But considering the wide range of insurance companies available in the marketplace, it has become a hectic task for users to pick one. This has brought the  need for a platform that connects users with multiple insurance companies and choose the optimal one. Something that is making auto insurance mobile apps like State Farm gain a huge momentum in the industry.
With the road mishap cases increasing by a grim number, businesses like State Farm has found themselves becoming an auto insurance statistic.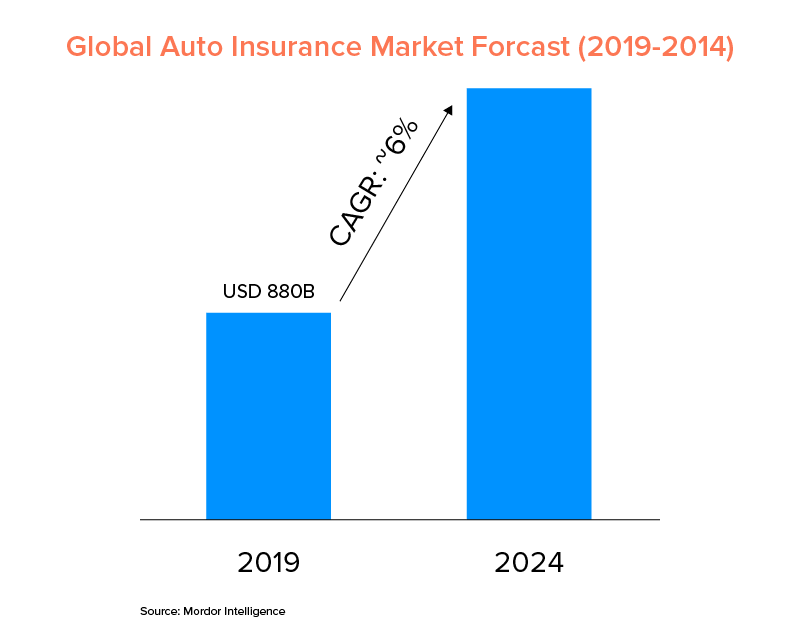 Growing alongside the increase in auto insurance market size, is the flourishing demand coming in from entrepreneurs to enter the sector. And the one question every insurance industry enthused entrepreneur is seeking an answer to is the estimate of auto insurance app development cost. 
Not only has the cost, but the whole app development budget depends on the type of app that is to be developed and the requirements for that app.
But before we get ahead with giving you an estimate, let us first look into the players you will be sharing the space with. 
Top Players Active in the Auto Insurance Mobile Apps Market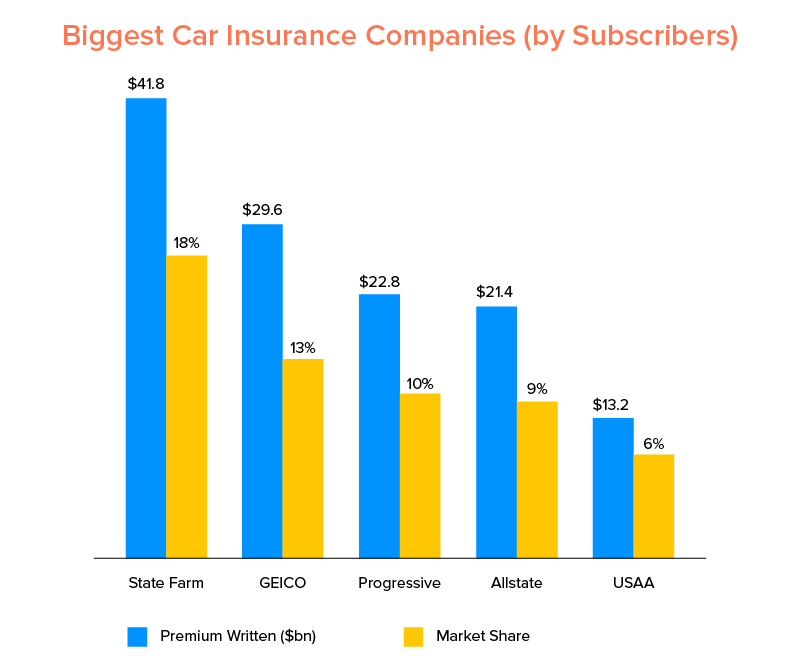 These apps operate in different parts of the world, have different target user base, and work around different marketing strategies. But, one thing that is found common among all is the set of features they entail. Something that would act as the must-have features that you should include in your application.
Must-Have Features to Include in Your Auto Insurance App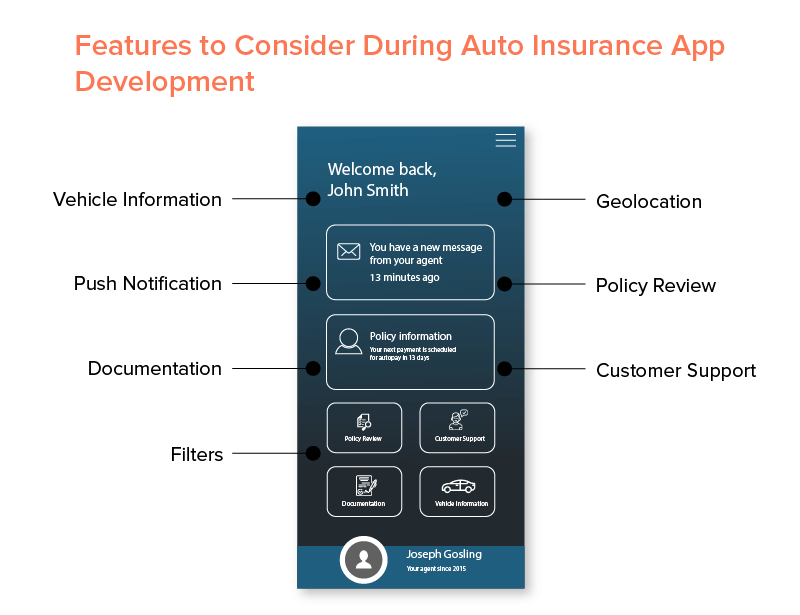 1.

Vehicle Information

The foremost feature to consider in your Android or iOS auto insurance app development process is Vehicle information.

The feature lets users feed their vehicle details and find the relevant purchasing insurance. Something that cut down their efforts and enhances the service quality.
2.

Push Notification

Push Notification is also one of the must-have features of auto insurance apps. 

On one side it reminds users of the insurance renewal dates,on the other side, it aids insurance companies in marketing their services better. 

Now, when talking about gaining huge conversions via push notification app marketing strategy, it is good to build the best push notification strategy.
3.

Documentation

Another feature to consider when focusing on how to create an auto insurance app is Documentation.

The feature gives app users the option to upload the image of document. This not just streamline the whole process but also cut down their hassle to stand in long queues for registering car insurance documents.
4.

Geolocation

Geolocation is also an essential feature to focus on during Auto insurance app development. 

This feature enables drivers and insurance companies in real-time tracking of vehicles and geo-based marketing opportunities. Especially when the hired mobile app development company has followed the best guide on adding geolocation in mobile app.
5.

Filters

Not every user has the same needs and expectations when it comes to choosing an insurance package. So, it can be beneficial to add a filter option that enables them to customize the list as per their wish.
6.

Policy Review

This is yet another must-have functionality to consider in an auto insurance app. It aids users with an option to check for all the details related to any policy. This included policy number, type, effective and expiration date, and the set of vehicles it is applicable for.
7.

Customer Support

Seeing the growing competition in the Auto insurance market, adding customer support option in your app is also a good idea.

A customer support feature enables users to ask their queries from the insurance companies and get relevant solutions in real-time. And eventually, build better business relationships between the two.

It's true that these features magnetize users to the auto insurance mobile application. However, they are not the driving factors. These features are backed by some mobile apps technology stack that add life to them. 

So, let's have a glance at the tech stack to consider for auto insurance app development before heading to the auto insurance app cost estimate section.
Tech Stack of Auto Insurance Mobile Application like State Farm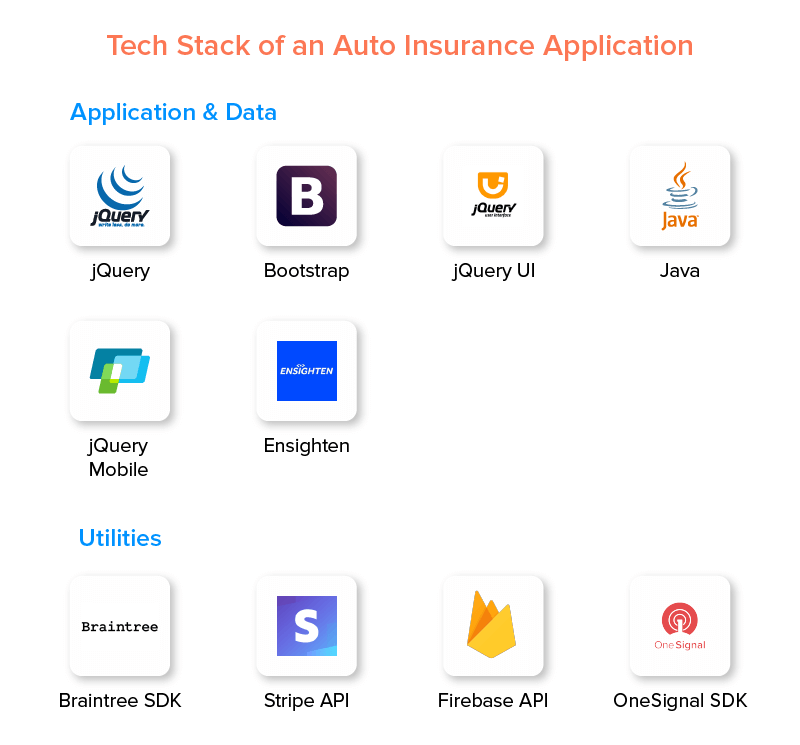 With this covered, the moment has come  to get an estimate of the cost of auto insurance app development. 
[Also Read: AI in insurance – How is artificial intelligence impacting the insurance sector?]

How much does it Cost to Build an Auto Insurance App?
The features and functionalities that comes under the label of an Auto Insurance applications puts them into the category of highly-complex apps.
Now, since adding a wide range of features can bring a rise in the cost of app development, it would make more business sense to embrace the idea of MVP development. 
In case you are focusing on all the aforementioned features for native app development and planning to hire an Appinventiv expert, the Auto insurance app development cost range would be somewhere between $47,600 and $59,500.
Though this estimated cost value is a little on the higher side, the rate of return on this investment would also be sky-high. Especially when you follow the revenue model of State Farm. 
State Farm Auto Insurance Mobile Application Revenue Model 
When it comes to getting an answer on how you can earn money from an app like State Farm, there are various methods you can apply. 
This includes:-
1.

Interest Income

The primitive method to earn money from an auto insurance mobile application is the interest made on the claimed value during a specific time.
2.

Service Fees

You can also make money by charging a service fee to users and insurance companies for using your platform functionalities. 
3.

Commission

Another method of making money from State Farm like application is to ask for a commission fee from the companies as per the sale of insurance policies that have been made from the mobile platform.
Frequently Asked Questions (FAQs)
1. How much does auto insurance app development cost?
The cost to build an auto insurance app depends majorly on the features you introduce in your application and the tech stacks they are backed with. So, it is better to consult a mobile app development company to get an estimate.
Read more blogs
Mobile apps are making the world go round. As of the first quarter of 2021, Google Play Store had nearly 3.48 million apps available, which were downloaded 108 billion times. The App Store, on the other hand, had roughly 2.22 million apps in the same quarter. These stats project the unprecedented growth and popularity of…
Sudeep Srivastava
06 Dec 2021
In February 2021, the jewelry industry in the US sold jewelry worth nearly $3.4 billion, as per a report by Statista. Certainly, the US offers a pool of opportunities for jewelry businesses to flourish. However, great results come to those who improvise. With over 290 million smartphone users in the US alone, it won't be…
Sudeep Srivastava
15 Nov 2021
Remember how before the advent of technology, going to the market to get anything was a tedious task for us. And here we are talking about buying or selling things that often get cumbersome. Before technology was introduced, this task was tough. But now with the internet and online selling apps, it has become easy…
Sudeep Srivastava
20 Jul 2021