Android Q: The List of Features and The Installation Process
March 14, 2019
2. min read
Last update on:
May 20, 2020
As the month of August is coming closer, the excitement to know the Android 10.0 name and its features is touching the sky. Both users and developers are paying attention to all the news and announcements related to upcoming Android version, ever since Google I/O 2019. 
Seeing this, Google has also improved the pace of releasing Android beta versions update – a clear indication of which is that Android Q Beta 5 has gone live yesterday, while it was expected to hit the market by mid July. 
They have unveiled a set of Android 10.0 features, both for users and developers, in these beta versions – a few of which we will be covering in this article.
So, scroll down to know what's new in Android Q?
20 Android Q Features that You Should Be Excited About
1. 
Foldable Phone
Support
As confirmed by Google when Samsung announced its all-new foldable devices Galaxy F, Android Q is supporting the Android devices with foldable displays with a major update in terms of battery life.
This, on one side, enables Android users to enjoy exemplary services at lower battery consumption and on the other, the Top Android app development companies to customize their apps and games effectively and generate higher revenue. The feature single handedly brings Android Q in front of iOS 13, in the iOS 13 vs Android Q debate.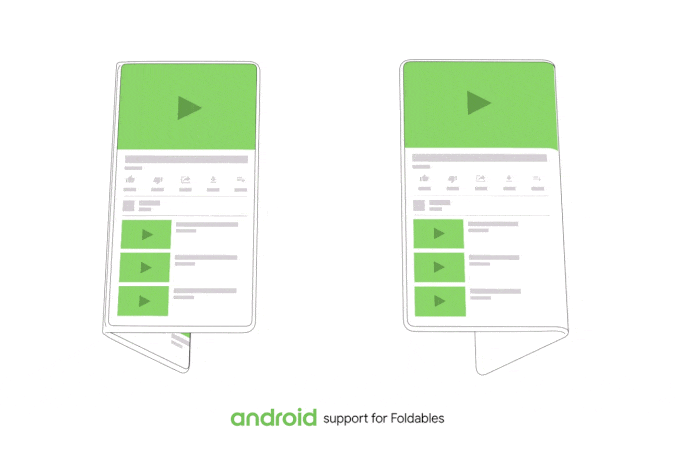 2. 

Multi-Resume Feature

Android Q has also come up with a multi-resume feature which is upgraded version of what we have been experiencing under the name of, "Split Screen" and "Picture-in-Picture (PiP) mode".

This feature enables the users to use all the split app screens in active mode. In other words, it won't be like all apps in the background will go inactive/sleep mode while you are interacting with an app.

All the apps will run simultaneously, independent of your interaction with the other opened app screens. This will enable the present generation to enjoy working with multiple apps on their smartphones, i.e., do multitasking.

This is one of the Android 10.0 all new features that are expected to be made compulsory on foldable devices. However, it will also be available on current generation smartphones, signifying more Android customers will love to do multitasking now.
3. 

Warning against Older Apps

Following the Play Store's policy update of making 'Android 8.0' ready apps, the Android Q has introduced the feature of warning users against older apps. This new Android Q feature informs the user that they are installing an app based on Lollipop or earlier and that it won't be able to employ the latest features of the smartphone.

And this way, prevent them from installing an application that won't work efficiently on the latest Android OS and have an unpleasant experience – which is as exciting as knowing Android 10.0 name.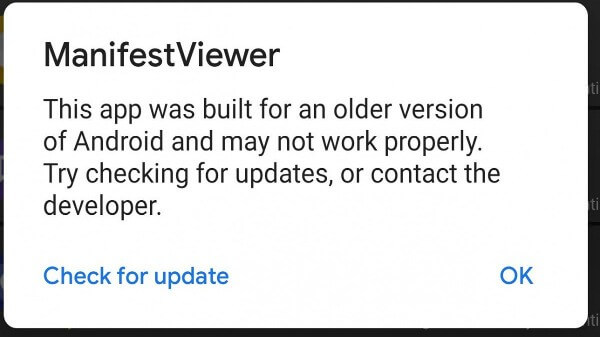 4. 

Vulkan API for UI Rendering

Android Q beta is also using Vulkan API for delivering exemplary user experience, which is an effective low-overhead, compute and cross-platform 3D graphics API.
5.

Project Mainline

Google has taken another step towards establishing its control over Android and mitigating the challenge of Platform fragmentation. 

Earlier, Google developers introduced Project Treble to make component microprocessors like Qualcomm and NVIDIA capable of updating some portion of their software swiftly – which resulted in 2.5 times higher adoption of Android Pie over Android Oreo and reach of security patches to 85% more users. And now, they are coming up with Project Mainline.

Project Mainline, as stated by Android Central, will enable users to get privacy and security patches without updating the whole system. In other words, the updates will be downloaded in the background while users continue to perform any activity on the device. 
6.

Live Caption

Android Q is also coming up with native support for captions. Meaning, users will be able to catch captions on their devices automatically whenever they watch any video content. </p
7.

Earlier Access to Android Q for Testing

As announced by Google team at the Android Dev Summit 2018, the Android Q update is made available on GSI before it is available on AOSP.  

The Android Q source code is will be shared with Android developers and users through an OTA (Over-the-Air) approach. The tech giant will request the interested users to register for testing Android 10 beta and once done, the beta update will be rolled out on their devices. This is expected to be more significant than flashing a beta version like in the case of Android Pie. Again, bringing Android P on a superior note in the Android P vs Android Q comparison.
8.
Dark Mode
Android Q dark mode is another exciting addition to the features that we will observe on the upcoming Android version. This Android feature is borrowed from Apple iOS and is expected to cut down the battery consumption on devices with OLED screens – something that will enable the users to enjoy more productive hours on their devices. 
9.
Better Smart Locks
Android 10 beta version is also highlighting the arrival of two new smart locks. The first type enables us to increase the unlock time period of our Android device, provided it is already unlocked. And the second type of smart locks when the trusted device is no longer trusted, resulting in boosted privacy and security.
10.

More Gesture Controls

Google has also introduced various gesture controls in Android Q to give a tough competition to Apple's iOS. 

Now, users need not simply swipe to get access to the drawer; they can press to 'peek' the drawer for swiping. This will help the users to swipe even at different angles and take better perks of navigations via gestures. Above all, this feature does not require any kind of developer interaction and thus, can work even on apps using the 'old' DrawerLayout versions. 

Besides, 'Back Sensitivity' – which is basically a slider between 1 and 4 to reduce the extent of sensitivity of your phone towards the back gesture –  is also one of the prominent Android Q features.
11.

Facial Recognition

Besides introducing such smart locks into the Android environment, Android 10 is also coming up with facial recognition functionality. This enables users to easily unlock their device, log in to different apps and even place an order. Also, it encourages brands to integrate facial recognition technology into their app tech stack and leverage higher benefits.
12.

5G Support

Google has also introduced various APIs in Android Q to make 5G technology supportable. They are offering various options to users for harnessing the speed, efficiency and other features of 5G technology on their devices.
13.
Native Screen Recording
Another exciting feature that adds to Android Q all new features is native screen recording. The feature offers multiple controls in the notification shade, while it seeks for your permission in the first time.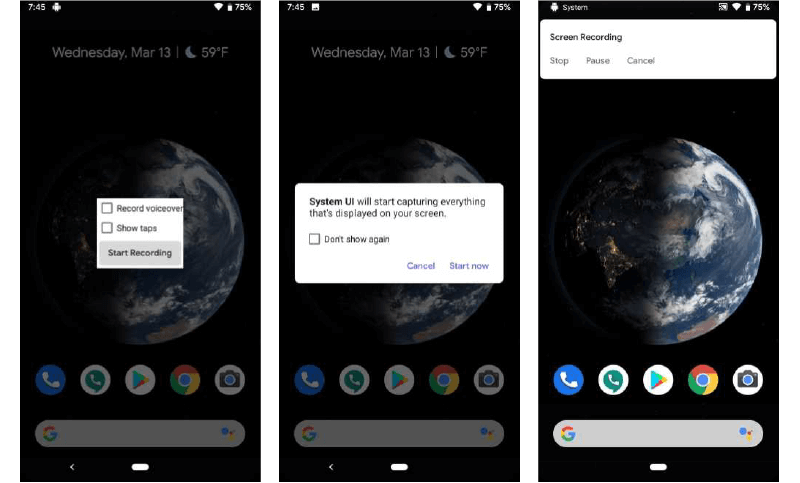 Besides, it also provides with an opportunity to record a voice-over that goes well with a video clip.
14.
Dynamic Android and Android on Tap
The Android 10.0 Q beta version is also throwing hints of taking your experience with Project Treble to the next level. It empowers app developers to flash different ROMs on a single device effortlessly – without even unlocking the bootloader or conduct a data wipe. This feature will eventually help to make it easier for OEMs and developers community to test their new Android OS versions and update at a faster pace.
15.
More Permissions
Besides Android Q dark mode, another impressive feature that Android Q beta version is overhauled permission set. The new Android OS version gives users an opportunity to have a comprehensive look at the apps having access to native device features such as location, camera, microphone access, etc. through a search function.
The users are also entitled to change the permission setting of each application individually. Additionally, they can customize the settings, signifying they can decide if to provide the access 'all the time', 'for once' or 'only when the app is in use' etc.
This feature is already available in iOS and when it is hitting the Android market, it is predicted to give a new direction to iOS vs Android battle – beyond what we discussed in our iOS 12 vs Android P blog.
16.
Seamless Notification Access
Android Q is also giving a tweak to the notification setting. Now, the notifications doesn't fade away unless you perform an action on them – even when the device is restarted. In other words, the notifications remains on the screen till you slide the notification towards the left to open the icons or towards the right to dismiss them.
Besides, a small notification displaying the icon of an app (or more) accessing your location or any other native device feature is also be existing in the upcoming Android version. This implies you need not go through the hassle of checking the setting and discovering which app is accessing your native device features – it will be directly displayed on your device.
17.
Significant Carrier Control
Android 10.0 (Android Q) is also bringing a significant difference in how mobile networks carriers dominate our SIM cards. The successor of Android Pie lets the network carriers decide which SIM card will work with a specific mobile device and which not, implying a list of "allowed" and "excluded" carriers that can be employed to block things like MVNOs even on the smartphones favoring the main carrier will be created.
Also, carriers are empowered to restrict the functionalities of SIM in the second slot if the SIM card in the first slot is not from an approved carrier.
This, as a whole, will give the network carriers power to control how users employ their devices.
18.
Sharing Shortcuts
Google has also simplified the sharing procedure in Android OS. They have introduced a new 'Sharing Shortcuts' feature in Android Q that will enable users to directly switch to another application to share images, videos, etc.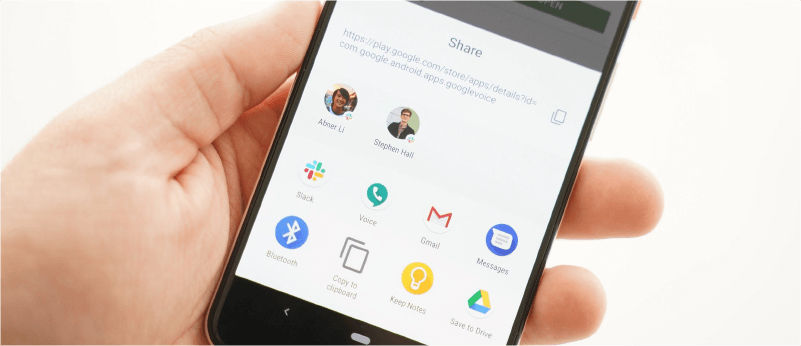 This feature will also empower developers to publish share targets to make any particular activity available in their Android mobile app with content attached, which will be further visible to users in the Share UI.
19.

Pixel Themes

To give an enticing feel, Android Q is also coming up with Pixel Themes feature that will empower users to revamp the entire UX experience. The feature is providing users with three custom theme to revamp the accent color, font style, and icon shape on their device, which are as follows:-
Anthony: Black accent color, Rounded/Squircle icons, Rubik font

Reiko: Purple accent color, Circular/Teardrop icons, Arbutus font

Johanna: Green accent color, Filled icons, Arvo and Lato font
20.
Accessibility on Desktop
Last but not least, the feature that has gained momentum in the market equivalent to the discussion about Android 10.0 name is desktop mode.
As depicted by the name, this feature makes it possible for the users to connect their smartphones with their desktops and access all of its characteristics. This means a PC-like home screen, resizable app windows and access to keyboard and mouse is now possible with the advent of next Android OS version.
This, on one side, will enhance the user experience. Whereas, on the other side, will bring a new challenge for the Android app developers – demanding to revamp their app development strategies accordingly.
So, here were some of the Android 10.0 features that will take the War of best Android OS version, which is right now between Android Pie and Android Oreo, to a newer level.
These features will be accessible to all by the end of this year. But in case, you have a Pixel device and feel the urge to try it right now, you can do it by installing Android Q beta through the process shared below.
How to Install Android Q Beta on Your Pixel Device?
DISCLAIMER: The process of installing Android Q beta on your device is quite easy. But, in case you come across some issues, you will have to reformat your device to get back to a more stable version of Android Pie. So, be prepared for it.
Here are the steps to follow to get Android Q beta on your smartphone:-
To backup your device, open your Settings and tap on 'System'. Once done, hit on 'Backup' button. The active window will inform if when your phone is set for a backup.
The initial backup would take a longer time, but it will be really helpful to get back your device data if anything goes wrong while installing Android Q beta or working with it. 
Google allows to enroll in the beta by logging with your Google account and picking the compatible device that you are having. With this step, the OTA (over-the-air) update will be prepared to roll out on your device, just like a stable Android OS version.
Now, you will be asked to click on 'Enroll' button. Once done, the update will begin to rolled out on your Pixel smartphone. This might take a half-hour or more, about which you will be notified on the enrolled device.
When the new Android 10.0 beta developer preview reaches to your device, you will be asked to install, just like normal OS updates. Perform the needful and with this, the Android Q beta has hit on your device. Enjoy the features and functionalities.
So, this was all that has been revealed about Android Q so far. Hopefully, we will hear more announcements when Android Q hits the market this August.
In search for strategic sessions?.
Let us understand your business thoroughly and help you
strategies your digital product..
Related Articles: