The restaurant industry has become an economic powerhouse. With its sales figure having exceeded $825 billion in 2018 itself – a good portion of which can be traced back to restaurant apps. 
But there is another side of the story as well. There are a number of restaurant apps that have failed – massively. 
The reason behind this unignorable downfall of the restaurant apps is what Ben Gray summarized in his study titled 'The Best and Worst restaurant Apps in 2016' – "The unfortunate reality is that most restaurant chains have not yet risen to the expectations of their mobile customers". 
Now the state of the number of restaurateurs not understanding the expectations of the customers in terms of app experience is the same now as much as it held true in 2016 when the study was released. 
Let us take you over the things that you can do to answer how to optimize a restaurant app performance. Factors that would revolve around a range of different sections of the application aimed to increase user engagement.
Now before we take the step towards dissecting the different ways of enhancing your restaurant app you will have to pay attention to give your application a makeover and make it successful, it is important to understand what makes a restaurant app click. Because only then you will be able to understand how mobile app is the best solution to increase ROI for a restaurant business.
What do users do inside a restaurant application a.k.a what drives restaurant app's user engagement?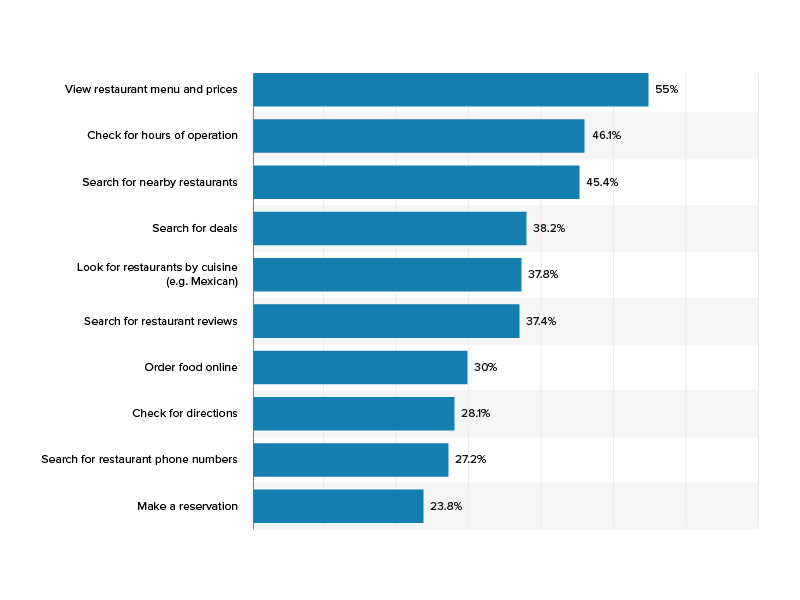 As you read, there are in fact multiple actions that users intend to perform inside an application, which is not simply restricted to food ordering. 
Well knowing the actions is not enough. It is also of primal importance to know the role that technology plays in it all – something that your partnered restaurant app development agency can help with. And to know what role your app is destined to play in the lives of the customers using your app. For only then you will be able to answer how to optimize a restaurant app performance. The answer to which is similar to how to optimize apps – irrespective of the industry: a better customer experience.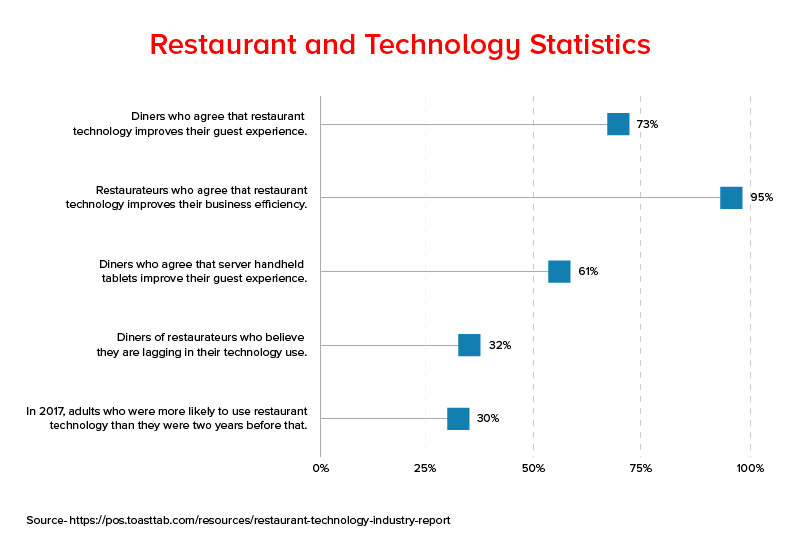 The statistics that you just saw while must have given you a fair idea of the role that your app is bound to play in users' and your restaurant staff's life, let us still summarize it in something as clear as this –
Your customers – ones who mainly use the restaurant apps to order food – are millennials. And millennials have technology very near their heart. They believe that technology is equal to convenience – a comfort that they need in every realm of their life. The same one which can improve app performance from its core.
So, technically while you can still stay in business by not making an appearance on mobile or making a sub-par one, the situation is bound to change very soon. Soon you will find yourself looking for an answer to how to optimize a restaurant app performance?
The time to come will make it mandate for you to partner with a restaurant app development company.  
Well, assuming that you are on-board to bringing changes in your current mobile app offering and see it become a money-making machine through the optimize app efforts, let us help you with the practical changes you can bring along. 
Let us attend to everything that you should consider when building a restaurant mobile app stage by stage as and when it happens in the way the customer moves inside the app. 
But before that, let us give you a general overview of the elements which when optimized can result in a powerful restaurant mobile application that promises impeccable app experience.
POS Integration – The secret to making the payment process in-restaurant optimized and efficient lies in the integration of a POS system. By the mode of a QR code and contactless payment functionality the payment process not just becomes simplified but also extremely efficient. Additionally, it can bridge the gap between apps and brick and mortar restaurants by aligning mobile app integration with POS integration in restaurants. 

Loyalty Programs – Everybody loves offers and discounts. The same applies for a restaurant ordering system using mobile applications. Irrespective of which business model you are looking to explore, having a loyalty discount program can play a huge role in increasing your sales and retaining the customers. 

Pop-up Messages – An

efficient push-notification system

can play a huge role in customer retention and in turn rise in sales number. By sending the notification at the right time in the right platform, you can guarantee greater user engagement inside your application. 

Social Engagement – Bringing your restaurant on social media can be a great way to market it and help popularize it among a wide audience. To start with, you can ask your diners and users to click a photo of the dish and post it on social media tagging your brand. You can also start a promotion campaign where you ask your users to tag their friends in return of a discount. 

Employ Immersive Technologies – Incorporate technologies like augmented reality and chatbots to offer an interactive experience to your users. Chatbots can help you remain connected with your users 24*7. While AR experience can give users a peek into how the dish is made, where the ingredients originate from – basically, everything needed to make the experience immersive. 
Stage 1: Make Parts of Your Present Online Ordering Process Real-Time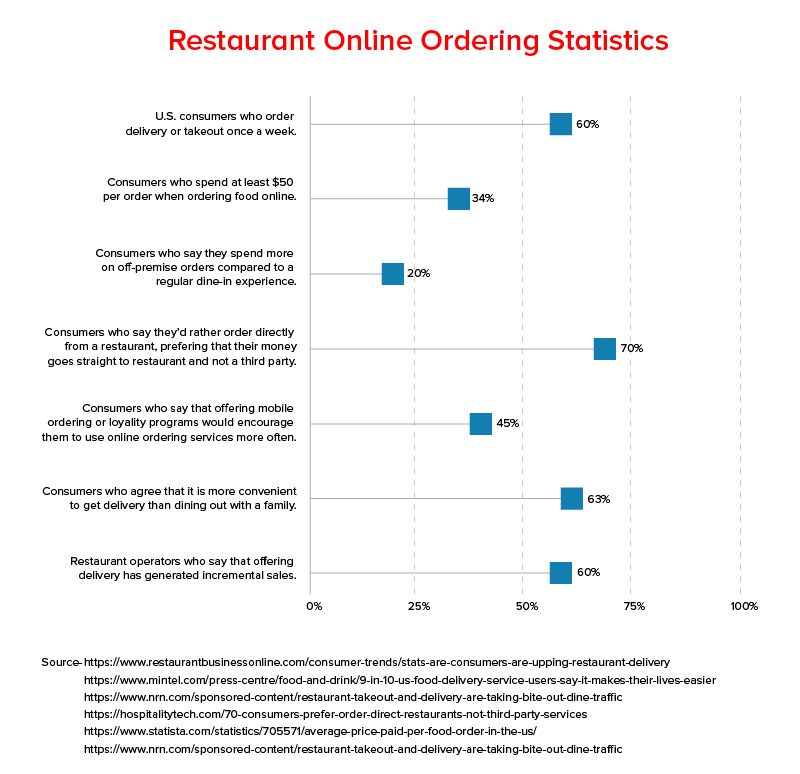 The first step of your revamping strategy should look into the online ordering of food after all a food ordering app for the restaurant industry is what the users first choice is. 
The whole process of your customer finding what they wish to eat and the price that they are willing to pay, along with the time that it would take for the order to reach them, should be extremely convenient and easy to work around. 
While your main focus at this stage should be on giving your users a clear help when it comes to selecting food from the menu, there are other things as well that should be considered when developing an online booking system. 
There are a few actions that should happen in real-time – The order should be fed into the restaurant side of the app, it should be passed to the kitchen team, the customer should be notified that the order has been accepted. 
Besides these actions, the one thing that you will have to give a special focus to is your users getting a visible address detail. They should know where they are ordering from. They should be given the facility of a map, which they can click on to see the distance and decide whether they are willing to wait that long or if they want the food so soon. 
Also, your online booking system should show the real ETA estimate – one that is decided upon by keeping the peak time scenario into consideration.
Stage 2: Automate Table Booking 
There are a number of instances where the users interact with your app to reserve a table at your restaurant, thus giving customers the provision to book a table is one of the main features your restaurant app needs. 
Now, there are normally two ways they will go about it. Either they will call you to book a table or they would use your messaging service to book a table. You will have to be prepared for both. 
One efficient way to optimize app is by making the process automated. Have a dial-up service to make it easy for the customers to choose what they want to do and have a chatbot integrated into your messaging functionality. The idea is to be available to your customers at all times, no matter wherever you are occupied. 
The next thing that comes here is a real-time connection between what information customers have asked for and what is fed in the backend. Seats should be automatically booked in their chosen time and name, there should be an incident of discrepancy when they physically arrive at your restaurant to dine-in. 
Stage 3: Integrate Multiple Payment Mechanisms In Addition to Your Current Payment System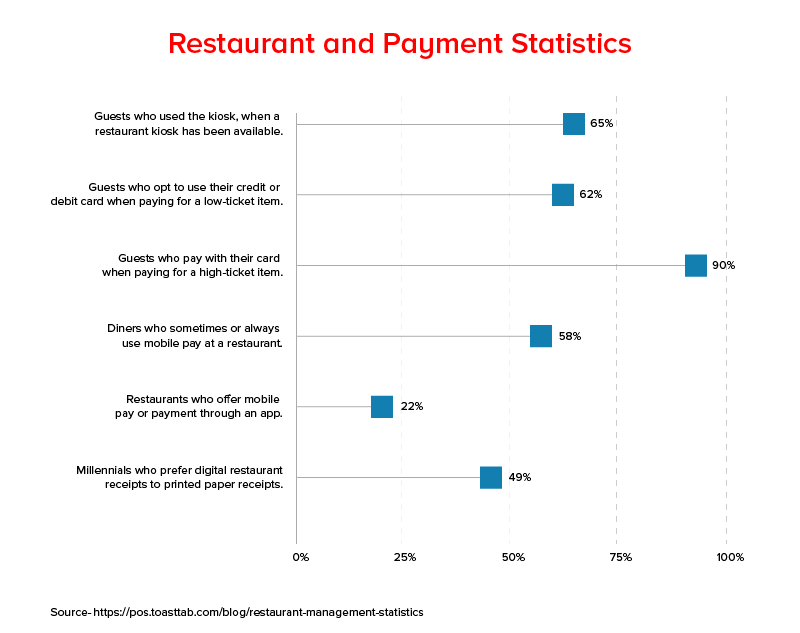 When we talk about the payment method, there is a very little difference between diners eating at your restaurant and ones ordering in through the app. 
The simple fundamental of this particular restaurant app development strategy is that you will have to give them the provision to choose from multiple payment methods – Cash, Card, Digital Payment, and In-App Payment. You will though have to factor in the fact that over 40% transactions that happen on mobile are done through in-app purchase. 
The next thing when talking about the payment mechanism is the receipt. One of the main ways that restaurant order taking apps improve.  
Now, there should be one tab in your app where all the receipts are stored. And if the customer gets in touch with your restaurant through the app – whether to dine-in or order the food, they should be sent the receipt. 
Stage 4: Connect All Your Siloed Stakeholders at the Delivery Stage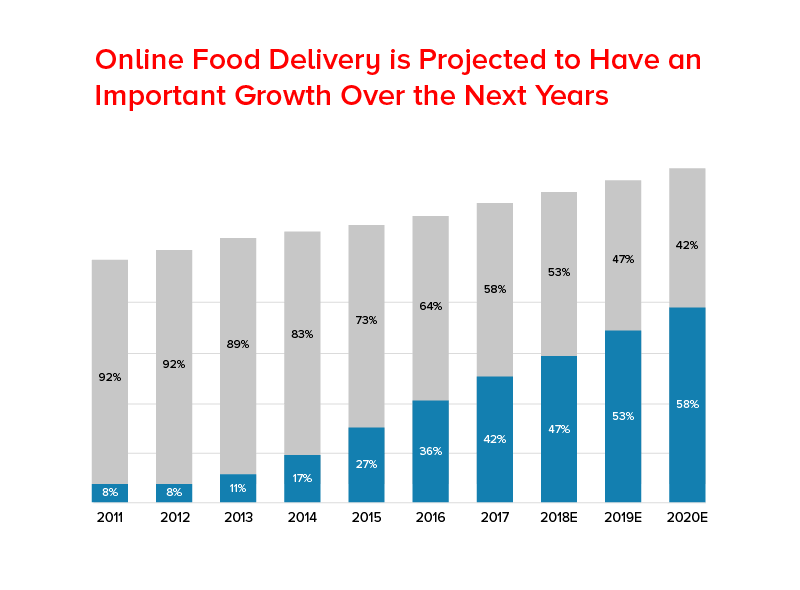 The next user scenario that usually happens in the case of every restaurant mobile app solution is food delivery. 
While the outcome is mainly dependent on the packaging that you do and the quality of the food, there are a few things that you can do on the mobile app development front to make the experience worthwhile. 
The first being giving your customers the facility to track the order online in real-time in terms of where it has reached. While at the backend, your admin dashboard should get updated on the time that is quoted to the customers and your drivers should be given the ETA as well, to ensure that they know when latest they have to deliver. 
The next thing that you will have to keep into consideration when following the restaurant app performance optimization best practices is the right integration of map. It should not be difficult for your users to add and edit addresses when at the last stage of their app interaction. And for your drivers to reach the address with zero wrong turns.
Stage 5: Make Ratings and Reviews Social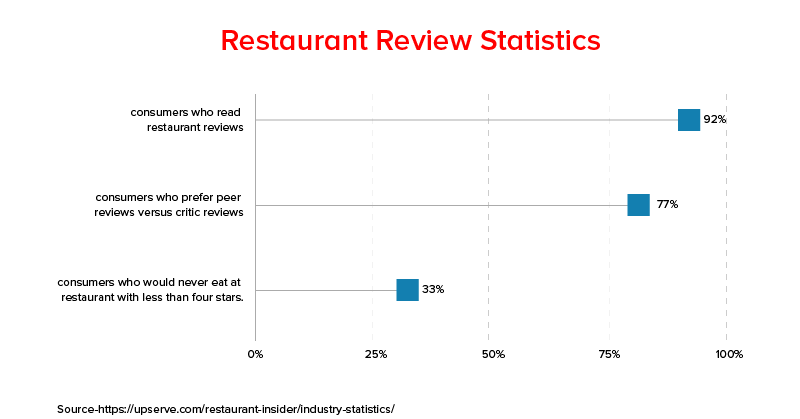 Normally, the last stage of interaction that users have with a restaurant application is with the rating and review section. 
You will have to give your customers the provision to rate the food they have had and the delivery they have received. All the while they should be given the facility to see the reviews that other customers have made so that they are able to make a calculated decision. 
One way you can create an edge here is by making it possible for your customers to share their reviews online in their social media.
Once you are through with these stages and the respective work that has to be done on them, you will arrive at a stage when it is time to work on the engagement of your application. A step that would make up for a whole article that we have worked on.
Finding the methods to increase ROI for a Restaurant Business too much work? Let us handle it for you. 
Fill in the contact form below to get in touch with our team of restaurant mobile app developers and get the answer to how to optimize a restaurant app performance. 
Read more blogs
In a world of evolving lifestyles and constant motion, how we dine is changing dramatically. We crave something quick and convenient to satisfy our culinary desires. And as our culinary cravings meet the digital age, food delivery applications emerge as a revolutionary solution, redefining how we enjoy the delights of gastronomy. In today's fast-paced and…
Prateek Saxena
04 Dec 2023
The restaurant industry is evolving by leaps and bounds, catering to the diverse needs of its customers. As per a report, the fast food market is growing—it jumped from $610.66 billion in 2022 to $652.73 billion in 2023 and is expected to reach $772.17 billion by 2027. A robust app can be a key part…
Prateek Saxena
17 Nov 2023
You might be running a restaurant already or in the process of starting one, but shifting online would help you expand better. And even though it might seem like a task to start a food delivery business from scratch, you only need a brilliant idea, the appropriate systems, and the motivation to make it happen.…
Prateek Saxena
21 Nov 2022