Pokémon has been very popular in the past and everyone must have heard its name either through nintendo or Television show.
Pokémon has once again made entry but this time on mobile application development space and have named it as Pokémon Go which is available on android and iOS.
This is a new concept based on a new type of game which incorporates real world places with smartphone location and augmented reality.
The game uses a smartphone's GPS location and real-world maps to track players as they move around. Players can visit typically landmarks or buildings and collect free items in the game.
What is Pokémon Go App?
Pokémon Go allows you to discover, trade, train and battle with little Pokémons found in the real world through augmented reality (AR) in your device. This app will show a map of your surroundings and you see a Pokémon through your camera lens. You have to collect the Pokémon and add it in your collection.
The mechanics Pokémon Go are very similar to Ingress. In Ingress, you find a location of interest in the real world through the app. You then go there and attempt to take it over by collecting and expending "Exotic Matter." If you move over the location, you can then buttress it with any variety of defense mechanisms within the app. Two sides battle it out across real cities across the globe.
The app has become so popular that users are spending more time playing Pokémon Go than they are spending time on Facebook, Snapchat, Twitter or Instagram. Average time spent on the Pokémon Go app is 33 minutes playing the game compared to 22 minutes on Facebook and 18 minutes on Snapchat, according to sensor tower.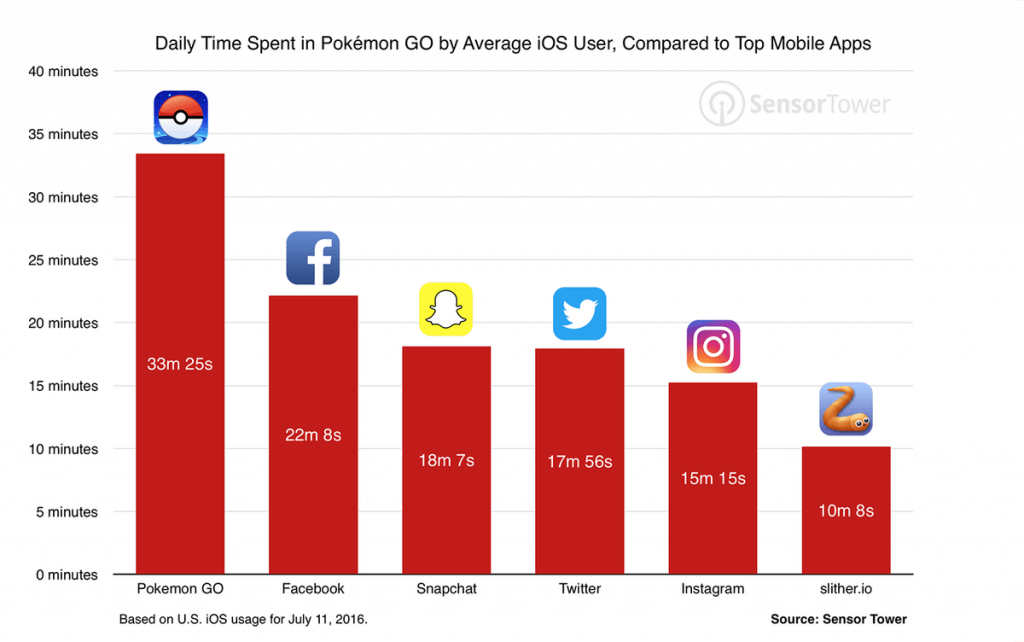 Consequences of new technology
We have heard a lot of good things about the app but there are certain unintended consequences that have arisen. Some of the highlights are:
An American woman found a dead while she was looking for a Pokémon nearby the river.
Four people were arrested after they used the game to lure the people to shady areas and rob them at gunpoint.
There are news of people falling over, getting injured because they were constantly busy in their smartphones and not paying attention to what is in front of them.
Recently, malware attacks were also in the news where people who played the game got infected by the virus. It is also important to mention that the hackers used the official version where they had injected the virus and uploaded to other sites. Those who have downloaded the app from unauthorised sources have faced the malware issue.
Even after having so many issues, the app remains the favourite among the people without a doubt; they have developed a great app.
Are you using the Pokémon Go app? Let us know in the comments section below.
Read more blogs
The victim-count of Coronavirus has increased to 28,276 while taking 565 lives already.  With the virus epidemic being on the verge of becoming pandemic, there is a cloud of concern hovering over not just the affected nations but also the rest of the entire world.  The grim picture of Coronavirus is not just of the…
A few days ago, Dropbox acquired an open-source Store library. The aim behind taking the ownership was to modify it to make it more suitable to the prevailing Android developer ecosystem. Now, Store also includes Google JetPack collection of libraries which poses as a solution for creating current-day Android apps. Google JetPack makes it possible…
Shivani Dubey
21 Jan 2020
Google recently announced that they have acquired AppSheet, a Seattle based no-code mobile app development platform. The terms of the acquisition have not been disclosed yet, but it has been revealed that AppSheet will continue to serve its existing customers. AppSheet was founded back in 2014 by Praveen Seshadri and Brian Sabino to help businesspeople…
Bhupinder Kour
15 Jan 2020