Some Important Ways Apps Are Changing The Travel Scenario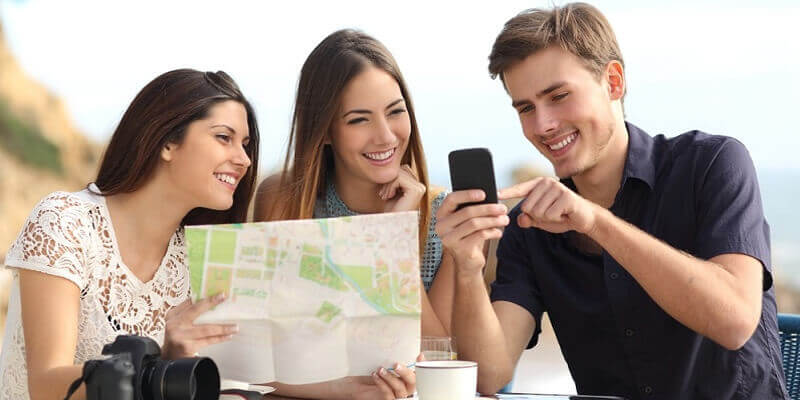 Travel industry is one of the most burgeoning industries and with the rapid development of mobile apps, travel companies are leveraging the mobile phone to enhance the efficiency as well as agility in this increasing competitive marketplace. Mobile apps are affecting the booking as well as planning process of the tourism industry. Nowadays, a large number of travelers are using mobile applications for researching as well as for booking their holidays. With the availability of a well developed travel app, people no longer have to rely on maps, guidebooks and compasses for travelling.
This is because with a good app, you can research new places, book your tickets, find good eateries and all other travel related assistance. Hence, there is no exaggeration in saying that this increasing involvement of mobile applications has effectively strengthened the kinship between the travel and tourism sector and the mobile app industry. There are still many travellers who are not sure of having a well-developed app, thus listed below are some ways apps can help during a travel:
Useful Safety Information
A travel app keep you informed about the current security situation of your chosen travel destination such as important notices on strikes or weather-related disturbances. Its 24 hour emergency service can help you at any time and this way you can have a safe vacation with your friends and family.
Hotel Booking
There are many apps that offer you the list of the hotels with the accommodations prices. On the other hand, if you book your accommodation or hotel with the help of an app of that particular hotel, then you are at a higher chance to avail special discount which is generally available for few lucky travellers. Such apps give you complete description about the rooms with spectacular views. This way you can find the best room at the best price.
24/7 Accessibility
When you have an app, then you can use it anytime to acquire any kind of information and from anywhere. In other words, you can use it at your convenience and there is no need to worry about the issues of time zone.
Tickets Booking
There are some travel apps that lets you know about the lowest airfare of a particular airline on a particular route. In addition, you can find the best seats in the plane and it gives you the chance to make the booking of your taxis to and from the airport in a hassle-free manner. Apart from taxis, finding other public transport can also be easily done.
Best Way For Networking And Sharing
With apps, you can stay connected with your chosen communities and you can easily share photos, videos and even exchange notes with your friends and relatives. Hence, there is no exaggeration in saying that this improves the experience of your travel.
Wrapping Up
These are some of the benefits of travel apps and by witnessing all these advantages, it can be said that apps in travel industries are very advantageous because such app has minimized the hassle of travellers with such a great instant service. Apart from helping tourists, it plays a pivotal role in generating a lot of revenue in travel sector. This means that a travel app is a must-have for both commuters and travel companies.
However, all apps cannot be the same and thus, you should do a little research before downloading the app for enhancing your travel experience. You have plenty of options in app stores, but when it comes to choosing the best one, there is a need to check the rating of the app and also reviews about that particular app. So, do some thorough research and find the best app that suits your requirements.
Appinventiv is a renowned mobile app development company that renders high-quality app development services to its esteemed clients. The company has technically-sound development team and thus, when you choose this company for your travel app development project, then can surely have the best app for your business within stipulated timeframe.
App Developers
business app
mobile app
travel app