Earlier known as UberCab, Uber started in 2009 with the aim of evolving the ground transport services. The founders, Travis Kalanick and Garrett Camp, were both entrepreneurs before they started Uber. Travis co-founded StumbleUpon and Garrett founded Red Swoosh which he later sold at $19 million.
As we all know Uber is an on-demand taxi booking service which is operated through an app. The term 'Uber' simply means 'Above' in German. Ever since it started Uber business model has focused on being at the top of the competition and so far they have been successful.
What is Uber and how does it work?
How does Uber business works and what is Uber's business model – They partner with cab drivers to provide cab services which can be booked by customers using the Uber application. The Uber business model and plan started with one city in the USA and now has grown to be spread in 633 cities all over the world.
In this article we will discuss what is Uber, what is Uber's business model, revenue model and how does it work, what industry is Uber in, Uber management structure, how long has Uber been in business, Uber industry analysis and Uber business strategy.
Facts and Numbers
Founders: Travis Kalanick and Garrett Camp
Valuation: $60 billion
Total employees: 12,000+
Uber users: 50 million riders
Uber drivers: 7 million
Total Uber rides: 5 billion
Market share: 77% (in USA)
Cities: 633 cities
Countries: 78 countries
What does Uber offer?
The main reason Uber became successful was that they offered services that no other company in the transportation industry was offering. But it doesn't matter what industry is Uber in if the services are customer oriented they will reach the top.
Uber driver business plan offers some unique features to the riders as well as the drivers:
A user can book a cab with just one tap on the Uber app.

The drivers have the choice to accept or reject the ride.

If a driver accepts the ride, the driver's information is sent to the rider.

Riders can track how many cabs are nearby or in a particular location.

The payment process can be before the ride or after the ride.

In some countries like India, cash payment option is also available.

The rating, feedback and complain options are all available in the app.

The riders or drivers can cancel the ride at any point if needed.
[Check out: how much does it cost to make an app like Uber?]
The Demand for Uber
It is always debated whether a service was demanded first or supplied first. In simple words, people are unable to decide whether the demand for a service resulted in the supply or the supply of a particular service created its demand.
For Uber, it was a clear picture. The Uber business strategy focused on keeping the supply chain fully ready for the time when demand hits. Many startups have taken this strategy for their business following Uber's footsteps. Whenever Uber enters a city, it gathers drivers on the contract basis so that when the demand for rides come in, they are prepared.
Uber business model revolves around its customers. The priority is giving riders the best experience possible which includes polite drivers, hassle free ride and the ease of booking from anywhere. To do so, Uber has to hire drivers and the more the better. Since the Uber business model has light inventory and runs on commission, the only way to keep up with rising demand is having enough drivers to fulfill the demand.
[Also see:  Uber fires up its own traffic estimates to fuel demand beyond cars]
Customer Segments
Uber serves a massive customer segment which includes all ages and all types of customers. The types of customers Uber serves are:
People who don't own a car.

People who can't drive or don't know how to drive.

Tourists of the city.

People who don't want to drive to function themselves.

Customers who choose luxury travel and VIP treatment.
Apart from these, Uber business model also has special services such as:
Uber for kids: Uber has come up with this Uber for kids for parents who want their kids to be dropped at home from school. Many parents do not prefer school bus services for personal reasons and Uber saw an opportunity in this case.
Uber for senior citizens: Another service Uber offers is Uber for the senior citizen. After learning that 30% of rides are taken by senior citizens of a city, Uber decided to launch a special service for them.
Uber for professionals: Many employees use Uber to travel to and fro work. It has also collaborated with many companies to provide cab services to the employees of the company.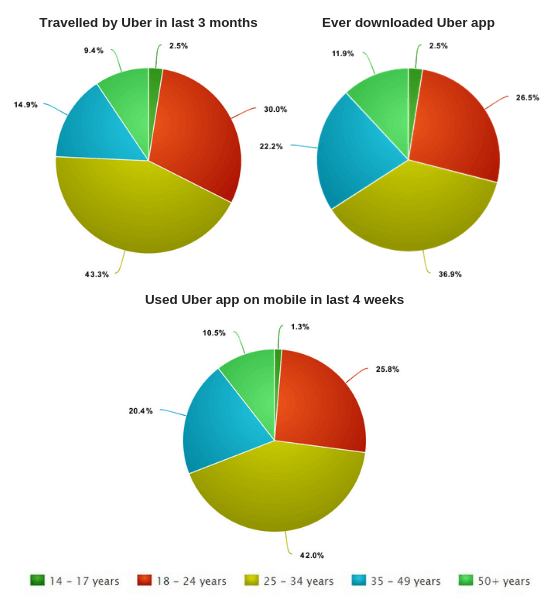 You must be wondering how long has Uber been in business to offer so many services successfully. To answer that question, let's first understand Uber business strategy to get its customers
After being in business for just 6 years, Uber started being recognized as a brand. When Uber enters a new city, they start working on customer acquisition. First, they add a general manager for the city in the Uber organizational structure who will lead the Uber there. Then they start gathering drivers as per their Uber driver business plan, especially professional drivers who already have a car.
After that, they provide the ride to media people and tie up with corporates to provide services to the employees. This way the public comes to know that Uber has come to their city. Now Uber has become a brand and people are probably waiting for it to open in their city.
After studying Uber business model analysis and customer segments, let's move on to Uber value propositions.
Uber Value Propositions
The value proposition shows how Uber is providing benefits to the segments its serving in. The two segments that Uber serves are Customers and Drives and this is the Uber value proposition for them:
Customers:
No waiting time to get a taxi.

Personal driver means travel in style.

Heavy discounts and occasional free rides.

Fare comparatively lower than taxi.

Fixed fares for certain places like airport, etc.
Drivers:
A great source of income.

Flexibility in schedule.

Uber pays drivers for being online.

Use your car to earn a little extra.

Payment process is easy.
[Extra: Uber Data Breach: How to prevent your app from incidents like these]
Uber Financial Analysis
To begin with the funds, in 2009 the founders of Uber invested $200,000 as seed money. Uber raised $1.25 million by 2010 and by 2011, it raised $44.5 million. A report on Uber financial analysis shows that with the recent funding Uber has reached a valuation of $68 billion (US).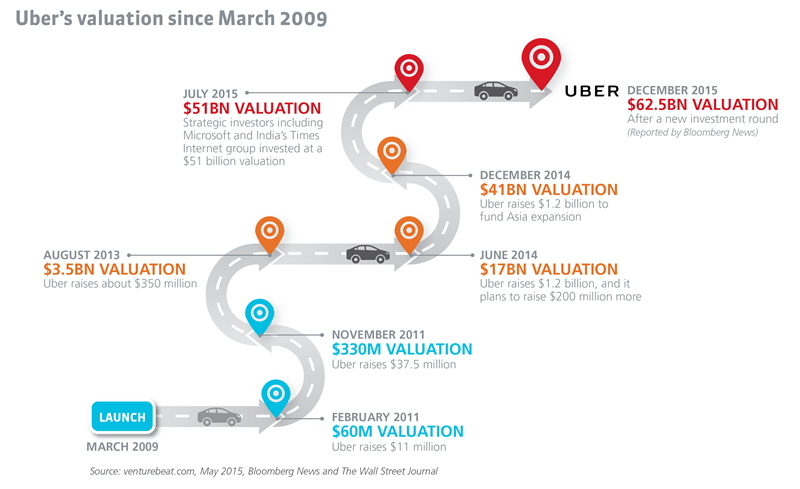 Uber Revenue Model
Now we know what is Uber's business model, let's discuss its revenue model. Any cab ride ends with the rider giving cash to the driver which is the source of revenue and Uber is no different. The Uber revenue model has the same source of income as of now. But then you must be wondering about the big numbers we talked about in the Uber financial analysis section just now? The thing that separates Uber's revenue from traditional taxi's is the number of rides.
On an average Uber gets 1 million rides in one single day. Now that is enough for you to guess why those big numbers. Uber also has other sources through which Uber pricing model is decided. Let's have a look:
Uber business plan has added various car models to the fleet:

The Uber pricing model for each car depends on the size and level of luxury of the car. From 'mini rides' to 'special SUV rides', Uber has to offer all at different price ranges.

Uber applies price surge technology:

When the demand for rides increases, the fare automatically increases. This variation helps Uber in attracting more drivers and generating huge revenues.

Other Uber rides:

Uber business plan and company structure consists of people who are constantly adding new features into the business. The latest rides they have added are boats, helicopters, ice-cream truck delivery, and delivery services. Of course, these are just restricted to geographies for the reason that Uber want to explore as much as it can.
How Uber Works?
The Uber application was first built by Garrett Camp and some of his friends. Later the application was developed in order to fulfill the purpose. Back then application development was quite a task but now many mobile app development companies build apps within weeks.
[See: Why Do Great Product Companies Release Software To Production Multiple Times A Day]
Uber works in these easy steps:
Step 1: Request a cab
The customer needs to open the app and request a ride. This is where the car size is selected (mini, medium or luxury).
Step 2: Driver notified
One the user sends the request, every rider in the range is notified and once a driver accepts the ride, the driver information is sent to the user.
Step 3: Ride
The user can track the route with the mobile app and also see the ETA. The meter starts as soon as the ride starts and is stopped after reaching the destination.
Step 4: Payment
Once the ride is over the rider has to pay the amount billed to them. The app calculates the prices as per the distance and base fare.
How Uber became so Successful?
If you're wondering why is uber so successful, well, there are many factors that contribute to Uber's success. This entire article will be incomplete if we don't conclude by discussing Uber company structure, reasons for success and Uber industry analysis.
[Must see: How to ride the uprising Uber for X Wave]
Uber's success encouraged many entrepreneurs to copy the Uber organizational structure, business and revenue model. One of the things that contributed the most to Uber's rise was the dedicated team that was proud of the work they were doing. In every country, a customized Uber management structure was followed.
Many businesses built an app just like Uber using location based services which have become like an immediate need in the app development world. Location-based services are going to have a bright future. Making such efforts to come to a level where Uber has reached shows how successful it has become.
Uber saw the need and immediately acted upon it, giving no room for others to think. The Uber industry analysis showed that Uber came in the transportation and delivery industry. Uber's variation in cab services earned them the word of mouth which is said to be one of the best advertising a business can get.
We hope our blog on 'Uber business model explained' was helpful in understanding what is Uber's business model, what kind of business is Uber, and why is Uber so successful. In case you want to learn more about the business model of Uber and Uber business plan, you can contact us. 
Read more blogs
In the wake of the COVID-19 pandemic, the recruiting industry saw a dramatic change. It has caused many organizations to lose their projects and businesses to shut down, causing many employees to lose their job roles worldwide. In such a scenario finding a suitable job or recruiting the right talent has become one of the…
When was the last time you went street shopping and bargained with the vendor to sell their products at a lower price? If you remember that experience, imagine bringing it on a digital platform in a more sophisticated way. Websites and applications like Ebay, BidSpotter, and Auction.com, etc. have been making it easy for the…
On-demand pet care apps that give solutions for pet walking, boarding, or home visits are all in the rage right now. With a market share set to reach $5.14 billion by 2030, pet care app development space has been making it easy for pet owners to go on vacations or take a day off guilt…