7 Ways Mobile Apps are Revolutionizing the Entertainment Industry
September 5, 2018
2. min read
Last update on:
May 9, 2020
From news updates to live streaming, entertainment apps have got everything a person needs to sit back, relax and enjoy. All the things you need at the touch of your fingertip.
Mobile applications are being used in every industry but the entertainment industry is taking advantage of this technology the most. The entertainment sector is all about engagement, content and a massive audience.
It is very clear that the entertainment industry majorly depends on mobile applications and thus many mobile app development companies are focusing on entertainment app development.
Mobile app development agencies should keep few things in mind while entertainment app development: attractive designs, various sources of information, easy sharing options and an option to interact.
Entertainment app development companies have taken this new path of entertainment app development where the market is highly profitable and has a bright future. A study shows that among the top 10 most used applications, entertainment apps take the first 5 positions.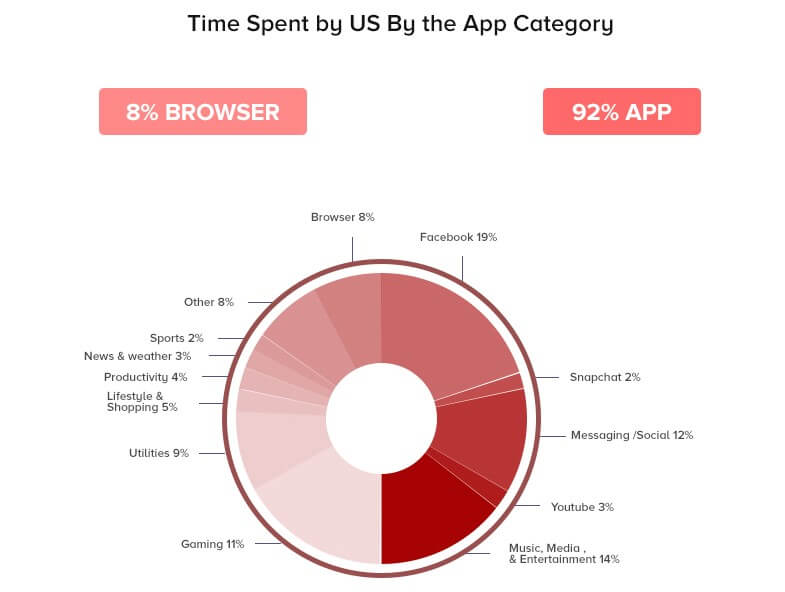 Trending apps in this industry

Entertainment applications are a necessity today. We can always spot someone who is engrossed in such apps while commuting or having lunch at their desk. That is how entertainment app development is done so that it can attract a massive audience. Some applications have turned into a trend now and we simply cannot do life without them. Let's take a look at these rockstars:
Netflix is an entertainment app that has an unlimited list of movies and sitcoms. The app can be used to connect to any TV and gives a high definition experience to the viewers. This has completely changed the satellite TV game and has won the market. By revenue, Netflix is the world's 10th largest company.
[Extra: Know how much does it cost to develop an app like Netflix]
TED has over 1400 videos that have inspired millions of people in the world. The videos on this app can be accessed from any mobile device. TED also has its own radio that runs on demand. The app has videos from various successful people who give their best life advices on this platform.
Bookmyshow is an app that lets you book tickets for movies, concerts, stand-ups and theatres in India. It will also tell you about the upcoming shows according to the location that has been set. Almost every Indian uses this app to conveniently book tickets online to avoid the rush at ticket counters.
Spotify is a music service app that allows you to legally listen to music and save many of them offline as well. With a user base of 24 million, this app is trending in the music section. You can browse through songs as per artists or genres. Recently updated app allows you to save up to 3000 tracks offline.
[Extra: Know how much does it cost to develop an app like Spotify]
9gag is a Hong Kong based company. They run an application based on their web-content that allows users to upload funny videos, GIFs and images that are user-generated. The app has more than 10 million downloads on Google Play with a 4.6 rating. 9gag has seen a huge rise in their base audience since they launched their own mobile app in 2012.
How have mobile applications revolutionized the entertainment industry?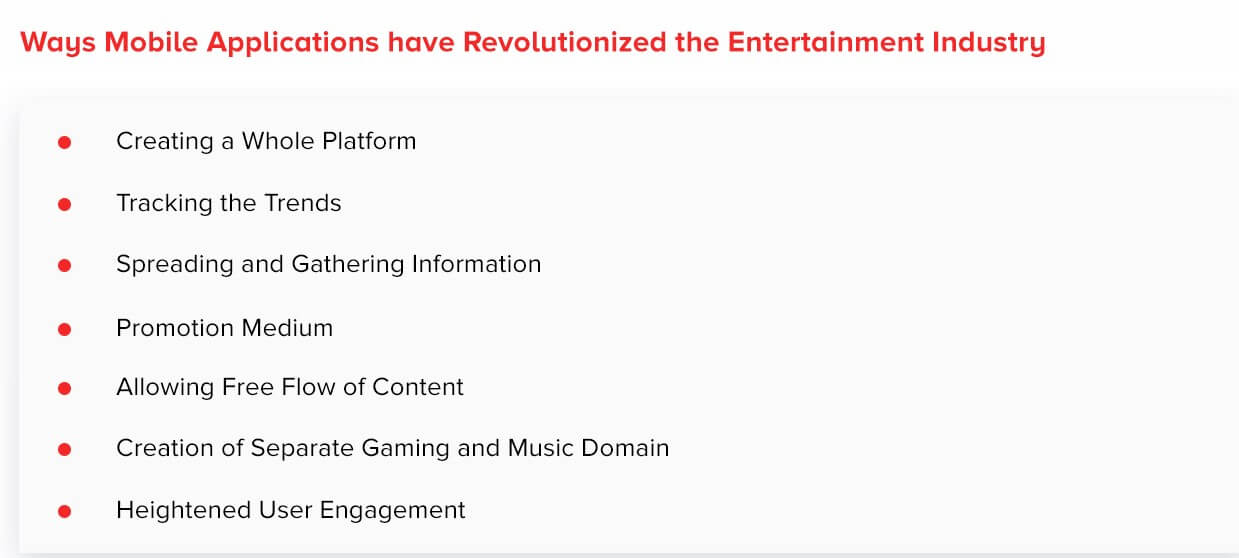 Tracking the trends



When social media wasn't around, tracking the trends was quite difficult. But ever since social media got a grip on the society, there is a new trend every day. Multiple social media applications have one complete section dedicated to the most trending topics on the application.





When it comes to the latest movies, games, music and series, entertainment apps keep them on the top or trending section of the app so that users can learn what's liked by majority.





Entertainment is no more limited to time lots and closed doors. It is now available anywhere, anytime and for anyone. Entertainment app development companies are working progressively to improve the user experience by optimising the applications.

Spreading and gathering information



Applications like Facebook, Instagram, Twitter, etc. have become a great source of authentic and detailed information. From latest news to life hacks, everything is available on these applications.





Entertainment app development is done keeping in mind that the users can exchange every form of media and information on the platform that is authentic and useful.





Youtube is another platform for sharing information through creative videos. There are multiple Youtube based news channels, travel vlogs and classes for the audience.

A Complete platform



Entertainment applications are capable of forming a whole new platform for movies, music, gaming, live streaming, etc. This opportunity has given rise to many artists to showcase their talent and create a follower base.





Earlier making videos, music or developing games were only done by professionals because they had access to platforms that launched these products but now application development is not as complicated as it used to be. Many platforms even pay the real talents for the influencing work they do.





There are few apps that include more than one feature such as audio and video, which lets the users switch between multiple options. Combining more than one feature is an excellent way by which users can benefit from the most.

Promotions



Brand promotions through applications is quite effective. A lot brands get a mobile app developed which has unbelievably profitable impact on the business.





In a survey it was found that 90% of mobile users spend their time on mobile application because its get-at-able.

Entertainment app development company

like Appinventiv has successfully launched applications for brands to help them grow their business and has been successful every time.





Lately seen, many big brands have launched their own application to let consumers buy directly from them. One report from such brands has shown 45% increase in sales. The

mobile app development cost

for brand promotions, hence, has proved to be worth it.

Content flow



Entertainment applications have allowed easy flow of content throughout the globe. Any creator can put their content on these applications and receive attention from audiences from all over the world.





One such example is

Quora

. An app that allows you to answer multiple questions as well as ask questions yourself. Another application is Wattpad which has given a platform to writers so that they can publish their books, journals or short stories.





Other entertainment applications have allowed free flow of content such as articles, blogs, videos, etc. Reading interesting content on the go is a facility that mobile applications provide and the users demand.

Gaming and music



Gaming is the most popular section in the entertainment industry. Not only has mobile applications made it possible for players to carry their games in their pockets but also has enabled real time multiplayer options so that gamers can play together from all over the world.





This feature connects many players around the world via internet and even has feature like chatting and voice call. This is how mobile applications are reinventing the gaming experience.





Music was only limited to cassettes, radios and websites but not anymore. Applications like Spotify, Wynk, iTunes, etc. have given the opportunity to the audience to choose to listen to any music, anywhere and anytime. Some of these apps have free access to music as well.
Entertainment apps attract a huge audience because of its interesting features, type of content and curiosity in each other's life. The most followed people on applications are celebrities since they have a huge fan base.

Mobile applications give fans a chance to interact with their idols and also keep a track of what's going on in their life. This also helps businesses interact with their customers and attend to the needs and demands.

Engagement is the most important feature of entertainment mobile applications. Features like push notifications make it extremely easy for followers to engage with the people they follow.
Future of mobile apps in the entertainment industry
Mobile phones are used for more than just calling. It has become a source of information, a necessity and something without which human life doesn't seem to be easy.
Applications are literally solving our daily problems from food to clothing to entertainment. Mobility is the future of technology and entertainment is going to be the unbeatable industry.
With all the information gathered so far, entertainment applications have a future that will bring them on the top, even beating the game applications. In near future, the mobile application economy will have more optimized apps and will rise to newer levels.
IoT, Augmented Reality, Virtual reality is all the features set to enter the entertainment apps development to enhance the user interface. One can only imagine for now what these latest technologies can bring to the audience and how fierce the competition is going to be for newcomers.
It is going to be a benefit for those who are already in the game and if you are still debating whether you should spend money on developing your own mobile app, take a look at how much does it cost to make an app.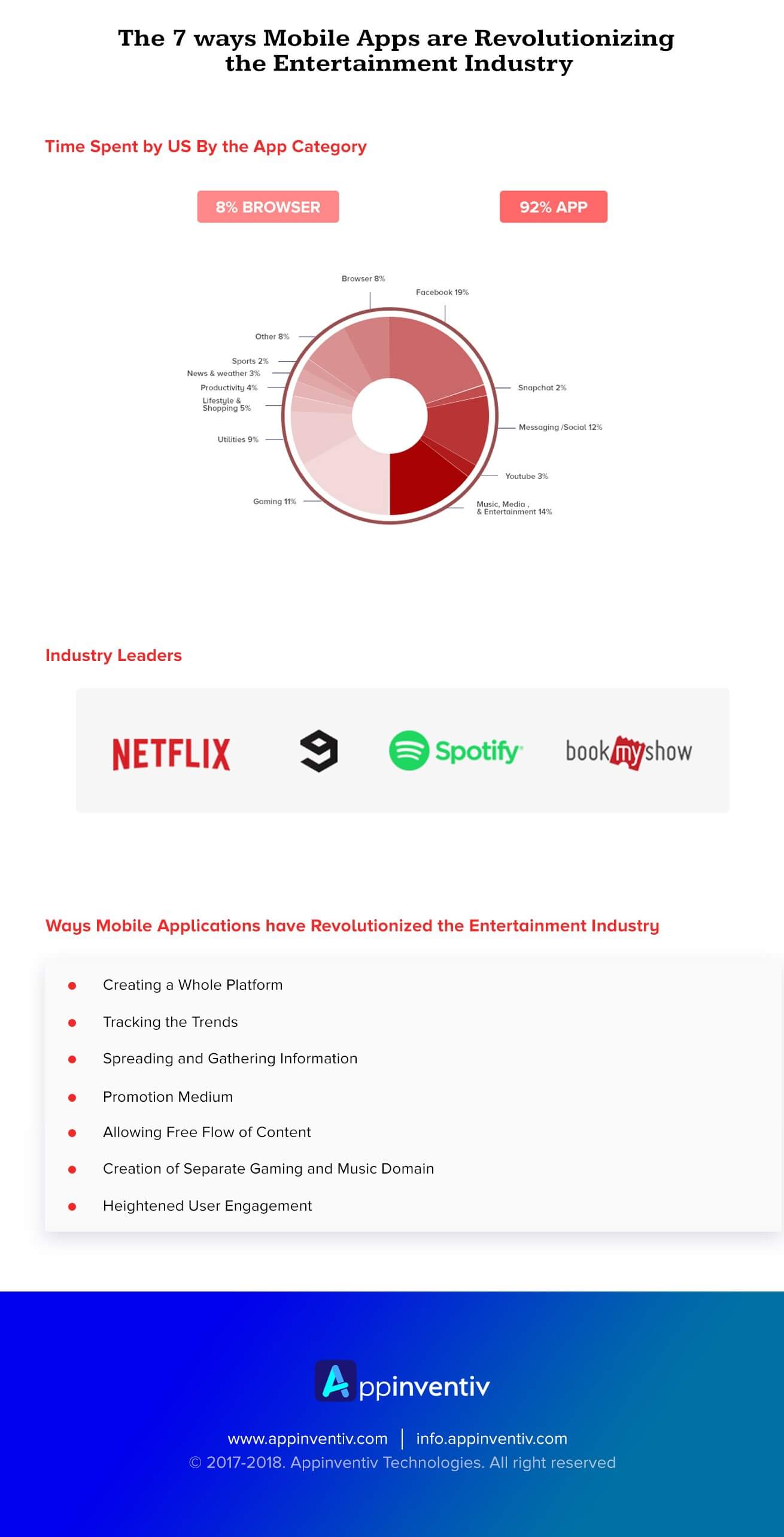 In search for strategic sessions?.
Let us understand your business thoroughly and help you
strategies your digital product..
Related Articles: