E-Scooter Trends and Statistics displaying a prosperous future
August 23, 2019
5 min read
Last update on:
September 18, 2019
You wouldn't have believed if anyone told you that you would be able to drive your scooter as a vehicle just like you did as a kid, would you?
Well, you certainly can now.
eScooters have presented themselves as a lost gem we totally forgot about. Of course, there were some improvisations made to the original model to facilitate transportation along with user experience.
E-Scooters certainly owe their popularity to the incessantly growing on-demand commutation market. Things took an instantaneous turn when millennials took smartphone use to another level.
The turn which was dominated by On-Demand Model. On-demand is one of the greatest trends of the decade where you can get anything anytime.
On-demand model in the commutation market has been attracting entrepreneurs due to its pragmatic functions. Its prompt reception by industries and people equally, is a result of the simplicity of the whole idea.
It can be dissected into four sub-business models― On-demand ride service, ride sharing and vehicle sharing that gave rise to some market giants such as Uber and Lyft – now practically have become the backbone of this industry. However, the sun doesn't always shine for on-demand commutation. The reasons why on-demand commutation fails is because of the drawbacks of those three models.
The fourth and the most recent addition―eScooters are an overhauled version of old-school scooters turned into electric vehicles developed by modern-day eScooter manufacturers, is the solution to on-demand commutation's current problems. This is a much better option as it works on electricity and can go miles without harming the environment.
They are a mixture of the best elements of traveling by car, bike, and foot. They work on engines, like cars, enabling short travelling distances without hassle. There is no road congestion, much like bikes, enabling faster travel.
It was almost immediately after the advent that end-users realized eScooters as one of the most cost-effective go-to travel option for short distances. Users who are always on the lookout for cheaper travel options really appreciated the initiative, for no one really likes to pay hefty amounts for miniscule rides. Moreover, from business front, eScooters are low maintenance, making them a perfect investment unlike cars and bikes.
Now, enough with the blabbering―let's get down to some E-Scooter Industry trends explaining the love of people for eScooters and some Electric Scooters statistics advocating the exponential growth and popularity of this industry. But first, have a look at the timeline and the history of the beginning of the eScooter trends.
Timeline of eScooters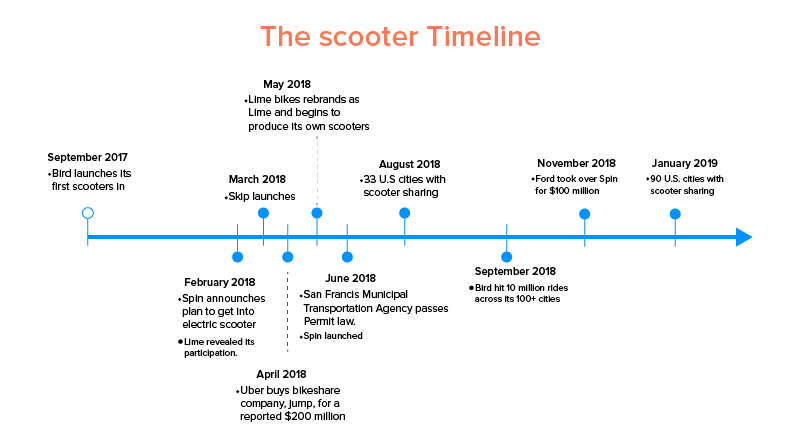 With that attended, let's move on to the numbers and E-Scooter industry trends that clearly show how eScooter market is booming in full glory and taking eScooter app development with it.
Electric Scooter Market Trends and statistics
1.

Electric Scooter market is expected to reach $41.98 billion USD by 2030

Nothing shocking here after witnessing the current demand, that the eScooter market will worth nearly $41.98 billion by 2030, as per the study by Grand View Research Inc. Due to this rise, the market will face a boom in CAGR by 8.5%.
2.

During the 2030 forecast period, Asia Pacific expected to lead the market

In the same report by Grand View Research, Asia Pacific is anticipated to lead the electric scooter market around the globe by 2030. Factors backing this prediction include collaboration of charging equipment manufacturers with researchers and automakers.
3.

Asia Pacific eScooter Market will reach USD 26.25 billion

By the end of 2029, the Asia Pacific is going to be the largest market to worth USD 26.25 billion by 2030, due to the heavy investments made in the Vehicle charging infrastructure.
4.

E-Scooter Investors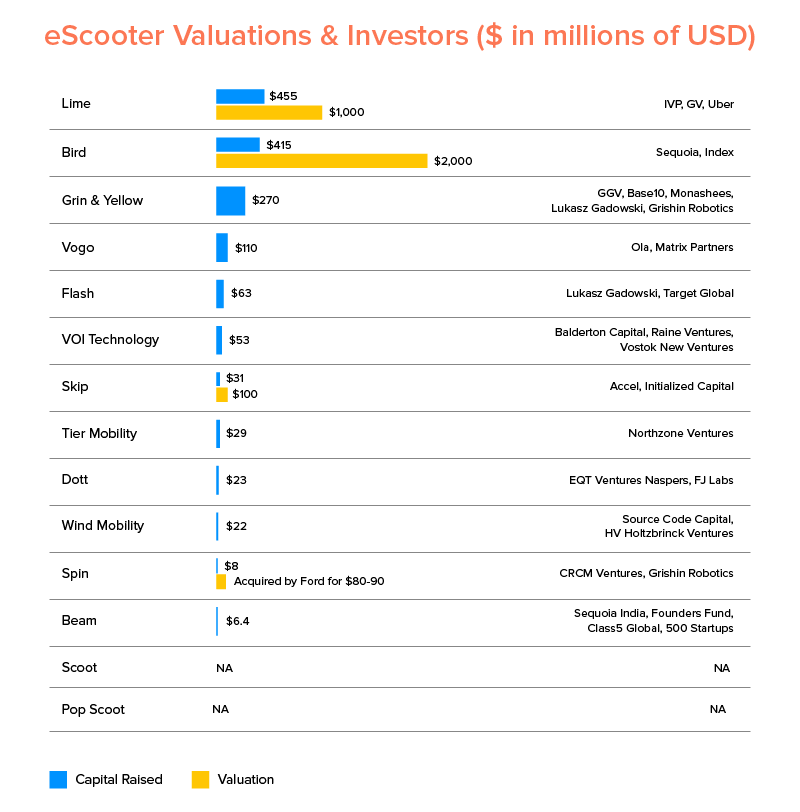 5.

5 million units of electric scooters were sold in 2018

The overall digits for eScooter units sold in the year 2018 was estimated to be 5 million. It is because many countries are enthusiastically picking up on the E-scooter industry trends, for it is an unparalleled substitute for natural-resources-based vehicles.
6.

Electric Scooters and Bicycles sales will reach 50 million units by 2020

As per the reports by Statista, the projected global retail sales of electric scooters and bicycles are anticipated to reach approximately 50 million units by the year 2020. In 2018, the sales amount was near to 44.39, which grew to 46.89 in 2019. This gradual growth tells us the incessantly growing demand for the eScooter services.
7.

By 2025, eScooter and motorcycle market will worth $13, 864.0 million

Because of the ease of transport of eScooters, they are highly appreciated by the end-users triggering the electric scooter and motorcycle market to reach $13,864.0 million by the year 2025.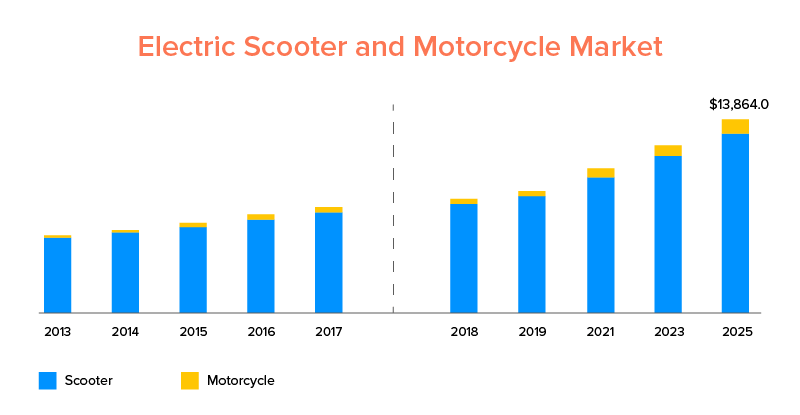 8.

eScooter Market will grow at a CAGR of 7.3%

With the increase in e scooters units sold and new entries of top e-scooter startup companies like Bird, Lime, JUMP, etc. and established businesses like Uber into the field, the market is bound to show incredible growth, precisely by CAGR of 7.3%.
9.

129 million units of eScooters and motorcycles will run on the roads by 2028

Electric Scooters statistics state that by the year 2028, there will be approximately 129 million eScooter and motorcycle units running on the roads globally. We can conjecture at least one thing from this statistic that the transportation domain is following the path of environment-friendly services.
10.

E-Scooter market will account for 8% of overall two-vehicles on the road

The E-Scooters and motorcycles market is currently calculated to account for 2.5% of total two wheelers on the road. By the year 2023, this percentage will touch the milestone of 8%.
11.

Weekly installs of Bird and Lime apps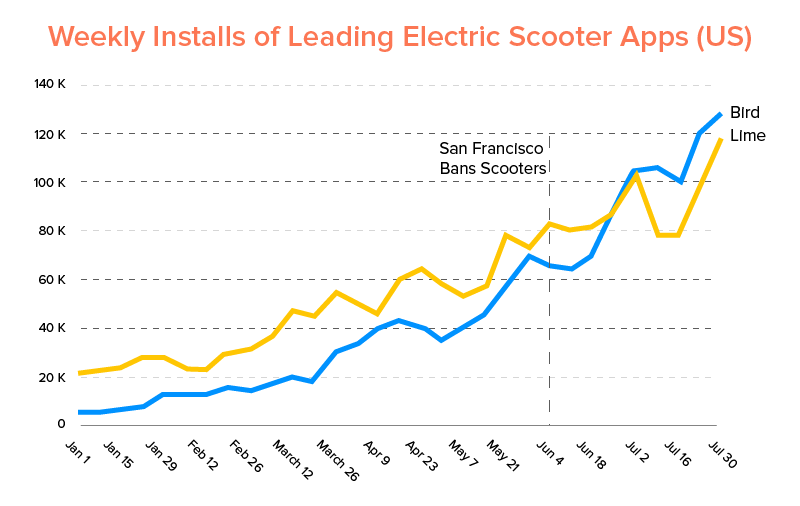 Electric scooter app development companies are coming forth after witnessing the magnitude of response by end-users. Look at the statistics displaying the increasing love of people for on-demand e-Scooter sharing apps.
12.

Monthly installs of Bird and Lime e-scooter sharing apps

The monthly downloads count of the Bird and Lime apps increased by 580% between the months of January and July, highlighting the benefits of e-Scooter apps that users enjoy. The downloads reached more than 880,000 in the United States —seven times higher than the first 31 days of 2018, as per the reports by Sensor tower.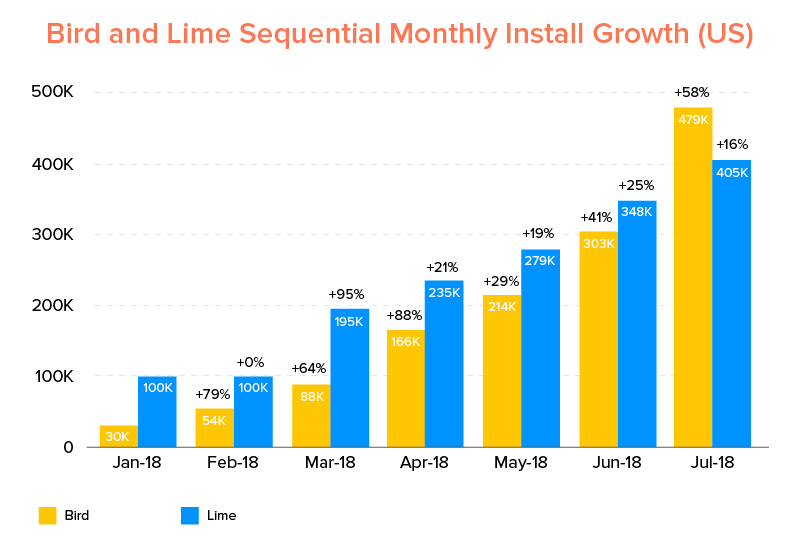 13.

E-Scooters earn over $3.65 per ride

Electric Scooters statistics state that eScooter companies like Bird, Lime, JUMP, and more charge an average of $3.65 per ride. By segregating the amount we get― $2.65 for 18 mins ride which is a standard price as the charge is $0.15 per minute, including $1 as fixed fee.
14.

84 million trips were made on shared Mobile Mobility

In a 2018 report, the number of rides taken by Americans via dockless scooters, bikes, and traditional bikeshare systems were more than doubled from 2017, precisely 84 million trips.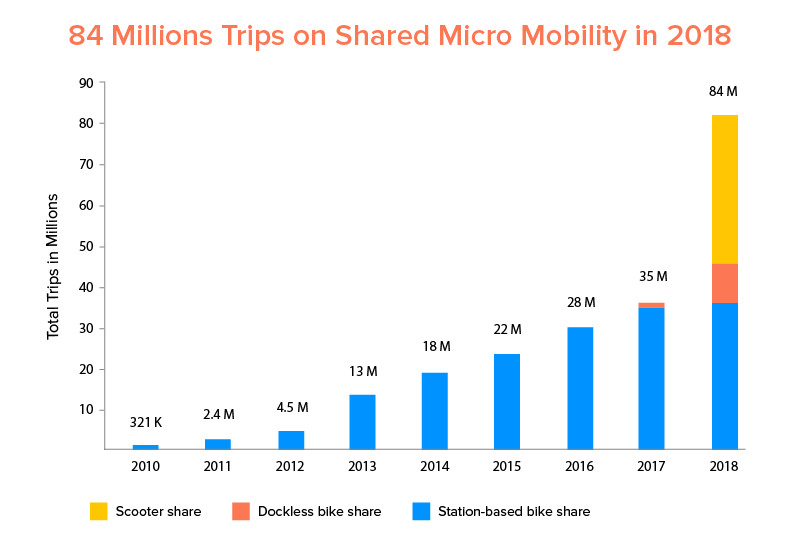 15.

China anticipated to invest 2.4 billion in Charging facility infrastructure

By the year 2020, China is likely to invest a hefty amount of 2.4 billion in the charging facility infrastructure in the country, distributing hopes of immense growth for E-Scooter companies. This E-scooter industry trend can be seen as an invitation to micro-mobility companies to expand their services to China.
16.

E-Scooter revenue expected to grow 21% by 2023

According to research on e-Scooter revenue model by Morningstar, the overall revenue for E-Scooter rental industry is going to rise by 21% amounting to nearly $5 billion including countries like U.S., Canada, Latin America, and Europe.
17.

Worth of E-Scooter Market in different countries is on a rise

A report by McKinsey & company revealed that in 2030, E-Scooter industry will worth― $200 billion to $300 billion in the United States, $100 billion to $150 billion in Europe, and $30 billion to $50 billion in China.
Statistics on E-Scooter Consumer Demographic
In a survey held by Populus, it was revealed that 70% of the respondents on average hold a positive view of E-Scooters. By dissecting consumer perception by Cities, Genders, Income and Age, we will gain a clearer perspective of where the demographics of E-Scooter exist.
18.

Response of users on E-Scooter by Cities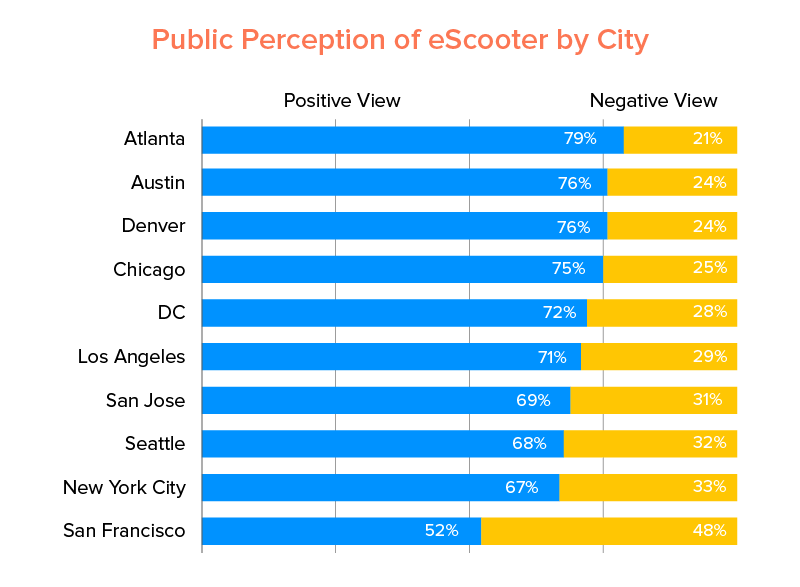 19.

Reception of E-Scooter by Users' Income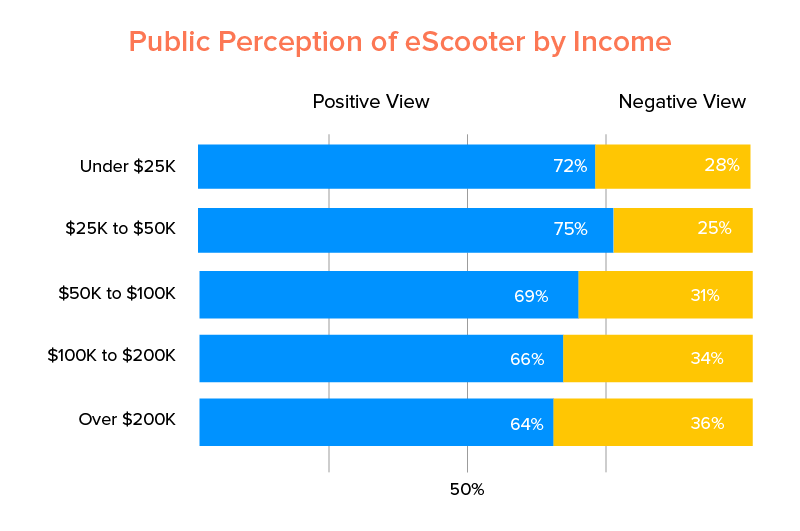 20.

Electric Scooter trips by Men and Women

The analysis of E-Scooter and dockless bikes share data in the U.S. depicts that 75% of trips on micro-mobility are made by men, and the rest 25% are by women. Moreover, the perception of public on eScooter by Gender is mentioned below, showing how much they like and appreciate it.
Players of E-Scooter Industry Trends
Bird
The pioneer of electric scooter market trends, Bird was valued at $2 billion in its initial four months. As of October 2018, the estimated revenue earned by Bird company was approximately $250 million.
The gross revenue is calculated at 19%. The run rate of revenue growth of Bird is at $65 million as of May 2018, making it one of the fastest and most influential E-Scooter companies. Later Bird displayed much better economics, enabling it to generate a 33% gross profit margin.
Lime
E-scooter industry trend-setter, Lime was the first to walk on the footprints of Bird and crossed the valuation mark of $1.1 billion in only 18 months of its initial launch. This fact clearly shows the immediate adoption of this model by the end-users. By the end of 2018, Lime managed to accumulate $500 million as revenue, according to Axios. Since it debuted e-Scooters, Lime has managed to raise 86% of its capital
Skip
Skip, one of the avid followers of E-scooter industry trend was valued at approximately $1 million. It is reported that Skip generates $125k as revenue per employee. In fact, according to Bloomberg, Skip acquired a hefty amount of $100 million from investors, who are looking to get their hands dirty in this incessantly growing industry, being influenced by electric scooter market trends.
JUMP
Jump, which is a baby brand of Uber, was acquired for $200 million for strengthening the micro-mobility market, is said to have raised total funding of $11.6 million. Its estimated annual revenue is amounted to be $5 million, which is anticipated to grow with the expanding electric scooter industry.
What is the future of Electric Scooters?
Looking at the E-Scooter statistics, we can conjecture that this on-demand eScooter model is nowhere near done and the future of Electric Scooters is bright as the sun. We can certainly expect some improvisations made in these scooters due to their unprecedented demand across the globe. Here is what we can expect to be added to the eScooters to make them more functional, safe, and utilitarian.
Customers with high purchasing power often look for more stylish and functional products. To cope up with this expectation, companies introduce advanced eScooters with elegant design and cool features like removable battery.

Electric scooters' future

definitely promotes the upgrades in the hardware of the scooters will also be taken into consideration to tackle existing problems, being an impediment to absolute adaption. The improvements may account to an improved range in terms of bigger battery, dedicated micro-controllers, robust engine, addition of indicator lights, adjustable height, etc. The foldable design no longer seems welcomed by the companies so it may be discarded in the future.

Developing electric scooter app

showing the amount of emissions saved per ride.

Electric scooter app development companies

can become really creative when it comes to delivering innovative apps with features that are remarkable and highly functional.

Prevailing problems with chargers will be fixed, probably by the introduction of swappable batteries. These improved batteries will render high speed charger at lower costs.

Although, what was expected by the users is not likely to happen―addition of solar panels to eScooters, we are certainly looking forward to the integration of AI into the model. AI-powered scooters will have a partial control feature, which will help align the eScooters on road and avert the chances of clashes between riders. This will ensure the safety of the riders, giving yet another push upwards to E-Scooter industry.
Why should entrepreneurs choose E-Scooter App Development?
Immediate Demand
Unlike other markets, eScooter market comes loaded with the demand. Once you launch your app on the platform and into the world, you will be amazed to see how fast its reception can be since, the transportation is a basic need. A huge number of users use ride-sharing and ride-hailing services, so your app will be an ideal choice for them to have to travel short-distances. Have a look at the app stats for Bird and Lime to convince yourself of the benefits of E-Scooter App Development.
Low Competition
Though the E-Scooter market has seen an unprecedented rise in its demand and growth, there are still limited players on the playing field, making it an absolute steal of an opportunity for entrepreneurs wanting to scoop all that this emerging and continuously growing industry has to offer.
Sea of Investors at the doorstep
The investors are eagerly waiting for a chance to grab the opportunity by its fetlock for investing in the emerging E-Scooter market. So, it is easy for you as an entrepreneur to acquire capital for your innovative business model and app.
Opportunities in Business Models
With only a small fraction of competitors in existence, it is facile for entrepreneurs to invent, experiment, and innovate with your app idea by instilling out-of-the-box features into your app. For example, instead of merely providing pick and drop facility of eScooter via your app, Beacons can be integrated to let users know of discounts in specific areas.
Instant Return on Investment
As opposed to product-based business, E-Scooter Market is a steal deal for the returns on the investments are instantaneous. There is no waiting around for your product sales, as transportation services are always on demand on a daily basis; meaning entrepreneurs can make profits and cover their investment costs with rides in just a few months. This way, the cost of eScooter app development turns out to be much lower than the returns they are able to get.
Surmising that the E-Scooter Industry is on an unprecedented rise globally will not be a false statement, lest it would have failed already two years back. This industry is certainly taking E-Scooter app development on the height of success along with it. If you wish to hop in this hot-market, then refer to this E-Scooter app business in-depth guide.
Seeing the expanded reach of this on-demand transportation domain to other countries, we can definitely expect amazingness and new mind-blowing trends emerging in the future.
Shrikant Srivastava
VP Technology
In search for strategic sessions?
Let us understand your business thoroughly and help you
strategies your digital product.
Recent Articles: