Originally published Apr 5, 2017, updated October 30, 2018
The app entrepreneurs need to find app developers with the right skill set which will convert their app idea into a real-life application.
A common problem faced by almost all newbie app entrepreneurs who happen to be ready with a brilliant app idea but are struggling with getting the development wheels to churn is finding the right team to help them get on the app journey.
Finding app developers that are skilled to perform the right job is extremely difficult. Mobile app development is a job that needs the best app developers. Often, businesses are in a pickle when it comes to hiring the best app developers that is why we, as experienced mobile app developers, decided to attend to this issue.
It is important for businesses and startups to find mobile app developers who fall under the category of project-fit.
But, before we move to the section "How to find app developers?", we will look at the tips to make the whole process easier. When searching for a mobile app developer, a business should start with following points.
If you are setting out to find and hire a mobile app developer, chances are that your search would be inclined towards outsourcing the service. While there are a number of reasons an entrepreneur cannot resist outsourcing app development, there are a lot of things to keep into consideration.
Let us look at the main pointers.
1. Destination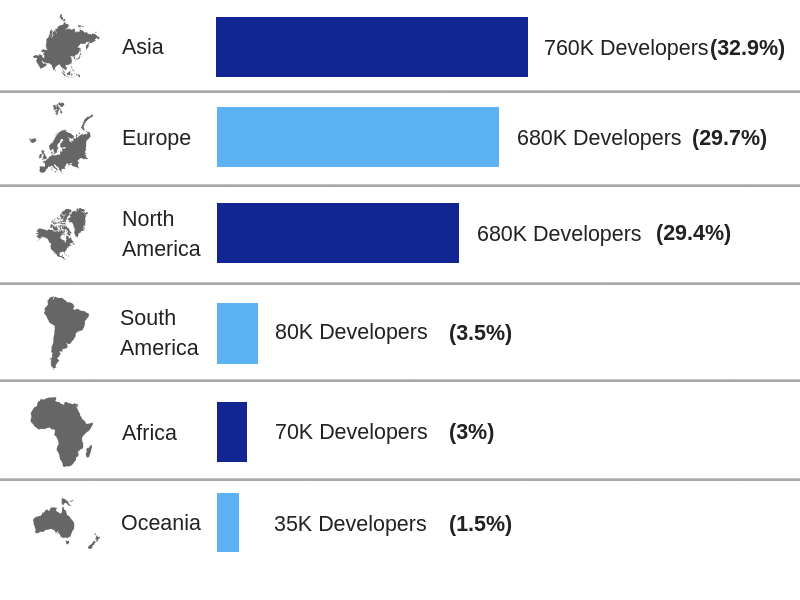 When it comes to finding app developers, location plays an important role. After researching, we found some locations that are most preferred for their mobile app development services.
As you can see in the chart above, Asia has the largest number of app developers. With 32.9% of total app developers in the world, Asia also includes India. There are more than 300,000 mobile app developers in the Indian market. The country has a strong IT base in Bangalore (also known as India's Silicon Valley) and is well known for outsourcing.
North America is also one of them. They supply the majority of app developers and not to forget the Silicon Valley which has some exceptional mobile app developers. Europe comes second in the list as it also has a huge number of app developers.
Another location that has skilled local app developers is Ukraine. Many companies from the USA, UK and Canada hire mobile app developers from Ukraine. The hourly rates of mobile app developers are comparatively lower than the ones in USA and UK.
2. Company or individual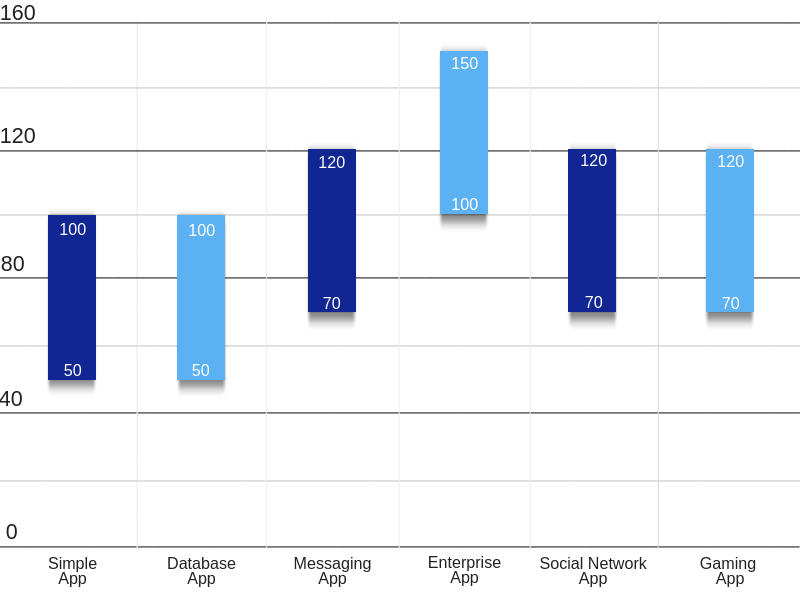 Whether you are going to hire a company or a freelance app developer, both have their own set of advantages. If the project is small and requires less work, going for a freelance app developer will be a suitable option. However, if anything goes wrong, quality control and risk management become a tough job for an individual mobile app developer to handle as a one person job.
Whereas, if you hire a mobile app developer from a development company you will get lots of benefits in terms of risk management and strategy formation. The developers are backed by project managers who organise the work and reduces the risk of mistakes. This is not possible for freelance mobile app developers.
3. Compare before you hire mobile app developers
In order to find an app developer that matches your requirements, you will need to work a little hard. Once you have gone through the profiles of mobile app developers, you should make a list and compare.
Whether you are looking to hire Android app developers or their iOS counterparts, make sure you have a list of agencies to shortlist from.
Now that you know how to find app developers, let us move to the next section which is where to find app developers.
Where to Find App Developers?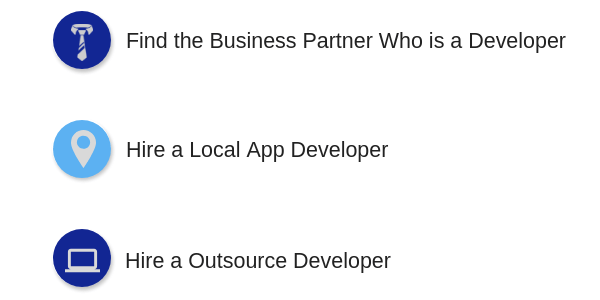 1. Enquiring at the Local Colleges and Universities
The best way to reach out to the mobile app developers in your local is to head on to the educational institutions. While the quality is something that won't be at par with the mobile app development agencies,  there is a considerable reduction in costs on account of working with these undiscovered talents.
2. Extended Networks
Personal networks are valuable places for finding a developer for hire. The usual best practices to be followed are – connecting with the numerous contacts on LinkedIn and contacting app development startups that are ready to provide their services at a reasonable cost.
While, reaching out to your network will most likely help you find an app developer another place to look at is mobile app rating and review websites like Clutch.co or AppFutura, where there are numerous lists of development companies from different categories.
The question 'Where can I find app developers?' often has answers on social media as well. There are many companies going to Facebook and Instagram to find local app developers.
3. Utilizing the Right Type of Communities
There are niche communities like Koding Inc. that has hordes of developers with relevant experience in the right type of technologies. Weekly hackathons are hosted by TopCoder so that you can scout for suitable talents and offer collaborative services.
The hackathons are ideal for grabbing hold of talents for onboarding on your enterprise and build up the best of reputation among the community of app developers. These places are great to see the potential of an app developer.
4. Taking Advantage of Niche Job Boards
Elance and Odesk provide the options to find app developers and that too at a reasonable cost. While the app developers you find here might be useful for an initial draft of your mobile app, but hiring an app development team is the best possible option.
In fact, in place of finding individual talents in the freelance places like Upwork and Freelancer, try headhunting through the online directories and the niche job boards for finding a team of developers with skills and qualifications.
Other options are niche forums like iPhonedevsdk with dedicated job search threads and Reddit too. The reason behind choosing comprehensive online directories is that these places more often than not have the right talent pool. Suppose you want to find app developers for iPhone, you can put in the search request for iPhone app developers and you will find a list of developers. You may also search based on budget and location.
5. Recommendations
Word of mouth has been the most trusted way to go for something. The same applies for the time when you are looking for a developer as well. You can ask the old clients of your shortlisted app development companies or check their reviews on the feedback platforms to get a clearer picture. To find mobile app developers, you can also get into a conversation with a few clients and ask questions that you need answers to.
How to F

inalize

 the Right Mobile App Developer?
Be it a company or a freelancer you are going to hire, go through their portfolio. Once you have decided on a company, go through their About and Services page to make sure they have what you are looking for. It is always advised to know the company better before meeting them.
Other than that, take a look at the company's development process and procedures. There are many companies that have easy and defined development process which prevents any confusion or dispute in the future. You can also have a Skype call first and then move to a face to face meeting. It will give you a rough idea of what to expect in the meeting.
We hope this blog answers your question of 'How to find an app developer?'. If you are looking for a company that does custom mobile app development at an affordable cost, contact our mobile app development agency. We offer integrated, cost-effective and streamlined solutions to businesses all across the globe. Our team of skilled developers would love to work with you on innovative ideas.
Originally published Apr 5, 2017, updated October 30, 2018
In search for strategic sessions?
Let us understand your business thoroughly and help you
strategies your digital product.
Related Articles: