The on-demand food delivery sector is growing by the hour and growing with it are the number of businesses who are making an entry in the industry.
This persistent attraction that the domain is witnessing is what has resulted in the prediction that the food delivery market is set to reach $16.61 billion by 2023, as projected by Allied Market Research. 
Grubhub, who presently holds 32.7% of the complete food delivery app industry had been the most interesting case study of the flourishing industry.
Let's delve into the ingredients that go into making Grubhub the industry's leader. 
In this article, we will be giving you some insights to understand what is Grubhub, how does it work and what is the Grubhub cost structure, keep reading further.
What is GrubHub?
Grubhub is an online food delivery service platform that allows users to order food from any place in the city. They have a massive user base of 14 million and collaborations with 80,000 restaurants. The business is active in 1,600 cities across the USA and UK. The Grubhub revenue, as of 2017, comes to 68.32 crores USD. Grubhub is a startup that has succeeded in becoming an IPO.
The Grubhub online food ordering business model works on serving two segments: Customers and Restaurants. Grubhub for business would be a beneficial idea since the Grub hub business model has proven to be highly successful so far.

Why does Grubhub standout?
Any company stands out because of its striking features and exceptional quality of work and that is the case with Grubhub online food delivery service. Even after the competition rose when big names like Amazon and Uber entered the market, Grubhub was able to maintain a good position in the market.
Grubhub has an outstanding mobile application which has been the strongest factor for its success. The application has every feature that any restaurant app development agency includes in its top applications. The performance of the app made the delivery process glitch-free.
[See: Why Restaurant Need Well-Executed Mobile App]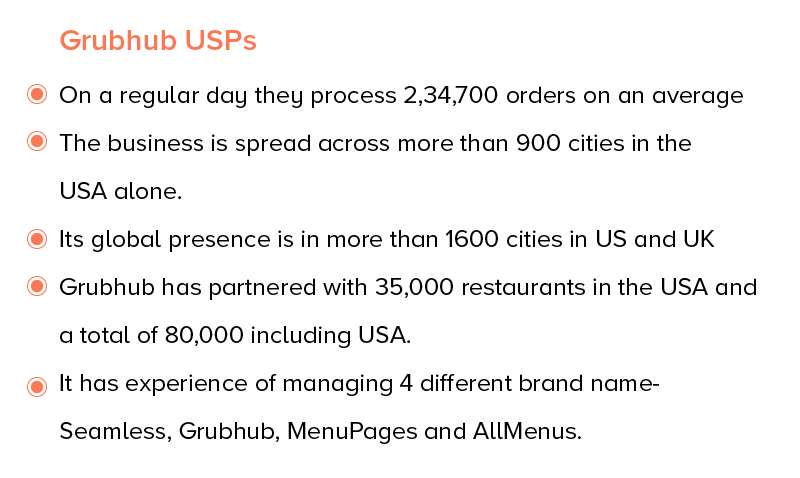 Grubhub App Features that makes the model stand out are:
On a regular day, they process 2,34,700 orders on an average.

The business is spread across more than 900 cities in the USA alone.

Its global presence is in more than 1600 cities in the US and UK.

GrubHub has partnered with 35,000 restaurants in the USA and a total of 80,000 including the USA.

It has experience of managing 4 different brand name- Seamless, Grubhub, MenuPages and AllMenus.
Grubhub Successful Funding Timeline
When the founders Matt and Michael decided to turn Grubhub for business, they didn't know that one day they would lead it to an IPO. In the beginning, Grubhub faced difficulties in getting a 'yes' from investors and most of them took a really long time to say anything. That is when the founders decided to take control of the situation.
They went down to the restaurants in San Francisco and explained each of them what does Grubhub do and how does Grubhub make money. Eventually, the restaurants agreed and orders started to flood in. This grabbed the investors' attention and they joined in.
The funding timeline below shows when and how much did Grubhub receive throughout the years: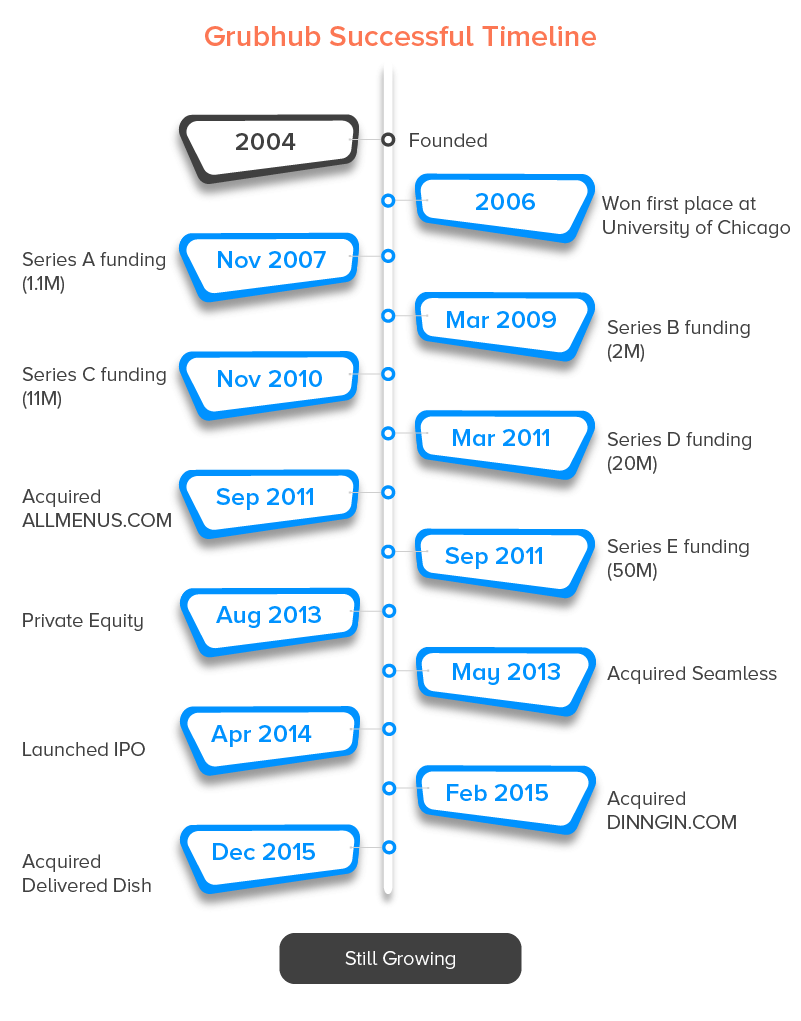 Value Propositions
The value proposition explains what does Grubhub do for the segments they serve in. As mentioned before, Grubhub serves two segments- customers and restaurants. Following are the value propositions provided to each one of them:
The Grubhub Value Proposition For Users:
Customers save time and energy by ordering food online from a wide range of restaurants.

Users can even select their choice of restaurants to order from.

Grubhub provides 24 hours service, 7 days in a week.

Once the order is placed, customers can track the delivery.
The Grubhub Value Proposition For Restaurants:
For delivery, Grubhub has its own delivery workers.

The restaurants get an extended customer base through Grubhub.

They can serve their regular customers when the customers select them while ordering.

To manage the deliveries and orders, a software is provided by Grubhub.
[Extra: Know how much does it cost to make an app]
Grubhub's Customer Segments
Grubhub likes to keep it simple and hence deals with only two customer segments. The plan may change in the future depending on how does Grubhub work with this model but for now, they only focus on picking food from one location and delivering it to the other location. These two locations are restaurants' and customers'.
Users:
Users who love to dine out but don't get time to go out.

Users who work and often forget to pack lunch.

People who don't know how to cook or don't want to cook.

Corporates who want to have lunch but don't have time to go out.

People who want food to be delivered at their doorstep.
Restaurants:
Restaurants with good food that lack customers.

The ones that don't have any delivery guys to deliver.

That don't have any marketing or branding strategies.

Restaurants that want to expand and reach people in every corner.
The Grubhub Business Model
The main goal of Grubhub business plan is to make food ordering and food delivery easy. They are basically connecting the food joints in the city with the customers to make online food ordering an option for users. They are doing this by the help of the latest technology in mobile applications.
Applications like Grubhub must have a lot of bold features to complement them with food images and icons. For this reason, Android app development companies like Appinventiv are taking food app developments to a whole new level. Rapid communication, push notifications, in-app ordering and feedbacks are some factors to include in your restaurant app development.
Now that we have looked into the Grubhub business model, it is time to now get into the restaurant revenue model that Grubhub like apps follow. 
Grubhub Marketing Strategy: How Does Grubhub Make Money?
The Grubhub revenue model and marketing strategy is divided into three parts. Let us look at what they are individually. 
Delivery fee: The delivery fee is taken from the customers and how much does Grubhub charge for delivery? 20-40%. The customers are more than happy to pay this percentage for the quality of service that Grubhub provides. Also, this fee is given by users to get food without stepping out of the door which they don't mind at all.
Grubhub pays the majority of this delivery fee to its delivery workers for their service and keeps a small sum from it.
Commission fee: Grubhub takes a basic commission of 12.5% on each deal. This percentage is a major source of income for Grubhub. Although the percentage of commission fee can range between 5% to 15% yet 12.5% is the standard pricing. This amount is shared between Grubhub and the restaurants so that both the parties can earn profit from each other.
Extra commission: This extra commission is charged for ranking restaurants its same category. The percentage of extra commission can range from 2.5%, 7.5%, 17.5% depending on the hierarchy of rankings. The extra commission is only taken for featuring restaurants on-demand and the customers have to do nothing with this.
Now that we know how does grubhub make money and how does grubhub pay, let's move on to the next part of this article – how does Grubhub work?
The Working of Grubhub App
Now that we have seen the Grubhub business model and how grubhub makes money, let's talk about how Grubhub works. Grubhub has an application that connects the restaurants, the delivery guys and the users. All of these together makes it easier to operate. Timely notification is sent whenever an order is placed, an order is ready and packed and when it is out for delivery. Once it has been delivered, the process is complete. All these key factors have to be taken care of by the restaurant app development company so that the process runs smoothly.
The operation of Grubhub is explained in three four steps:

Step 1: Browse
Customers get a wide range of restaurants to choose their next meal from. They will browse through the Grubhub application with features like 'nearby' or 'search' and order food. The application also allows users to order from their choice of place by selecting it manually.
Step 2: Place order
While placing the order, users can put various settings and preferences regarding the delivery and payment options.
Step 3: Prepare and pack
The restaurants that the users choose receive the order and then prepares the food. After properly packing it, they inform the delivery guys to pick it up.
Step 4: Delivered
Once the package is ready it will be delivered by Grubhub's delivery guys.
What Drives Grubhub Success
For Grubhub, success came from many factors and not just one. Of course, the Grubhub business model and Grubhub revenue model worked its charm but there were other factors too.
When the company wasn't receiving any funding from investors, the founders of Grubhub decided to go to San Francisco and gather menus from all the restaurants. Gradually they started listing each and every restaurant in their mobile application.
Apart from the dedication of Matt and Michael, these factors helped Grubhub gather more customers:
As a deal with restaurants, Grubhub offered discount coupons for customers, occasionally.

Users were given an option to rate the restaurants which brought the best quality restaurants at the top.

The application lets the users know the average amount they will need to eat at a particular restaurant. This was one of the most useful features.

Once a user sets the location and the restaurant, the result shows how much does Grubhub charge for delivery.

Both delivery

and pick up

services are available.
Challenges That Stand Infront Grubhub
While Grubhub is the industry leader today, considering the new businesses that are constantly getting added in the on-demand food delivery app market, there are a number of challenges that they will have to prepare to address. 
Attract and then retain restaurants in a cost-effective manner

Maintain, safeguard, and eventually enhance their brand image

Solidify the takeout sector

Generate a positive cash flow and maintain profitability levels

Be up to mark with the technical changes in the food delivery domain
We hope this article gave you an insight into how does Grubhub pay, Grubhub marketing strategy and Grubhub business plan. In case you still have questions, you can contact us. Our experts will help you in better understanding of Grubhub working and business model.
FAQs About Grubhub Business Model
Q. How Grubhub makes money?
There are three ways through which Grubhub makes money – 
Delivery Fees

Restaurant Commission Fees

Extra Commission for ranking the restaurant on top in the category.
Q. What percentage does Grubhub charge restaurants?
GrubHub charges a commission percent out of every delivered order. The amount of commission that they charge usually lies in the range of 5% to 15%
Q. When did Grubhub start?
Matt Maloney and Mike Evans launched Grubhub in 2004 after experiencing the lack of a streamlined dinner ordering service.
Q. How to make money with Grubhub?
The answer to the question 'How to make money with Grubhub' is that as a driver you'll use your smartphone and vehicle to accept and deliver orders. You'll earn delivery pay, which includes mileage and time, as well as 100% of the tips that customers leave.
Q. What kind of company is Grubhub?
Grubhub is an online and mobile prepared food ordering and delivery platform owned by Just Eat Takeaway that connects diners with local restaurants.
Q. Is Grubhub profitable?
The answer to this question is Grubhub profitable is obviously yes. It has climbed from $500 million in 2016 to $1.8 billion in 2020. It has 265,000 partner restaurants, with independents and small chains accounting for more than 85% of its orders.
Q. How Grubhub Works?
Grubhub works around a business model where the users make a food order on the Grubhub app and the delivery persons are then sent to the partnered restaurants to collect the food item and get it to the customers in time. 
Q. How does Grubhub delivery work?
When users make a food order online from a restaurant, Grubhub sends their delivery person to collect the order and get it to the users. In return of this service, they charge a delivery fee which is mostly in the range of $6 to $10.
Q. How does Grubhub work for restaurants?
There are three things that work in favor of restaurants when they partner with Grubhub to get their food delivered to the users. 
The company doesn't charge them anything in name of subscription or upfront fees

The platform does not ask the restaurants to apply offers on their menu inside the app
The restaurants are only asked to pay the Grubhub when orders from diners get generated.
Read more blogs
Smart business owners, especially restaurateurs, know that while great food may draw customers to your restaurant, they return because of outstanding hospitality. While offering diners extraordinary experiences is not rocket science, it does call for smart management. Fortunately, POS systems can help with that. A point-of-sale (POS) system is now a necessity for your restaurant.…
The food industry with its sub-services like delivery, promotion, and retail, is on an active growth. Does the credit go to mobile apps? Let's take a look at current food industry statistics to set this out.  Food Industry Insights You Need to Know 2022 has witnessed the food industry bagging a $8.66 trillion valuation where…
Sudeep Srivastava
25 Feb 2021
From paper calendars and notebooks to custom-code digital processes and software platforms, the food industry has witnessed numerous technological transformations. The way restaurant businesses operate and run, has become drastically streamlined and automated.  If you're a restaurant manager or owner not being able to focus on important aspects of your business, signs are that you've…
Prateek Saxena
19 Feb 2021