Augmented Reality- Amplifying the Online Shopping Experience
October 16, 2017
5 min read
Last update on:
August 24, 2018
Have you played Pokemon Go? Remember how the game used your mobile device's GPS location to take you on a journey to trace, catch, battle and train the virtual creatures (Pokemon). What if you could get the same experience while shopping online? Excited? After a whopping success in the gaming industry, the Augmented Reality (AR) technology has started entering into the other industries. Almost every business vertical is excitedly adopting this sensational technology to provide a magical experience to the users. And happily, Commerce industry is not lagging behind. A myriad of commerce businesses has jumped on board to provide better user experience to their customers with AR. For example:
IKEA and Wayfair are providing the facility to find out which sofa will go perfectly with your room using AR technology.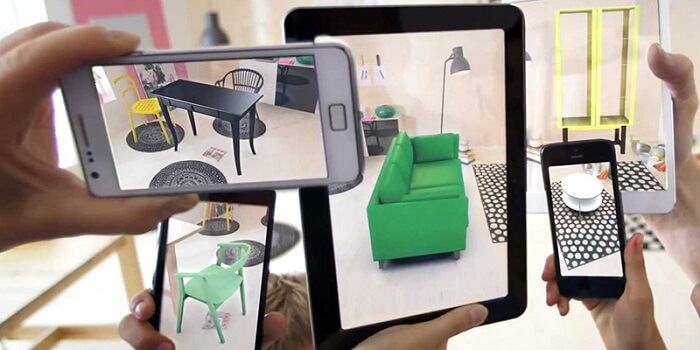 Jura allows you to try on virtual watches on your wrist.

Dulux app lets you test out different paint colors on your walls without even having any paint bucket by your side.

Shiseido introduced augmented reality

makeup mirror which captures the picture of the shopper's face and shows which cosmetic products will look great on their face.
AR Technology & Online Experience
According to the experts, the users were pleased by the exceptional personalized experience they get in-store due to Beacon technology. However, they missed the same personalization during online experience.
ALSO READ: Uplift Your Retail Business with Beacon Technology!
They were amazed at the loads of facilities offered by the online shopping sites and m-commerce apps but felt the need to find if the product will go with their requirements just before they pay for it. AR technology plays a pivotal role in catering this need of the users and helping the businesses to boost their sales via the same.
Ways AR Technology is Reinventing the Online Experience
Talking specifically about retail business, here are some of the ways investing in augmented reality app development can empower you to improve the shopper's experience:
Exhibit Abundant of Products
An AR-enabled m-commerce app renders a better display of the products. It allows the customers to visualize products, experience them virtually and take a better decision. This not just make the shoppers comfortable about the products but also generate a level of contentment in their lives.
Deliver Utmost User Experience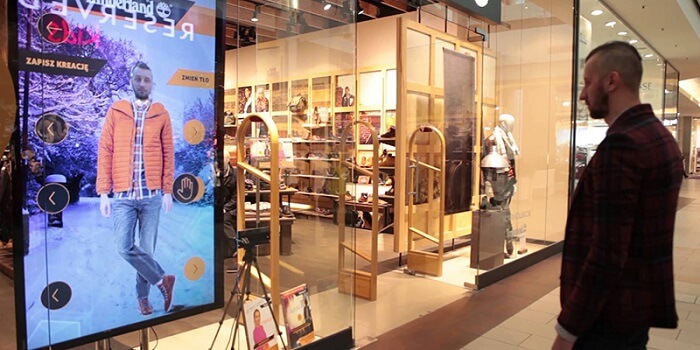 Launching an AR-enabled app will add value to customer loyalty. The customers would feel valued and would love to try the products prior to buying them, just like that in case of an e-commerce store. The AR technology, according to our experts, now just let them know if the product will be suitable for them, but also provide concise information about the origins of the product material and offers & deals associated with it. The AR provides this facility by integrating with Big data and Machine learning. Besides this, the combination of these technologies even recommends products to the users, based on their shopping behavior. Thus, ultimately giving exceptional experience to the users and bringing a big smile on their face.
Increases Customer Engagement
The biggest challenge for the eCommerce stores is to keep the users hooked. Several companies have gone through the misery of losing their customers, but now the AR has entered as the savior for them. The AR technology, as mentioned above, helps the shoppers find the right product for them on the basis of their past shopping behavior and preferences. It assists the users to interact, customize and visualize the product, which minimizes the dissatisfaction rate.
"According to a source, 40% of customers are ready to pay more for a product if they are provided with the opportunity to experience it through AR."
The companies were devouring a high amount of efforts and finance in creating awareness about their brand. Many times, they end up wasting their time and cost on non-target customers. But, now it is as easy as pie with AR integrated into their m-Commerce app. The AR serves as a singular opportunity to tailor what is presented to a user on the basis of demographic profiles and past in-store behavior. This aids the brands to link with interested people and turn them into potential customers.
"According to a research, the users find the AR advertisements more compelling than traditional ads, and so like to click on them."
A mobile application integrated with Augmented Reality can be employed as a tool to outshine your competitors who are yet to incorporate this technology into their business.
With the advancement in technology, the users want to get in touch with the companies that employ the trending technologies into their businesses. And thus, provide them exquisite solutions. In other words, developing an AR application is an easy, cost-effective and powerful tool to upgrade your business strategy and e-commerce store.
"By 2020, 71% of users will recommend returning to shops and stores implementing AR technologies. Moreover, the total cost of AR advertising cost will be about $12.8 billion."
Finishing Thoughts
The trend of using technologies like Augmented Reality is increasing day-by-day because they open a new horizon for customer attraction, engagement, and marketing. So, if you are ready to take your business to the next level, invest in AR app development today itself!
In search for strategic sessions?
Let us understand your business thoroughly and help you
strategies your digital product.
Recent Articles: