Android Q vs iOS 13: Which OS Will Take Home the Winner Title?
June 17, 2019
2. min read
Last update on:
April 1, 2020
If we had to list down all the recurrent debates of the world, the one that would come on top would be the 'which is better' argument that happens every year like clockwork every time new Operating Systems are introduced by Apple and Android.
And this time too, without fail the comparative debate is back, leaving mobile app development agencies like us to decide which 2019 OS – iOS 13 vs Android Q is better.
A comparison that happened last year as well between iOS 12 vs. Android P.
Well, taking our year-on-year comparative forward, let us today sit down on it to see how the two operating systems stack up against each other.
To create a common ground before we go on with making them face each other, let us look at the features that they both are being introduced in the market with. Here is What's new in IOS 13 & Android Q –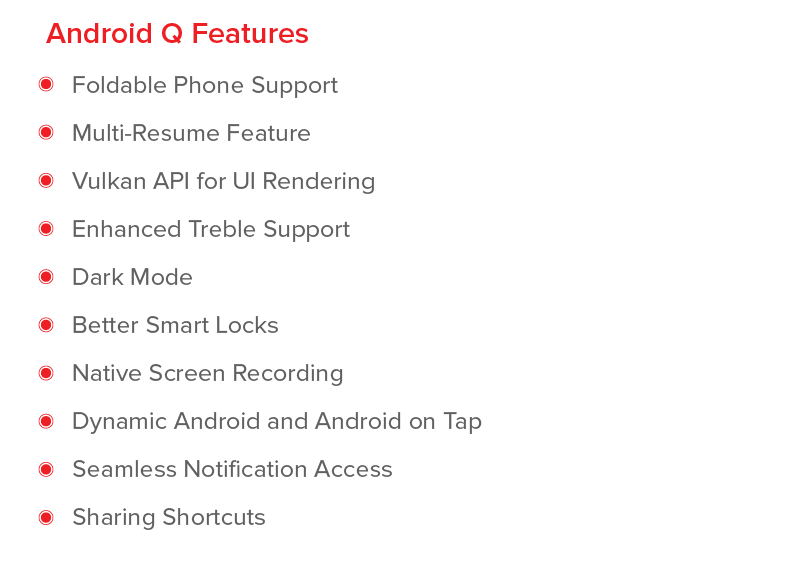 While there is a lot that has been announced by Google on the front of the Android Q features list, we are only going to look at the most impactful ones.
1.

Support for Foldable Phones

Following Samsung's announcement that the brand would be launching a foldable phone, there are a few other OEMs that have taken the lead to explore the foldable smartphone market. And with the smartphones' manufacturers taking the lead, it only made sense that Google would too.

The tech giant has announced that it would be extending support to foldable UI in Android Q – making it one of the best new features in Android Q.
2.

Multi-Resume Functionality

Android Q will come with an altogether upgraded version of PiP mode and Split Screen. A feature that would allow users to work around all the split screens in an active mode. Meaning the apps working in the background will not go on sleep mode while you are active on the primary application.
3.

Vulkan API

Android Q is also expected to use the Vulkan API – the low overhead, cross-platform 3D graphics API – for the delivery of amazing user experience.
4.

Treble Support

Google is working in the direction of bettering Treble compatibility within Android Q. This would help users enjoy the opportunity to use flash GSI on devices running on Android Q – something that would promise a lot faster system update.
5.

Dark Mode

The one point of similarity, along with others that we would see later in the article, which we can see between Android Q and iPhone Operating System 13 is the Dark mode. Using this the Android users will be able to get a chance to save up their battery consumption while keeping the whole experience very easy on the eyes.
6.

Smart Lock Beyond Pixel

Android Q will bring the smart lock functionality, donated as Pixel Presence on devices not limited to Pixel.

The service that was enjoyed only by Pixel users till now, gives a much quicker way to unlock the devices. There are multiple scenarios under which you can unlock the device –
When the device is in physical contact with your body

When the smartphone is in a trusted location

When it is connected to a trusted Bluetooth device

When the phone recognizes your face and voice.
7.

Screen Recorder

Google, with Android Q, will be giving its users the functionality of screen recording using which they would be able to capture what is happening on their device in a video format. The feature would also give users the voice-over functionality to speak while they capture their screen's content.
8.

Android on Tap

Android Q is all set to take Project Treble to an entirely next level. It plans on empowering the developers to flash multiple ROMs on a single device with ease – without conducting data wipe or unlocking bootloader. Something that would make it easy for Android app development companies and OEMs to test newer Android versions on an expedited level.
9.

Seamless Notification

Android Q is going to witness a change in the notification setting department. The notifications won't fade on its own until you act on them. Meaning, they would be on the screen till they are slid left for opening the app or to the right for dismissing them altogether.
10.

New Sharing Shortcuts

Android Q will simplify sharing for the users. The sharing shortcuts feature would enable the users to switch to another application for sharing media – something that would help cut back the multiple steps that the users otherwise have to follow for sharing an item between applications.

Now that we have looked at the features that Android Q is expected to be launched in the market with, let us get down to the features that are expected to be seen in iPhone Operating System 13.
The Upcoming List of Features in iOS 13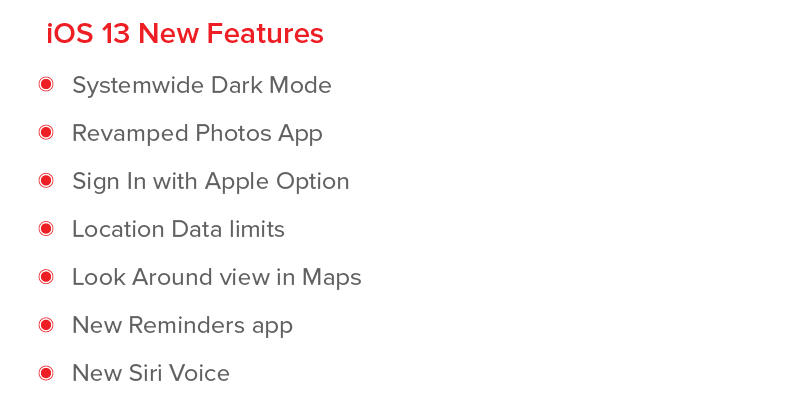 1.

System-wide Dark Mode

Through the latest update of Apple's iOS, the tech giant is once again working on continuing its focus on optimization. The system-wide operation would change all the hues from white and light grey to dark grey and black on the supported applications. It can be an amazing feature for users who wish to use their phones after dark.
2.

Revamped Photos app

The new feature that would soon start making a presence on the Apple devices brings an overhaul to the Photos app, beginning a new war in the iPhone versus Android debate. Now, you will be able to curate your complete photo library while showcasing highlights of your time – day, month, and year wise. The in-built photo editing tool has also been made a lot easier with multiple new functionalities.
3.

Sign In with Apple option

Apple is also adding an all-new Sign in with Apple feature which would give you a data safe way for signing into websites and applications. The Apple ID will be used to authenticate the account through Face or Touch ID while developers will get access to your unique ID instead of real information.

The tech giant is also working on single-use random email ids so that you never have to share the addresses with an application again.
4.

Location Data Limits

New controls are being introduced in the iOS market for limiting the data which are shared with applications – a move to protect users' privacy further. You will only have to give apps the access to view your location one time and rest of the times, Apple would give you a notification highlighting which apps are using your location data.
5.

Updates in Apple Maps

The iOS 13 maps feature will come with a bigger road coverage, precise addresses, and very detailed landcover. Along with this, you will also get a street-level image of the city along with a collection feature that would allow you to share places and restaurants with friends.
6.

New Reminders app

There is a new Reminders app that has been launched with intelligent features which makes the app a lot more useful. The app makes it a lot easier to keep track of reminders along with giving the users new toolbar for adding dates, time, flags, locations, etc.
7.

New Siri Updates

Siri is getting a completely new voice which sounds a lot more natural than before. Also, you will now get a 'Suggested Automation Feature' which would suggest you personalized shortcuts which you would like to create.

In addition to all of this, Siri will now support Live Radio with access to radio.com, iHeartRadio, and TuneIn.

Now that we have looked at the features of both iOS 13 and Android Q, the next step would be to look into the similarities that can be seen between both the systems, bringing them both on the common ground.
What is the Similarities Between iOS 13 and Android Q
While the individual features that both the operating systems are being prepared with are devised to make the OSs compete with each on a different level altogether, there are two updates which are bringing them both on some common grounds.
Dark Mode
Both the operating systems are coming with a dark mode which would get activated from getting to the settings option of the device. Both of these features would replace the otherwise background with a dark ascent. All the first-party apps will see an automatic update while the third-party mobile app developers will have to use companies' toolset for adding the functionality.
Privacy Enhancements
Keeping the focus intact on user privacy, both Apple and Google are adding new enhancements in their brand new operating systems. While Apple is coming up with Sign In With Apple functionality, Google is concentrating itself on location setting to ensure that the users' data is intact.
Now that we have looked around the different set of features that both the operating systems come with and the two updates that have brought them on similar ground, it is time to get down to our last section which also represents the crux of our article – iOS 13 vs Android Q: Which of the two operating systems will be deemed best.
iOS 13 vs Android Q: Which Operating System is Better & On What Grounds
[table id=19 /]
Privacy Focus
Unlike Google, Apple's main business is not driven by targeted ads which rely on users' data. Instead, it's focus has remained on apps, services, and hardware. So, even after Google promises that Android Q would, in fact, give users greater control on what gets shared, it gets difficult to digest it minus cynicism.
And when you factor in Sign in With Apple like functionalities, which have been promised in the Apple iOS 13 beta version, the end of iPhone versus Android: Which is more secure debate becomes all the more clear.
Winner: iOS 13
Dark Mode
Although introduced in Android P itself, Google is only going to pass around the functionality evenly across the whole OS with Android Q. Apple, however, is more experienced in the area.
It first introduced a dark theme in MacOS Mojave back in 2018 and this time around with iOS 13, they plan on bringing it on mobile as well.
Winner: iOS 13
Maps Enhancements
For point A to point B travel, Apple Maps do an amazing job but it stops there.
There is a lot that Google Map has to offer to its users – more precise address, street view in 3D, etc. Functionalities that Apple is now adding its armor to come some points equal to Google after iOS 13 launch.
Winner: iOS 13
Voice Assistants
Although Siri was the first to enter the voice assistant market, Google Assistant is hands-down the BEST assistant out there. Siri is not even half as good in identifying voices and commands even after iOS 13 Siri update is working on a continued endeavor to make Siri sound more natural.
All this added to the fact that Google works perfectly in combining the command result with its massive search database and the constant Android Q Google Assistant updates make Apple fall several steps behind.
Winner: Android Q
Capturing and Sharing Photos
Google photos have everything you would expect from a photo service – it mixes the best of supreme editing tools with effortless photosharing and convenient backup. It also allows you to search for places, people and things which have been automatically tagged in your images through the power of Google.
Apple, while in iOS 13 is offering a much greater range of editing prowess to the users is still lagging behind on fronts like the ease of sharing and only 5GB free storage as opposed to Google's 15GB
Winner: Android Q
First-Party Messaging Apps
Apple has kept its focus intact on two messaging platforms: Messages and FaceTime – meaning the quality is incomparable. And so is the security element, with communications being encrypted end to end. In addition to this, Apple gives you clear seamlessness between the MacOS and iOS devices.
Google's approach when it comes to messaging is a lot more expansive. It has Hangouts and Duo for video and voice calls, Chat and Hangouts Meet for business, Messages for texting, and Google Voice for voice calls. And the outcome of it all is a quality compromise.
Winner: iOS 13
Running Apps on Multiple Platforms
In 2018's WWDC conference Apple said that it would be moving some iOS applications to MacOS through the help of a new tool they were going to call Project Marzipan. And in 2019 WWDC event, they announced that the many reputed iPhone app development agencies would now be able to bring iPad apps to Mac.
Google too allows users to move apps between platforms by giving Chromebook owners to access apps through Play Store. But the many limitations of the device – such as the absence of Windows and Adobe Photoshop – restricts the option's usefulness.
Winner: iOS 13
Swipe Keyboard
If you are someone who prefers swiping instead of typing, you will find iOS 13's swipeable keyboard very belated. Gboard, on the other hand, is setting new examples in the field of swipe-based messaging.
And it is not just the swipe functionality that the keyboard excels in but also in a number of other functionalities like availability of multiple themes, facility to insert gifs, and use multiple languages, etc.
Winner: Android Q
Well, the comparatives between iOS 13 and Google's Android Q that we just saw shows a picture of equal parts of good news on both sides. While on many fronts both the platforms are competing with each other, on many they are individually at a position that it cannot be compared.
In the end, we will have to wait for the time when both the operating systems are launched in the market and users have started working with them before we say with utmost certainty that one platform is better than the other.
In search for strategic sessions?.
Let us understand your business thoroughly and help you
strategies your digital product..
Related Articles: