How Much Does the iOS App Development Cost?
September 10, 2019
5 min read
Last update on:
September 20, 2019
From the sea of operating systems, it is iOS that have been stuck in the minds of users. To date, there are approximately 1.4 billion active Apple devices including iPhones, Macs, iPads, Apple TVs, iPods, and Apple Watches, justifying Apple's demand in the market.
All the hype around Apple or iOS apps is there for all the right reasons. The features that the Apple devices possess are exemplary, while the apps available on the Apple store are worth the praise.
Businesses have long realized the benefits of developing apps for the iOS platform which is why there are approximately 2.2 million apps on the App Store, as per App Store statistics.
So, let's discuss the benefits of iOS app development for businesses in detail to get a clear idea of why is it becoming unprecedentedly popular.
Table Of Content:
1. Why Choose iPhone App Development for Business?
2. iPhone App development Cost Estimation Formula
3. Factors for Deciding Cost of iOS App Development
4. Difference Between Android vs iOS App Development Cost
5. Conclusion
6. Frequently Asked Questions (FAQs)
Why Choose iPhone App Development for Business?
1.

Impressive Revenue and ROI

The first and foremost thing any entrepreneur might consider as a benefit of iOS app development is the amount of revenue it can bring to the table. As shown in the graph below, the increment in the App Store's revenue percentage was higher than the Google Play's in the first half of 2019.

It clearly shows the willingness of Apple users to spend more on facilities and features as compared to that of Android. Alongside, in-app purchases and other monetization strategies can add more to the revenue and deliver higher ROI.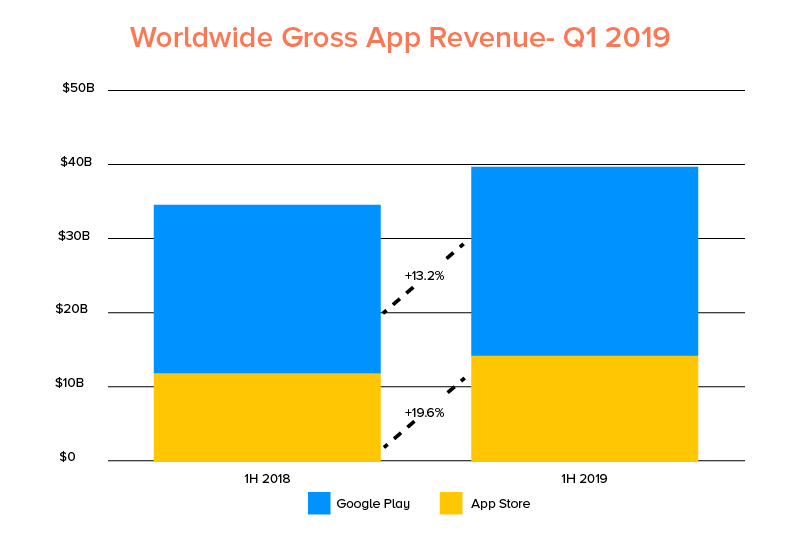 2.

Uncompromised Security

Security ranks high on our list, being a crucial deciding factor, for businesses and users like nothing more than an assurance of the security of their confidential data. Nowadays, it is becoming difficult for enterprises to keep their online operations from prying eyes.

Apple provides robust security to business app users against data breaches via a high-end security layer which consists of data encryption. What's more, iPhone apps are highly secure in terms of in-app-based transactions.
3.

Trust in Quality-Standards

iPhone app developers may find it a pain or Apple's obsession with perfection, but it pays you well in the long term. Apple's selectiveness and high standards in everything have restored the faith of users in the apps on the App Store as well.

So, users are more welcoming of anything which lands on Apple's App Store, for they believe it must be astounding as it cleared Apple's stringent standards for accepting apps.
4.

International Market Exposure

The fact that Apple has a gigantic user base of as much as 1.4 billion globally is attractive enough to make entrepreneurs wonder about the cost of building a custom iOS app. Apple's global presence is like Midas' touch for businesses, as your app instantly acquires exposure without any extra efforts and with this comes many opportunities and a potential enormous user base.
5.

Top-Notch User Experience

Apple is renowned for its high standards, be it for hardware, software, or customer support for that matter. So the apps developed for iOS perform marvelously due to the solidarity between apps' software and hardware. Both elements work harmoniously rendering astounding user experience.
6.

Time-efficient Development

It is observed that iOS applications, with similar specifics and features, take much less time as opposed to Android apps. The time difference can be as wide as 28% because Android apps need to be tested on various devices to check the resolution and performance of the app. Whereas, Apple does not have an enormous variety of devices, so apps work equally effectively on each device. Now, this is a crucial element when deciding which platform to choose for app development.
7.

High Scalability

For dynamic business requirements, you need an iPhone app that can perform flawlessly. For this, the app must have high scalability and flexibility, which a competent iPhone app development company can provide. It will ensure your app has the potential to meet the requirements of both customers and employees. Moreover, it is feasible to integrate additional features in the app to meet users' demands.

Now, wouldn't it be a perfect business proposition to take advantage of Apple's global popularity and build an iOS app for your business model? Sure you must have thought of this before, haven't you?

Assuming you have; the next thing your mind would have jumped to is the inevitable question of "How much does it cost to build an iOS app?"

Well, this question cannot possibly be answered in a word, as you might already have surmised. So, in order to find the answer, we will delve into the factors which contribute to the ultimate cost of developing iOS mobile application.

We have categorized these factors to efficiently showcase iOS app development cost breakdown.
iPhone App development Cost Estimation Formula
The cost of each iOS app is estimated on the basis of hours it takes to develop and multiplying that amount with billable hours of resources spent.
The iOS app cost calculator formula seems something like this:

Factors for Deciding Cost of iOS App Development
App Discovery Process
This is the process where the app idea is justified. There are different methods and processes put to work by the iPhone app development company you will choose, in order to validate the app idea before initiating the app development process. One of those processes is Design Sprint which can last up to 5 days.
Below are the methods used in this process to determine the cost of complex iOS apps.
1.

Market Analysis and Research

This stage of the App Discovery process comprises a number of activities performed, significantly contributing to the pricing of iPhone app development. The market research includes competitor analysis and gives a special focus on areas like devices used by the users, features they appreciate and elements that hinder great user experience, etc. All this is done by inspecting similar apps as the app idea.
2.

Determining User Personas

Determining why would users make certain decisions plays an eminent role in the iOS app development cost breakdown. One demographic always differs from the other making it is imperative to study each one. The study helps in figuring out certain factors like app size, app UI/UX, features and more that are considered while developing an app.
3.

Capitalization of Market

At this stage, the worth of an app idea is estimated. The major determinants of the market value of the app idea are the capability of the app to attract customers, the amount of revenue it can generate, and the fundings it could raise on its own.

The whole process of app discovery revolves around deciding the features the app must possess to stand strong against its competitors.
Analysis and Scoping of the App
In this stage, all the major decisions related to the app, i.e., its functions, its features, and technology used in development are finalized.
A.

Complexity of App

It is a given that an app is considered efficient only when it contains numerous diverse features. Now, we have segregated and arranged these features into five categories which contribute heavily to the estimation of iPhone mobile app development cost.
1.

Deployment Model of Architecture

There are two types of backend development- Custom and BaaS.

In Custom backend development, you will be provided with a backend architecture made from scratch. On the contrary, BaaS development offers only the readymade backend architecture.
2.

Development of Admin Panel

The Admin Panel Development is the core of the app. It is built to keep tabs on the activities performed on the app, view app statistics, and update app content anytime without the assistance from iPhone app developers.
3.

Third-Party App Integration

It is inevitable for your app to interact with other third-party apps in order to perform certain functions such as using Facebook or Google to sign up or interacting with a monetary app for transaction functions. This is where third-party app integration becomes imperative.
4.

Addition of In-App Purchase

Most of the apps developed now contain the in-app purchase feature for one or the other reason. So, adding this functionality to your app will certainly escalate the cost of developing your iOS app.
5.

Use of Device's functions

More often than not, your app will need to use certain functions like GPS, Bluetooth, and so on, in which case it is prominent that you add this feature to your app.

The average cost of iOS app development depends on the complexity level of the apps: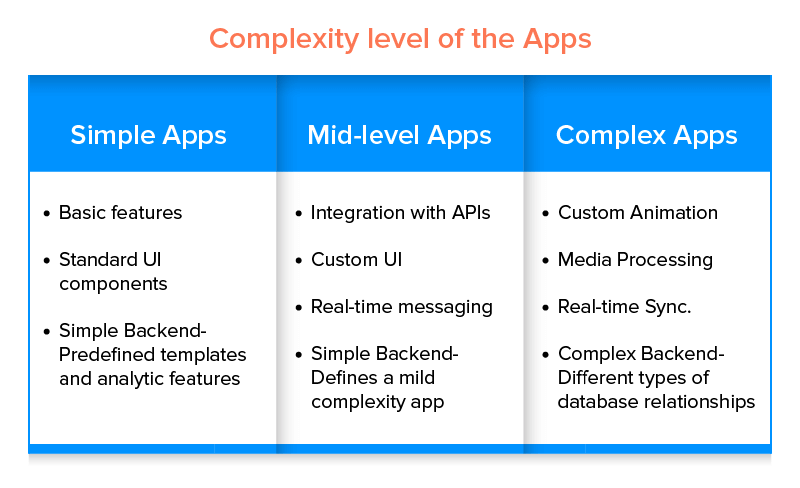 B.

Categories of Applications

Now that there are endless types of iOS mobile apps, the cost of each app depends on its category to a major extent. Each category comes with its own functionalities, demographics, security criteria, etc. Some of the categories are listed below describing the cost-determining elements of an app.
1.

Stand-Alone Apps

As the name suggests, these apps do not require third-party app integration for they are independent of any device feature. Such apps like Calendar, Clock, Calculator, etc. come under the apps with low data and development costs. So, such apps by default are less complex and are low in cost.
2.

mCommerce Apps

With the unprecedented growth of eCommerce apps like eBay, Amazon, and Alibaba and their popularity over websites and even brick and mortar outlets, these apps must possess complex features to fulfill all the functions related to shopping.

It is inevitable for these apps to perform impeccably in real-time, serve millions of users at once, have a robust security system & a strong backend, and come with the ability to connect with third-party APIs. All these features add to the final estimated cost of the app. These apps have higher costs as compared to independent simple apps for these require more time for development.
3.

Social Networking Apps

Social Media apps like Instagram, Facebook, etc take different amounts of time to develop, amounting to the varying features of each app. They contain some rather necessary features like integration with third-party apps, access to device functionalities like Camera, Bluetooth, Audio recorder, GPS, real-time messaging, etc.

The fact that these apps need to have solid scalability to serve millions of users in real-time and a secure environment with the real-time ecosystem is enough for us to surmise that the cost for an app from this category will be high.
4.

Enterprise Apps

Apps of this category need to be more specific, as it is used by the employees to perform certain functions. Enterprise apps need more room for changes and improvements and must coordinate with the changes in the organization. Due to this precise reason, the cost of enterprise mobile apps tends to rank high.
5.

On-Demand Apps

You might not have realized this before, but an on-demand app actually comprises three versions- one for users, one for employees delivering service, and last but not least the business.

On-demand apps include numerous features like real-time tracking, chat support, real-time sync, in-app payment, and purchases, etc. So, the on-demand iPhone app building cost automatically increases in comparison to that of other apps.
6.

Hardware-dependent apps

Apps that use IoT technology are highly dependent on hardware devices to allow users to efficiently extract data and send commands to perform an action. In order to do so, they collaborate with the hardware and need special ROMs or exact device requirements for they are simply computationally intensive. Hence, they can cost more than on-demand apps.
Design and Animation of App
An app's design and animation is another prominent factor that we must include while addressing the question "what is the cost of developing an iOS app?" It is understood that different designs will pertain to different costs for the same app.
1.

Wireframing

Wireframing is used to create the user experience map and features. This task is accomplished with the help of tools like Photoshop, Balsamiq, and MARVEL. Moreover, every wireframe is client-approved to built app screen flow.
2.

UI Design

Specifically for developing an iOS app, Flat Design is employed in order to render clarity and depth. Whereas in Android, Material Design is the first preference to display creativity and simplistic boldness.
3.

Animation

Animation is an additional but crucial feature for some apps like social media and gaming. Because designing and coding of animation is considered as a complicated process, it inevitably adds to the average cost of ios app development.
Application Launch
One of the prominent objectives of building an iOS app is to successfully launch it on the App Store. Well, you cannot just do that. An app only gets selected on the App Store when it adheres to all the guidelines. This is the major reason why getting an approval on the App Store is considered a hard nut to crack.
In order to get your app approved, you need to checklist every guideline and make sure your app is ideal for the launch.
Maintenance of App
The work does not end with your app getting launched in the store. There are other additional elements that contribute to the increment in the cost of developing an ios app, like app maintenance.
1.

Constant Updates

With constant changes in technology, your app also needs to be updated whenever a new update for OS is launched. This will ensure the compatibility of your app with the latest update and you can provide hinder-free experience to your users.
2.

Troubleshooting bugs

You can never be too careful of the bugs in your app. It does not matter whether your app has been launched or is still in the development process, bugs can be found in either case. So, it is obvious that maintaining a bugs-free app is not free of costs.
3.

Changes in the Design of the app

"Change is the only constant". This statement drives us to the point that with the ever-changing technology and trends, you always have to be on the lookout for any room for improvement. Constant updates on your app's design will certainly add to your average cost of ios app development.
Team Size
The cost of iOS app development significantly relies on who you choose for developing your app – a freelance developer or proficient iPhone app development company.
A startup company or a group of freelancers of 5 to 10 people may charge less for building your iOS app, as their focus would be more on developing their portfolio and not on monetary gains.
On the contrary, an organization with hundreds of employees would focus more on the clients who are ready to pay high costs. However, the quality of services will definitely vary as a large-cap organization will be able to provide you with new tech-stack which you might not get with freelancers.
Here is the layout of the development team of large-cap iPhone app development agencies.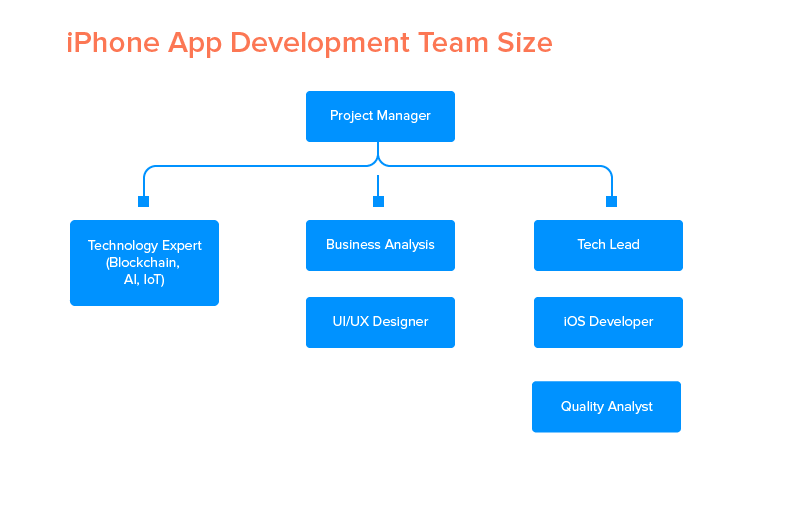 Location of App Development
Location plays a crucial role in deciding the iOS app development cost. It is understood that services around the world vary significantly in terms of quality as well as cost. And the change is most prominent when we compare the west from the east. In the image below you can see the difference in per hour cost range around the globe.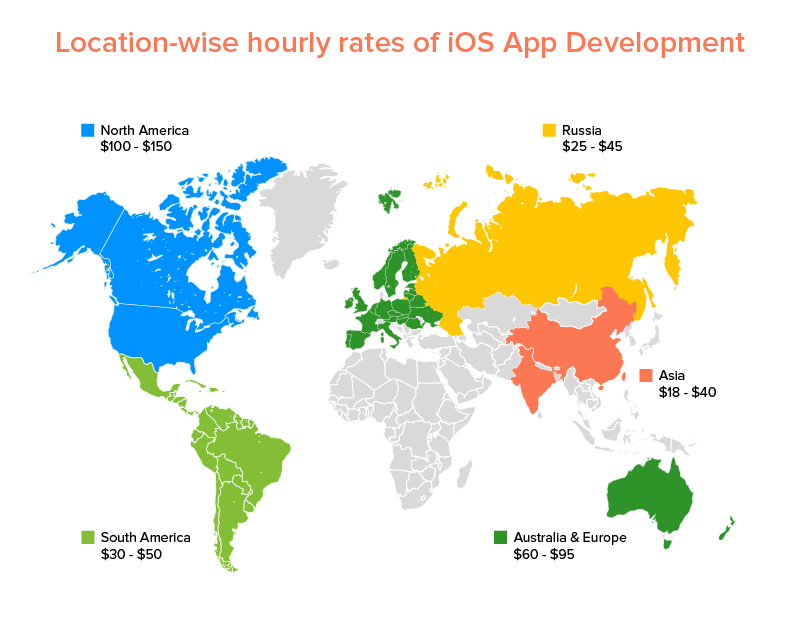 Difference Between Android vs iOS App Development Cost
To offer you a clearer perspective on iOS development, let's journey down the road of comparison between the app development costs of Android and iOS.
1.

Design

When it comes to designing, there is not much difference in the time taken for building intuitive and functional UI Design for Android and iOS. However, it is believed that iOS app design is superior in quality as compared to Android. High-quality standards of the App Store can be concluded as a reason behind this small yet significant difference.

With that said, the designing cost for Android development is somewhat similar to iOS app development.
2.

Duration of the Development process

Time taken in development for iOS and Android is not easy to conclude. There are several elements at work that determine the time-efficiency of any process. In terms of coding and the language used, Java (used in Android development) is a heavy language with more lines of coding as opposed to Swift (used in iOS development) or Objective-C. Hence, iOS provides expeditious development process as it uses Swift.

Moreover, fragmentation also plays a pivotal role in deciding Android and iOS app development costs. When it comes to Android, there is a sea of diverse devices with different screen sizes and OS versions, for which you need to prepare. Whereas, Apple has somewhat 20+ devices which makes its' device fragmentation process easier than Android. Hence, development time and certain aspects of costs are low in iOS development costs.
3.

Duration of Testing

Testing is an unavoidable part of the developing process, so it is also a crucial factor when deciding which is better – iOS vs Android app development.

As mentioned above that the device fragmentation for iOS is faster than the Android, the testing process also becomes more concise and simplified for iOS. For Android, the testing process is tediously lengthy for your app needs to be tested on a hundred devices with a distinct resolution, screen size, OS, etc.
4.

App Development Hourly Rates

The basis of this distinction lies in the language used in Android and iOS development process. As mentioned above, iOS apps are built with Swift or Objective-C language which is costly as compared to Android apps built with Java language. It is so because developers using Swift or Objective-C language tend to charge 10% to 15% more than the ones using Java.
5.

App Launch

Due to fairly high standards of Apple for app submission and publication, it is a bit of a task to get your app approved. Once it is done, you would be required to pay $99 per year as charges on the App Store. Whereas, on Play Stores, there is only a one-time fee of $25 and it is also easy on rules and regulations.
Conclusion
By dissecting every little element, you now know that there are numerous factors at play that add up to the total cost of iOS app development. Depending on your choices regarding the technology used, the location selected for development, UI/UX Design, app's complexity level, app type, etc., there are numerous possibilities regarding how much your iOS app will cost.
Frequently Asked Questions (FAQs)
Q. What affects iOS mobile application costs?
There are numerous factors that contribute to the final estimated iOS app development cost.
Primarily, the cost is decided on the number of hours taken for the development process, what kind of app it is – enterprise, social media, standalone, etc. The fact that whether the app is simple, mid-level, or complex is also a huge factor that is taken into consideration while calculating the cost. Other factors include the location where the app is developed, the team size of developers, app design, maintenance and deployment, and so on.
Q. Why choose iPhone apps for business?
There are numerous features of iPhone app development that are beneficial for any business if they decide to go with developing the iOS app. Some of them are:
Instant Global exposure

Real-time customers

Higher ROI and revenue

Impeccable quality standards rendering a high chance for your app to perform phenomenally.

Robust security for business data and information.
Q. How to estimate iphone app development cost?
Well, there is no one-word answer available to this question, but the formula has been devised for calculating the cost of developing ios app. It is based on the hours taken in the development process and then multiplies it with billable hours of resources spent.
In search for strategic sessions?
Let us understand your business thoroughly and help you
strategies your digital product.
Related Articles: