If we rewind, say 10 years back, it would have seemed preposterous to expect the things which we have already achieved. The disruption caused by real estate technology in almost every sector of the industry is evident by the changes in the fundamentals of doing things. 
Before technology reached the heights of success, everything was basically manually done. Now, we all are aware of the short-comings of the manual process and that it is not an ideal way to do things, unless, the things we are talking about are Cheese Production and other occupations that need manual operating.

Shifting our focus towards the Real Estate Industry, it is known to be prone to verisimilitude since forever. The tribulations are a big cause of fear inside Buyers and Seller in regard to transactions for a property. Real Estate sector is not free from its errors and these errors are precisely part of the traditional process we talked about above. 
Although incredible advancements like Blockchain and other technologies disrupting the real estate sector, there is still room for improvement in the Real Estate technology domain.. While the shift from traditional to buying and selling has given a respite to the sector that was operating inside a bubble of slowness, there is still a huge gap continuously drilled deeper by the lack of instantaneousness.
However, more real estate businesses are diving into real estate development and the cost to develop a real estate app.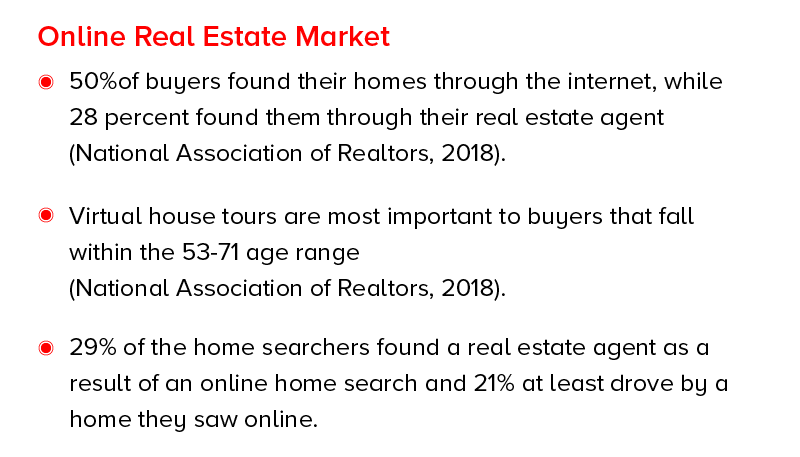 The market, while on a pleasant rise, carries a potential for further growth. A growth that would be driven by On-Demand – something that we would dissect in this article today. We will be discussing the benefits of real estate mobile app and how on demand mobile app development is reshaping the industry.
Buying or selling a property is not as easy as shelling peas. It is considered a tediously long and nerve-racking process. If you need to buy a property, you are required to begin the hunt for a competent agent and are supposed to trust with your life-long investments. 
Well, it seems to be a risky business, since you can never be too sure of transparency in regard to listings you are provided with and the properties you are considering. You either have to take a leap of faith or rely on referrals from your acquaintances and family. 
[Also Read: How much does it cost to build a property and lease management software]
Moreover, selling a property is no piece of cake either, as you also have to rely on an agent or a broker to hook you up with the buyers. Unlike using the convenience of mobile apps for real estate, this traditional approach comes with many discrepancies. Human errors can come in the way, personal prejudices can also create problems, and there are numerous issues that you may encounter while dealing in the Real Estate. 
[Also Read: How to build a real estate crowdfunding investment and REIT platform like Fundrise?]
What is The Scope of On-Demand in Real Estate?
Now, that when all industries are basking in the sunshine of advanced technology, why should the Real Estate sector remain in shadows of out-dated methods? Now, after considering all these problems that people face consistently, real estate mobile app developers had to find a solution to save the day, and also the declining state of the Real Estate economy. 
Every single of the real estate Mobile App Development Company which is active in the property sector is playing a role in changing the very grain of the ….. industry. By Introducing the On-Demand model in the mix, these development agencies have given birth to an integration which increases the benefits of real estate mobile apps.
On-Demand plainly means "instantly". There is no "waiting" aspect in this approach, as it explicitly encourages fastidious services, from ordering food and clothes to now selecting Realtors and finding listings for the properties. Its popularity is proved by the fact that 50% of buyers found their desired property online, while only 28% of buyers trusted the offline method, by hiring an estate agent.
This need for instant-ness is what has resulted from the entry of millennials group of stakeholders who are now playing in the real estate ground.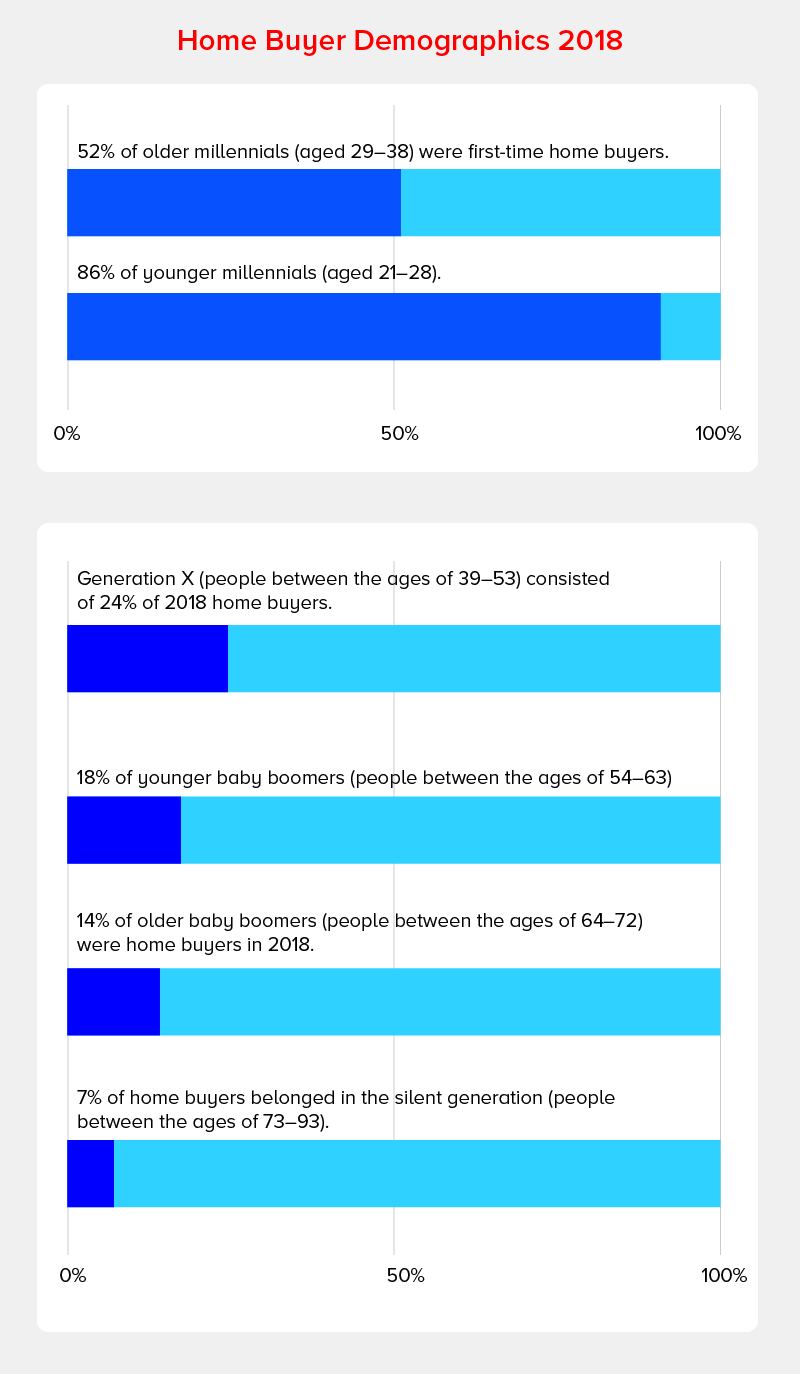 The Non-On-Demand Real Estate was not able to meet the demand with the supply and certainly was not efficacious. Instead of waiting for a chance flyer from a realtor in your mailbox, you can now see agents online with the help of On-demand technology. Everything is now at the fingertips of the customer and they can access property listings, agents, and also buyers at any time of the day.  
Now, that we have cleared the air about On-demand, let's dive deeper and see how the amalgamation of On-demand technology with Real Estate has disrupted the industry to the very core. Moreover, we feel that this disruption was inevitable and much needed to change the worsening condition of the Real Estate Industry. If you are planning to develop your own custom real estate mobile app, then you have to be aware of every element that answers 'What to know before developing your own real estate app'.
Impact Of On-Demand in Real Estate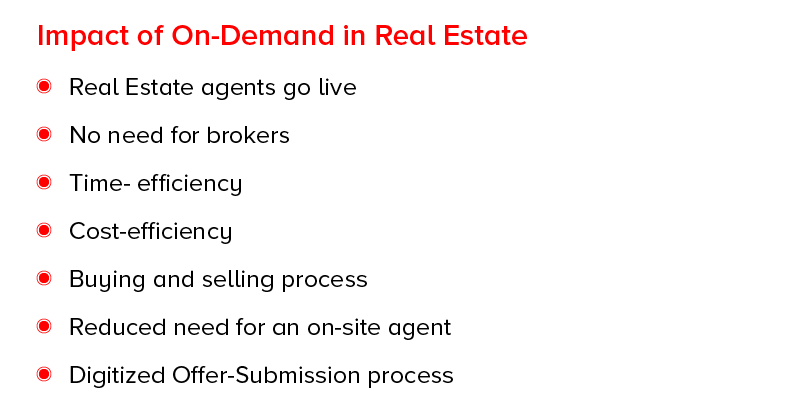 There are several changes which On-demand brought into the picture of real estate. They all play a pivotal role in enhancing the experience of all parties involved in the Real Estate sector, so no one is left behind from the consideration. Below are the features of real estate app development integrated with on-demand model.
Real Estate brokers go live
As we have mentioned above, On-demand real estate technology has enabled the agents and brokers to access and acquire customers online, instead of practicing the same old-school marketing strategies. On the on-demand property showing apps front, realtors can register themselves and boost their business. It is obvious that this poses as good news for buyers and sellers as well. Several apps like ArriveHome and Opendoor came to the front for making access to properties faster and easier.
Here, instead of buyers and sellers hunting for the agents, the agents compete for acquiring more clients. Meaning, sellers and buyers will have access to multiple experienced agents and will be able to choose anyone based on their description on the platform. 
[Also Read: How much does it cost to build a real estate app like Property Finder]
This may sound paradoxical in regard to the above-mentioned impact, however, such is not the case. Though On-demand provides a platform for agents to compete for the business, it also offers the elimination of the middle agent or broker from the equation for the buyer and sellers. 
Some apps facilitate the direct line of communication between the two parties with the help of chatbots. That gives customers options so that if they want a broker they can find one and if not, they still have that other option. Buyers and sellers can find their respective searches easily. This abolishes the need for any kind of mediator and makes the trade easier to follow.
It is understood, when an industry or a process becomes On-Demand, it starts to promote time-efficiency. Since all the parties concerned can have access to each other easily, with an online process and without being dependent on the human factor, the buying-selling process also became less effort and time-consuming.
Everything is just a click away, and a click only takes a second. So, you see how fastidious the process became from finding an agent or broker to a seller or buyer. So you see how mobile apps are transforming real estate business with the help of on-demand model.
Real Estate is already infamous as an expense incurring process. Most buyers are afraid of the expenses they might have to bear by hiring an agent and paying numerous commissions. Some people have to switch between agent to agent to negotiate the commission percentage. Why should they have to go through such pain after suffering enough to find a reliable agent or wait for the right buyer to appear? 
With the On-demand, they don't have to pay excessive commissions ever, as the mediator is eliminated and the business transaction only includes the genuine buying/selling cost. 
Buying and selling process
On-Demand had inevitably affected the very core of the buying and selling process in Real Estate and that too for the better. If we talk about buying first, it has become incredibly facile for any buyer to check the listings online, without the worry that they are not being provided with all the options in their scope. They can also use certain filters in the On-Demand apps to personalize their search and make their buying experience more interesting and effective. It increases their overall knowledge and convenience
Seeing for the front of Sellers, they also can have access to a myriad of buyers at their fingertips. They can select a more profitable buyer based on the bidding. It comes in handy for those who need to sell their property urgently and cannot afford to wait for months. Moreover, they do not have to now wait for the agents to swing their wand in order to get customers. 
Reduced need for an on-site agent
Some applications developed as On-demand apps also allow the customer to visit a property without being assisted by an on-site agent. If you wonder what good it will do, then let us mention that it gives freedom to the buyers to visit the property at their own accord and be satisfied properly before making any commitment.
They can simply contact the buyer via an on-demand app and get access to the property within minutes.
Digitized Offer-Submission process
On-Demand promotes the digitization of the Offer submission and acceptance process. With this, sellers can upload the listings of the property and the buyers can then get access to it instantly. There is no more waiting around for the agent to find the listings and then give it to the buyer, while you just sit ideally hoping everything to go right.
The businesses that are powering this shift making traditional real-estate instant are growing in number every passing day. Here are the top players of On-Demand real estate apps.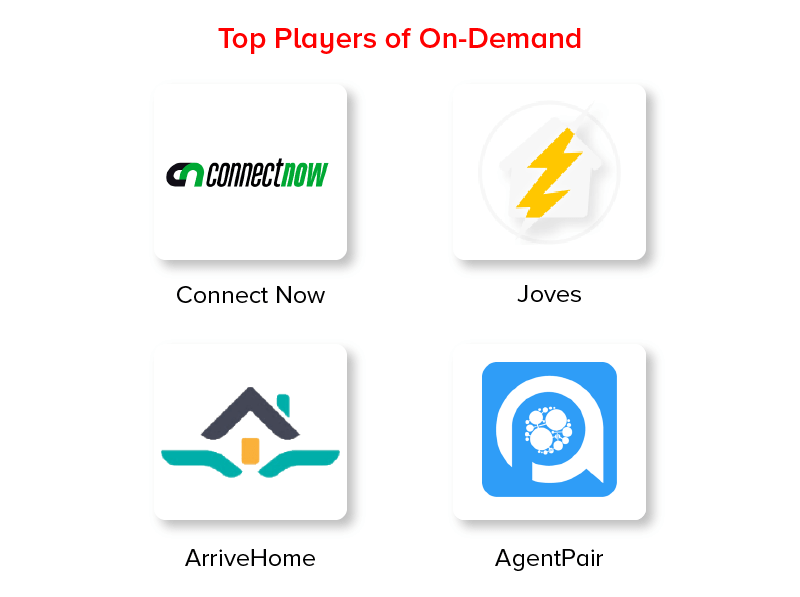 Use Cases of On-demand in Real Estate

There are additionally some other factors that can emerge as important and improve the state of the Real Estate Industry. Once, technology is introduced people always find innovative ways to utilize it to its maximum and enhance the overall experience of doing things. Let's look at some use cases which may, in time prosper.
As the millennial demographic starts to take over the market, the on-demand housing market had skyrocketed in the past few years. According to research, 86% of younger millennials and 52% of older millennials were first-time buyers in 2018.  As an effect, Real Estate has gone through a major digital transformation rapidly. With the "right-now" kind of ideology, the Millennials are causing the Real Estate to up their game and provide them with the best ways to buy or sell the property.
The millennials pose as the largest demographic in the market as people of age between 39-53 constituted 24%, people aged 54-63 consisted of 18%, people aged between 64-72 comprise 14% and lastly, people aged 73-93 (Silent generation) constituted 7% of 2018 home buyers.
These new PropTech and RentTech products which are the future of real estate app development on-demand, hold potential for saving time and money, better workflow and streamlining processes fundamental to the industry. All the parties, namely, property owners, managers, and residents enjoy the benefits of more efficient, automated and enjoyable rentals. These technologies do everything from hosting an open house to collecting rent payments. Though disruption has started to root itself in Real Estate, we have yet to see what the future holds for it. 
Promoted Space-as-a-Service model
Now that the demand for temporary services has surpassed the need for permanent services, Real Estate has also jumped into the trend. The space-as-a-service model offers the customers a temporary property. With the On-demand this method holds high chances of flourishing and gaining momentum in the coming future.
Not just the short-term office space has been made available to business owners and other customers but customized services are also made available. This will minimize the pains that people had to take for renting a place for an undetermined time period. They would have to first search for the rental property and go through the long and tedious process. But with this innovative model based on On-demand, people can access space even in an emergency.
AR Integration with Real Estate to make buying personal
Augmented Reality is one of the most celebrated achievements of technology. Many industries have whole-heartedly accepted this technology, so why not Real Estate benefit should benefit from it? On-demand Real Estate utilizes this technology for remote property visits. This is a great thing for the buyers from different locations who cannot access the property at the moment but want an eloquent experience.
From a buyer's point of view, AR in On-demand Real Estate saves the trouble for realtors to provide a physical presence for each property demo. With this, they are able to acquire wider customer reach and pitch properties that are available to buy, lease, and rental purposes.
With the On-demand model, the option of online scheduling of home tours have been introduced keeping the interest of buyers, sellers, and also realtors in mind. There are two effective ways to achieve this: first is by turning all the listings as an open house, by which a can visit any property mentioned in the listing, at their own accord.
The second option is by placing a "tour" button on the app, with which buyers can hire agents to show them the properties of their liking. A professional agent's help will only be a click away.
Now, if you, as a business wants to create and also know how to create successful real estate mobile apps then you must search for a competent real estate app development services providers which holds the experience of several years and knows what needs to be done.
Challenges associated with On-Demand in Real Estate
Inconvenience for Homeowners
It is not always the case when someone puts their property for sale, they will be welcoming to the idea of a stranger, though a potential buyer, visiting their place at any time. This may cause a major inconvenience to the owners and can easily become frustrating. However, such is not the case with "for rent" market
Safety Concern for Buyers and Agents
In the traditional and manual process, a buyer meets an agent in the office in professional settings and converse with them about their property needs. Trust factor plays a pivotal role in any kind of relationship, including Realtor-buyer as well.  However, with the on-demand Real Estate apps, usually both parties are strangers and so they may feel skeptical of their safety.
Since anyone can register themselves as agents online, the trust factor is very bleak here. Some on-demand Real Estate companies combat this problem by providing the buyers with a feedback option so that they can express their experience with the agent, which will help other customers in agent selection.
Conclusion
In the end, I would like to conclude this article by saying that since the advent of the On-demand model, it has been adopted by nearly all industries and is adamant on improving the fundamentals of how things were and are done and also to improvise real estate mobile app development strategy. From the Real Estate front, On-demand has not only accelerated the process of property dealing but also made it more efficient in terms of time and money. It is impossible not to see the benefits of on-demand real estate mobile app development.
After all the innovations in real estate technology we have seen so far, there is still a lot more in our reach. The millennials with their "right now" mentality are making real estate app development things to speed up even more. We believe, that On-demand has a lot more to offer and that the future of real estate app development is very bright, we just have to wait and let tech-savvy people do their amazing work, which will reshape the face of the world.
Read more blogs
Artificial intelligence (AI) is paving the way for success in many sectors, and the real estate industry is no exception. It has unlocked a new era of business transformation in the real estate marketplace. With its unparalleled capabilities to redefine the way how we buy, sell, and invest in properties, AI is catalyzing a paradigm…
Did you know the residential real estate market in Dubai, UAE, witnessed an increase of 43.9% in 2023, recording more than 17,741 transactions in just the first two months? Currently, the real estate sector is playing a crucial role in diversifying the economy of the United Arab Emirates. Since the UAE government aims to expand…
Sudeep Srivastava
17 Jul 2023
Property management software is a specialized tool that helps landlords and property managers to manage their rental properties efficiently without any hassle. From streamlining operations to improving overall efficiency, robust property management software can help businesses make informed decisions. The software can handle multiple business processes such as rent collection, maintenance requests, lease agreements, and…
Sudeep Srivastava
28 Mar 2023