Can you live a month without using Instagram, YouTube, Pokemon Go, Candy Crush, and Amazon? Undoubtedly, your answer would be NO. We have become so addicted to these apps that we could hardly spend an hour without checking these applications.
Ever wondered why? What makes these mobile apps so addictive and viral? Why we spend most of our time on these apps when there are about 5 million more apps in the app market?
In this article, we will delve into the concept behind this virality and addictive using the real examples. Later, we will look into some simple and effective ways to make your app go viral and addictive.
So, here we begin.
App Virality – What's the Science Behind
App Virality, as you are familiar with, means the tendency of a mobile application to be shared expeditiously and widely from one user to another. The viral marketing approach, unlike the traditional marketing approach, is focused on engaging potential users who could recommend/share your app with others and bring organic traffic to your app. No huge money investment is put into the process to attract users – a new user brings more new users to the app and this cycle continues.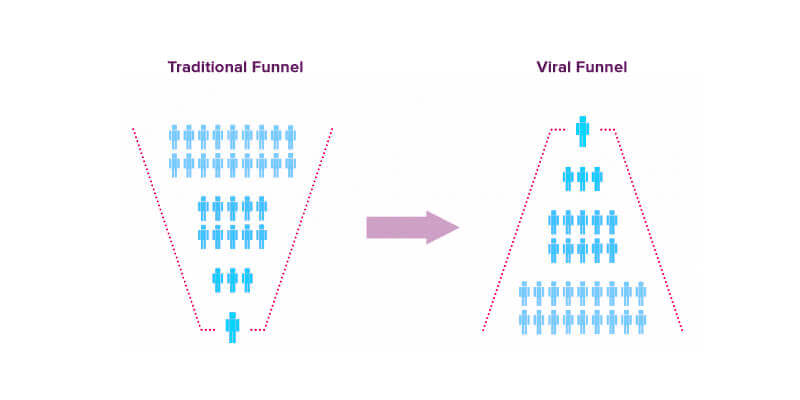 The science behind this concept is to attract users and provide them significant reasons to not only use the application but feel the urge to share with others. In other words, your app experience must generate some positive emotions in your target audience which tend them to spread 'word of mouth' about your application and ask people to use the app.
Tips to Make Your App Go Viral
From our experience, the best way to ensure that your app targets the pain points of the users and deliver exactly the experience they expect is to get into the customer's shoes. You need to ask yourself the following questions to understand their needs, problems and expectations and thus, come up with better strategy:
How can his mobile app streamline and enhance user's lives?

Does his app have a competitive advantage over the existing ones?

Can users get the services easily and swiftly?

How will his app engage both the existing and new users?
For this, you should perform market and competitive analysis. Or better say, look forward to investing in app discovery phase.
Secondly, you need to understand what would prompt them to share your app/ app services with their near and dear ones. There can be a wide range of reasons that push the users to share the app/app services with others. However, the four main types of referral marketing that app developers can take advantage of are:
Incentives

: It is considered as the ultimate driving force behind app virality. When the users get bonus points or cash in return, they share the application with others. For example: Dropbox, when it was first launched, offered free additional space to the users who refer it to others. The consequence is that the application acquired 1 million users within 7 months of its operation.

Ego

: This type of marketing strategy works better in case of games and fitness apps. When a user completed his milestone, he/she feel proud in achieving the goal and feel the need to share it with others so as to get appreciation. When other users see their post, they also feel motivated and try the app.

Two-sided referrals

: As you might have observed in case of Uber app, both the existing customer and referred new customer gets offers on referral. This makes the existing user feel good about the sharing mechanism and perform it more often.

Ease of Sharing

: The customers tend to share their experience/services of an app frequently if they could share the mobile application on their social media platforms with a single tap.
Next thing an app developer need to consider that not only the incentives are lucrative, but the app speed and performance is so perfect that user enjoys using it. In other words, the app should not be slow or crashing in between as it would affect the emotional marketing criteria of your app. For this, we recommend having an adept and experienced mobile app partner that could empower you to grow and satisfy users' demands.
Another point to consider for enjoying better benefits from creating an app is to build an MVP and target a particular people. This practice will be time-saving and possible on a shoestring budget. You will be able to test your app idea, understand the market and build better strategy for ensuring a profitable future. For example: Amazon started their business with selling books online. Once people become comfortable, they brought more items on board and today – we all can see how much we trust in the brand name and their services.
Addictive – What's the Science Behind
When you upload a picture on Instagram, watch a video on YouTube, or listen to a song on Spotify – do you close the app immediately and decide to return next month? Obviously not. You wait for a response of your friends on your picture, you watch more similar videos, and listen to more songs. This is the power of habit-forming. These mobile applications have become so addictive that people remain hooked to these apps day and night.
If you are aiming for the similar kind of addiction for your application, it is better to understand the human psychology behind this addiction as explained by Nir Eyal in his book Habit-Forming products. In the book, he explains the secret to building a habit-forming application using a Hook model which represent four elements in the process of app conversion to app addiction. These elements (or better say habit 'hooks') are capable of producing self-generating feedback loops in which customers feel more encouraged to automatically use the product/services.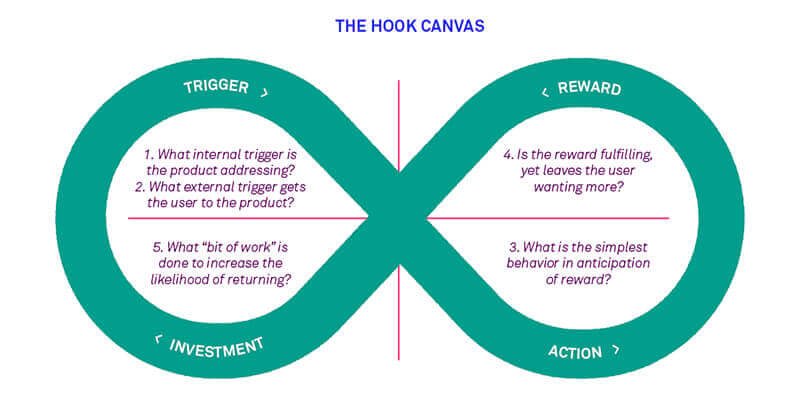 To know about these elements and the psychology behind, read this blog. Otherwise, bear in mind that people get addicted to a mobile application when there's something to seek out of pleasure than actually experience the pleasure.
Tips to Create an Addictive App
Being a reputed Android and iOS app development company, we have discovered that the customer experience plays a pivotal role in keeping them addicted to the app. For providing addictive experience to the users, you can add puzzle-solving, unpredictable elements into your app. Since the customer react more frequently to the surprise and uncertain matter, they will be more habitual of using your application.
Secondly, you can focus on onboarding experience, i.e, the first thing that users see in your app once installed. There are various ways of doing so, for example:
Streamlining the sign-up process by lowering the number of steps.

Allowing Social sign-ups through Facebook, Twitter etc. This will make the login process hassle-free and faster.

Providing a progress bar to let users know how much time they still need to wait for something to be loaded. This will keep the user calm while the app loads and reduce the user frustration and app uninstallation rate.

Offering incentives and prizes to freebies. This way, you can make them appreciate using the application and once they get habitual, you can encourage them to go for premium services.

Adding short, informative and engaging tutorials to guide people throughout the app. We recommend storytelling feature to make it easier for the user to understand and try the app functioning.
Besides, push notifications and GPS-tracking can also contribute to making your app addictive. For example, personalizing push notification will make them more likeable to click on the notification. Informing a user about a new product/element/offer available in his local area will excite him to open the app more frequently. But, in this whole process, remember not to add vibration to the push notifications. It might be annoying and make the user frustrate, which will eventually affect the customer engagement and retention numbers.
Gamification is another considerable factor that a  mobile app developer can focus upon to build an addictive application. By blending game-like elements into their app, they can increase the user interest and make them enjoy using the app.
Another point to focus upon is to ensure to boost user investment in your application. When you provide resources and facilities which make the user stick to your application, they find it hard to leave your app. For example: You will not be able to replace Instagram with another such app if you have invested three years in building a popular profile, searched and used highest ranking hashtags, and have thousands of following friends.
And don't forget to push new update frequently. This will maintain the excitement in the app market and among the target audience. They will be more curious to update their app and try their hands on the new products/services offered.
Last of all, the best practice to make your app viral and addictive is to put your best efforts in app marketing. Consider not only ASO marketing but also turn towards other means of mobile application marketing, such as social promotion, blogging, press release, pre-launch offers, etc.
Bhupinder Kour
Content Writer
In search for strategic sessions?
Let us understand your business thoroughly and help you
strategies your digital product.
Recent Articles: