Tips To Consider For Developing An iPhone Or iPad App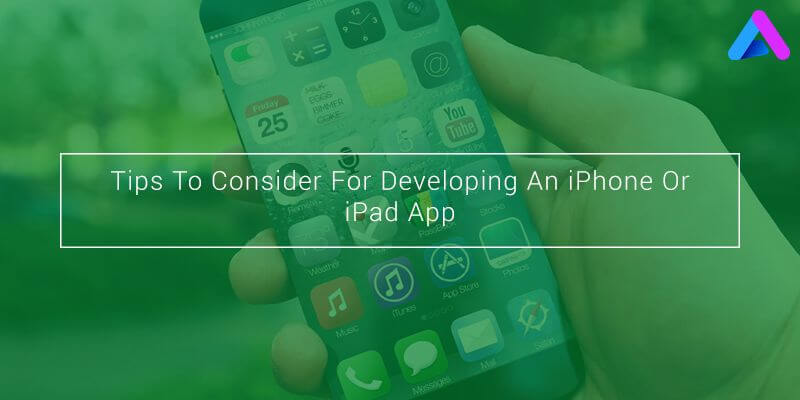 If you are planning to develop a mobile app, the biggest question that comes to your mind, even before deciding on the features and functions of the app is which platform are you going to use? There are a lot of platforms for any smartphone app developers, but the main war happens around Android and iOS. The question of platforms also helps you set your target audience as Android rules with 83% of the global smartphone market, while iOS have the greater number of apps in the app store.
Well, there is a good news to those who want to make an iPhone or iPad application. Many of us want to know about how to get the application featured in the app store. Well, in this article you will definitely learn about it. Here are a few tips you should keep in mind while designing and developing your mobile application:
1. Plan, how to build a mobile application
Do you want to develop an iPhone app or iPad app? – Before starting the design process, you need to number out what format and what formats are required that suited to your goals. This can be difficult or can be easy, sometimes.
Well, if you've decided to move on with making an iPhone or iPad app, the next tips will help you with the design process.
2. Strategy to set-up mobile marketing application
Mobile applications are designed to be functional, practical, inexpensive and interactive. As the improvements were done by app developers, a number of features can already be added to the applications like social network integration and much more. It is also an interactive marketing method, which builds the strong relationship with consumers that helps to provide more attention of the customers for your application.
3. For developing any mobile app, coding plays an important role
How convenient is for you depends on your level of coding experience, but Apple minimized the difficulties with iOS 8 and the Swift programming language in 2014, you will think about this Swift programming language. Well, I'll let you know about the language. It is powerful and easy to understand programming language for iOS that is fast, safe and interactive. You can create apps for iPhone and iPad by using a Mac program called Xcode, which is very useful for you all just to build the iPhone application.
4. Size variation of the device
A utility is designed in a manner that makes it fit into the contraptions. There may be editions depending on the monitor dimension. In some situations, it is usually irritating making certain that these apps match into these monitors particularly well.
5. How will you respond to the traffic?
A positive and functional mobile application will surely lead a quality traffic to you; as a result, it's your obligation to stay all set with as many approaches as feasible to respond to your shoppers instantly. Before buying your product or offerings, the potent buyers would pick to contact you. Accordingly, you will have to be responsive, or else, it is going to harm your reputation.
6. Battery usage and processor
The battery is the most important accessories of mobile gadgets and the fee of consumption is customarily elegant on efficiency. In common occasions, high-performance processors will most certainly devour a greater amount of energy as a result draining the battery inside a shorter time span. When Android was, in the beginning, launched into the market, there have been a few complaints by using the cellular users and this is whatever that may be overcome via suitable optimization.
Last but not the least, your thoughts that are very important for developing for any mobile application:
Well, if you have any thoughts from the point of designers or iPad app developers or from the users point of view, contact us for the further details and information.
Related Articles:
Continue exploring the landscape of product design with these helpful resources:
ipad app development
ipad apps
iphone app
iphone app development
mobile application
tools for iphone and ipad