Why do you need to update that app of yours and how to go about it

So after months of churning your app idea in the development process cycle, you published your  app on the store. You even went an extra mile on the safe side and made your application app store optimized.

Then you moved on to your other idea forgetting about this app. But one fine day, you see the app description page and find that people are complaining about bugs.

Do you now concentrate on your new idea or do you solve the bugs on this app?
I'll tell you what will happen if you don't update your current app – your reviews section will fill with complains, your uninstallation rates will rise, and your downloads count will decline.
But, why?
Why do Updated Apps even Matter?
Here's why –
The second you enter the Mobile App Market, you become a part of a whirlwind of select factors that are constantly moving and getting bigger than the day before.
There are so many things that change when your app enters the market
New Devices are Released

New Android and iOS versions come up

Programming Languages change

The users' demands change

Security Standards are continuously updated
If these changes are not enough to incite the feeling of it's time to update in you, maybe this will: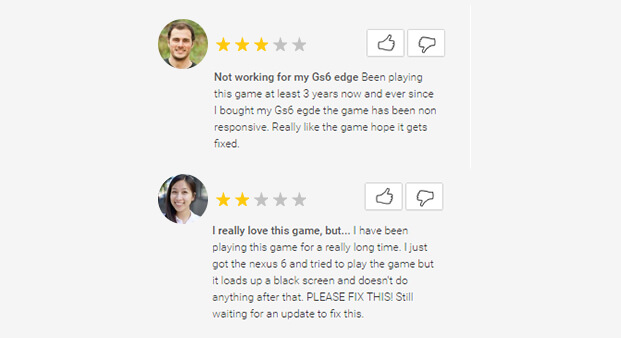 There will be bugs
No matter how carefully you developed your app, a bug free application is a myth. There will be times when you will find a customer review saying 'my app is acting weird' or 'it's consuming a lot of battery juice'. It's a normal occurrence, which would require an update of app.
Something new will happen in the industry
The consumer base in your industry will start demanding newer, faster, and different value offering. To be in the competition, you will have to adhere to them. Because, if you don't, your competitors will.
New configuration devices will be launched
New mobile devices will continue getting introduced in the market, making it difficult for your app to fit well and be equally in sync with all the versions. These continuous entries will make it necessary for you to design an app for devices beyond its current ones.
Now that you know why it becomes imperative to update an app on the stores, let's now get into the technicalities of it.
How to Update your App in the App Stores? – The Technicalities

In Google Play Store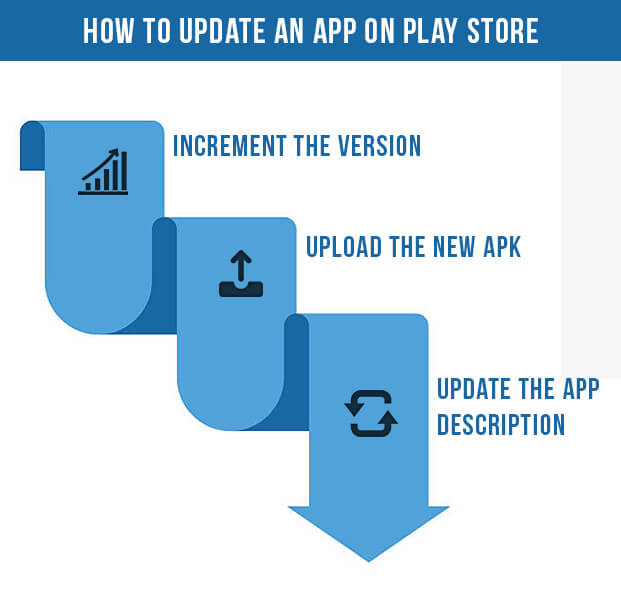 Increment the Version
When you upload an app in play store, you are assigned a version number. When you make the update, change the version number in the 'App Info' section of the Andromo setting. Once you have updated the version there, create the app again and download its new APK file.
Upload the new APK
Once the new version is ready with you, sign in to the Google Play Developer Console and select your application from the list, then select APK tab there. Once there, click on 'Upload new APK to Production' button. You can then either save the file or send it over for publishing.
Update the App Description
Once you have published the new version, you need to inform the users of the change. For this, you can put in what changed data in the 'Recent Changes' tab of your description section.
Once you have updated the new version, it takes around 24 hours to make it visible to the users.
In Apple Store
Log in to iTunes Connect
Click on My Apps
Next, click on '+Version'  on the left panel
In New Version box, put in the new version number and click on 'Create'
Once you have put in all the information about the Version in the iTunes App, it's time to upload the build.
Use either Xcode or Application Loader to upload the new version of the app
Once uploaded, the new version will now get prepared to submission. If you have gone through it, press 'Submit for Review' Once uploaded, it takes maximum 30 days for the update to show to the users.
You see how app development companies update apps on the Apple and Play Store?
Now the question is – how to use this information. How frequently to make App Updates?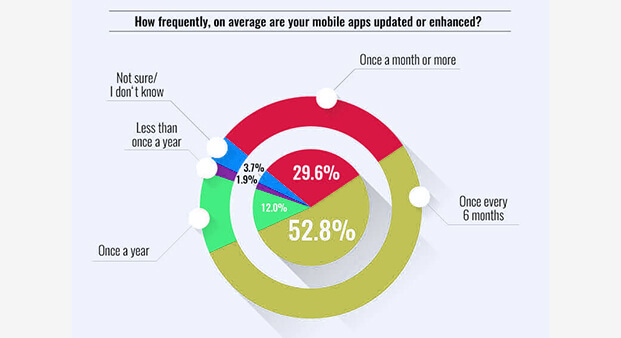 How often should you update your app?
Deciding when to update an app has no concrete answer.
There are many options:
Should you update in fixed schedule?
When there is a new feature?
Whenever you feel like updating the app?
When you update an app, it has a ripple effect which is not always in your favor, unlike when you update a website. Situations like these arise when you roll out an update:
The review and rating of your current version gets reset when you update the app. This ripples down to low download numbers because of the lack of review and rating.

New updates might bring with them newer bugs, crashes, issues, and stressful days.
Knowing the infamous ripple effect, how do companies make a process around app updates?
Let's see:
Appbot recently analyzed the releases of 200 apps of the App Store and divided them in Paid, Free, and Grossing categories to get their Update picture.
Here's what they found out.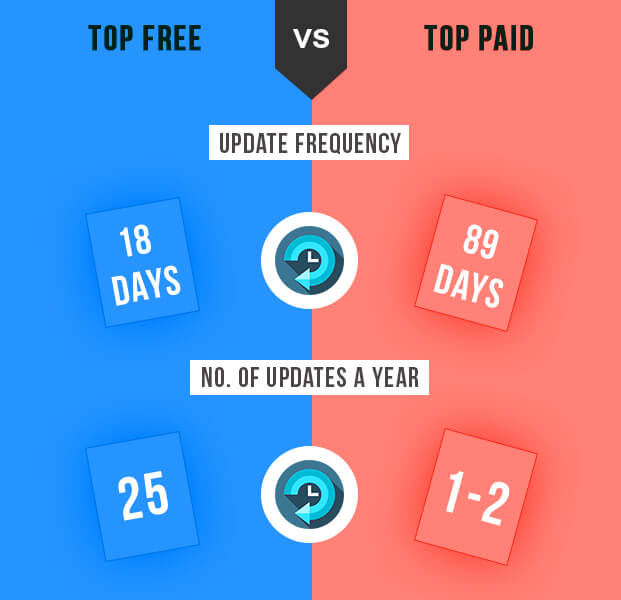 The majority of Top Free Apps were updated atleast once in the time span of 18 days and there were atleast 25 updates in 75% of the free apps in both the stores, combined.
While this was for the free apps, the paid ones showed a different picture.
The paid apps on an average took 89 days break between two app updates and there were just 1 to 2 app updates in a year.
So how frequently should you update your app?
It's safe to say that you should update your app as often as possible.
Here, 'As often as possible' means when you have the resources, when there is a new technology in the industry, when your competition has introduced a feature that the world is loving.
Now that we have discussed the implications of not updating an app in great details and you have gotten an idea of how frequently we are supposed to make updates in the current application, let's move on to the Costing part of the app maintenance.
How much does it cost to update an App?
Thankfully, because of a number of free and cost efficient options for all of these and other areas that come under app maintenance cost elements' list, the process should not burn a hole in your pocket.
App Maintenance in its complete essence is about keeping your app updated and in sync with all the latest technical happening. It is about keeping a tab on users reviews and resolving their issues before they uninstall the app.
Hope this article will help you with your app updates
Related Articles:
Continue exploring the landscape of product design with these helpful resources:
App Update
mobile app