Intelligent Mobile Apps: The New Face of Mobile Industry
August 21, 2019
2. min read
Last update on:
January 18, 2021
With the growing incorporation of technologies in the mobile world, everyone is expecting better opportunities in the form of experience-as-a-service. They are raising questions on the capabilities of normal mobile apps while posing a clear demand for personalized experience.
A ripple effect of this is that mobile apps have started embracing AI capabilities to ultimately emerge as Intelligent apps.
A Simple Definition to Intelligent Mobile Apps
Intelligent mobile apps are basically AI-enabled applications that deliver an adaptive, rich, and personalized user experience. These apps combine the power of predictive and prescriptive analytics, cutting-edge technologies, consumer data, and operational data with latest user-centric design and application development tools to make a high-end user experience.
Now that we have covered what are intelligent apps, let's turn towards the best types of i-apps to understand them in a better way.
Best Intelligent Apps to Use in 2019 and Future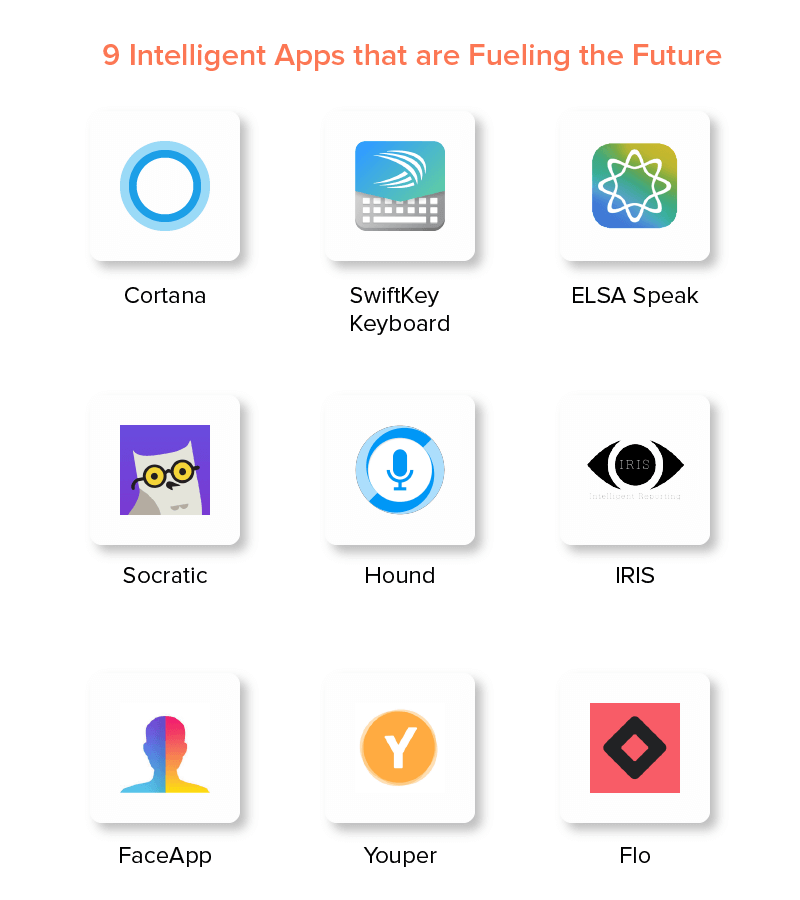 1.

Cortana

Microsoft's Cortana is one of the best Intelligent apps that is changing our lives. The personal assistant app offers different features and functionalities to users, such as keeping track of important files and documents, setting reminders, getting insight into weather forecast, etc.
2.

SwiftKey Keyboard

SwiftKey Keyboard is an AI-powered keyboard which auto-corrects your wrong text. Additionally, the app also offers features like changing font color, design, theme, and style, and adding fun to your conversation with emojis.
3.

Elsa Speak

ELSA Speak is another popular Artificial Intelligence app that helps users learn English quickly and effectively. The application has listed down test designed by the experts which enables users to learn and speak English fluently in a very less time span. Also, this Android and iOS app encourages them to continue further by keeping a track of their progress.
4.

Socratic

Introduced by Google, Socratic is an AI-based intelligent application that is simplifying the learning process. The application empowers students to ask questions by taking a photo of questions or asking verbally. The application comes up with optimal Q&A sections, blog links, and YouTube videos, which makes studying process faster and simpler.
5.

Hound

Hound is yet another perfect example of how Artificial Intelligence in mobile apps can streamline your life. The app takes voice commands to perform different actions such as getting familiar with the best hotel, restaurant, or doctors.

Another interesting feature of this i-app is that it translates speech to text and vice-versa.
6.

IRIS

Another example of implementation of artificial intelligence in mobile apps for better services is IRIS.

Developed by Paint Technology Solutions, it is an intelligent reporting Android and iOS app for managers, team leaders, and co-workers of any particular project. The application enables them to get access to the report of any team member. And the best part is that multiple users can access the same document at the same time and that too from different sync devices.
7.

FaceApp

FaceApp is yet another application that uses AI and Neural network technology to create freaky, hilarious, yet most realistic face transformations.

[Know more about FaceApp – Its working and Reason Behind Popularity here.]
8.

Youper

Available on both Android and iOS, Youper is a user-friendly Artificial intelligence app that caters to health and fitness problems. The application is based on cognitive behavioral therapy, encourages users to share their social phobia and get real-time motivating advice. And this way, improve their social interactions and lifestyle effectively.
9.

Flo

Flo is also an i-app that is primarily used in the process of photo and video editing. The app comes with a built-in voice assistant that enables users to give a voice command regarding which footage to pick, and on what basis (on the basis of location, date, or tags). And eventually, merge them optimally with a high-quality music.

The application also employs Machine learning algorithms that provides options like choosing the best moments, detecting faces, locations, and more.

Now, as we have gone through some examples, let's move to the features that makes these apps a must-have element for enterprises to navigate the new-normal.
Prime Features of Intelligent Mobile Apps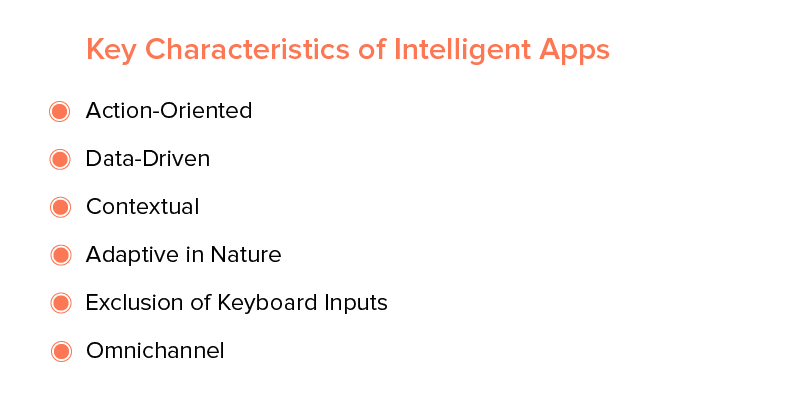 1.

Action-Oriented

The foremost characteristic of i-apps is that these applications do not wait for users to make every move. Rather, they study user behavior and deliver personalized and actionable results using the power of Predictive Analytics. 

In this way, they cut down the hassle of users and prompt them to take desired actions.

The finest example to understand this trait of Intelligent applications is Hound app. It shows the finest nearby restaurants, hotels, and more in real-time. This gives users a push towards making a booking, which might not have been possible if they were asked to make a search manually.
2.

Data-Driven

Delivering a data-driven output is also one of the key features of Intelligent apps.

The intelligent apps gather data from different sources – be it IoT sensors, mobile apps, websites, beacons, or user interactions – and analyze it in real-time. A result of which is that you get the right results for almost everything, when asked.
3.

Contextual

Since Intelligent mobile apps studies users' behavior and desires, they easily differentiate between which information is relevant and which is not. Because of this, these apps provide highly contextual and relevant information and suggestions to users. 

 In addition to this, they notify users about the issues they might face depending on their current situation. An example of this would be Cleo application – an AI powered budgeting app that examines people's expenses and notifies them of their spending capabilities. The downside of it though is that the cost of a cleo like app is fairly high
4.

Adaptive in Nature

Backed by Machine learning algorithms, these applications are adaptive in nature. Meaning, they can easily upgrade their knowledge as per their surroundings.
5.

Exclusion of Keyboard Inputs

Since delivering highly convenience is a core objective of i-apps, these applications also facilitate the opportunity to give commands without using keyboards. Meaning that these applications respond to commands given in the form of speech, gesture movement, or image also.
6.

Omnichannel

Last but not least, delivering an Omnichannel experience is also one of the main features of Intelligence apps. 

These apps understand that users expect a common experience, irrespective of which platform they are interacting with. And thus, ensures that they get the same experience on all the communication channels.

With all such features, intelligent mobile apps are paving the way to do business more effectively and profitably. They are enhancing the efficiency of workforce, accelerating decision making process, gathering better insights, and thus, delivering long-term benefits. Something we will cover in detail in the next section of this article, related to the usage of intelligent applications in different domains.
Use Cases of Intelligent Apps in Different Business Domains
1.

Healthcare

AI-based intelligent apps are transforming healthcare. These applications are bringing better opportunities for both patients and medical practitioners and simplifying their interactions.

These applications are easing the path to find the best nearest doctor, book a consultation, keep reminder of medication, getting a basic knowledge of each medication, and more. Whereas, it is helping doctors with remaining updates with real-time status of consultations, assigning duties to staff, ensuring the availability of equipment, maintaining a proper temperature for medicines, and more.
2.

Fintech

Another industry enjoying the finest results from the usage of intelligent apps is Fintech 

The Fintech industry is using AI-based intelligent apps to woo millennials, alongside providing futuristic opportunities to all. These applications, are analyzing the past and present expenses of users and providing them with better budget-managing tips. 

Also, they are giving insights about every stock' history helping everyone with deciding whether to make an investment or not.
3.

Education

Intelligent mobile apps are bringing learners closer to the sources of knowledge. These apps are empowering students to make notes in the form of speech and images, along with text format. They are also providing assistance in determining which formula/principle to consider for solving a problem.
4.

Restaurant

Intelligent apps are also opening new avenues for the food industry. These applications are not just helping users in locating the nearest restaurant, booking a table, and repeating an order, but are also delivering data based on user's behavior to restaurant owners and helping them in giving a personalized experience to customers.

An effect of this is that various Entrepreneurs are putting efforts into making their restaurant apps smarter with the help of AI.
5.

Hospitality

Hospitality is yet another industry that is making profits by the right usage of intelligent apps.

The Hotel staff is using AI-enabled intelligent apps to improve their customer experience strategy. They are using these apps to know their guests better, offer predictive personalized experience, give an option of self-service, use sentiment analysis for better marketing, and more.
6.

Enterprise

When it comes to Enterprise, intelligent mobile apps are proving to be a revolutionary addition. 

These apps are helping workforce with sensing urgency of any task and allocating work to individuals accordingly. They are also aiding in decision-making process and ensuring value generation before competitors.

Above all, these AI-enabled mobility solutions are giving a smart ecosystem experience to the workforce by providing functionalities like optimizing their work, access report files in real-time, performing micro-activities, and more.

Various business organizations in these sectors, which have already invested in mobile app development to introduce an i-app to their processes, are enjoying competitive advantage over others. Whereas, many other businesses are discussing how to get ahead of this growing trend towards intelligent apps.

So, to ensure that you do not lag behind, let's have a walkthrough of how to develop intelligent mobile apps.
The Process to Create an Intelligent Mobile Application
When it comes to how to develop an intelligent app, the process begins with understanding the decisions that core business constituents must consider in support of their business operational objectives.
Once done, it is necessary to focus on embracing key app technology and architecture potential while developing next-gen apps:-
1. Data lake that supports:-
Real-time data gathering, indexing, and management.

Enhanced data accessibility across the ecosystem.

Safe and Secure data management services.

Flexible data delivery options.
2. Data-as-a-Service that favors:-
User self-service possibilities.

Simple and Quick data discovery and exploration mechanism.

Accelerated data management, monitoring, and tracking options.

Integrated data alignment and transition services.
3. Analytic-as-a-Service that encourages:-
Embeddable and Shareable analytics and Visualization.

Real-time maintenance of data records for smarter decisions.
4. Intelligent app development process that comes up with:-
Agile development possibilities with modern Devops and Paas techniques.
Availability of analytic insights at the time of decision.
Constant relevance of information.
Delivery of insights in Omnichannel environment.

Now, although we have discussed the prototype of developing intelligent mobile apps, the process is much more advanced and challenging. It is always better to

hire a tech mobility expert

to taste the future of mobile apps, i.e, intelligent apps.
Frequently Asked Questions about Intelligent Mobile Apps
1. How AI is creating an intelligent app ecosystem?
Artificial Intelligence is creating intelligent app ecosystem by bringing the power of gathering real-time data, understanding user behavior, and performing predictive analysis in mobile app domain, and eventually making better decisions. 
2. How to create an intelligent app suited to one's business needs?
The process of building intelligent solutions depends entirely on the business needs and the mobile app architecture and tech stack that they consider.. This includes focusing on:-
Data lake,

Data-as-a-Service, 

Analytics-as-a-Service, and

Intelligent App development process
In search for strategic sessions?.
Let us understand your business thoroughly and help you
strategies your digital product..
Related Articles: