Let's face it. There was a time when everyone used to sit in their TV halls to watch their favorite movie or go out in cinemas every weekend. Today, everyone just step into their bed and binge watch on Netflix.
This is how apps like Netflix have changed the industry. They have given a 180-degree transformation to the industry and have made it accessible for everyone to enjoy entertainment anytime, anywhere. 
The prominent inclusion of movie and series streaming apps in users' lives has made both users and businesses understand the role of movie streaming apps like Netflix in the present and future of the Entertainment world. Something which can be gauged in these statistics that give a peek inside the benefits of investing in media app development –
The video streaming industry is predicted to

hit $70B by the year 2020

.

 

By 2020, Netflix will be available in around 114M households.

The time users view traditional TVs has dropped, with those in between 18 and 24 now spending just 25 minutes a day. 

Around

60% of Millennials and Generation Z watches streaming videos daily

. And when it comes to baby boomers, 30% of them consume streaming videos.
While these streaming vs cinema statistics show the effects of a post-Netflix revolution, the whole credit cannot be given to the groundbreaking service. Various other applications and digital trends are underpinning the media and entertainment industry. Such applications have been contributing to the process of making video streaming applications fall above the attention grasped by TV. So, let's look into what these movie streaming apps and their role in the changing scenario of the Entertainment and Media industry are in addition to seeing how they are transforming the industry.
Apart from this, sports streaming apps like Streameast live are also making their mark. 
Popular Leaders in the Media Streaming Industry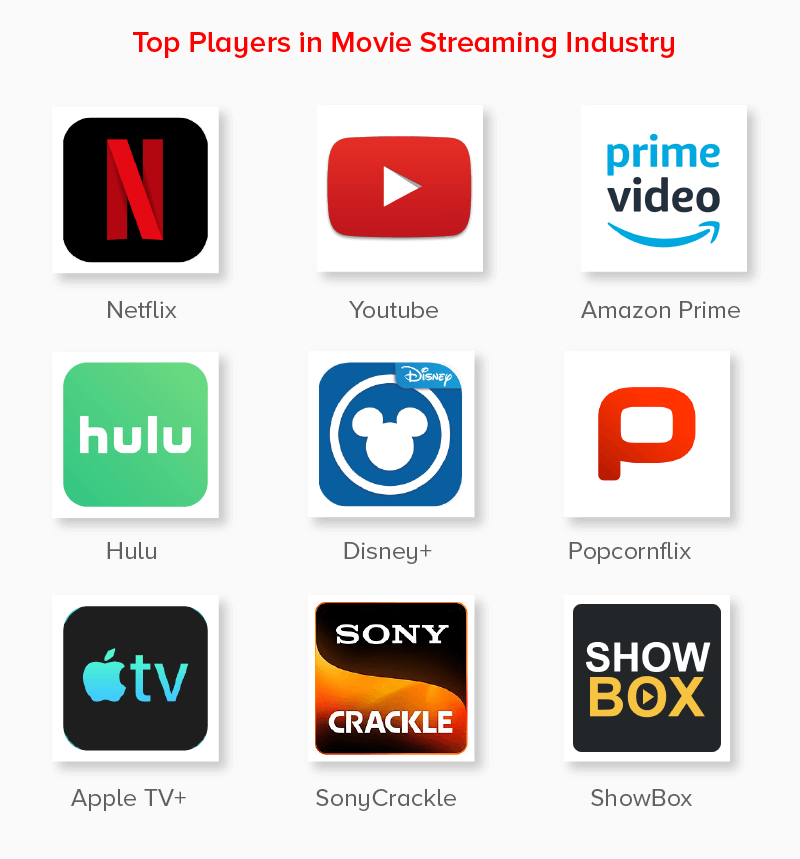 1.

Netflix

Founded in 1997 by Marc Randolph and Reed Hastings, Netflix tops the list of movie streaming apps for Android and iOS platforms. The app, even after bypassing Apple iOS tax in 33 countries, has gained over 148M paid subscriptions with its exciting features and business model. If you are wondering what makes Netflix an industry leader, you must check out the mind-blowing statistics and facts.
2.

YouTube

YouTube is also one of the main mobile apps that are revolutionizing the entertainment industry. 

The video-sharing media application was created back in February 2005 by Steve Chen, Chad Hurley, and Jawed Karim. It was acquired by Google in 2006 and is now operating as one of its subsidiaries with features like free to view content, offline accessibility, exclusive content commissioned from reputed personalities, and more.
3.

Amazon Prime

While Amazon has proven itself as a marketplace, it has also entered the list of giant media leaders in the form of Prime Video. 

Amazon Prime Video (or Prime Video) offers television shows and movies on rent or purchase, along with a complete set of Amazon Studios original content. But, what's more interesting is that the application is also planning to broadcast 20 live Premier League football matches from the 2019-2020 season.
4.

Hulu

Owned majorly by Walt Disney, Huflu is another application that has entered into the video streaming industry.

This Video-on-demand service features full seasons of programs created by Disney and other partners and has gained over 28M subscribers in the first quarter of 2019 itself.
5.

Disney+

Disney+ is another video-on-demand service that competes with the other existing top players. 

The mobile app, owned and operated by the Walt Disney Company, shows movies and television content created by the Disney publication. However, it is expected to extend its services on PCs, smart TVs, Video game consoles, and more – and that too in the resolution of 4K and with HDR. The service-set that Disney+ has planned for its brand is leading to a high demand among entrepreneurs to know how much would Disney+ like app development cost. 
6.

PopcornFlix

Launched back in 2010, PopcornFlix offers free ad-powered streaming video of webisodes and feature-length movies. Besides, it also showcases original content including web series and film school originals.
7.

Apple TV+

Another mobile application that will enter the list of top media players is Apple TV+. 

Announced by Apple Inc. in 2019 in its March 25th Special Event, the application will serve users with impressive Video on demand and web television service.
8.

SonyCrackle

Originally named as Grouper, SonyCrackle lets users stream free movies and watch free TV shows on their phones, tablets, and PCs. 

This video streaming service shows around 100 free, complete, and latest movies, but with a few commercial breaks.
9.

ShowBox

ShowBox is also one of the top media streaming applications that allow you to watch unlimited HD movies for free. 

The app offers ample features and filters that enables one to pick the right category and resolution depending on the Internet speed.

So, these are some of the movie streaming apps that are dominating the Entertainment industry and making users drift from cinemas to streaming services – thus paving the grounds of a constantly transforming industry.

But the question that arises here is – What makes these applications capable to make users inclined towards them? What reasons act as the success factors behind the role of movie streaming apps in the present domain?

Let's find out in the next section of this article where we dissect the different elements that make the efforts of entertainment app development successful.
The Netflix Effect: Reasons Why Movie Streaming Apps are Getting Popular

1.

Convenience

The foremost reason why the streaming video entertainment business is booming is convenience. 

These applications give users freedom from being tied to their TV screens. They make it possible for them to watch any movie while they are standing in a queue, riding a train, or preparing for dinner.
2.

Personalization

When designed by a reputed movie streaming app development agency, entertainment video apps work on a mechanism that analyzes user behavior and creates a complete buffet of recommended content. This way, users get access to series or movies that they want to view on the basis of their preferences, thus increasing the app engagement count.
3.

Cost- Effectiveness

While the aforementioned are the main pillars behind the shift from Cable TV screening to streaming applications, cost-effectiveness is also playing a significant role. 

Media streaming mobile apps are giving access to a vast range of digital content in real-time and that too at almost minimal to zero fees.

[Related: Digital Trends Underpinning Media & Entertainment in 2020-21]

Now that we have seen the reasons that are acting as beneficial effects of Netflix and other apps, let us move to the next section of the article – how to become a part of this media industry.
How Can Businesses Enter the Media Streaming Business Vertical?
When talking about an effective way to step into the media streaming market, the best method is to embrace mobile technology. Meaning, investing in building a movie streaming app before looking for ways to win the entertainment industry competition.
Now, when it comes to develop a movie streaming app like Netflix, there are various features that must be considered for getting better results, such as availability of genre-wise and localized content, social integration, screen profiling, clearer subtitles, search and explore, make a watchlist, etc.
While you can get a brief about the features to consider and cost associated with development in our article covering, "How much does a media streaming app like Netflix cost?, let's focus on learning  the monetization strategies you can opt here.
Different Pricing Models Considered in Media Streaming Industry

1.

Freemium

As depicted from the name, this monetization model offers some set of content available for free and charge for others. That implies that while users can enjoy a fraction of digital content provided by the On-demand media industry, they will have to pay to get access to the whole offering.
2.

In-App Advertising

In-app advertising is also one of the primal strategies to monetize your movie app. Under this monetization model, media companies earn money by showing advertisements in between their series and shows. 

One such app that relies upon this monetization model is YouTube.
3.

Pay per View

This monetization model is often considered in the streaming service industry. It demands users to pay for accessing any particular content depending on the number of times they wish to view it. In simpler words, the digital media content might be free to access for the first time, but require payment next time onwards.
4.

Subscription

In the case of Subscription monetization model, a user needs to make a daily, weekly, monthly, or yearly payment to sign into the media streaming application and enjoy the content. 

The best example of the media streaming application working with this model is Netflix.

With this attended to, it is likely that you must be excited about hiring a reputed Entertainment app development company and enter into the industry.

But before that, it is imperative to know what challenges you might face in the streaming industry, simply so that you are able to plan for the future.
Prevailing Challenges in the Streaming Media Industry
1.

Bandwidth Limitations

As the number of consumers watching online content continues to rise, the bandwidth limitation is getting worse. This is making it challenging for the media organizations to deliver the highest resolution of video content in real-time. 
2.

Devices Compatibility

Ensuring that every user could get access to video is yet another challenge faced by the domain. 

Though there are some fully adaptive streams that adjust to every resolution and bitrate, not all video providers are able to deliver this experience. They still have to take the decision of whether to send one stream and transcode it, or deliver multiple streams to a service provider.
3.

Storage of Media Files

With the growing demand for fresh online content, the challenge of creating and storing media files is also prevailing in the industry. It is becoming tougher for digital media providers to determine where to keep bulk of files and manage them efficiently.
4.

Ease of Piracy

Another challenge faced by the media domain is ease of piracy.

Since not every media provider invests in the right set of security measures, it has become easier for users to create a pirated copy of the digital content and upload on different platforms. Because of this, the authorized and original holders of the content do not get the right credit and share from the usage of media. 

While these are some of the challenges that are currently acting as a barrier in the streaming media sector, the situation is expected to change in the future. Various technologies are predicted to enter the media streaming sector and change the landscape of the on-demand media industry. Let us wrap up the article by looking into what those technologies are.
Technologies That Will Reshape Media Streaming Industry in 2019-2020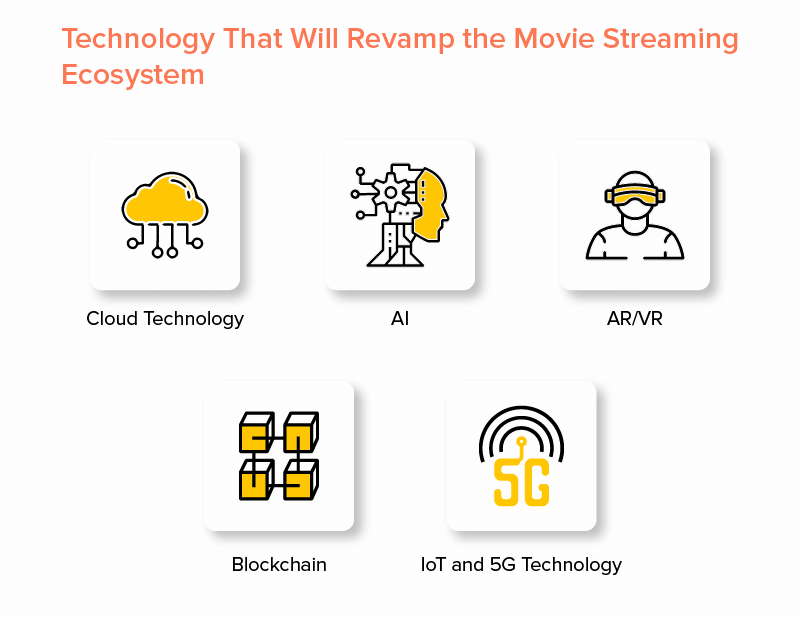 1.

Cloud Technology

Cloud is the foremost technology that is predicted to bring remarkable impact on the media industry. 

It provides the opportunity to store and manage a heap of digital content in an agile, dynamic, and cost-effective manner. It also offers scalability and flexibility that further helps to automate spinning servers up and down and meet the volatile demand.

Besides, it delivers ample opportunities for redundant and dispersed architectures that 

encourages high availability and performance SLAs, like multicloud, multi-region, and hybrid deployments.
2.

Artificial Intelligence (AI)

Artificial Intelligence also promises to transform the movie streaming service industry. 

The technology helps collect real-time user insights and write creative, emotional and engaging content that consumers can easily connect with. It manages the process to automate live transcription, interpretation, captioning, and translation, re-format and re-purpose content, and more.

Apart from this, it also comes up as a replacement of the production workforce behind the camera and performs monotonous and time-consuming tasks that require labor-intensive content management.

[Since we are talking about AI here, let's slightly redirect the discussion towards its trends for the future via this article: 36 Disruptive AI Technology Trends For 2019-2020]
3.

AR/VR

AR/VR technology enhances the storytelling aspect of the media content. It creates an immersive environment where users feel like they are a part of the story and respond more efficiently.

Besides, the technology offers the best of 360-degree videos and OTT which marks the evolution of the media streaming industry.
4.

Blockchain Technology

Blockchain will foster the impact of streaming on film industry. The technology will automate 'real-time' billing, ensure direct linkage of consumption to individual/user, reduce the cost involved, deliver more precise performance tracking of advertising efforts, and more. The result of these efficiencies that blockchain injects in the sector holds the ability to completely revolutionize the entertainment and media app development domain.

[While this is what Blockchain means to Media streaming industry, learn about its role in other domains:- Beyond the Hype: The Real Impact of Blockchain on Economy]
5.

IoT and 5G Technology

The convergence of IoT and 5G technology will support the role of movie streaming apps. It will not just enable entrepreneurs to show digital content with less buffering issues, but will also make it easier for them to collect multiple forms of data – be it based upon location, demographic or user behavior. This will further help them create and send personalized content instantly across multiple screens.
Frequently Asked Questions (FAQs)
Q.

How are movie streaming apps

disrupting the entertainment industry

?
When talking about how movie streaming apps are changing Entertainment domain, there are a myriad of ways they are adding value to the industry. For example:-
Movie streaming apps are bringing users closer to cinema – enabling them to watch anything, anywhere and anytime.

These apps are offering personalized recommendations – encouraging users to watch more similar movies.

These applications are serving users with cost-effective solutions, when compared to traditional mediums.
Q. How has technology changed the film industry?
The adoption of technology in the film industry has brought major changes in traditional processes and have brought newness in the media app development domain. For example, 
It introduced the feature of personalization, 

It added ease to the process of making digital content accessible anywhere and anytime,

It made user experience safe, secure, and delightful.
Q. What is the best free movie streaming app for Android?
Some of the best free movie streaming apps for Android users are ShowBox, Popcorn Time, Netflix, Amazon Prime, and Sony Crackle.
Read more blogs
Packed with useful information, engaging shows, and joyful banter, podcasts are highly engaging. Unlike blog posts that need reading or watching, podcasts require minimal engagement from the users.  Podcast apps today are highly in demand among users. They are evolving as a new channel where listeners can listen to the premium audio content of multiple…
Prateek Saxena
16 Oct 2020
The media and entertainment industry is most proactive in enhancing itself for the digital shifts of tomorrow. In fact, what was thought of the marketplace prior to the pandemic outbreak, has only been proven right and rather catalyzed by people staying at home and turning to streaming services for entertainment.  One of the most glaring…
Prateek Saxena
30 Jul 2020
The first sign of the digital revolution preparing to reach its climax was when the music industry saw a complete physical to digital consumption shift. What once used to be ruled by records, cassettes, and music CDs came completely on the digital platform with Apple iTunes.  The entertainment mobility event through the face of music…
Prateek Saxena
16 Jul 2020