How much Does it Cost to Develop an App Like Careem & Uber
August 28, 2018
5 min read
Last update on:
September 20, 2019
When you look into the On-Demand Economy, you will find a picture of growth where businesses who are working on the on-demand model are highly successful and have over time become the investor's favorite.
Now, an On-Demand ecosystem is made up of number of different categories like – Ride Booking, Food Delivery, At-home Services, and even Job on-demand, amongst others.
Out of all the different categories, the one that has been a recipient of constant demand and fund influxes is on-demand taxi app development. A doing of the constant surging of gross booking valuations for years on end.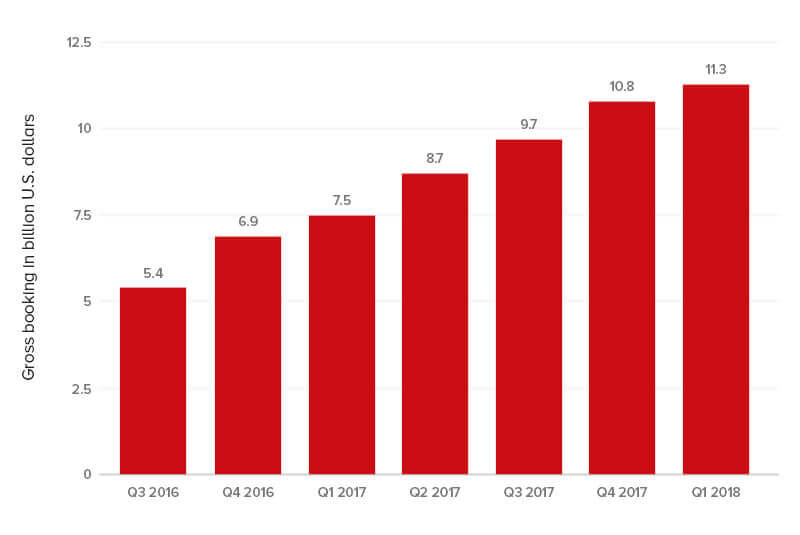 When you look into the market of the on-demand taxi booking apps, you will find that a major part of the world is dominated by Uber and Lyft. But when you move towards the Eastern nations like the Middle East, the one name that will come out as the market leader is Careem.

While you already know about Uber to a great extent, let us look a bit into Careem.
Started in Dubai, Careem has established itself as the leading on-demand taxi booking app all across Middle East. In the past 18 months, the brand has raised over $150 million from the investors which include Daimler and Saudi Arabia's Kingdom Holding, finishing with a $500 million round of funding.
What sets Careem apart from the other competitors is the focus that the brand puts on creating millions of jobs in the Middle East. Along with this, the ride booking app continues to make additions in its feature lists such as adding accessibility feature for the visually impaired users.
The rate at which Careem has grown in the MENA region since 2012 has made it popular enough for businesses to enter the space. A movement which has led to queries coming in for 'How to develop a taxi booking app like Careem'.
Talking of development, let us now get back to looking into how much would it cost to develop an app like Careem or Uber for your audience.
Before we start with how much does the uber app cost, there is one thing that we need to hit upon – When you get into the development of an uber like on-demand taxi booking app, you don't invest in the creation of one app but three.
And as a result, the answer to how much does it cost to build a taxi app becomes a three part answer.
Here is what we are talking about –
Components of Uber Like App Development
Like almost all the app falling in the on-demand category, the on demand taxi booking apps also have three components – Customer Side, Driver Side, and Admin Panel.
When we talk about the process of on-demand taxi app development or how to make an app like Uber in Android or iOS, it is very important to understand the different type of apps that would come together to form one single on-demand app.
Let us look into the different elements now –
Passenger App
This is the app screen that the passengers interact with. It has all the elements starting from entering the mobile app to setting location, booking the ride, calculating the fare, contacting drivers, making the payment, and finally giving them rating and reviews.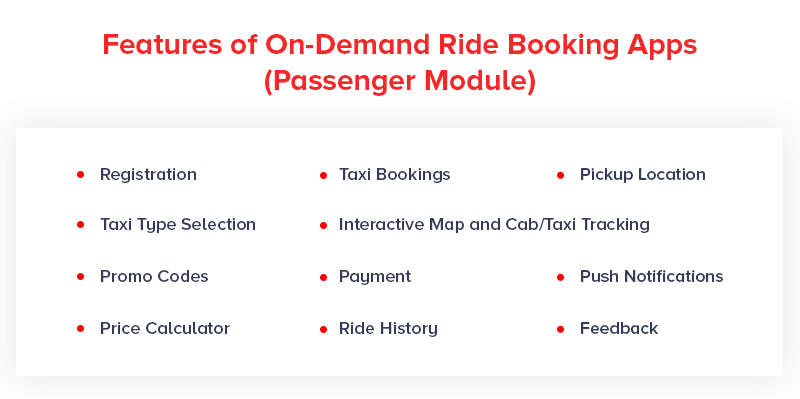 Driver App
This app element revolves around the Drivers/ Captains (Careem's nomenclature for drivers). While both passengers and drivers share a number of common elements, there are a few extra features in the Driver part of the application. Some of those extra elements are – Navigation, Ride Estimation, Active or Inactive option, Reports on trip stats and payroll etc.

Admin Panel
The admin side of the on-demand taxi booking app is usually a web application, which is used to save, manage, and thyen review all the activities happening on the app. It offers an overview of the processes, shows the best navigation route, manage payroll, and even gather client data for marketing purposes.
Between all the three app components, there are a number of shared features that help answer how much does the Uber app cost.
The next section of the article is about those features and the approximate time it would take to answer how to make an app like Uber in Android or iOS.
Taxi Booking App Development: App Features and Development Hours
1.

Registration

Creation of user profile or registration is a must have element of both Driver and Customer side of the application.

While in case of the customer login, you will be focusing your attention on getting the information related to their name, phone number, and email address. The data which you will be collecting from the Drivers will be a lot more extensive.

Beside the general contact information, you will have to ask for the driver's photo id, their license, driver license copy, etc.

To collect the information, you can integrate social media connections and email registrations when you build an app like uber.

Development Timeline: It takes a taxi app development company somewhere around 120 – 150 hours to develop the signing in and profile creation functionality in uber like app development.
2.

GPS

The next feature which also lays the base of on-demand taxi app development is – GPS.

Taxi booking apps revolve around these three usage of the GPS facility –

One of the most useful features of on-demand taxi booking app is that users don't always have to enter their information in the app, the app is able to fetch their precise location using the Map functionality.

In case of Android based Uber Clone app, Google Location Services API is what developers use to pin the user location. And, in Apple, CoreLocation Framework is used. Also, iOS makes use of the Wwi-fi functionality and Bluetooth Beacon to better location tracking.
To Give Driving Directions
For showcasing turn by turn driving routes, there are platform specific APIs offered by both Android and iOS. While Google gives direction using their Google Maps Android API, Apple provides the same facility through MapKit.
Development Time: It usually takes somewhere around 120 – 150 hours to integrate GPS functionality when you build an app like Uber.
[Extra: How to Develop an Uber Clone App using Location Based Services]
3.

Messaging/Push Notification

The passenger and driver need to be connected with each other to know about the ride status, know the estimated time of arrival, send updates in case there are any delays or the ETA increases, etc.

Now the one way to make the connection is to incorporate a calling facility within the app. Doing this can increase the time which users spend in the app, something which is frowned upon the modern day buyers who prefer a quick in and out time.

The other way to notify both driver and the commuter about the trip status is through Messaging or Push Notifications mechanism. What happens here is that the commuter gets pop up notification of the ride related task on their smartphone, whether or not the app is running on their device actively or not.

There are two ways your partnered mobile app development company would incorporate the functionality in your take on the careem car booking app –
For Android – Google Firebase and For iOS – Apple Push Notifications

Nexmo, Plivo, and Twilio can be used to send texts on the users' devices.
Development Timeline: While it takes near about 36 – 40 hours to integrate Push Notifications in an Uber Clone App, the SMS Integration time lies in the range of 20 to 30 hours.
4.

In-App Payment

One of the best selling points of an Uber clone app is the ability to send and receive payment from within the mobile app along with the benefit of viewing the ride's cost estimate on the app screen.

To enable in-app payment in your on-demand taxi booking app, you will have to make use of third party payment gateway integrations. There are a number of integrations that are most commonly used by taxi app development companies. Here are the ones we rely on –
Stripe

Braintree

Paypal Mobile SDK

Google Wallet and Apple Pay
Development Hours: It takes somewhere around 100 to 120 hours for the taxi booking app builders to integrate payment within the app.
In order to develop these features in the estimated development hours it is very important that a robust technology stack is followed by the taxi booking app builders.
The Tech stack of uber clone app should be based upon all the latest technologies and frameworks that would support a pleasant, secure user experience for all the associated stakeholders.
Here is the Technology Stack for Uber Clone App –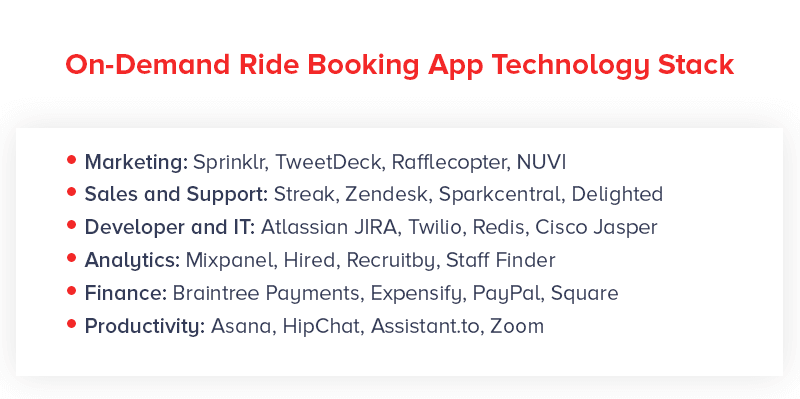 Now that we have looked into all – Elements of an on-demand taxi booking app, the features that are involved in an Uber Clone App and the development hours it take to build them, and the technology stack that supports a robust functioning of the app, it is time to look into the part we roped you in here for – The Cost to Develop an App like Uber a.k.a Uber App Development Cost
How Much Does it Cost to Develop an On-Demand Taxi Booking App?
When you create an app like Uber, you develop three apps: One for the riders, One for the Drivers, and One for the Parent Company.
Now when you pay for the Careem app clone, you pay for these services –
Number of User Stories

Functionality Count of your Careem Car Booking App

Mobile App Design

Native App Development

Backend Development

Web App Development

Quality Assurance

Product Management
Now the cost to develop an app like Careem or Uber will be based on the development hours that will go into the above mentioned processes, which in turn varies from one geographical location.
While the development hours would fall in the range of $100 – $200 in the Western Nations, the count would decrease when you get an app developed from Eastern nations like India.
If you are getting your Careem like app developed from us, the leading on-demand app development company, the cost of a basic functionality on-demand taxi app development would come somewhere around $25,000-$40,000 and a feature rich app would fall in the range of $100,000 to $150,000.
*To get an in-depth look into the process of how we came at this cost estimate, head on to this page – How much does it cost to develop and maintain a mobile app.
In search for strategic sessions?
Let us understand your business thoroughly and help you
strategies your digital product.
Recent Articles: