By 2020, around 7.6M Americans will act as providers in On-demand economy. (Source)
79% of existing users in On-demand economy are working as part-time. (Source)
On-demand labor market is expected to flourish by 18.5% annually in the next 5 years. (Source)
On-demand food delivery market to hit $161.74 Billion by 2023. (Source)
These are just a few validatory statistics that prove how on-demand mobile app startups like Uber and Netflix have given birth to a market that both users and angel investors are partial about. 
What started with an on-demand ridesharing app has now extended into a number of different market segments ranging from grocery delivery, real-estate, beauty and cosmetics, at-home maintenance services, and more.
The present state of on-demand mobile app startup economy is such that no matter what industry you look into, you will find an active on demand mobile app development company working to make it real – time.
Now, even at a time when millions of mobile users are happily spending money to avail the perks of the convenient at-door service, there are businesses that are still on the fence when it comes to entering the on-demand market space. And the reason behind this is the notion that the on-demand economy has now become a bubble that is going to burst.
But we have On-demand app economy statistics that prove otherwise.
On-Demand Economy Statistics
The market that the on-demand industry has captured is growing progressively. The investors who couldn't be a part of the trend when the uber economy was getting incepted but are now prepared to book their share.
The investment rounds focused on funding on-demand startups that started in 2014 with $74 Billion reached $10,293 Billion in the last quarter of 2017 and only expected to grow by huge numbers by this year.
According to the latest PwC report, the market for On-demand mobile apps and websites will reach a significant value of $335Billion by the year 2025.
And, the CBInsight report of Global Unicorn Club revealed that 23 out of 310 private companies who valued at $1 billion by Jan 2019 belong to On-demand industry. These On-demand unicorns count for almost $203B in combined valuations, including popular rail-hailing startups Uber ($72B) and Didi Chuxing ($56B).
Not only this, various other reporting houses have reported that On-demand industry is set to flourish in the coming years.
And the same holds true for the growing number of user spends as well.
On-demand users spend on an average $57.6B annually
The On-demand mobile app economy is prompting over 22.4 million users annually to spend around $57.6 billion to get real-time services and they are happy making the payment.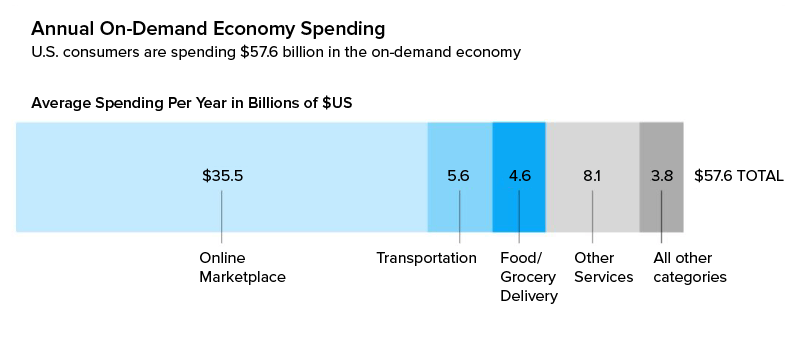 Another report shared that 60% of the US users are ready to pay extra to get material delivered to their place on the same day delivery mode.
The scenario gives a clear indication that businesses who are looking ahead to investing in On-demand mobile app development will easily make more money compared to those who overlook this opportunity.
51% of Retailers are Offering Same-Day Delivery Service
Seeing the new buyer preferences and growing number of On-demand app economy statistics, many retailers have also entered the On-demand economy to offer same-day delivery service. An outcome of which is that the numbers of retailers investing in On-demand have grown from 15 percent to 51 percent by 2018 – a number expected to hit 65 percent by the end of 2019.
Bonus Read- Cost Estimation for Fuel Delivery App Development like Ezfill
49% of On-demand consumers are Millennials
As per HBR, a major fraction of users embracing On-demand services – nearly 49 percent – are millennials. Whereas, 30 percent of the rest are of the age range between 35 and 54.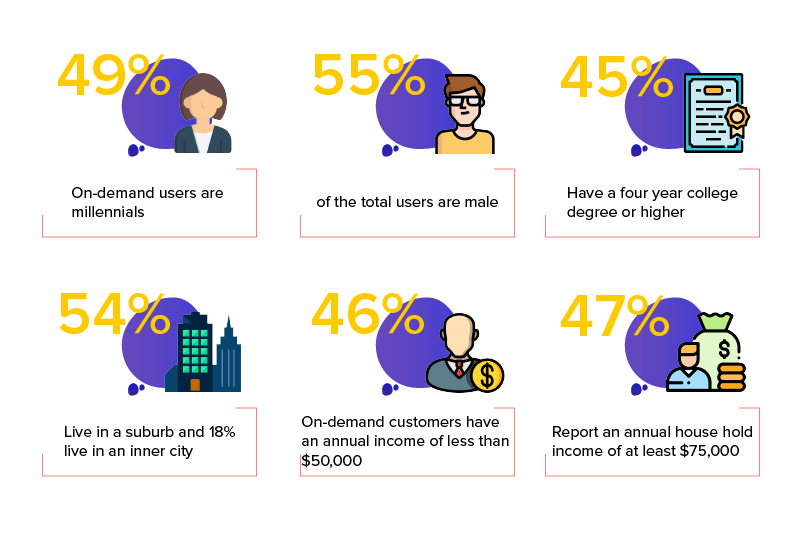 Also, it has been observed that men are the top consumers of On-demand mobile app economy, constituting of around 55% of the total numbers. In addition to this, 46 percent of these users opting On-demand services are found to have an income of less than $50,000 annually.
63% of On-demand Employees say that they are happy while working in the On-demand Economy
The On-demand economy growth also witness the introduction of new job opportunities. It has empowered students, workers, and others to embrace more flexibility into their processes and opt for projects/jobs for a shorter time interval. 
As a result of which, 70% of On-demand employees shared the sentiment that they are satisfied with their work and 63% admitted to being happier since the day they entered into On-demand economy. 
With this, we have seen how On-demand economy is disrupting the business world – making 'real-time' accessibility a crucial element of every business vertical. So, without making ado, let's look into what's new in On-demand app marketplace in 2019. This information will help you to find better insights to look into how to succeed your On-demand business in the crowded app market.
What Does 2019 Mean for the On-demand Economy?
2019, as we can see, is bringing a substantial impact on the On-demand mobile app economy. On one side, it is helping in introducing the concept of real-time and on-demand in different business verticals and fostering investment in On-demand app development, on the other side, it is reflecting a change in the paradigm of the existing On-demand processes and business models. For example:-
1.

2019 – The Year of More Consumers

With the number of smartphone users about to hit 5 billion in 2019 and 45% of the US users already enjoying On-demand app services, businesses will show more interest in finding answer to how to ride the uprising 'Uber for X' wave. They will realize that they can target a diverse range of consumers by investing in On demand mobile app development and earn hefty profits.
2.

Personalization is Emerging Out as the New Face

In 2019, more businesses will pay attention to On-demand application services which will bring intense competition in the market. All will put more efforts into connecting their customers, understanding their needs, and providing them with customized services while working on their on-demand app's performance level. In simpler terms, personalization will emerge out as the core element of On-demand marketplace this year.
3.

On-Demand Food Services Entering Unknown Markets

The on-demand food delivery business, which was majorly confined to popular locations like the USA, will enter the less considered marketplaces. A consequence of which is that more of Entrepreneurs will show interested in knowing how much does it cost to build a food-delivery app like UberEats or GrubHub.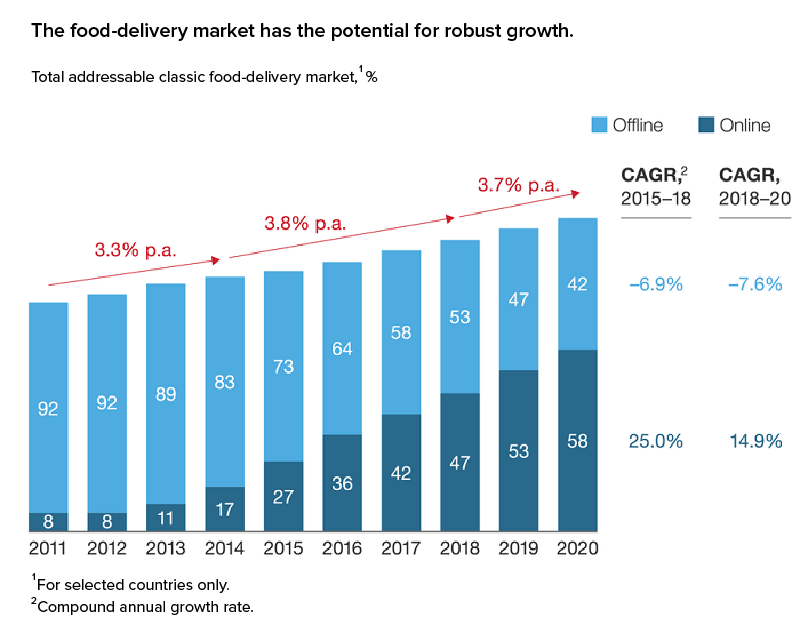 4.

Higher Investment is Being Made in Home Services

Considering the type of busy life we are having, On-demand home services app market will continue to gain higher popularity this year. People will ask for services like plumbing, beauty services, electricity, etc. in addition to delivery of food, grocery, and cabs.

While these are some of the revelations that will come true this year, let's look into what the future holds for On-demand economy.
The Future of On-Demand Economy
It is undeniable how on-demand is changing the world around us, as we know it. No matter which business segment you belong to, chances are that someone in your industry would be thinking about investing in the on-demand market.
And this un-altering demand for the on-demand app services is not just the truth of the present day, the future has a similar story to share. The future of on-demand lies in a number of categories. Let us look at the major ones, which you should think of expanding your business portfolio into.
A. Hyperlocal
This is an on-demand model that revolves around the local provisioning of services and goods. This on demand marketplace ecosystem mainly operate within a few kilometer radium only. An example of this would be Roadrunner or Swiggy.
Under this category, business ventures will look forward to making the user experience far more comfortable and memorable. They will focus on speed and quality and aim to provide multiple options to the users to keep them hooked to their services.
B. e-Scooters
Ever since Bird came up with their e-Scooters in San Francisco, the demand for e-Scooter app development has been on a constant rise. Brands are now looking to enter the segment that the investors are clearly partial about.
Not only this, various governments have also shown a green signal to eScooter use in their place. 
Read:
C. Self-Storage Market
More than 30% of the US citizens have extra space than they actually need and at least 40% of the citizens face the problem of lack of storage space. These on-demand apps are a solution to that. Using apps like Cuft, you can create a platform for people who need space to meet people who have it in excess and make the former use the space as a storage space.
Now that you have seen how the on-demand category is one that have established itself as a secure market, both of the present time and of the future, let us now finally look into the one factor that is a question that every Entrepreneur who is looking to enter the on-demand market is seeking answer to –
How Much Does it Cost to Develop an On-Demand Mobile App?
When an on-demand app development company develops an on-demand app, they develop an app that caters to three people – the user, the person delivering the service, and the business. And, the UI and app flow is entirely different in all of them, which adds on to the How to Build a Successful On-Demand Delivery App to a great extent.
Along with that, the category calls for a number of features inclusion like in-app payment, real-time sync, real-time tracking, chat support, rate and review support, and notifications, among many others. Since through one on-demand service app, a mobile app development company is developing three apps, the attached cost of the end on-demand mobile app is fairly high.
Keeping everything into consideration, the creation of On-Demand Startup Apps like UberEats or Lyft would take somewhere around 2000 and above hours. Now, multiply this number with the average hourly hours, and you will have with you the cost of on-demand mobile service app
Read more blogs
In the wake of the COVID-19 pandemic, the recruiting industry saw a dramatic change. It has caused many organizations to lose their projects and businesses to shut down, causing many employees to lose their job roles worldwide. In such a scenario finding a suitable job or recruiting the right talent has become one of the…
When was the last time you went street shopping and bargained with the vendor to sell their products at a lower price? If you remember that experience, imagine bringing it on a digital platform in a more sophisticated way. Websites and applications like Ebay, BidSpotter, and Auction.com, etc. have been making it easy for the…
On-demand pet care apps that give solutions for pet walking, boarding, or home visits are all in the rage right now. With a market share set to reach $5.14 billion by 2030, pet care app development space has been making it easy for pet owners to go on vacations or take a day off guilt…