A Peek into the Flourishing On-Demand Home Services App Market
April 15, 2019
5 min read
Last update on:
November 1, 2019
Imagine a scenario. You woke up, had your breakfast and left for the office with a messy room and stinky dishes behind. But, when you come back in the evening, you find everything in the perfect order – dishes cleaned and organized in the shelves, carpets vacuumed and floor shining like a star. What would be your first reaction?
If I would have asked this question a few years back, the answer would have definitely been elation and curiosity of whether there's any genie (spirit) who is cleaning everything up. But, in the present time, all these incidents are common to experience – thanks to On-demand home services apps.
Eager to know more about the On-demand home services app market and the future scope? For the next 8 minutes, we will be on a journey to the On-demand home services industry – looking into the reasons why the industry is gaining momentum, the top players, the future predictions, and more.
On-Demand Home Services Apps – Why are They So Popular?
An On-demand home service application, as you can sense from the scenario shared at the beginning of this article, aid people in managing their busy lives. These On-demand applications enable people to hire someone to manage their household chores and boring tasks including cleaning, plumbing, painting, and moving and storage, while on the other side provide a source of high and constant revenue to on-demand home services companies.
The home services segment of the On-demand economy is reshaping the world around us by acting a solution of the three challenges of the industry:-
Availability of Service Providers – While some areas have plenty of service providers to take the help of, others have countable numbers of options. In such scenarios, an On-demand home services app act as a medium providing the users with multiple options both locally and those ready to visit their areas for delivering services.
Reliability of Service Providers – In the traditional market, it is quite tough to rely upon any service providers when not performing the task in front of you. But, when it comes to On-demand house cleaning and other services apps, the platforms empower you to connect only with authorized service providers and pick the right one based on the feedback from existing customers and other factors. This encourages the users to rely upon the service providers and feel free to leave their place with the service provider while performing their other tasks.
Quality of Work – The reviews and ratings on these On-demand pre-priced home services applications help to get an idea of the quality of work the service providers offer and thus, go with the online home service provider that matches your needs and expectations.
While these were some of the challenges that On-demand apps for home services have catered, there are a myriad of advantages it offers, including:-
Significant Convenience
A majority of the On-demand home services applications provides all the home-related service options at the same platform. This makes it convenient for someone to look into different services without jumping from one platform to another.
Considerable Flexibility
While the customers get an opportunity to enjoy multiple services at the same platform, the service providers obtain the freedom to choose their own working hours and conditions. This way, the On-demand home services platform is adding flexibility to the marketplace.
Simplified Appointment Scheduling
These mobile applications offer the users and service providers the opportunity to check their calendar and fix an appointment for the job accordingly. This way, they can manage that the task is fulfilled on the day of their availability or the day with better optimal solutions.
Ease of Payment
The On-demand platforms that connect users with service providers often manage billing and payment transactions. This gives the service providers an escape from the stress of the payment and give their best efforts into their responsibilities while making it easier for the customers to pay in different forms, apart from cash.
Higher Lead Generation
While the traditional methods might be still applicable, the On-demand mobile apps provide the service providers a platform to connect with a greater audience and transform their service offerings into a wholesome business.
With all these benefits, the On-demand home service market has become popular in the marketplace – making both users and service providers turn towards On-demand economy. A few statistics proving this statement are:-
On-Demand Home Services Market Statistics (And Future Predictions)
The On-demand Home services market gained a year-by-year growth of 30.14% in 2018. One of the prime reasons behind is the proliferation in the audience having a smartphone.

The landscaping segment generates annual revenue of about $50 billion and employment of around 900k people in the United States only.

The moving and storage market has around 8,000 companies involved who produces around $12 billion of collective revenues.

The industry, as previously covered in our article about

On-demand mobile app economy statistics

,

will gain higher popularity this year. It will experience more requests from people for services like home cleaning, tutor service, carpenter, water heater repair, painter, etc. in addition to the demand for delivery of food, cab, and fuel.

Not only this, the On-demand home services market size will grow with a CAGR of 48.46% by the end of the year 2021. That indicates that more and more startups and established service providers will plan to enter the arena.

The On-demand market revenue for home services will hit $869.95 Billion in between 2017 and 2022, with every segment of the market contributing to the overall revenue generated. For example, the Global commercial dry cleaning and washing sector will become 3.4% more in demand in this period. Whereas, the Flooring segment will observe a 5% rise in their market value and Plumbing market will grow by 12%.

However, it is also predicted that the major slice of the market share will remain confined to the Top players of the market, implying it would be necessary for the new startups to take a deep thought of

how to succeed your On-demand business in crowded app market

.
Now as you are familiar with what is the current scenario of On-demand home services industry and what will be the future of the sphere, it's the right time to look forward to uncovering everything related to On-demand app development.
So, without ado, here are a few things you must consider when designing an On-demand home services app :-
1.

Understand User Persona

Since customers are the prime element of every business, it is necessary for the service providing companies to gather in-depth knowledge about their customers – their needs, expectations, age, region, and more to get a clarity of your goal and the target audience.It is also important because not all the people from all the areas across the globe are relishing the advantages of On-demand home services economy equally (as you can see in the graph shared below).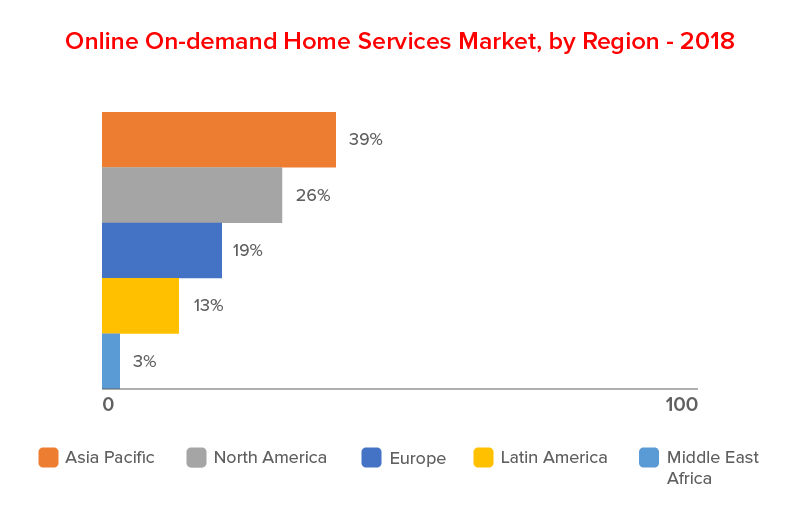 So, be open to performing extensive market research, gathering enough customer feedback and ensuring that you minimize the pains of the customers.
2.

Analyze the Top Players

Though the demand for On-demand services in increasing the market, the larger market profits are still going with the top players. In a scenario like this, if you perform competitive analysis for their mobile app idea, you can easily figure out what makes the customers magnetized to the services of these top players. This information can enable you to integrate those elements into your mobile app and thus, increase the chances of app success.
3.

User Experience

Considering the importance of UX mobile app success, the next thing to pay attention to the type of onboarding and UX experience you are introducing in your application. This implies, adding the elements that keep the app users hooked to your platform and convince them that it is adding some value to their lives.
4.

Push Notifications and Other Engagement Options

Focusing on the right use of Push notifications and other such engagement options is yet another thing to consider when making a 'Home services On-Demand' application. The push notifications, acting as a reminder to the users, will encourage them to tap on your app icon more often and perform some activity. This will improve your app engagement as well as ranking in the competitive world.Besides introducing push notifications, getting familiar with how to localize your app to increase its conversion rate by 200% is also a profitable method. So, look forward to exploring its potential in your niche market also.
5.

Tech Stack and Development Cost

Last but not least, having a sound knowledge of what tech stack to integrate into your On-demand app development process and how much does it cost is also helpful.

While these were some of the factors that must be considered while making an On-demand home services app, there can be various other constraints and challenges associated with the development process depending on the type of services and business model you pick. So, to get a complete idea of what things to watch out for turning your On-demand app vision into a mobile app, you should consult with an On-demand app development experts.

In search for strategic sessions?

Let us understand your business thoroughly and help you
strategies your digital product.
Related Articles: