51+ Netflix Statistics & Facts Worth Knowing in 2020
September 30, 2019
2. min read
Last update on:
August 7, 2020
Do you remember the pre-Netflix era, where to watch a movie or any entertainment you had to wait for your cable operators to stream it for you? Or you would rent a DVD, or maybe just download it from the internet? (after battling for hours to get your hands on an unpirated high-quality content).
Well, sure it was arduous, wasn't it? Just then, Netflix came like a knight in shining armor.
The journey of Netflix started back in 1997. Reed Hastings and Marc Randolph started this media-streaming and video-rental, which even they wouldn't have thought would reach such heights of success. From offering online subscription service through the internet and mailing DVDs to providing an entertainment subscription-based online video streaming app – Netflix Inc. has done it all which was only once imagined and have nailed it.
The company has undergone radical changes since its inception, and has become one of the prime mobile apps revolutionizing the entertainment industry.
Here, look at the timeline of the history of Netflix and see for yourself how it grew from a small startup to a globally leading internet entertainment service.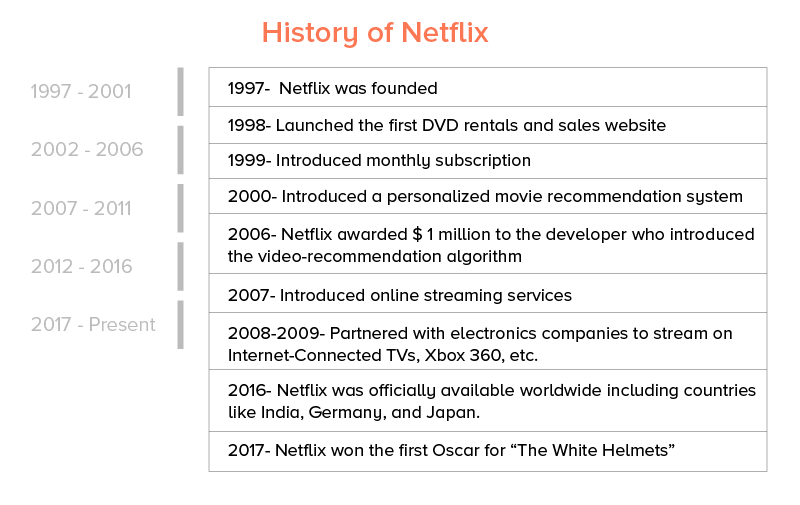 How Did Netflix App Became so Popular?
If you have been wondering how the Netflix app won the hearts of billions of people around the world, leading to its unprecedented growth, then your quest ends here. Look at some of the reasons adding up to its popularity.
Netflix Never Crashes
Netflix company employs an interesting approach called "Chaos Engineering". In this approach, the company takes down one of the three of Amazon's AWS data centers on which the Netflix app operates and redirects the traffic to two other regions. By doing this, they make sure that everything is smooth sailing even when such a problem actually arises. Such effective practices is what has made the app an absolute favorite of users.
Personalized Content
Netflix has always considered user's satisfaction and amazing experience as a priority. It also encourages users to rate shows. It then collects the data about users' ratings and accordingly recommends more shows and movies to the customers. This way, users get their hands on new movies and TV shows without wasting a minute of searching for what to watch next. This level of personalization is what attracts the users the most.
Ads-free Content
One of the most admired Netflix app features is that you will never find unnecessary advertisements in the Netflix app. Users see this as a positive feature that they do not get in other apps like Youtube. If they want to enjoy uninterrupted entertainment, Netflix is where they go.
Free-trial Element
Not everyone likes to take a chance when it comes to money. Something that Netflix understands and addresses through its Netflix Subscription model, which provides a free monthly trial in which users can see all the premium content on the app for free. And once the trial is over, users need to renew their subscription to enjoy uninterrupted entertainment.
Simple UI to render higher UX
Netflix knows the importance of UI/UX Design which is why the app has a very intuitive interface, which follows all the latest UI trends. It assists the users in navigating the personalization grounds with ease.
Now, we are not just going to blind you with empty words.
Here are some mind-blowing Netflix statistics 2020 to prove how the brand is a rightful industry leader.
Netflix Market Capital and Revenue Statistics
1.

Netflix's Net Worth is $155.53B

Netflix Financial Statistics state that as of June 06, 2019, the net worth of Netflix is estimated to be around $155.53B.
2.

Netflix Market Capital

As of Sept 26, 2019, reports show that the Netflix market capital stands at $117.73 billion.
3.

Netflix's Revenue for 2018 was $15.7 Billion

Not surprisingly at all, the Netflix revenue breakdown for the year 2018 was amounted to be $15.794 billion, surpassing the amount it earned in 2017.
4.

Netflix has $16.6B as Estimated Revenue Annually

The annual revenue estimate of Netflix is $16.6B. These Netflix annual revenue statistics show that the global reception of it is highly positive and is going to be so for the foreseeable future.
5.

Netflix Quarterly Revenue Growth grew by 26%

As per the reports by Yahoo Finance, the quarterly growth rate of Netflix revenue is estimated to increase by 26% year over year. If the company is able to maintain this pace for a few more years, it is going to be difficult for Netflix's contenders to supersede it.
6.

Netflix Net Income was $403 Million in 2018

The netflix income in the third quarter of 2018 was estimated to be $403 million (as shown in the graph below). Though the fall in the graph from $674 million Q2 2018 is major, it was expected that the company will make up for this difference.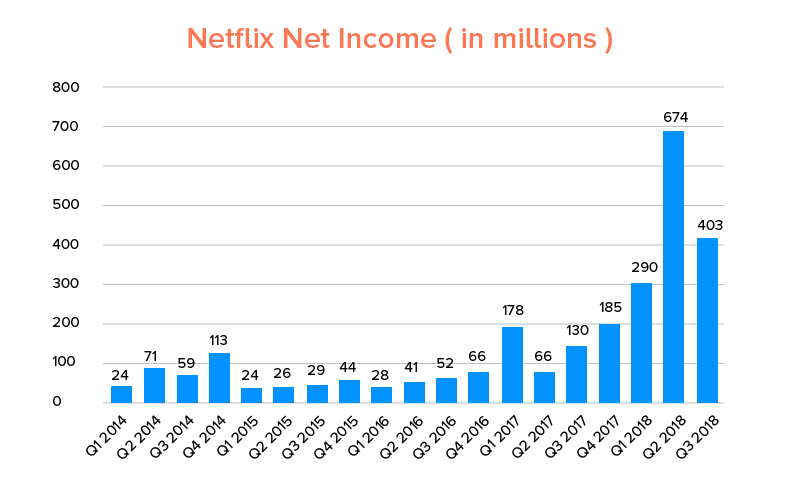 7.

Gross Profit of Netflix was $1.6 Billion in Q1 2018

In the third quarter of 2018, the gross profit of the company reached the amount of $1.6 billion.
8.

Gross Profit of Netflix was $5.83 Billion for 2018-2019

The gross profit of Netflix (Trailing Twelve Months) is said to be $5.83 Billion which is way higher from last year's GP, asserting that this number will keep on growing for years to come.
9.

Netflix's Revenue for the US in 2020 is Predicted to Increase

The revenue of Netflix for the US in 2020 is predicted to reach the amount of $7.2 billion.
10.

Netflix Q2 International Revenue

As of Q2 2018, increased international growth of Netflix added $65 million to the year over year Netflix annual international revenue.
Netflix Subscribers Statistics
11.

Netflix had over 148 Million Paying Subscribers Worldwide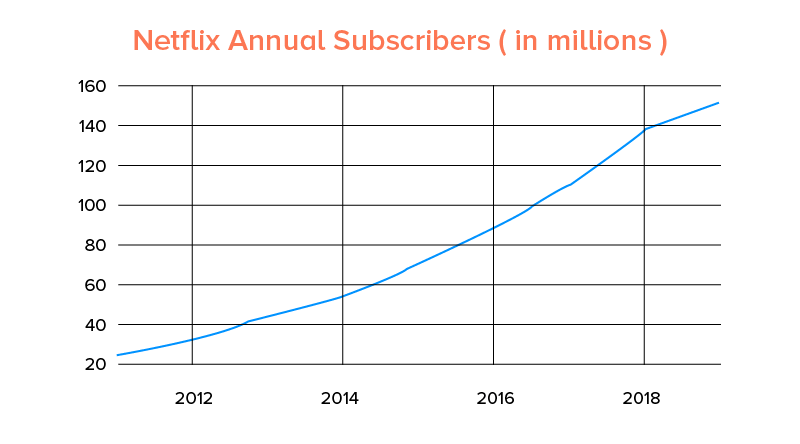 In the first quarter of 2019, the number of paying Netflix subscribers grew to 148 million, increasing the company's profits – a record number that Netflix breaks every year.
12.

Netflix is now Available in over 190 Countries

The entertainment service that started in the US now have expanded its horizons globally to 190 countries. As shown in the timeline above, Netflix grew slowly at first, and then all at once.
13.

There are over 6.56 Million Free Trial Customers on Netflix

Netflix Company Statistics represents that the free-trial subscribers' count reached 6.56 million in Q2 2019 of which 60.23 million were from the United States.
14.

In Q3 2018, 57% of Total Users Come from Outside the US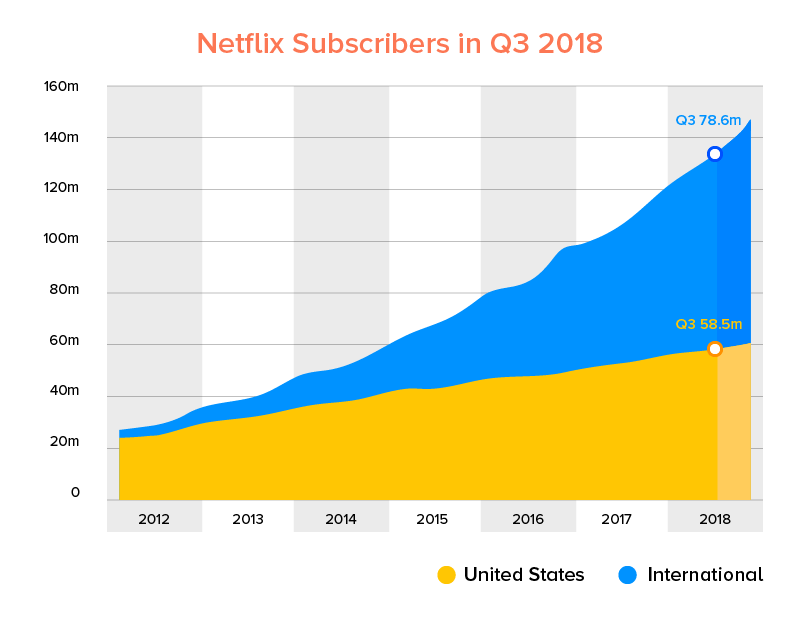 Out of the total number of 78.6 million users, almost 57% (58.5 million) of them were from outside the US.
15.

Netflix Subscribers in the UK

There are approximately 9.1 million Netflix subscribers in the United Kingdom alone. With the rapid expansion of the company, and the improvements that it keeps on making to its applications is reason enough to believe that count will increase by the year 2020.
16.

Netflix Gains 22 Million New Subscribers Per Day

On average, Netflix sees an increase in the subscribers' count of 5 million subscribers per quarter. This adds up to become 22 million new subscribers per year.
Netflix User Demographics
17.

23% of the US Adults Stream Daily on Netflix

Marketing charts study on the Netflix user statistics showed that 23% of the Us adults stream daily. In fact, the same study suggested that almost one in 4 US adults stream Netflix every day. On calculating this estimate into digits, we get a big amount of 58 million.
18.

Approximately 37% of Teens Watch Netflix Daily

According to Netflix user statistics, almost 37% of teenagers watch shows on Netflix daily. The report also highlighted that Netflix is 12 times more popular among youngsters than its competitors.
19.

77% of VoD Users Subscribed to Netflix in 2018

Netflix demographics data claims that a big chunk of Video on demand users already subscribed to Netflix in 2018 amounting to 77% of the total VoD uses. As shown in the figure below, 18-29 years old people's group, 74% of VoD users have subscribed to Netflix, while 78% of people belonging to the age group 30-49 and 74% of users of 50-64 age group use Netflix.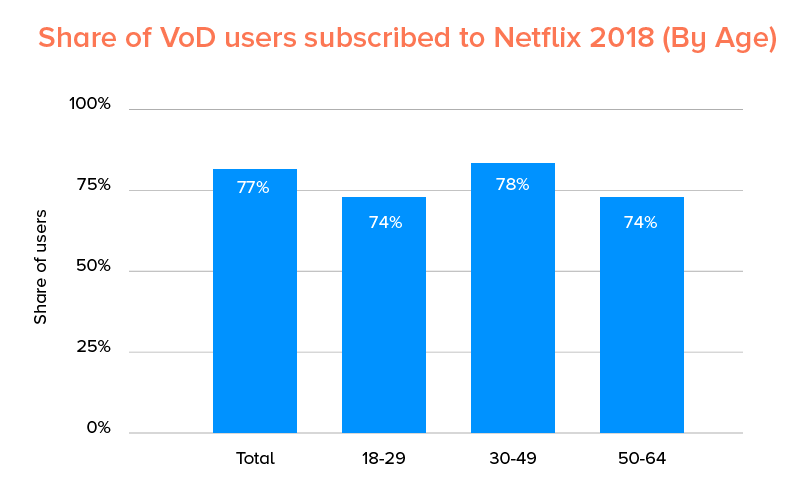 Netflix Viewership And Global Contribution
20.

Global Contribution of Netflix to Time Spent Watching Content

Netflix is calculated to be responsible for 8% of the total amount of time spent on watching videos worldwide. Since Netflix is now available in the majority of countries, this ratio might increase in the coming future.
21.

Netflix Contribution to Global App Traffic

The contribution percentage of Netflix in the global application traffic share is 4.92%.
22.

Netflix is Predicted to be in 114 Million Households by 2020

Netflix Statistics 2020 show that by the year 2020, experts have predicted that Netflix will be present in about 114 million households globally. Now, if this isn't is a statement guaranteeing the brand's further growth and popularity, then nothing would be.
23.

Netflix Viewership Worldwide

The exact amount of Netflix's total viewership is estimated at over 300 million globally.
24.

Netflix had 147.5 Million Viewers in the US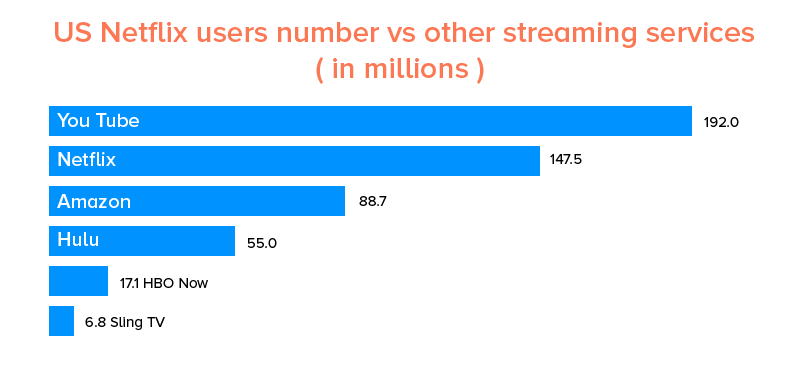 After looking at the graph of Netflix viewership statistics given above, we can clearly see that Netflix is the second most preferred entertainment app of the US viewers, after Youtube. The other two major contenders of Netflix – Amazon and Hulu seem to be way behind in the line.
25.

Netflix Enjoys the Majority of the US Streaming Market Share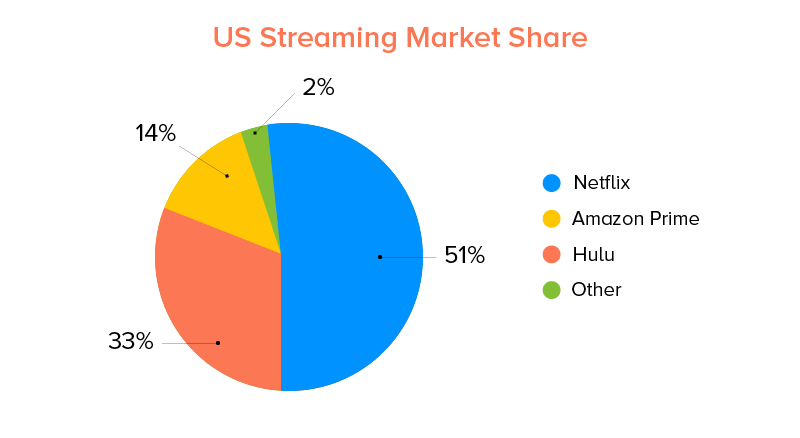 Netflix viewing statistics are solid proof that it again won the battle with its contenders. Netflix's target market share is higher than other entertainment services as it occupies the majority – 51% – of the US streaming market share, while Amazon and Hulu are limited to 33% and 14% respectively. And this share is likely to increase, given the increasing growth rate of the company.
26.

Highest User Penetration by Netflix is in the US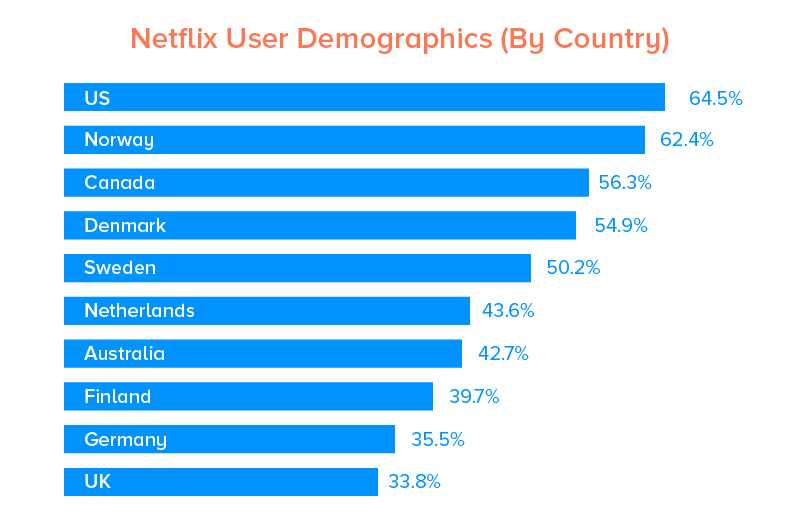 In a survey by eMarketer in 2018, the top 10 Netflix target countries with the highest Netflix user penetration rate were US, Norway, Canada, Denmark, etc. The US had the highest percentage of 64.5%, followed by Norway at 62.4%. The country with the lowest penetration rate out of the top 10 countries, was the UK with only 33.8% penetration rate.
Other Noteworthy Statistics
27.

Total Number of Netflix App Downloads in the US

As of August 2019, the total number of Netflix app installs and downloads in the US only reached 7 million.
28.

Users Streaming Netflix on a TV set

The total Netflix app users who watch shows on a TV set instead of smartphones or tablets are said to comprise 81% of the total viewership.
29.

Users Subscribe to the Netflix Mainly for its Originals

In a report by E-Marketer, it was revealed that approximately 58% of Netflix users buy the subscription specifically for Netflix's original shows. This shows that starting hosting its own original shows was one of the best decisions Netflix could have ever made.
30.

The Average per Hour Amount of Content Viewed

Some reports have shown that Netflix charges $0.20 per hour when the content on the Netflix app is viewed. It is not an unfair amount given that users get to enjoy thousands of movies, TV shows, and the popular Netflix originals.
31.

Netflix's Share in the World's Internet Bandwidth

A report by Fortune states that Netflix consumes 15% of the world's internet bandwidth, which might not seem big but is a huge number.
32.

Netflix Bypassed Apple's iOS Tax in over 33 Countries

Initially, Netflix had to pay 15% tax on the revenue generated through the App Store. However, Netflix decided to bypass Apple's iOS Tax by stop supporting iTunes as a method of payment for the subscribers.
33.

Netflix's Expenditure on Marketing

Netflix was estimated to spend over $526 million on the marketing of the app in the second quarter of the year 2018.

Now, to make things more interesting, here are some cool Netflix facts about the Netflix app.
Almost 37% of Netflix users binge-watch the app at work In 2018, "On My Block" was the most binge-watched Netflix show in the United States.

A huge fraction – 70% of the Netflix users binge-watch shows.

Netflix contains over 76,000 hidden TV show and movie categories.

In the year 2018, Netflix shows received 112 Emmy nominations.

Turkey has the cheapest Netflix monthly cost amounting to $3.27 per month.

The highest Netflix monthly cost is in Norway is priced at $11 per month.

Netflix has over 5,500 active employees as of 2019.

The total number of hours spent by every subscriber watching Netflix adds up to 125 million hours streamed daily.

Netflix gets 26% of the total viewership on Saturdays. That is the highest of any other network and platform in the entertainment industry.

By not boring and irritating its viewers, Netflix surprisingly saves the users from 160 hours worth of advertisements and commercials, each year.

Across all of Netflix's regional libraries, it has approximately 15,400 titles, as of 2018.

The US is the largest region for Netflix with over 6,000 titles provided to subscribers.

The best average streaming speed for Netflix is found in only two regions – Switzerland and the US at 4.3 Mbps.

On average, a Netflix user annually watches 60 movies.

Netflix enjoys the title of being the 10th largest internet company in terms of revenue, which is totally possible given its popularity.

Netflix's most recent acquisition was on May 9, 2019, of StoryBots.

Netflix spent $12 billion in 2018 on creation of original content.

In 2018, Netflix created 1500 hours of original content.

Netflix users together spend 140 million hours a day watching it.
Netflix vs Cable Statistics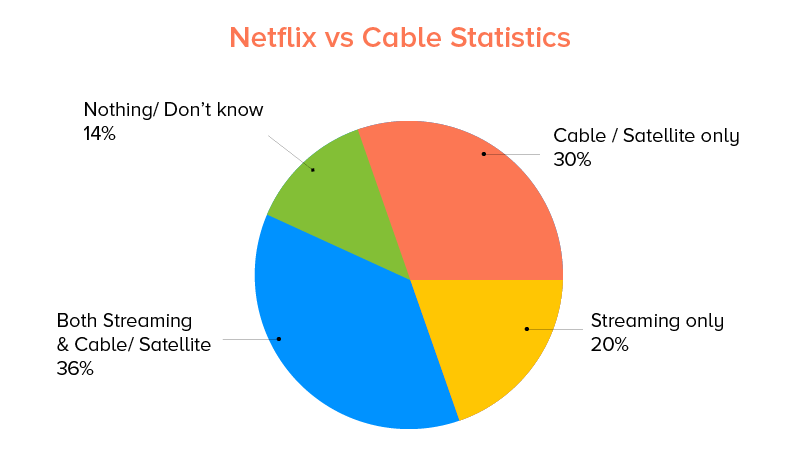 Netflix is without a doubt a dominant service in the market. A survey by YouGov of 2,000 Netflix and 1,000 Amazon Prime subscribers showed some striking differences between the demographics of the two.
Netflix subscribers' demographics data shows that its users tend to be younger, with just 50% being over the age of 35. Whereas, only a third of Amazon Prime subscribers made it to this category.
In the figure, 36% of users said they use both cable and streaming services, whereas 20% use only the streaming services. There is still a lot of scope for Netflix to gain viewership.
Why Invest in entertainment app development?
To us, the Netflix statistics 2020 speak for themselves. It is astonishing how such an organization grew in stature to become one of the leading global streaming entertainment apps.
Here are some indisputable reasons for why one should invest in mobile app development that has become crucial for entertainment industry.
Increases Brand Visibility
Now, when users want everything on the go, providing entertainment mobile apps with streaming content is a great decision. Offering an impeccable mobile app to the users will surely increase your customer reach. With this, you can earn loyal customers and target wider audience globally.
More User Engagement
It is without a doubt that mobile apps have a higher engagement rate as compared to mobile-optimized websites. To be precise, the conversion rate for mobile apps can range between 100% to 300%. Entertainment apps allow users to use the app anytime and anywhere.
Keeping up with the future
As we know that the entertainment industry, or any industry for that matter, are bound to keep up with the technology, it is prominent to focus on mobile apps as they are all the rage of this decade and are going to be one as well.
Eliminates Piracy of the content
When the original source of entertainment seems to be expensive to the users, they try to go around and choose the pirated content. Mobile apps with reasonable subscriptions have really saved the day. Now, users can download or watch videos and movies on a single app.
Some businesses who have realized the benefits of Entertainment app development also started to play their hand at it. If you too would like to do so, then first, you need to know the cost of an app like Netflix and give it a touch of your own imagination.
Conclusion
With the help of these Netflix statistics for 2020, we took a tour into the world of Netflix and came across the absolute reasons contributing to its success.
What can be concluded is no matter how many contenders Netflix may have globally, its place will remain intact for a few years at least. With the kind of impression that Netflix has left on the users' minds, we are sure that it is not a substitute for anything and neither has one itself.
Frequently Asked Questions
Q.

How many subscribers does Netflix have in 2019?

A. Netflix has over 151.5 million subscribers globally.
Q.

What are the demographics for Netflix?

A. There are only 50% users who are over the age of 35, meaning that majorly Netflix enjoys the support of the younger generation like teenagers and millenials.
Q.

How many countries have Netflix?

A. Netflix is now available in over 190 countries.

In search for strategic sessions?.

Let us understand your business thoroughly and help you
strategies your digital product..
Related Articles: