Do you remember the pre-Netflix era when you had to wait for your cable operators to stream movies? Or when you used to rent a DVD, or maybe just download it from the internet? (after battling for hours to get your hands on an unpirated high-quality content).
Well, sure it was arduous, wasn't it? Just then, Netflix came like a knight in shining armor.
The journey of Netflix started back in 1997. Reed Hastings and Marc Randolph started this media-streaming and video-rental platform, which even they wouldn't have thought would reach such heights of success. From offering online subscription service through the internet and mailing DVDs to providing an entertainment subscription-based online video streaming app – Netflix Inc. has done it all which was only once imagined and has nailed it.  
The company has undergone radical changes since its inception, and has become one of the prime mobile apps revolutionizing the entertainment industry. 
Here are some mind-blowing Netflix statistics 2021 to prove how the brand is a rightful industry leader.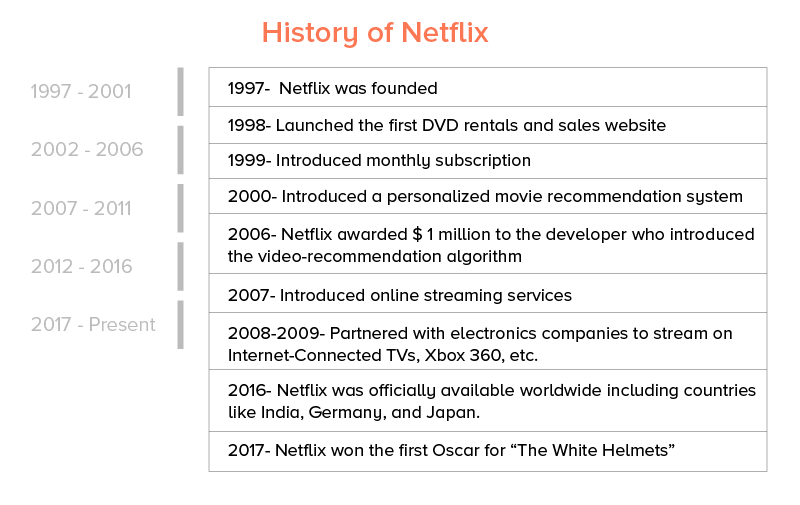 Netflix Market Capital and Revenue Statistics
1.

Netflix's Net Worth is $237.65B 

As per reports, as of July 9, 2021, the Netflix's net worth is estimated to be around  $237.65B.
2.

Netflix Market Capital

As of 8 July, 2021, reports show that the Netflix market capital stands at $235.45 billion
3.

Netflix's Revenue in 2021 was $7.16 billion

Not surprisingly at all, the Netflix revenue breakdown for the first quarter of year 2021 amounted to over $7.16 billion, up from about 5.8 billion in the corresponding quarter of 2020.
4.

Netflix has $16.6B as Estimated Revenue Annually

The annual revenue estimate of Netflix is $16.6B. These Netflix annual revenue statistics show that the global reception of it is highly positive and is going to be so for the foreseeable future.
5.

Netflix Quarterly Revenue Growth grew by 24.2%

As per the reports by Yahoo Finance, the quarterly growth rate of Netflix revenue is estimated to increase by 24.2% year over year. If the company is able to maintain this pace for a few more years, it is going to be difficult for Netflix's contenders to supersede it.
6.

Netflix Net Income was $1.7 billion in 2021

The netflix income in the first quarter of 2021 was estimated to be $1.7 billion (as shown in the graph below), whilst this amount was of 709 million in the corresponding quarter of 2020.
7.

Gross Profit of Netflix was $3.295 Billion in Q1 2021

In the third first quarter of 2021, the gross profit of the company reached the amount of $3.295 billion.
8. Netflix's Revenue for the US in 2021 amounted to over 3.1 billion U.S. dollars.
The revenue of Netflix for the US in the first quarter of 2021 amounted to over 3.1 billion U.S. dollars.
9.

Netflix Q2 International Revenue

As of Q2 2018, increased international growth of Netflix added $65 million to the year over year Netflix annual international revenue.
Netflix Subscribers Statistics
10. Netflix had 207.64 Million Paid Subscribers  Worldwide
The number of netflix subscribers as of the first quarter of 2021 are 207.64 million worldwide.
In the first quarter of 2019, the number of paying Netflix subscribers grew to 148 million, increasing the company's profits – a record number that Netflix breaks every year.
11. 41% of Netflix Users Use the Platform Without Paying
About 14% watch using the password sent to them by friends or family. Also, 27% of users watch using the paid subscription of someone in their household.
12.

Netflix is now Available in over 190 Countries

The entertainment service that started in the US now has expanded its horizons globally to 190 countries. As shown in the timeline above, Netflix grew slowly at first, and then all at once.
13.
In 2020, 80% of Total Users Come from Outside the US
In 2020 alone, Netflix added 37 million new subscribers, over 80% of which came from outside the US.  
14.

Netflix Subscribers in the UK

There are approximately 16.7 million Netflix subscribers in the United Kingdom alone. With the rapid expansion of the company, and the improvements that it keeps on making to its applications is reason enough to believe that count will increase by the end of the year 2021.
15.

Netflix Gains 22 Million New Subscribers Per Day

On average, Netflix sees an increase in the subscribers' count of 5 million subscribers per quarter. This adds up to become 22 million new subscribers per year.
Netflix User Demographics
16.

23% of the US Adults Stream Daily on Netflix

Marketing charts study on the Netflix usage stats showed that 23% of the Us adults stream daily. In fact, the same study suggested that almost one in 4 US adults stream Netflix every day. On calculating this estimate into digits, we get a big amount of 58 million.
17.

Approximately 37% of Teens Watch Netflix Daily

According to  Netflix user statistics, almost 37% of teenagers watch shows on Netflix daily. The report also highlighted that Netflix is 12 times more popular among youngsters than its competitors.
18.

77% of VoD Users Subscribed to Netflix in 2018

Netflix demographics data claims that a big chunk of Video on demand users already subscribed to Netflix in 2018 amounting to 77% of the total VoD uses. As shown in the figure below, 18-29 years old people's group, 74% of VoD users have subscribed to Netflix, while 78% of people belonging to the age group 30-49 and 74% of users of 50-64 age group use Netflix.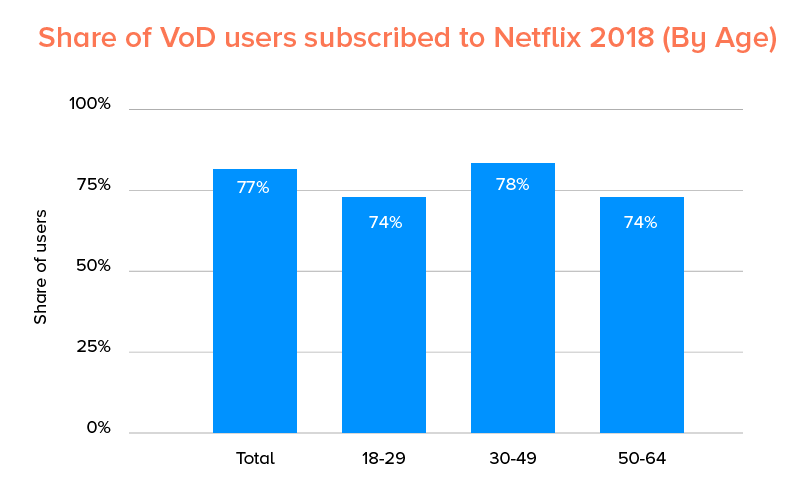 Netflix Viewership And Global Contribution
19.

Global Contribution of Netflix to Time Spent Watching Content 

Netflix is calculated to be responsible for 8% of the total amount of time spent on watching videos worldwide. Since Netflix is now available in the majority of countries, this ratio might increase in the coming future.
20.

Netflix Contribution to Global App Traffic

Netflix's traffic statistics indicate that this streaming platform contributes to 14.92% of global app traffic
21. 37% of Users Binge-Watch at Work
A Netflix report showed that over a third of their users are okay with binge-watching shows at work. In addition, 27 percent binge while waiting for other services, and 12% have even used Netflix in public restrooms.
22.

Netflix Viewership Worldwide

The exact amount of Netflix's total viewership is estimated at over 300 million globally.
23.

Netflix had 147.5 Million Viewers in the US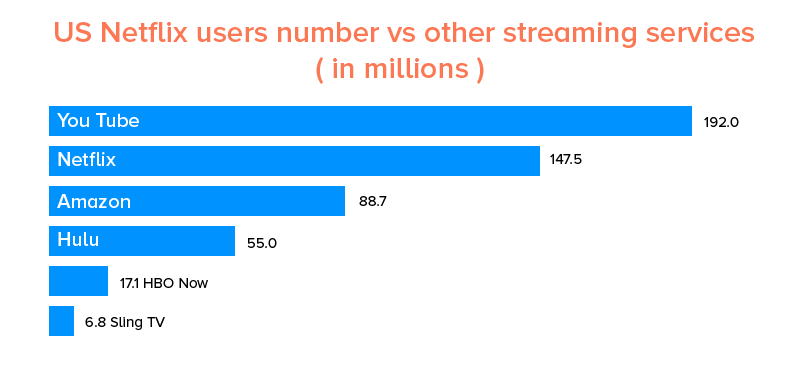 After looking at the graph of Netflix viewership statistics given above, we can clearly see that Netflix is the second most preferred entertainment app of the US viewers, after Youtube. The other two major contenders of Netflix – Amazon and Hulu seem to be way behind in the line.
24.

Netflix Enjoys the Majority of the US Streaming Market Share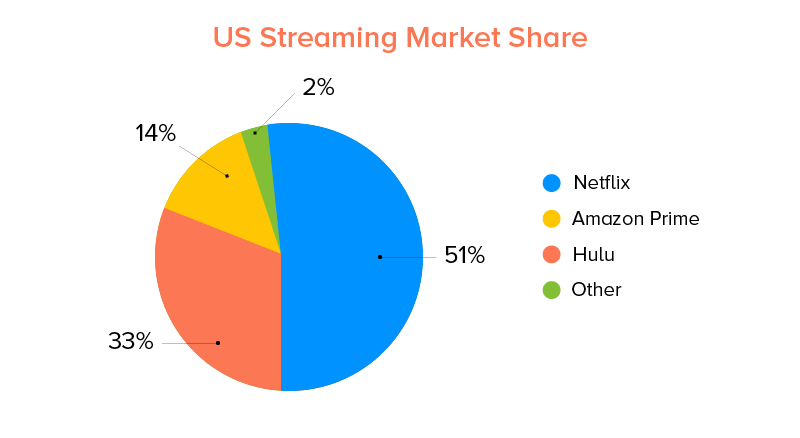 Netflix viewing statistics are solid proof that it again won the battle with its contenders. Netflix's target market share is higher than other entertainment services as it occupies the majority – 51% – of the US streaming market share, while Amazon and Hulu are limited to 33% and 14% respectively. And this Netflix market share is likely to increase, given the increasing growth rate of the company.
25.

Highest User Penetration by Netflix is in the US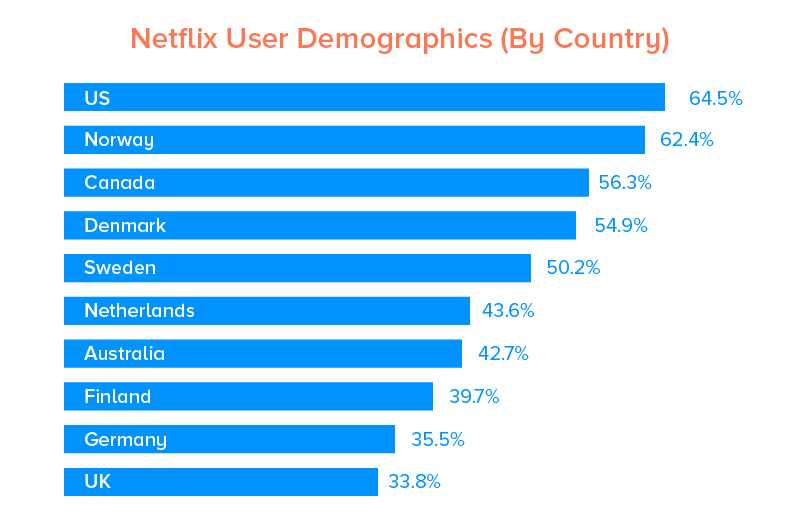 In a survey by eMarketer in 2018, the top 10 Netflix target countries with the highest Netflix user penetration rate were the US, Norway, Canada, Denmark, etc. The US had the highest percentage of 64.5%, followed by Norway at 62.4%. The country with the lowest penetration rate out of the top 10 countries, was the UK with only 33.8% penetration rate.
Other Noteworthy Statistics
26.

Total Number of Netflix App Downloads in the US

As of  2020, the total number of Netflix app installs and downloads in the US only reached 11.9 million.
27.

Users Streaming Netflix on a TV set

The total Netflix app users who watch shows on a TV set instead of smartphones or tablets are said to comprise 81% of the total viewership.
28.

Users Subscribe to the Netflix Mainly for its Originals

In a report by E-Marketer, it was revealed that approximately 58% of Netflix users buy the subscription specifically for Netflix's original shows. This shows that starting hosting its own original shows was one of the best decisions Netflix could have ever made.
29.

The Average per Hour Amount of Content Viewed

Some reports have shown that Netflix charges $0.20 per hour when the content is viewed by the target audience of Netflix app. It is not an unfair amount given that users get to enjoy thousands of movies, TV shows, and the popular Netflix originals.
30.

Netflix's Share in the World's Internet Bandwidth

A report by Fortune states that Netflix consumes 15% of the world's internet bandwidth, which might not seem big but is a huge number.
31.

Netflix Bypassed Apple's iOS Tax in over 33 Countries

Initially, Netflix had to pay 15% tax on the revenue generated through the App Store. However, Netflix decided to bypass Apple's iOS Tax by stopping supporting iTunes as a method of payment for the subscribers.
32.

Netflix's Expenditure on Marketing

In 2020, Netflix target market strategy expenses amounted to 2.23 billion U.S. dollars, less than previous years, with spending at 2.65 billion in 2019.

Now, to make things more interesting, here are some cool Netflix facts about the Netflix app.
Extradition

was the most-watched

 Netflix show in

2020

.

As per stats,

the movie was viewed in more than 90 million households in the first 4 weeks of its release.

 A huge fraction – 70% of the Netflix users binge-watch shows.

 Netflix contains over 76,000 hidden TV show and movie categories.

 In the year 2018, Netflix shows received 112 Emmy nominations.

 Turkey has the cheapest Netflix monthly cost amounting to $3.27 per month.

 The highest Netflix monthly cost is in Norway is priced at $11 per month.

As of 2020, Netflix has over  9,400 full-time workers.

 The total number of hours spent by every subscriber watching Netflix adds up to 125 million hours streamed daily.

 Netflix gets 26% of the total viewership on Saturdays. That is the highest of any other network and platform in the entertainment industry.

 By not boring and irritating its viewers, Netflix surprisingly saves the users from 160 hours worth of advertisements and commercials, each year.

 Across all of Netflix's regional libraries, it has approximately 15,400 titles, as of 2020.

The US is the largest region for Netflix with over 6,000 titles provided to subscribers.

The best average streaming speed for Netflix is found in only two regions – Switzerland and the US at 4.3 Mbps.

 On average, a Netflix user annually watches 60 movies.

 Netflix enjoys the title of being the 10th largest internet company in terms of revenue, which is totally possible given its popularity.

 Netflix's most recent acquisition was on May 9, 2019, of StoryBots.

Netflix has planned to spend over $17 billion spent $12 billion in 2018  in 2021 on creation of original content.

 In 2018, Netflix created 1500 hours of original content.

 Netflix users together spend 140 million hours a day watching it.
Netflix vs Cable Statistics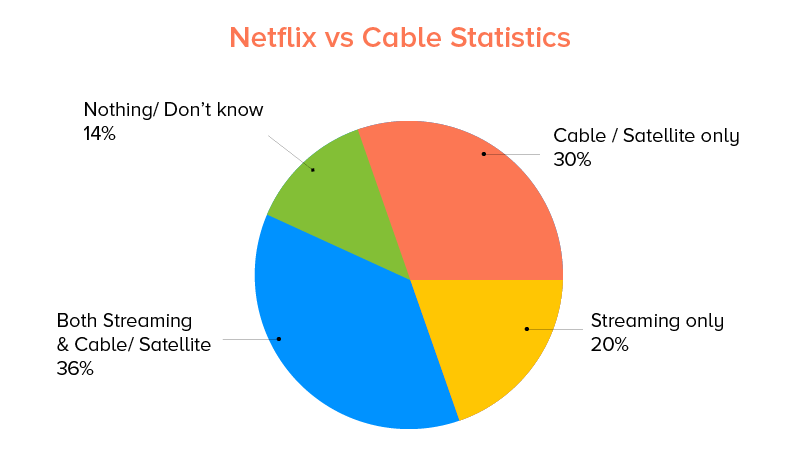 Netflix is without a doubt a dominant service in the market. A survey by YouGov of 2,000 Netflix and 1,000 Amazon Prime subscribers showed some striking differences between the demographics of the two. 
Netflix target market demographics data shows that its users tend to be younger, with just 50% being over the age of 35. Whereas, only a third of Amazon Prime subscribers made it to this category.
In the figure, 36% of users said they use both cable and streaming services, whereas 20% use only the streaming services. There is still a lot of scope for Netflix to gain viewership.
Why Invest in entertainment app development?
To us, the Netflix statistics 2021 speak for themselves. It is astonishing how such an organization grew in stature to become one of the leading global streaming entertainment apps.
Here are some indisputable reasons for why one should invest in mobile app development that has become crucial for the entertainment industry.
Increases Brand Visibility
Now, when users want everything on the go, providing entertainment mobile apps with streaming content is a great decision. Offering an impeccable mobile app to the users will surely increase your customer reach. With this, you can earn loyal customers and target a wider audience globally.
More User Engagement
It is without a doubt that mobile apps have a higher engagement rate as compared to mobile-optimized websites. To be precise, the conversion rate for mobile apps can range between 100% to 300%. Entertainment apps allow users to use the app anytime and anywhere.
Keeping up with the future
As we know that the entertainment industry, or any industry for that matter, is bound to keep up with technology, it is prominent to focus on mobile apps as they are all the rage of this decade and are going to be one as well.
Eliminates Piracy of the content
When the original source of entertainment seems to be expensive to the users, they try to go around and choose the pirated content. Mobile apps with reasonable subscriptions have really saved the day. Now, users can download or watch videos and movies on a single app.
Some businesses who have realized the benefits of Entertainment app development also started to play their hand at it. If you too would like to do so, then first, you need to know the cost of an app like Netflix and give it a touch of your own imagination.
Frequently Asked Questions
Q. How many users does netflix have in 2021?
A. Netflix has  207.64 million subscribers globally.
Q.

What are the demographics for Netflix?

A. There are only 50% users who are over the age of 35, meaning that majorly Netflix enjoys the support of the younger generation like teenagers and  millenials.
Q. What is the net worth of Netflix?
A. The net worth of Netflix is estimated to be around $237.65B in 2021.
Q.

How many countries have Netflix?

A. Netflix is now available in over 190 countries.
Conclusion
With the help of these Netflix statistics for 20210, we took a tour into the world of Netflix and came across the absolute reasons contributing to its success. 
What can be concluded is no matter how many contenders Netflix may have globally, its place will remain intact for a few years at least. With the kind of impression that Netflix has left on the users' minds, we are sure that it is not a substitute for anything and neither has one itself. If you are also planning to launch an entertainment app, contact a reputed entertainment app development company. A media and entertainment app development company will answer all your questions and guide you through the entire process of media software development.
Read more blogs
The first sign of the digital revolution preparing to reach its climax was when the music industry saw a complete physical to digital consumption shift. What once used to be ruled by records, cassettes, and music CDs came completely on the digital platform with Apple iTunes.  The entertainment mobility event through the face of music…
Prateek Saxena
16 Jul 2020
Spotify has become an undisputed leader in the music streaming industry.  The Sweden-born media service company has bridged the gap between listening to favorite songs and buying MP3 tracks online. It has enhanced the way people listen to music, across the globe.  The popularity that Spotify has found for itself can be validated by the…
Peeyush Singh
12 Sep 2019
OTT has become one of the most important abbreviations that you might have never heard of.  Right now it is in more than 68% of homes in the USA, i.e. two thirds of homes with WiFi are OTT homes and are used at least 100 minutes every day. It doesn't end here. OTT is out…
Sudeep Srivastava
21 Aug 2019