How to Build a Successful On-Demand Delivery App?

Whenever we plan to go out, what's the first thing we do- of course, we book an Uber ride! Today, the on-demand delivery applications like Uber, Airbnb, GrubHub, and Postmates have reshaped our world. The on-demand economy has surpassed the traditional business models; allowing people to get instant access to what they want and where they want.
"An On-demand delivery app is a mobile application that empowers you to request a product/service through the app and get it delivered on your doorstep."
Being popular in the market for last few years, the on-demand delivery apps have become the new face of the market. And it is expected that they will remain flourishing the coming years; becoming a staple part of our living. After all, who does not want mobility and convenience of getting anything and everything? In such a scenario, if you are willing to build your own on-demand delivery mobile application, you must be well-versed with the growing competition and steps to build a user-centric app. We, at Appinventiv, have created a wide array of mobile applications for different business verticals. We have recently developed an On-demand delivery app 'Flink It' using which you can enjoy 32+ types of on-demand services from trustworthy professionals. With our experience, we have outlined a few essential things to consider for developing such apps.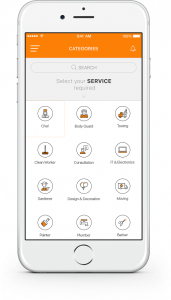 Things to Consider While Building On-Demand Delivery App
App Type and Market Domain
Firstly, you need to know which segment of industry your app will be associated to. The three popular segments for making an on-demand delivery application are:- Transportation delivery (like Uber and Lyft), Food and Drink delivery (like Seamless and GrubHub), and Home service delivery (like Handy and TaskRabbit). Once you have decided which business domain you are going to target, find the problem you will focus upon.
The next step is to decide the type of application you wish to create. Three main types of applications are:
P2P (Person-to-Person) App

P2P on-demand app development means creating an application where a person can demand a product (or service) from another person using the same platform.

E2P (Enterprise-to-Person) App

E2P on-demand delivery mobile app is the one where a person can demand a product/service from an enterprise. Various enterprises have developed their own app on downloading which, the users can place an order.

E2E (Enterprise-to-Enterprise) App

This application type refers to an app through which an enterprise can get in touch with various other small enterprises and SMBs to do business efficiently.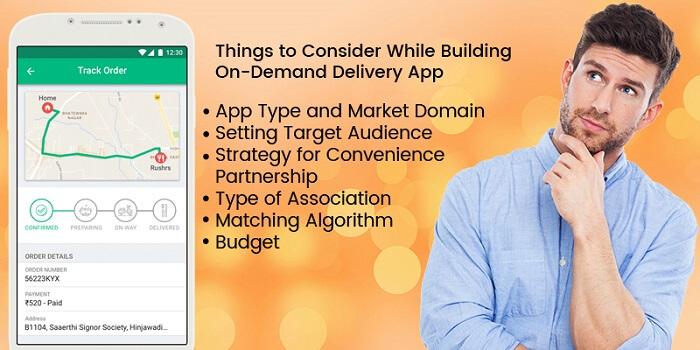 To ensure the success of your mobile application, it is crucial that you have knowledge about your users- their age, needs, taste, and expectations. Besides this, you must be familiar with the market trends.
"When you are targeting particular people rather than a particular business, it is good to define their personas and work on UI/UX accordingly."
According to our mobile app developers, having a target customer base allows you to cater their needs more effectively. Besides this, beginning with a local market is a profitable way of business. For example: Our Flink It app targets the audience of Dubai, Saudi Arab and USA; offering them a vast range of services options varying from hiring a chef to plumber and tutor.
People these days crave for convenience. They want faster, easier and effective services available to their doorstep via mobile apps. So, when you are thinking of building an On-demand delivery app, keep in mind how can you provide them a better experience.
"Make it certain that your app is easy to use; you need not train any set of customers for using your application."
Following are some of the features that we believe must be taken into consideration to deliver phenomenal user experience:
Ability to Track

When the customers are provided with the facility to track their order/service provider online, they feel having some control over the procedure. They can view how much process is done or how much time will it take- which gives them assurance and build a loyalty relationship.
In our app 'Flink It', one can check how far the requested service provider is from their location and this way, connect with the one as per their convenience.
Real-Time Communication

As we have provided in our app Flink It, you can also provide a real-time chat functioning in your on-demand delivery app. When the users will have the facility to communicate with the professionals within the app, they will find it easier to choose the right service provider. And hence, make the processing faster.

Effortless Payment Procedure

Serving customers with a wide range of payment options is also an effective method to deliver an exquisite experience to the users.

Ratings and Reviews

The users tend to check the ratings and reviews of the other customers and pick the service provider according to that. So, don't forget to integrate 'Ratings and Reviews' feature in your app.
In case of an E2E app, you have to form a partnership with providers and receivers agencies who interact with each other through your app platform. Whereas in case of P2P On-demand app development, you need to form a partnership with individual service providers and customers. You have to market your application to the end customers to prompt them for app installation.
According to our app professionals, on-demand app publishers take a share of every transaction made on the app platform. So, keep this into your consideration before creating the revenue model.
Various companies hire their own service providers while the other work with the freelancers who work with their name. For example: Amazon hires 'delivery providers' operating in a given area to deliver the services/products to the customers. They outsource safety training, maintenance costs, and insurance by contracting with recognized delivery businesses. While companies like GrubHub and Seamless work with the freelancers. It is up to you which method seems to be favorable to you as per your target audience and budget.
This section determines how a service provider will be allocated to a user. It is the prime feature or we can say, the driving force of your app. If your app's matching algorithm serves the users with instant and convenient support, they would love to use it.
The apps do not match and route people on their own. Various softwares and algorithms are employed for this. When talking about different matching algorithm types, the two prominent types are: Automatic matching and Manual matching.
When the logic to assign service providers is built into the code of the mobile app, the technique is said to Automatic matching.

Manual Matching is where the app administrator manually assigns the service providers to the customer requesting.
According to the top app development companies, automatic matching is a better choice over manual as it can render more options to the customers at a lightning speed. This is why we have implemented the Automatic matching algorithm in our app, Flink It.
On-demand app development is costlier when done from the scratch, though it offers you the freedom to create the app as per your requirements. However, if you have a budget issue, you can go for handy solutions available in the market in the form of White label apps.
We have developed 'Flink It' from scratch and so are familiar with all the challenges one can face during the process of creating such apps.
Conclusion
On-demand delivery mobile applications are in vogue! However, developing an on-demand delivery app demands skills, knowledge, and experience. So, make it certain that you hire the right team of app developers who have already build such applications and can deliver you an application outshining the competition.
Related Articles:
Continue exploring the landscape of product design with these helpful resources: