On-demand food delivery apps like UberEats, GrubHub, and Zomato, blend two things that the world loves on one platform – comfort and food.
By making the whole process of ordering food, not restricted to any one cuisine, come on the tap and flick of millions, on-demand food delivery mobile applications are born to be an instant hit among a huge pool of mobile app users, no matter what demographic they belong to.
Here are some statistics to prove that –
The fact that food delivery apps have become such an instant App Store and Play Store pleaser have presented them as a business idea that is destined to succeed. A certainty that has left an open question in the app market – How much does it cost to make a food delivery app like UberEats, Swiggy, Zomato or (one around the extended version – How much does it cost to develop a restaurant app). The answer to which lies later in the article.
But before we move to the food delivery app development cost or the cost structure for food delivery, let us look into the potential of the market who are going to enter.
Food Delivery App Market Share
The comfort of dining with just a few taps on smartphones have encouraged users to download and use more of online food delivery apps. The rate at which the demand to develop the food delivery app is growing is a sign of how fast the gap between online and offline is closing and how in a matter of a few years, online demand will surpass the offline demand.
A proof of which is that the online food delivery market is projected to reach USD 10,196 Mn by the end of this year. Also, the market share is anticipated to be worth USD 14,679 Mn by the year 2024, growing at a CAGR of 9.5%.
According to reports by USA Today, the online food delivery market recorded a revenue of $17 billion in 2018 and reached $19.472 billion in 2019. The same report predicts that the online food delivery market in the United States in 2021 is expected to reach $22.332 billion with over 116.1 million users.
In 2023, the total online food delivery market in the United States is expected to reach $24.461 billion with over 124.4 million users.
The concept of eating out has changed from dining out to dining in where there is a rise in online food delivery app development in Virginia and other parts of the US.
But instead of dwelling into the obvious – Food delivery market is huge – let us dig deeper into the concept as a whole with the online food-delivery app types. But first let's know the cost of building a food delivery app.
How Much Does it Cost to Develop a Food Delivery App?
Although there are a number of factors that together add on to the estimation of mobile app development cost, we will try and give you an idea of how much does it cost to make a food delivery app – the answer to which will be similar to the question 'How much does it cost to develop an app like Postmates.
Depending on the features you are looking to add in your on-demand food delivery mobile app and the resources that it would require to get your app transformed from its idea stage to the launch phase, the cost of developing a food-delivery apps like UberEats or GrubHub would come out to somewhere around $30,000 to $40,000*.
*The cost range which would most likely be charged by the food delivery mobile app development company, comprises all – Mobile app design, development of both Android and iOS version of the app, app testing, and app launch in the market. 
If there is a need for making a web app for restaurants, the range would extend to $50k to $60k.
With this, we have now attended to everything you need to know in the present day for entering into the on-demand food delivery app market and the probable online food delivery app cost. And now it is now time to prepare you about the future. 
By knowing what lies ahead in the food delivery app market future, you will be in a better position when talking to your preferred on-demand mobile app development agency about scaling your app in a way that it is prepared for the food delivery future. 
Type of Food Delivery Apps
In the present mobilized restaurant economy, there are two business models that you can think of when planning to develop a food delivery app –
Aggregator
In this model, you can launch an app that will act as a platform where users and restaurants meet. An app following this business model gives options to the users to order food and for the restaurants to view and complete the order without any delivery support from the app's parent company.
The amount of money you can earn by investing in food ordering mobile app development, in this case, is USD 121.29 per consumer.
Platform with Logistic Support
Under this business model, you give the restaurants the support to deliver food to the end users in real-time. This is where you handle the complete service offering of the restaurant (except food preparation).Through your app, you will be giving the end users the option to choose the food item from the menu, make an order and track where the food has reached while giving the restaurants the benefit of tracking the order status and handing over the food to the delivery person coming from your end and get paid for the order, without any efforts but of preparing the food.
Now that we have looked into what the different types of online food-delivery apps are, let us now look into the brands that are leading the space. Something that will eventually give you an idea of the competition you will face when developing a food delivery app.
Players – The Best Food Delivery Apps
While there are a number of businesses who have entered the food delivery industry over time, the ones that have been able to survive the test of time and still become an unprecedented leader are the following:
Grubhub

DoorDash

UberEats

Zomato

Postmates

InstaCart

ChowNow
Even though the market is divided among several players, the market valuation of all the brands are on a high tangent.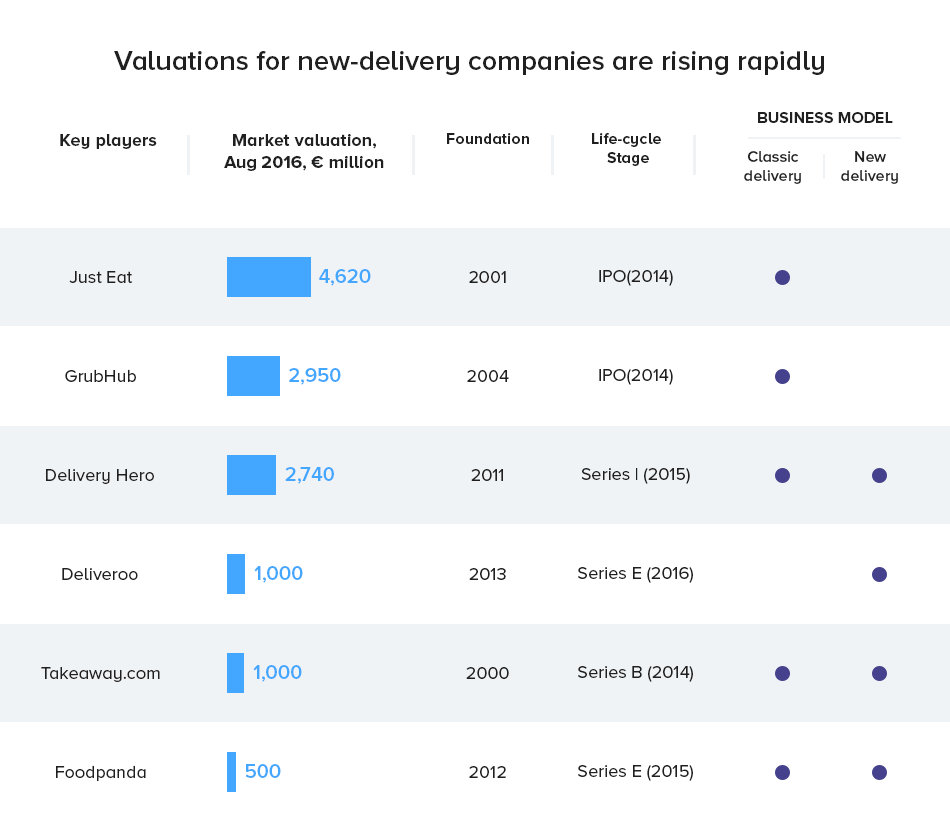 We know it must be your dream to develop a food delivery app join the list of these top players and why not, after all the revenue that comes their way by being the top-notch is massive!
But for you, as someone who is just starting up and aspiring to be like them, apart from knowing food delivery app development cost, it is very important to know how they earn and grow and what are the features to include. Let us start with the features that should be included in your on-demand food delivery mobile app. 
Features of Food Ordering System – What are the must-have Features of a Food Ordering App? 
When you develop an on-demand food delivery mobile application, whether it's in the mode of restaurant to user business model or you are working around how to make a delivery app like postmates, you are not making one application but four and then combining them all together in one app. Since you are working on an app that deals with three different stakeholders – Restaurants, Customers, Delivery Person, and the Admin, the list of features would also vary from one screen to another.
Let us look at the features from the side of all the four stakeholders.  
Customer Side:
Login

Search Menu

Cart

Payment Integration

Order Tracking

Rating and review

Customer Support
Restaurant Side:
Login

Menu Management

Push Notification

Checking Rating and Review
Delivery Side:
Registration

Order Management

Updating the Order Status
Admin Side:
Admin Login

Restaurant Management

Application Management

Payment Management

Discount Offers and Coupons

Technical Assistance
Now that we have looked into the features that should be added in your app, it is now time to look at the technologies that will make it all possible. After all, the tech stack you pick also aids in finding a relevant answer to how much does it cost to build an app like UberEats or Swiggy.
Technology Stack of Food Delivery App Development 
Now that you are semi-prepared to enter the destined to be profitable mobile app sector, you should now also get acquainted with the challenges that you might face in the journey from building a delivery app to enjoying the limelight, and their probable solutions.
Challenges in Entering the Mobilized Food-Delivery Market (And their Solutions)
1. 
Competition
The biggest challenge that entrepreneurs who are looking ahead to create an app like UberEats or Swiggy is the competition from the already crowded space. The market is already highly crowded by businesses who are leaders in their individual domain.
In a situation like this, you will have to offer something that the other players don't, both in terms of features and the app UI/UX. You, along with your food delivery app making company, will have to find out new ways to attract the restaurants who are already partnered with the others in the market and at the same time, you will have to focus on giving better offerings in terms of discounts or options to the customers ordering food.
2. 
Finding Restaurants to Partner With
Since you are just starting up, this might come as a roadblock, even though it has nothing to do with the UberEats or Zomato app development cost or food delivery app development cost. What you can do is focus on low-level restaurants who are in need of promotion as opposed to going behind the big brands. At this stage, focus on increasing the partner count instead of having names of restaurants that are famous among the millennials.
3. 
Stable UI/UX between All Panels
Although a very crucial part of online food ordering app development services, this can come across as a difficult option as the intent of all the four screens is different and specific to its users' demand, but this is where your partnered mobile app design agency will come to the rescue. They will have to create an experience – a mix of both design and movement – that is constant along all the different screens while answering to completely different intents. 
4. 
Deciding the MVP Features
Another difficult thing which your restaurant app development agency associate will be able to solve is deciding which MVP features to add in the application and which to leave out. MVPs also have a huge impact on deciding the cost of food delivery apps development. Since you are only starting out in the industry, it is very important for you to test the waters before you go in full-fledged and the one way you can do that with minimal cost and effort constraint is through MVP. Your partnered agency will help you develop an MVP that would raise money for your business. 
5.
Finding a Reputed App Development Partner
Finding an agency that will convert your idea into a fully functioning app business is difficult, there are so many questions you need to ask before hiring a mobile app development agency. Although a time taking one, finding the right team to convert your dream into reality is what would help you sail through the crowded on-demand food delivery app industry. 
After all said and done, the time has now come to look into the costing. How much is it going to cost you to get a food delivery mobile app developed? 
What is the Future of Online Food Order App in the Mobilized Space?
The future scope of online food ordering system and on demand food delivery app development process is defined by food delivery trends that only made a few minor appearances in the present day, but are all set to modify the industry by the time we hit 2025. 
Let us look at the food delivery trends you will have to focus on to make your 2020's food delivery app ready for the years to come, today itself. So that you can get in touch with your partnered food delivery app developer and talk about scaling your app. 
A.
 Expansion of Business Model
The one direction where food delivery apps are now heading is an advanced version of just food delivery. Businesses like Postmates are now emerging to give a strong competition to brands that solely focus on getting food delivered from restaurants to customers. The answer to how postmates work lies in the app being an on-demand solution where the users can order food, food preparation materials, and alcohol on a real-time note. So, we suggest that you conduct an in-depth understanding of what is postmates, the business model of postmates, and then discuss the development methods for your postmate like app with your partnered app development company.
B.
New Food Ordering Channels
Along with the usual food ordering channels like Websites and Mobile apps, users will now be finding newer platforms to make orders while being connected with the internet. Channels like – Social Media, Virtual Assistants, Smart Objects – TV, Wearables, etc., and even through your Car dashboard. 
C.
New Delivery Options
In addition to the new ordering options, the on-demand food delivery system is also going to look into some new trends in the coming time. The delivery options are moving in a direction where the food will now be delivered through drones, parachutes, and robots. So, you will have to ensure that the food delivery mobile app you are investing in, is in a shape that they can be scaled to be integrated into these modes. 
D.
AR/VR
The time is here to make your dumb restaurant app smart and the one technology that will play a crucial role in it is AR/VR. While they will initially focus on the marketing front of the mobile app, they will eventually be used as a major user engagement mode by keeping users hooked on to the screen even when their food order is taking time to be delivered. 
E.
Big Data
Big Data in the food industry is considered to be a very niche category in the present time, but the future is going to change. The future will see a whole lot of different adaptations of powerful technology in the food industry. 
When employed right, Big Data will soon start giving food delivery apps a number of benefits like better delivery time estimate, greater understanding of consumer sentiment, personalized marketing, and ultimately better demand prediction. 
F. Crypto Food Ordering
The growing market of blockchain technology has also brought forth a new service in the online food industry – Crypto food ordering. Now, customers across the world can pay for online delivery or takeaway services via cryptocurrencies. 
When talking about this food delivery app market trend, various companies such as PizzaForCoins, Levy Restaurants, and Feastly have already started accepting around 50 cryptocurrencies. Which implies, you must also consider it before it becomes a norm and make your business idea seem outdated.
G. Less Explored Service Diversifications
The business model of apps that is presently focused on making customers meet the restaurants on one platform will expand to newer business types such as:
Pet food section

Recycle food space

Health condition specific food categories 
With this, we have now reached the end of the insightful article on the Food delivery app industry and the online food delivery application cost you would have to shell out to become one of the top names in the domain.
Want to know what's next? Get in touch with our Mobile App Development experts and get started with your own online food delivery app in Virginia, US.
Concluding Thoughts
Players like UberEats or Doordash may have taken the biggest space of the online food delivery industry. Still, there are many opportunities in the market for new businesses to make a hold in the market by targeting specific audiences through apps.
In case you are thinking of going for a food delivery app or want to know how to create an app like uber eats, then a food delivery app development company like Appinventiv can help you to grow with the market. You can consult the experts there and follow your passion!!
Read more blogs
Mobile apps are making the world go round. As of the first quarter of 2021, Google Play Store had nearly 3.48 million apps available, which were downloaded 108 billion times. The App Store, on the other hand, had roughly 2.22 million apps in the same quarter. These stats project the unprecedented growth and popularity of…
Sudeep Srivastava
06 Dec 2021
In February 2021, the jewelry industry in the US sold jewelry worth nearly $3.4 billion, as per a report by Statista. Certainly, the US offers a pool of opportunities for jewelry businesses to flourish. However, great results come to those who improvise. With over 290 million smartphone users in the US alone, it won't be…
Sudeep Srivastava
15 Nov 2021
The concept of Fantasy Sports has never been new, it has stayed among us for many years. You must be thinking how? Well!! The emergence of sports betting apps started with the first reported fantasy game of baseball began in Boston in 1960, and from there the journey began and never hit a stop. The…
Sudeep Srivastava
22 Sep 2021