How to Bootstrap your SaaS startup in 2019-2020 {A Complete Guide}
July 11, 2019
2. min read
Last update on:
February 3, 2021
The growth trajectory which brands like Salesforce and Dropbox find themselves operating in year after year is the same that drives thousands of entrepreneurs to make an entry in the SaaS business.
In this event where Newton's third law comes into play – success of the SaaS companies leading to more entrepreneurs willing to enter the segment – the end result is almost always the same – High Growth of SaaS market.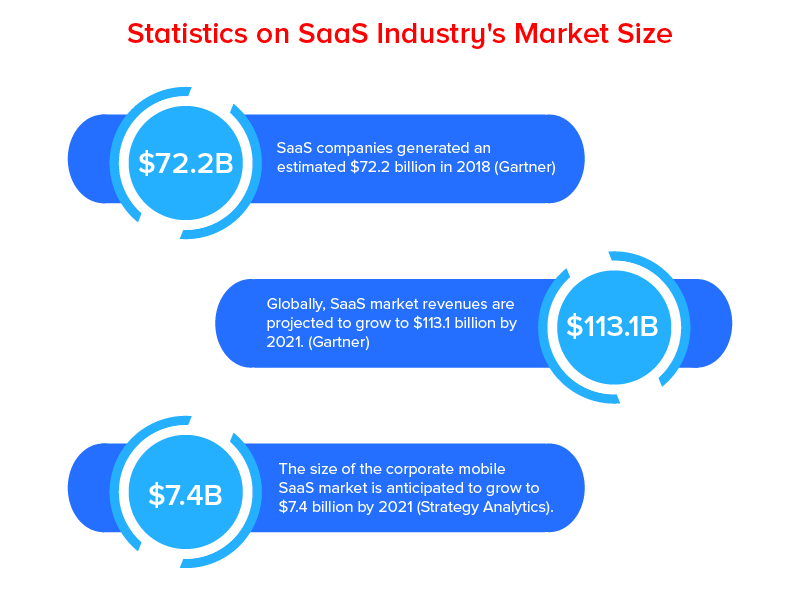 Software as a Service model – at the back of the plethora of benefits that it offers has reached a stage where the discussions around the benefits that they offer are negligible in front of the queries that surround How to bootstrap a SaaS startup.
We are here to answer the query and its several strings. All through our SaaS startup guide.
Let us take you through the stages that you would have to take to mark your SaaS startup growth strategies.
Stage 1: Create Traction
Once you have gathered the details of individual user demand and have established what you need to offer in your SaaS product, the next step that comes is validating your idea.
Now idea validation would be your one stage where you will not just get the idea checked for its viability but would also get primary level attention from the prospective users.
The steps that you should follow in case of getting early stage user traction can be somewhere in the lines of –
1.

Posting and Promoting Your Idea on ProductHunt

ProductHunt is a haven for entrepreneurs who are at the stage of testing out an idea. The community like website is home to a number of entrepreneurs and investors who are looking to invest in up and coming ideas, along with a number of prospective users.

To get the early stage feedback, you can share your SaaS idea on ProductHunt and mark it open for the community to look into and ask questions about. In fact, seeing the benefits that ProductHunt presence can get to an entrepreneur, it can be a wise move to mark it as one of the best practice to grow early stage Saas startup.
2.

Developing and Promoting Your Landing Pages

Your landing page which contains information related to your SaaS offering can be a great way to share your idea with the prospective users along with helping you build an email list.

The idea of a landing page is to have a space where you can show-off your product/service and use the emails collected to share regular updates about your SaaS offering to the users who showed interest in your offering.
3.

Becoming Active in Business and Technology Communities

There are a number of communities present on the internet which discusses and dissects new software offerings which are developed and launched with the intent to making processes smoother and answer how to promote SaaS business.

At this stage when you are looking to get the right traction for your business these communities can be a good starting point to pass the message of your arrival along.
Stage 2: Design Prototype
This is the stage which would start with you having an idea of what the users want from your SaaS product. You now know that the problem you identified actually affects masses and the world need answers to them.
And now that you have given the users a theoretical insight into what you are planning to offer, the next step would be to give them something to interact with.
This is the step of designing prototypes.
There are a number of prototyping tools and software that help you design prototypes if you plan on doing the work yourself.
Once you have the whole process of your idea having been converted into a prototype covered, the next step would be its promotion. While you can follow the route of social media and ones we mentioned in the above mentioned points, a shortcut to get feedback would be to pass along your prototype to the users who showed interest in your SaaS product through eMailers.
You can even gather all the people who showed interest in your idea and do a meetup by making your prototype the center of attraction. It can even be a great place for you to invite investors, if getting investment on your prototype is on your agenda.
We will talk about funding later in our SaaS startup guide. For now let's move our focus on the development part of it.
Stage 3: Development of a SaaS MVP
Now that you have the SaaS prototype which has been worked around according to the feedback shared by the prospective users, the next stage that you will be entering now is the Minimum Viable Product stage.
The idea of an MVP development is the creation of a working model of your SaaS offering – one that contains all the must-have and unique features that places your product at the top of the competitor's.
Identification of the features that should be present in the MVP holds a crucial place in the whole development process and then in deciding the future of your business in the domain. Something that is handled by the development agency you will be partnering with to get the idea converted into a working model.
In fact, it is not just the features that have to be paid attention to at this stage but also the tech stack and the development approach that your partnered SaaS app development company would be working around.
When it comes to the right development approach, the one that should be followed in order to take out maximum efficiency off of the whole SaaS development process is Agile development.
The approach comes with a series of attached perks like timely delivery, quick response to changing demand, low cost of development, etc.
Leaving it on your partnered agency to walk you through the many perks of Agile approach of SaaS app development, let us turn our attention on the technology stack that you can rely on to give a great experience to your end-users and the investors alike.
While the focus of development of a robust SaaS system almost always comes on how strong its backend development ecosystem is, there are other technical frameworks that comes into play as well. Frameworks that are not simply restricted to Firebase.
For a better understanding, let us look at the technology stack choice of some of the top SaaS companies operating in the world.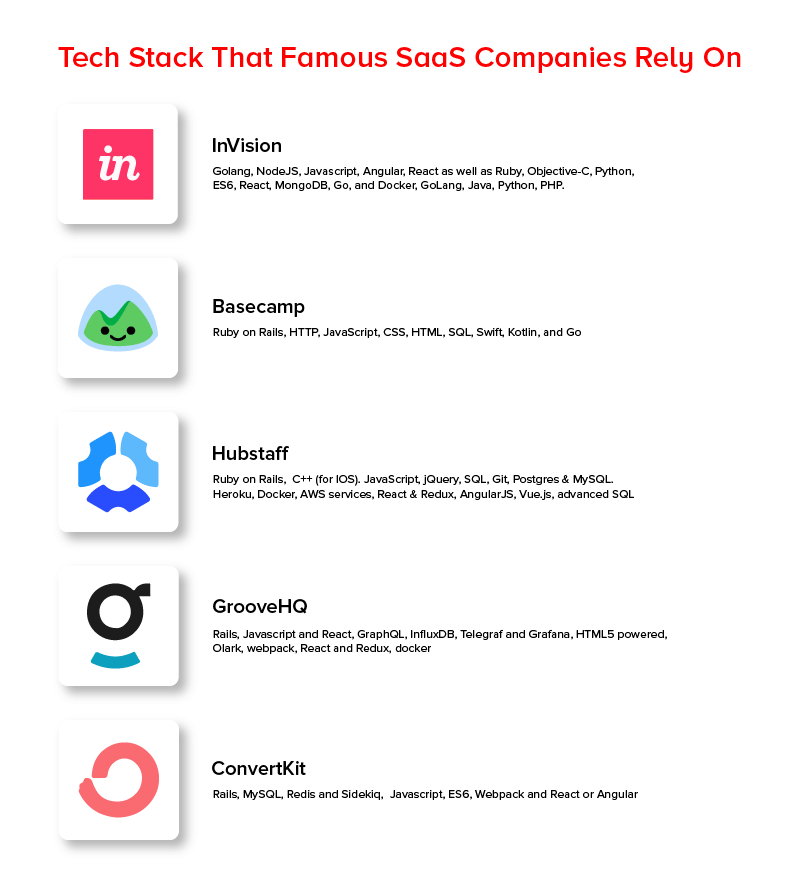 Once you have devised an MVP on the basis of the right set of technology stack, the next step that comes up in any SaaS startup guide is making the MVP live taking feedback.
Stage 4: Making MVP Live and Working on the Feedback
Right after you have developed your SaaS MVP, the launch stage comes up.
This is the part where you make your SaaS app live for the users to work around and explore. At this stage your partnered agency will come in the picture again. They will work around the final testing of the MVP and making it live on the world wide web.
Once the MVP is made live, your promotion work will take the front seat. At this stage, you will have to look into getting it as many relevant eye-balls as possible.
The first agenda once your SaaS product is launched will be to connect with business reps and entrepreneurs for whom you have developed the software – an effort that would require a sales team. And persuade them to incorporate it in their everyday process.
The second agenda would be to take feedback of their experience. You will have to make note of how they interacted with your offering's features and what experience they had to share at the back of every individual session.
The success of the second agenda will be deemed fruitful when you ask your agency's engineers to sit with your test group as they work around the software. This way the speed with which resolutions are attended to will increase by manifold. And your SaaS offering churn rate will also be several points behind what the industry's statistics show.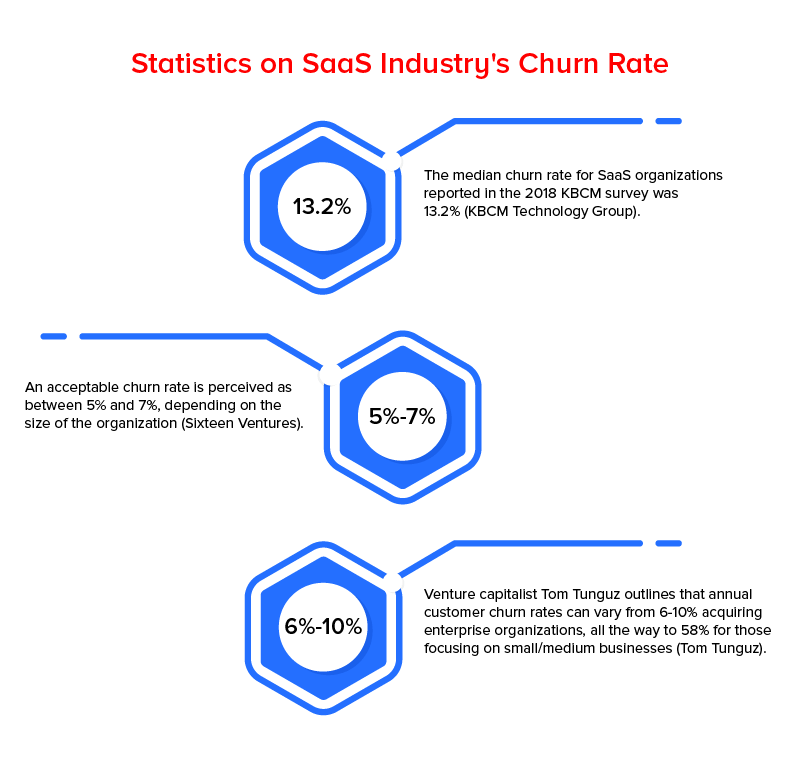 Now the end result of this stage would be elements that would come in very handy in the next stage you will be entering now.
Step 5: Getting SaaS Startup Funding
The outcome of stage four, which ended at you validating your MVP's worth would have brought you at the updation stage – where your partnered SaaS developers worked on the feedback that your real users shared.
Now while updation is happening on the back stage, there are a few things you will have to get into control at the front stage – Funding and Deciding on the SaaS Business Model (latter coming in before the former).
As the engineers work on the technicalities, your team will have to work on the business side of the software – The SaaS pricing strategy, Set of features that would be offered sans any price tag, Markup of the recurrent cost, Scalability feasibility, etc.
The one thing that we would want to put an emphasis on here is the power of offering Freemium. Instead of keeping your product under the paid mode from day one, give users the freedom to enjoy the product before they are asked to spend a penny.
But since no two SaaS companies are same, it can get a little difficult to decide on the SaaS pricing strategy that would work for your business. But no matter how confusing it is, it is of prime importance that you settle on a pricing model for the absence of one can be a reason for your SaaS business failure.

Book a Free Consultation With Our Team of SaaS Consultants to Get Help With the Business Side of it all.
While we handle the business and technical side of your SaaS offering, you will have to move to the next important task at hand – Getting funds for your startup.
Until and unless you have a hefty bank balance (one that entrepreneurs generally don't have), you will have to focus on getting investors interested and funding in your SaaS product.
The step of finding answers on how to get funding for SaaS startup, crucial as it is, is not easy to achieve. There are a number of equations that you would have to attend to in order to get money on your product. Equations that would mainly depend on how your targeted users responded to the app.
Along with the collection of numbers that your SaaS offering witnessed, you will have to look into the business model that you have set – ensuring it is what keeps you in a profit zone while not being too heavy on the pocket of your users.
Only when you have given the picture of stable profit and a positive user response, the investors will show an interest and give you funding and their experience, readily.
What follows now is the constant process of updation. You will have to constantly keep building on your SaaS software to ensure that the user experience is always kept on a high priority in your SaaS business model.
Well now that we have covered all the stages of setting up your SaaS business, let us give you a peek into the factors that went into defining the success of top SaaS companies across the globe, as the parting note.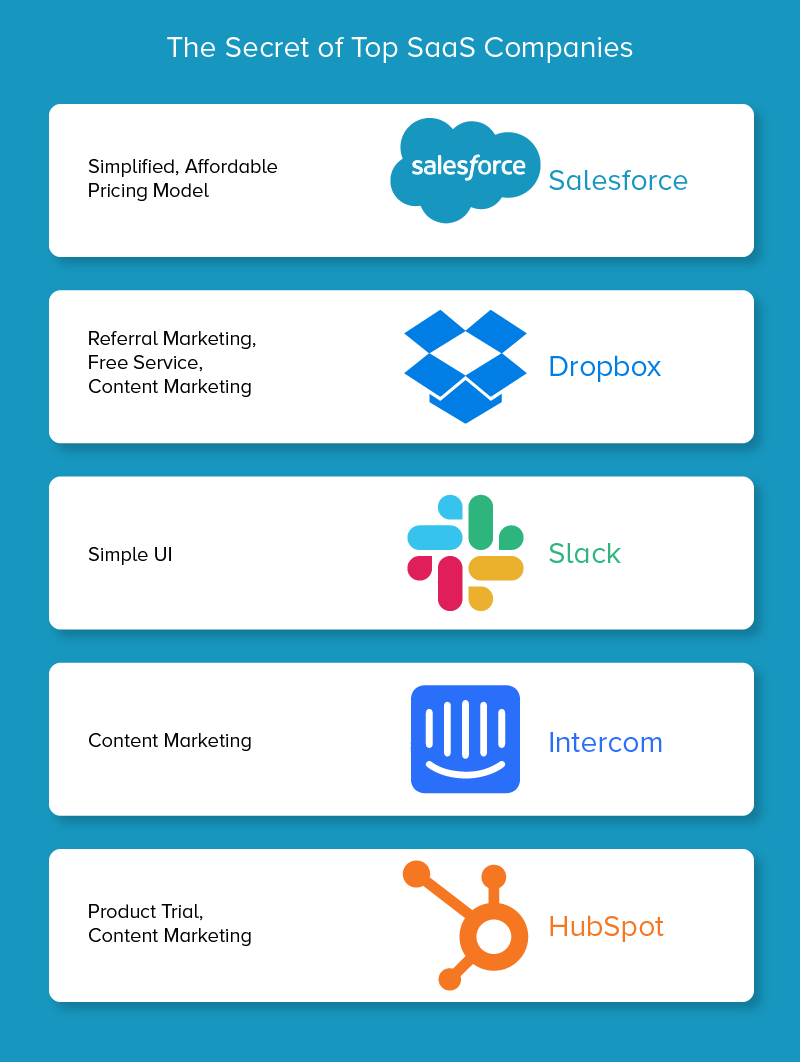 With the secret of the top SaaS companies now at your fingertips, it is time for you to get on the path of success chart. Let us help you.
Fill in the form below and get in touch with our team of SaaS developers today.
In search for strategic sessions?.
Let us understand your business thoroughly and help you
strategies your digital product..