You probably have an awesome idea in mind for your mobile app but the only thing holding you back is the lack of funds.
Well, you are not alone, lack of funds can be one of the biggest reasons why some great app ideas never turn into reality.
This is what makes the whole process a little more complicated. And even if your app idea is great, you will still have to convince an investor to fund your app – something that you need to take care on your part.
A general misconception among the would-be-entrepreneurs is that investors will automatically invest in a great app idea. The competition in the market is increasing every single day and there is a dire need to prove the capabilities of your app idea to anyone who would be funding your app.
In this blog, we will help you look at the three most important things on how to raise money for mobile app startup in 2019-2020:
How much do I really need to fund my app?

What do you need to do to get investors for your app?

What are the different ways to get funded?
How much do I really need to fund my app?
Before hurrying to get into how to get funding for an app, first decide how much funds you actually need for the app. Most of the time the assumption is far from what is actually needed for the app and that will just be an extra burden.
In simple words, the more funds you raise, the more you are giving away your company at the initial stage of the business. This will be very hard to get over in the future which is why you should know the average mobile app development cost. The goal should be to determine an estimate of funds needed for the app and then trying to secure that amount from the investors.
There are three basic questions you need to ask yourself before you get app investors:
How much money will I need to build my app?

How much money will I need to get traction?

And, how much will I need for post-launch services?
These questions will give you an estimate about how much funding for app development you'll be needing. The maximum of the funds will go into solving the first question and the rest will go into the other two questions.
Even if you are partially funding your app from your savings or getting funded by family and friends, you should have an estimate of the fund needed. This will not only help you keep a proper track of funds but also will help in proper planning for the app in the future.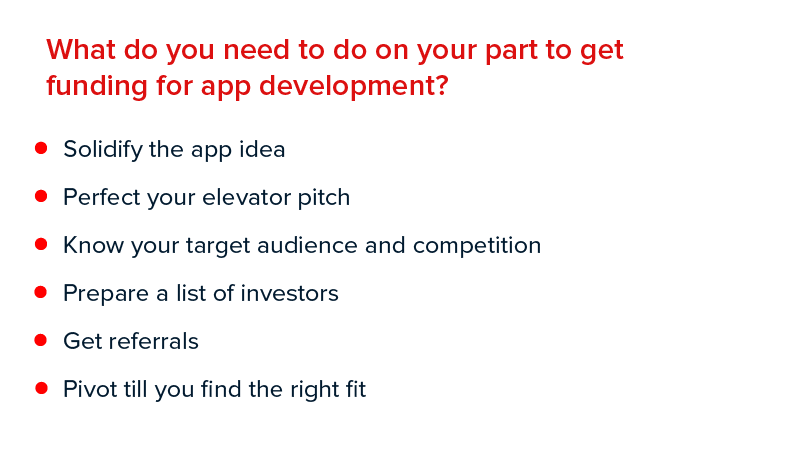 If you think that idea formation for an app is all you have to do on your part then we are sorry to burst the bubble here. It is not. You need money for app development so you have to prepare your idea in a highly presentable manner. So, before getting investors for an app make sure you are prepared with the following.
Solidify the app idea
Why would any mobile app investors fund your app if the idea doesn't sound strong enough? This is the most asked question when getting funding for an app. Your ideas may seem right to you but it should attend to these issues:
What problem does it solve?


Majority of the apps out there don't even solve a real problem which means they won't last for long. Unless and until your app is solving a problem that no one has even thought about, it's going to be tough to sustain.



Read up.


There are many websites that provide real mobile app fund success stories which give a proper picture of the reality. Reading those will help you in preparing for the journey.



Build your MVP.


A Minimum Viable Product will ensure that your idea actually works and solves the real problem.  An MVP is a product that is built with enough features to attract investors or early users.

MVP can raise money for your app

too and require less cost to build. Once the MVP is launched publicly, constructive feedback can be used to make improvements in the final product.



Give your app a value.


Putting a price tag on your app will give it a value. Now all you have to do is see whether the people are willing to pay it or not. The real customers will be willing to pay and that's how you get the real traction for which mobile app investors will invest in your app.
Perfect your elevator pitch
An elevator pitch is exactly how it sounds. It's short, informative and can get the attention of the app startup investors immediately. You see, the reason why you need 30 seconds to summarize your company is that the angel and venture investors are busy people. So when you get their attention, make the most out of it and not want to bore them with long speeches.
Know your target audience and competition
As counterintuitive as it sounds, knowing the target audience and the competition in the market will be fruitful for you. Even though we know that targeting the audience is significant yet this step is put in the later stages of the app development process. How to get funding for an app that hasn't even targeted its audience yet? You don't need to have a detailed report on it but a general idea would suffice.
Prepare a list of investors
How to raise money for mobile app startup in 2019-2020? Getting a list of investors would the first thing. There are numerous investors to get funding for an app from but not everyone is the right fit. AngelList is a website that has more than 40,000 investors but you should pick only top 40 or so to get your app funded. You can get the angel funding for your app prototype in the earlier stages. Other websites to find investors are Funded.com, Angel Investment Network.
Get referrals
There's no harm in getting some benefit off of your network. Referrals are a great way to see investors so if you know someone who knows an investor, ask them to help you. Connecting to such people who can refer you to some great investors will be a smart move. A platform like LinkedIn is great for forming connections and asking for referrals. Once you get their attention, send in your pitch email with all the necessary details.
Pivot till you find the right fit
An entrepreneur should be practiced more than optimistic. When it comes to mobile app startup funding, you may not hear a yes every time and that is okay. Some investors may reject your idea for their reasons and some times you'll have to turn down the offer if you get the right value for your product. Make sure you note down the reasons to fill any loopholes in the plan and be prepared for the next time.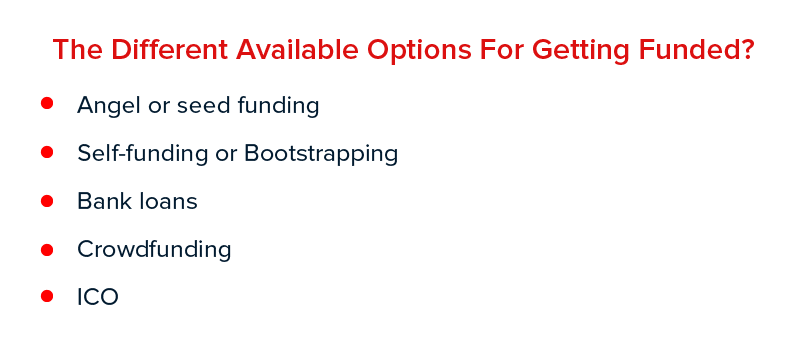 We have seen one part of 'How to raise money for mobile app startup in 2019-2020?' and now we move on to the next part. After you have done your part in getting funding for mobile app development, its time to see the different ways you can raise funds for your mobile app.
Angel or seed funding
Angel investors and venture capitalists are great for your app startup funding. Angel investors do not require much control in exchange for the money they give and that gives you more freedom. These investors for app development are great since they are quite experienced and extremely wealthy. Venture capitalists, on the other hand, will need more control in exchange but will also provide mentorship. Angel and seed funding for apps are the greatest way to secure funds.
Self-funding or Bootstrapping
How to raise funds for mobile apps yourself? You can become the investor yourself. Funding the business yourself in the initial stage will give you great benefits since you will have complete control over the business. And if the apps is a success, you might not even need funding in the future. But you can always go to investment firms for loans in the later stages.
Bank loans
You can always go to banks for personal or business loans. Banks keep your assets as a guarantee of the loan from which you can raise money. These days the government has become highly supportive of the startups and is providing loans for the same. There are multiple financial institutions that can fund your app startup.
Crowdfunding
Crowdfunding your app means raising money from a pool of investors where each one is offering a small sum of money. This kind of funding is usually done on crowdfunding platforms that are present online or on social media. In exchange for the contribution, you can give a reward or share of the business.
ICO
ICO funding is done in case of blockchain based startups. There are different rounds of fundraising in ICO and is somewhat risky for startups. The money is raised in the form of cryptocurrencies which makes it a little risky since such funds have an uncertain future.
This was our take on how to get app startup funding. Contact our team of mobile app strategists for further queries.
Prateek Saxena
Co-founder of AppInventiv
In search for strategic sessions?
Let us understand your business thoroughly and help you
strategies your digital product.
Recent Articles: