How Much Does it Cost to Develop a Marketplace App Like Amazon?
9. min read
Last update on:
September 21, 2021
There once used to be a very thin line between the difference in the one-seller online shopping stores and online marketplace stores.
But with the internet users now sharing concerns related to the traditional eCommerce stores (Which will see later in the article) the gap between marketplace stores and one-seller online shopping stores is now widening.
And widening with it is the demand coming in from businesses looking to enter the e-marketplace app avenue, making individuals opt for the development of marketplace app like craiglist and letgo.
Before we get into the demand for marketplace apps like amazon, let us look into what they are.
What are Marketplace Apps?
The primary difference between an online store and marketplace is that the latter gives the ability to the independent sellers to list out their services or products.
Unlike the online stores who only offer their own goods and services, at a price that they wish for and keep the payment and delivery models in their own hand, in case of a marketplace app, things are very different.
So what is mobile marketplace app?
Mobile market place is developed explicitly for simple, convenient shopping on a device like smartphone or tablet. Make sure they are not to be mistaken as retail applications like H&M or C2C commercial marketplaces like carousell.
In the marketplace apps, there are multiple variations – they differ according to the size, the type of products, the way they promote themselves, etc.
Marketplace or Amazon like applications solve all the different concerns that the marketers have with the online shopping apps –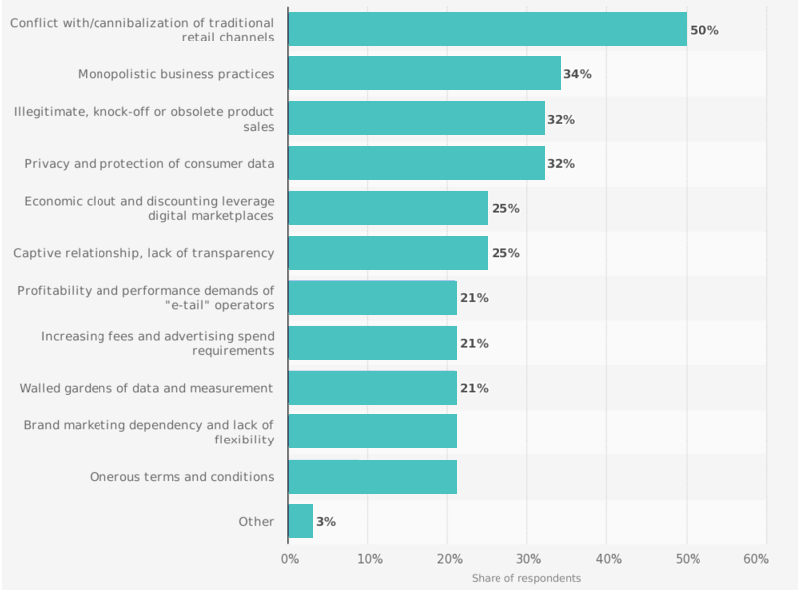 As you could see, the different concerns that customers generally have with the one-seller online stores is something that has awakened them to realize that they don't prefer using apps from any single retailers. They are most likely to download an app which offers a greater product range as compared to ones that only deal in limit offerings.
This realization has given birth to a number of marketplace platforms and Amazon mobile apps on the internet, such as –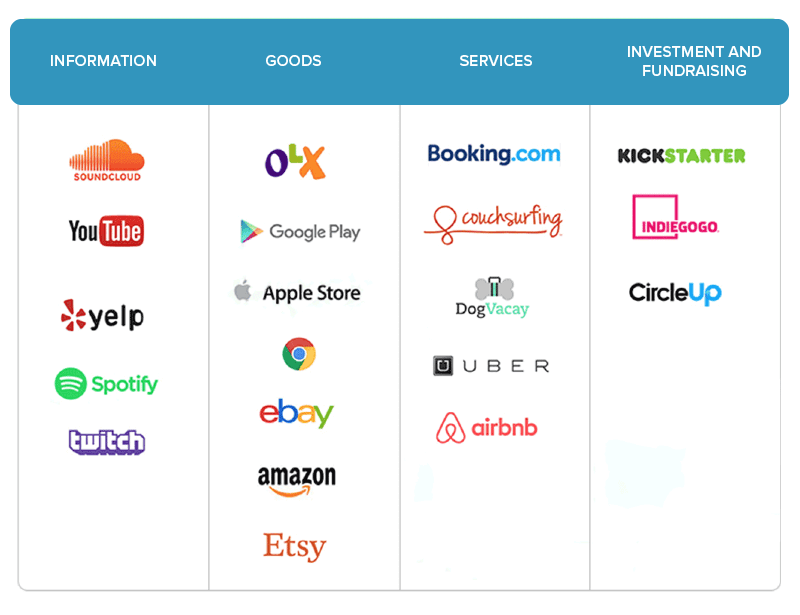 As you see there are a number of apps in the category like business app marketplace, investment marketplace, etc. But the ones that we are going to focus on in this article is the Goods/Products based marketplace.
Now before we move on any further into how to create an app like Amazon – the features it should have, the monetization model that one should follow to get the best returns on the investment, or even the online store development cost, let us first look into the sentiments and trends that the online shoppers are showing towards online marketing.

*Source*: GoodFirms e-commerce app survey
Now that we have looked into what Marketplace apps are and what the customers' sentiments are towards online shopping, it is time to look into the must-have features that your partnered mcommerce app development company will tell you defines an Amazon clone app that gives the ultimate experience to the stakeholders. It is apt to note here that a culmination of all the features mentioned here would be the MVP of your marketplace app, whether you are making an iOS app marketplace or a marketplace app for Android.
How To Build A Marketplace App?
The process of marketplace app development rests in a ton of material gathering and examination. It is necessary to assess all risks prior to beginning any project, and this doesn't include any ideal code to make a marketplace application. Getting a hold of or understanding what the cycle requests is fundamental to making an effective app.
The expenses related with marketplace app development are principally reliant upon the features you need in the application. Nonetheless, if you want to build a mobile app marketplace like Amazon or eBay, it will require a ton of time, effort, and resources. The good thing is that it is not impossible, you can do it if the correct way is known and understood.
Before starting to develop a marketplace is to have a proper structure. The next step is knowing your audience and consumers and based on this information the third step comes up of offering different services. The fourth step is choosing the monetization model.
Techniques that Amazon uses in its app
Amazon app marketplace runs on Linux-based technology with the world's largest database capacity.

Customer tracking is one of the significant fortes of Amazon to offer a customized shopping experience to its users.

Its multi-levelled ecommerce business procedure allows nearly anybody to sell anything utilizing this platform.

You should know that the main data warehouse of Amazon consists of 28 HPS.

Since a great many users used to enter their paying card details to this application, thus, Amazon utilizes Netscape Secure Commerce Server with the SSL convention to offer incredible security.
Must-Have Features of Marketplace Apps
Hassle-Free registration process
Although it sounds extremely easy to achieve, not every marketplace app knows how to design their registration page, still making it the number one reason behind the rising mobile app uninstall count.
Nowadays, with the ease of social media integration by your side, you no more have to make your app users fill in pages and pages worth of personal data. All they have to do is enter the app with a few clicks through Facebook or Twitter or any other social media platform.
The idea is to create a marketplace app where the whole registration process is as small as possible so that the users don't have to wait and show patience for getting into your cloned Amazon mobile app.
Multiple payment options
With different customers come different payment choices. While it is tempting to only have a debit/credit card option, it is important to add in multiple payment gateways integrations in the app and offer your customers a range of different payment options so that they feel more empowered to make a choice.
So, if your aim is to do Amazon like app development, apart from debit and credit card payment options, you should offer them Cash on Delivery, and PayPal, amongst others.
Push notification
Push Notifications, as your marketplace app builder would have told you, might be your only way (that actually works) to keep the users hooked on to your marketplace application. The power that comes with reminding the users of what they are missing, when timed right by applying the right push notification strategies, can help define the success of your application. So, it is important to invest in a proper push notification system that would keep users from abandoning your app.
Social media integration
eCommerce and Social Media have been walking hand in hand for a very long time now. When we, talk about social media integration, we don't just talk about from the perspective of one-tap login, but we also include social media in all your marketing processes. This allows the customers to promote their buy and share the referral coupon and discounts to their network for it to then enter into an extended network and eventually in the whole social media domain.
Add to cart
More often than not, the eCommerce customers are not ready to purchase a product instantly but wish to save it for future purchase. In a scenario like this, they prefer the add to cart option wherein they can save the product for future buying. Ergo, the answer to How to make an app like Amazon should have an 'Add to Cart' feature in it.
Ratings and Reviews
Reviews and ratings are a must-have when you head for marketplace app development like etsy, even if you are just starting with the domain. The feature doesn't just add an element of trust in the authenticity of your services but also helps the customers make an informed decision while giving you a direct insight on things that you have to work upon.
Now that we have looked into the must-have features, it is time to take a deep-dive and explore the actuality that when you invest in a marketplace app, you don't invest in one application but three – User, Admin, and Seller – whether you are investing in an Android marketplace app or iOS app marketplace.
Let us look at what each of those app versions entails –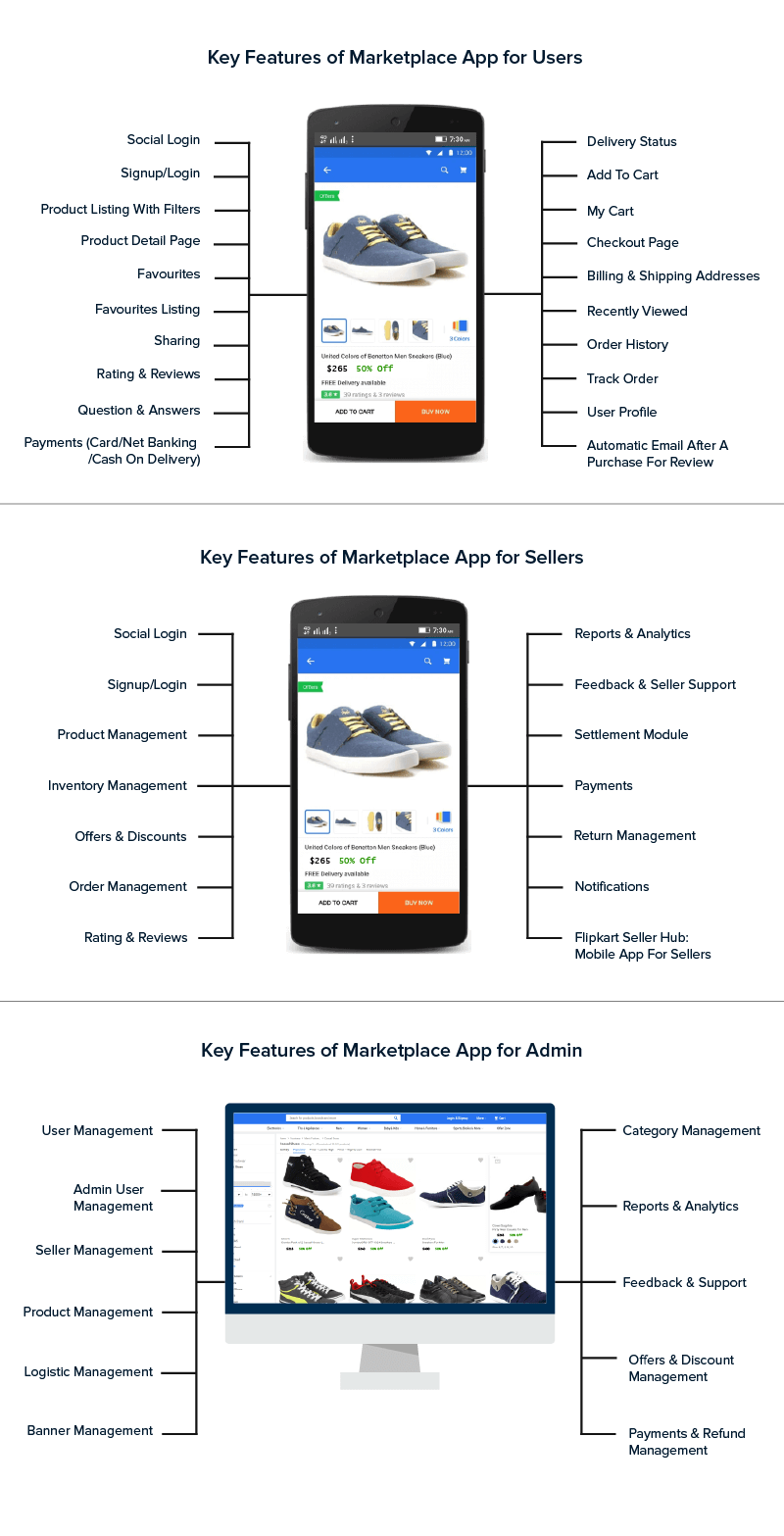 The features that we just saw are what define the answer to how much does it cost to build an app like amazon – something that we will soon be getting into.
But, before we move on to giving you the numeric range of how much would be the cost of making an e-commerce app, let us first look into the ways you can recover and grow the amount of money you are going to invest.
Types of marketplace apps
Characterizing your marketplace may help you from multiple points of view. You have more opportunities to build up an effective strategy once you know what, how, and to whom you're selling.
With regards to what, there are two potential choices. You can make a marketplace app that is either a goods marketplace or a services marketplace.
How Does a Marketplace App Make Money?
When it comes to designing your revenue model, there are two options – A. Affiliate Revenue and B. Transaction Fees Revenue.
In the Affiliate model, after you have built a marketplace app, you can earn by receiving a commission for referring the customers to other apps. And, the second and more popular of the monetization model is the Transaction Fees Revenue.
Transaction Fees revenue can either be very simple like the charge is drawn on enabling a transaction between the user and the seller or it can be of these types:
Product Listing Fees

Promotional/Sponsored Product Fees

Commission Fees that Seller has to pay after Auction
Now that we have looked at not just the features that should be present in a Marketplace app but also how you can monetize your application, we have now finally arrived at a point where we talk about the online shopping app development cost.
Here we go.
How Much Does it Cost to Build a Marketplace App?
The Amazon like online shopping app development cost can be divided majorly into three parts – Wireframing, Designing, and Development.
A.

Wireframe

Wireframing of an app is the process where the rough template of the mobile app is made to give an idea to the ecommerce software developer and the clients how the app would turn out. And, the cost estimate of wireframe turns out to be around $800-$1000.
B.

Design

When building an app marketplace, the flexibility and versatility that you showcase in it ultimately set the tone for its mass adoption in the market. Seeing how crucial and intricate the design element has to be, the cost to design a mobile app development marketplace would be somewhere around $7000 to $10,000.
C.

Development

This is where the magic happens and everything from your ideas to your designs is coded into a fully-functioning mobile app. The marketplace app development cost is dependent on two factors – the number of resources who are allocated in the project as marketplace app builders and the range of functionalities to be added to it.

Keeping both the points under consideration, the Amazon like eCommerce app development cost would come somewhere around $30,000 to $80,000.
In short the marketplace startup costs depend on the features and the number of features you are integrating, the more will be its expense. The fundamental development expense would come around $10,000-$20,000. Then again, infusing all the features, will lead to the development cost for a one platform would be around $25,000 to $50,000. Thus, it is encouraged to break down the market and present your application with a loyalty program.
Now that you have seen it all, it is time to enter the marketplace app segment. Get in touch with our mobile commerce development services in USA and get started!
In search for strategic sessions?.
Let us understand your business thoroughly and help you
strategies your digital product..
Related Articles: