Mobile App market is surely one crowded space with millions of apps available for download on the Google Play Store and Apple app store combined. 
For an app business to make its presence felt in this stream of innumerable tech marvels, the app idea needs to be outstanding, should leverage the right technologies, and should have a competitive edge to it. As businesses are all about identifying and mitigating risks, app companies must know who else is part of the race they are running. 
One of the most reliable ways to strengthen the chance of your application idea to ace the app store is by conducting a mobile app competitive analysis and hiring a great team of app developers.
In this post we would like to acquaint you with, how to perform competitive analysis for your app idea.
What is a Competitive Analysis in terms of Mobile Apps?
Competitive analysis is a nerdy term for identifying and evaluating your current and potential competition's strengths and weaknesses relative to those of your own app or even some of its features. It is performed using certain app competitor analysis tools.
Based on this app analysis report, you can decide whether or not you have a viable app which has the potential to be received well by consumers. It's also very useful as something you can show to investors to demonstrate your own preparedness and business acumen, to encourage their financial support.
Why do You Need to Perform a Competitive Analysis for Your Mobile App Idea?
It is not rocket science to perform a competitive analysis. While every app developer will have their own way of performing the analysis, the upshot would largely remain the same: Identify your competitors, see how you can outwit them and draft a plan to do so.

Businesses need to conduct a competitive analysis of an app product at various stages of app development and even during post-development.
It ascertains the

viability of the app idea

and forecasts the realistic chances of success.

It ensures that a business is up to date with evolving competition in the markets.

It can reveal the impact that change can have on the market.

It helps ascertain the motivation behind your product or service.

It lets you see what similar entrepreneurs are failing at.
Let's begin with the fun part
Every year, the mobile app market expands farther and further. As an app developer, marketer, or publisher, you must always be aware of who and what you're fighting against. If you fall behind your rivals, your mobile app will almost certainly fail.To avoid being left in the dust, make sure you're doing a meticulous app analysis of your competitors before you kick-start your own. Here is a list of steps to help you figure how to perform competitive analysis, just follow them and you're good to go with your mobile app idea.
Step 1–

Profiling current competition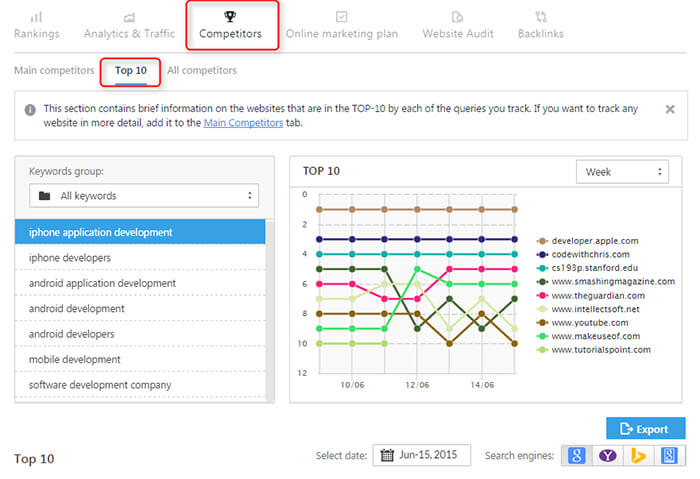 This is an essential step to mobile app competitive analysis – you have to know exactly what you're up against so that your mobile app developers can devise a successful strategy to compete with them.
A good start would be to search the Internet using keyword phrases that are strongly related to your own app idea, to see what's already out there. If you're having trouble with thinking up those keywords, just pretend that you are a user in need of the app's actual service – which keywords are associated with its function and performance?
Step 2–

Market Analysis of an App

Be a Stalker! (A harmless one)

After identifying your competitors, the first thing you would want to do is going through their website, apps, social media profile. Make a log of each competitor based on your research.

You can use tools like SimilarWeb, Alexa, Ahrefs, etc to know how to perform competitive analysis. You can rely on their expertise in revealing your competition's analytical and online strategies. If there's a new app in the market, they would be sure to know about them. Another good place to scrutinize is ProductHunt. It can be a great pit stop in your long journey in deciphering your potential competitors. It'd give you details about new app ideas or people are coming up with across the globe. It would be instrumental in mapping out your completion at a very early stage.

This would open up a door for you and let you see right through their strategies, tactics, weaknesses and strengths that are relative to yours.

Your research should essentially focus on the following parameters.
Step 3- Competitor's Web Presence  
You can copy your competitors' website URL and paste it on the search bar of pages like Alexa, Quantcast. These will help you attain competitive intelligence and help you gain information about a website's traffic and consumer demographics, which will eventually help you enjoy better benefits of creating user personas.
The work doesn't end there. You also need to keep tabs on their social media presence.
What kind of articles or reviews were published to promote your competitor's app? How do they serve their customers via social media? What sort of paid campaigns do they run? Which social channels are they missing? Is there an opportunity for you there?
Basically you need to get a feel of their web and social media strategies that they use to endorse their app. This would help you gain a competitive edge.
[Bonus: Steps To Becoming a Social Media Mobile App Influencer]
Step 4- Competitor's Unique Value Offering
Every business has its unique selling point (USP); something that distinguishes it from the others. What we mean is that each business brings with itself it's own "value offering". You can discern your app competition on this particular paradigm.
You will need to find out exactly what it is that makes the competition's apps appealing to customers. Ideally, your app should also include these selling points – and then go one step further with something new that makes it unique and more appealing than others.
For your competitors, it can be anything – timely response to customers' grievances, regular updates, greater look into security, or a feature that others are adopting to at a very slow rate.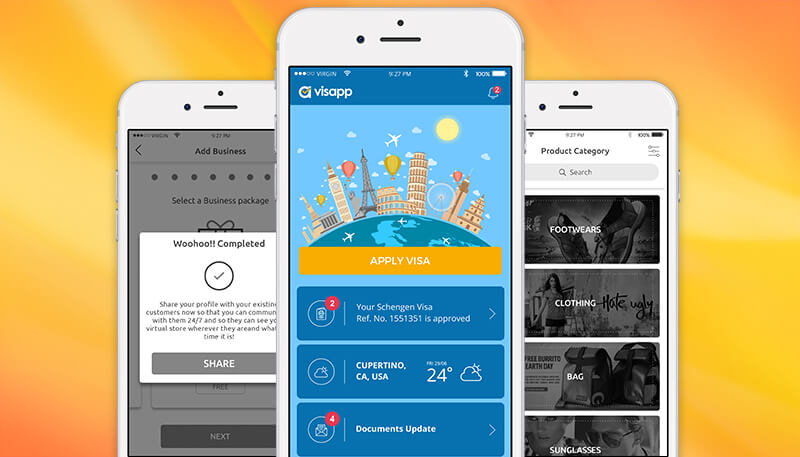 Knowing your competitors' unique selling proposition and measuring it up against what your common audiences are looking for, will give you an understanding of what you need to offer as your USP.
Step 5– Figure Out Your Unique Value Proposition
Determining what makes your app unique is the key to success. It's known as a unique value proposition. It is your product's competitive advantage, and it may be the only aspect that aids conversions. Discover your unique value proposition to optimize user loyalty and for overall business success. Here are some factors that are characteristic to unique value propositions:
a.) Must explain how your product solves problems and benefits users.
b.) Must be convincing enough for customers so that they choose your product over other available options.
Step 6- Rankings of Competitors' Apps
An app's ratings speak volumes about its foothold in the market. You can tell whether or not your competition is treading well in the market.
Sensor Tower is one such tool that can get you access to critical data regarding your competitors' keywords and rankings in app store. It would also help you discern them on the basis of threat they post to your app idea.
While App Ratings matter to a great extent, there can be a number of reasons affecting them. For a more detailed study on how the users are liking the apps your competitor has to offer, go to their reviews section.
Step 7- Reviews on Competitors' Apps
App reviews are a great indicator of how successful an app is. And one of the most important stages of App Competitor Analysis.

You need to pay particular attention to common threads while running through these reviews, both complaints and praises. When these are mentioned by a number of different users, you can have a fair level of confidence that those features are legitimately either appreciated or disliked by a majority of users.
Don't forget to look out for recurring praises as well. If a competitive app has negative reviews saying that it is quite difficult to navigate, you should remember to keep your interface smooth and easy flowing.
With that information in hand, you can add more features into your mobile app development process or even plan an update plan at the back off.
Step 8- Competitor's Strengths and Weaknesses
Remember the much learned and talked about SWOT Analysis concept? While generally used for internal business analysis, you can use the concept for making a tab on your competitors' as well. Use the Strength and Weakness part of the SWOT analysis for understanding what they have to offer on both these fronts. And, keep the Opportunity and Threat part on hold for now and come back to them at a later stage (when you are analyzing your brand).
After such diligent research, you can map out your competitor's strengths and weaknesses. Try to avoid the mistakes that might have cost your competitors dearly. Aim at outdoing their strengths by pushing your own limits and achieving newer horizons.
In A Nutshell
Planning your mobile app competitive analysis with these elements, will bring you at par or even way above your competitor's level.
So now you know where your mobile app competitors' stand, what next?
Once you know where your app competitors stand, the next step in line is to see where you belong. Note how your app ranks among the others in the similar category. Chances are you will have to get back to the development stage and make some tweaks here and there to give your users an app they ideally want.
Mobile app development companies use the knowledge created from app competitor analysis into their application development strategy. It gives you a practical interpretation of where application competitors stand and how you can go ahead. 
The idea is to constantly update your app to give your users newer, more useful updates, those that will keep them hooked to you, all the while keeping a lookout on how your competitors are performing. You can make use of tools like Google Alerts, Ahrefs, Social Media, BuzzSumo to remain updated with what's new with your competitors.
Need More Information on How to Perform Competitive Analysis for Your App? Contact our Team of Mobile App Marketing Experts, today.
Read more blogs
We are operating in a time where the wave of digitalization has evidently spread in not just the business space but also governments. Since the last decade, owing to the convenience, security, and demand of nationals and citizens, government bodies from across the world have started turning towards the digitalization of government-level processes such as…
Sudeep Srivastava
16 Aug 2023
VisionOS is an advanced operating system developed specifically for spatial computing, a unique computing paradigm pioneered by Apple with their Vision Pro headsets. Unlike conventional desktop or mobile computing, spatial computing creates a work environment seemingly hovering in front of the user. This innovative approach to computing offers users a highly immersive and intuitive experience,…
Sudeep Srivastava
26 Jul 2023
The mobile app market is growing by leaps and bounds in today's fast-paced world. As a result, digital enterprises are trying to implement every possible app strategy to stand in the competition. Many enterprises now regard mobile application development as a goldmine because of the revenue the apps are capable of generating. According to Statista,…
Sudeep Srivastava
10 Jan 2022