6 Reasons It's Time to Invest in Enterprise App Development!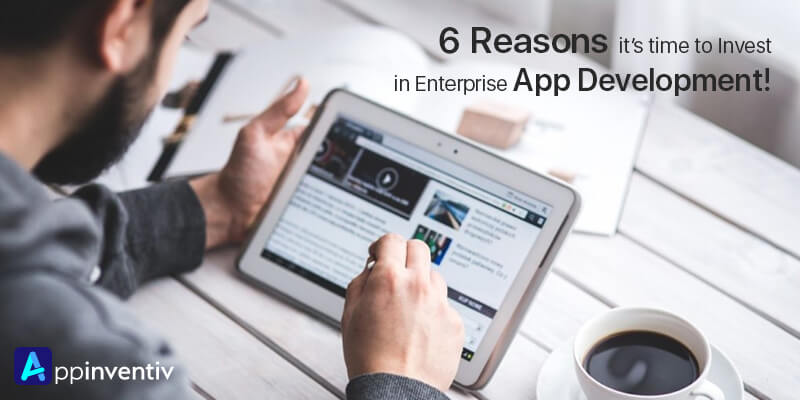 Gone those days when employees check the notice boards or contact management for every query. The world is transforming at a faster pace. The advent of mobile applications has not just made it easier for the companies to attract customers and retain them but also gifted them a way to reshape their workplace environment.
Today, the competition is so stiff in the market that you need a lot of facts and innovation to stay in the market. This is why companies are heavily investing in the enterprise applications. An enterprise app has offered a plethora of advantages. Before we discuss the benefits, let's have a look at this data:
64% of employees are more interested in a lower salary job if they could work from outside office.

Agencies with strong online social presence are 7% more productive than those not.

Employee satisfaction rate escalated by 20% in organizations using social media tools internally.

There's a whopping increase of 78% in employee retention rate with

enterprise app development

.
Why Invest in Enterprise App Development
?
Enterprise applications are undoubtedly becoming the backbone of several small and big businesses. They have proven themselves to be the most amazing method to amplify employee engagement and productivity. How? Check out the following points: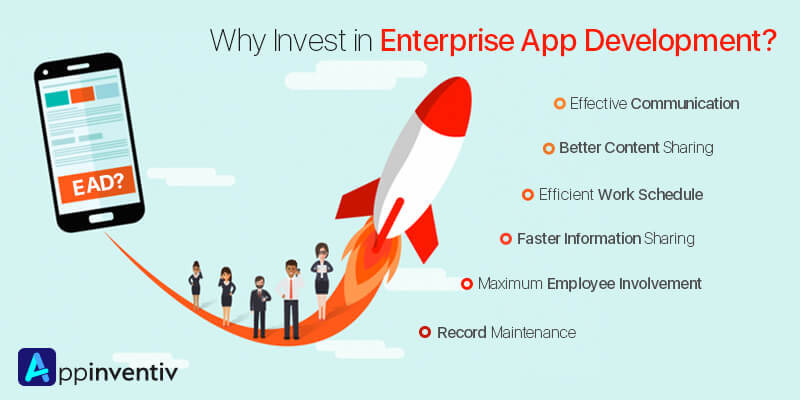 1- Effective Communication
An enterprise app has the chatting feature which offers better and effortless communication than an email. It allows the employees to easily connect, share information and review it whenever required. And the best part is that here you can easily share confidential information on the go without the fear of emails going amiss.Another interesting reason to go for enterprise application development is that workforce can enjoy group conversations without undergoing the risk of forgetting to click 'Reply all'.
2- Better Content Sharing
The Enterprise apps rely on the Cloud technology, which means they prompt quick and comfortable sharing of files and information. The staff working on a project can easily share the document and access them from any location; there's no more need of preparing offline records and hunt all to get a single information. This reduces the workload of employees to half, and empower them to add more productivity to the day. Again, an enterprise mobile app is no lesser than boon when you have to search for archives and past work files.
3- Efficient Work Schedule
These apps come with a calendar which allows employees to monitor their work schedule anytime and anywhere. Also, these apps integrate push notifications feature which keeps the employees aware of the upcoming meetings, project deadlines, and so on.
4- Faster Information Sharing
With the help of push notifications, you can instantly inform the staff members about the training updates and other relevant information. An enterprise application enables you to serve employees with relevant information anytime.
Since the delay in information sharing within the company can adversely affect the progress, take no chance! Contact the top mobile app development companies today!
5- Maximum Employee Involvement
As described in the above point, a mobile app can keep the whole team together. With an Enterprise mobile app, the employees can freely give their feedback regarding any activity; they no more have to wait for the anyone to be free to talk! They can make announcements, congratulates each other, share their ideas, support each other in skills enhancement and much more. This improves the relations and opens the doors for company's success.
6- Record Maintenance
How many employees do you have at your workplace? Answering this question can be distressing for some employers. They might have to perform various operations & check out all the files to find the current number of employees working. In this situation, an enterprise application can help them a lot! These apps enable employers to keep an online record of all their employees with required details like contact number, age, department, etc.
According to the top mobile app development companies, many companies also feed the skills and other details of the employees into the record book. This is so that whenever they need a person with a required skill, they just have to tap into the app; no need to approach each single person to know their proficiency. For an instance, you have a French client but find language as a barrier in communication. In this case, you can easily check the app for people mastering the French language and contact them immediately. See, how easy it is!
Wrapping Up!
Now, as you have gone through the main benefits of having an enterprise mobile application, you must be wondering to invest in one! If so, take no time to visit the topmost enterprise app development company and make your employees 'app-ier' than ever before.
ALSO READ: 4 Reasons You Can't Resist Outsourcing App Development.
Related Articles:
Continue exploring the landscape of product design with these helpful resources:
enterprise app
enterprise app development