How Much Does It Cost to Develop A Blockchain Wallet App?
November 3, 2018
2. min read
Last update on:
July 16, 2020
In all our previous cost related articles, we have provided a ballpark figure of cost for the likes of already established apps like WhatsApp, Uber, etc.
In this particular Article, though, we will try to cover a technology that has not fully taken off yet and is the one that can create a real revolution when it does – Cryptocurrency/Bitcoin Wallet Application.
However, getting down to what the development entails and how much would cryptocurrency wallet app development cost, it is very important to brush your basics on what Cryptocurrencies are.
What are Cryptocurrencies?
Cryptocurrencies are like ghosts. The ones who have seen (dealt in) them swear by them and those who haven't, are adamant in believing that they are what everyone tells they are.
The concept of cryptocurrencies generated when the anonymous inventor, Satoshi Nakamoto, of the First cryptocurrency, Bitcoin, gave the world a new technology. Nobody at the time imagined Bitcoin to become a big news ever. But, as we all witnessed, Bitcoin did not only become a big news, it led to a series of new cryptocurrencies and technologies to follow.
To define Cryptocurrencies, if we take away all the sophisticated words and processes, it will be reduced to "limited entries in a database that no one can change without fulfilling specific conditions", which is how ANY currency in the world can be defined.
Now, since the increasing adoption of cryptocurrencies have made them not just real but also on the same platform as fiat money, the currency, like its fiat counterpart, also needs a place to be stored and transacted from.
Enter Cryptocurrency Wallet – The digital wallet used to store, send, and receive digital currency like Bitcoin. [To know more, check our blockchain digital wallet guide.]
Growing alongside the rising number of cryptocurrency traders and enthusiasts is the number of cryptocurrency wallets to save the users' money in. This rise in crypto wallets has predictably brought an increase in the number of Blockchain wallet app users globally, according to statista.
As per the graph is given below which shows the number of Blockchain wallet users worldwide from Q1 2015 to Q3 2018.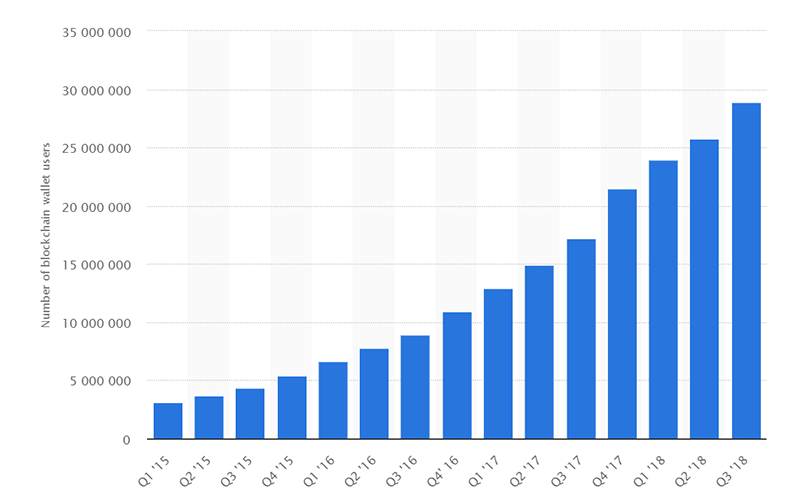 This statistically backed rise in demand for cryptocurrency wallets has directly resulted into Fintech enthused businesses to add Cryptocurrency Wallets as a part of their revenue and business model.
Before we move on to the features, tech stack, and developmental challenges (and solutions) that would come together to form a answered price range of the question 'How much does it cost to develop Blockchain wallet app' let us take a quick detour to look at the difference of wallets available in the market today.
What Are the Different Types of Crypto Wallets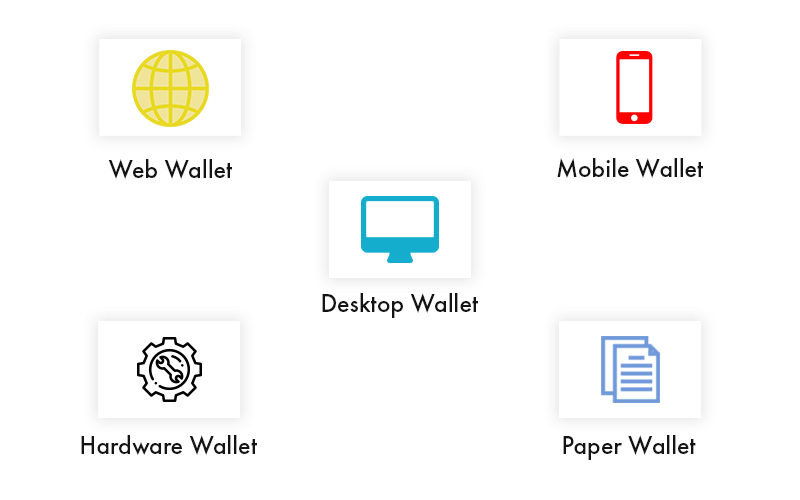 When we talk about the different crypto wallets, the types that lead the category in terms of popularity is Mobile Wallet App and Web Wallet Apps. These apps run on the users' phone through app and allows them to not just store the digital currency but also transact money between other users or use them to make payment in the stores.
The reasons behind this growing popularity of Cryptocurrency Mobile Wallet usually range from-
Convenience
Ease is the most primary reason behind this upsurging popularity of cryptocurrency mobile wallet apps. By bringing the wallet on a device that is on you at all times of the day, it becomes extremely convenient to transfer money or simply check the balance on the go.
Ability to Store and Manage Multiple Cryptocurrencies
Blockchain Wallet App or other similar cryptocurrency wallet apps come with the benefit of storing and trading multiple digital currencies without switching between screens or devices. Also, it enables a single app to function as a platform to remain updated with the status of your digital currency portfolio.
Heightened Security
Cryptocurrency Mobile Wallet Apps come packed with a lot superior security algorithm since its inception stage. Plus, since the wallet is literally with you at all times, the chances of it getting lost or damaged if minimal to none.
With this settled that it is indeed Crypto mobile wallet that is posing to be the most in-demand and invested in wallet type, let us now give our concentrated focus on the nuances and cost that you would have to work around and invest in to get your own Cryptocurrency Wallet App developed.
Let's start with features.
What are the Features of Crypto Wallet Apps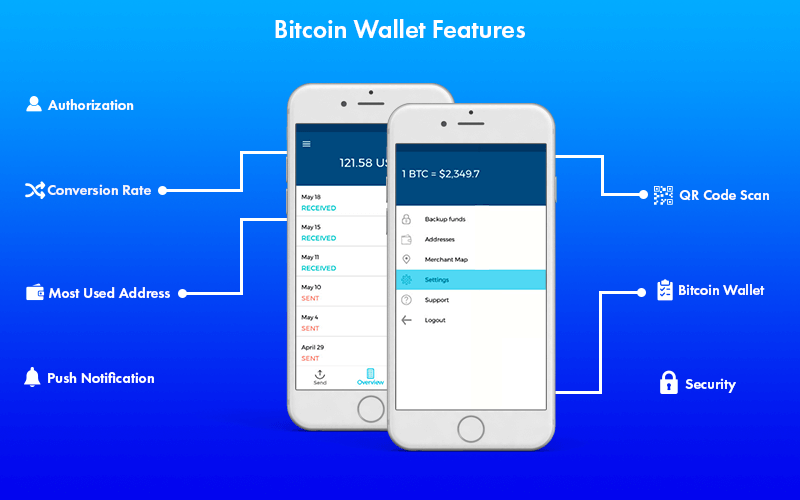 1.

Authorization

Although considered to be one of the most common features of a mobile app, when we look into a crypto wallet app, the authorization stage comes into the limelight of importance.

In the feature, users are made to sign up or fill in a form with their keys to access the Bitcoin wallet.

Since it is the first stage where keys are to be entered, the authorization feature has to be developed with a proper and well-tested security protocol in place.

One way to ensure that the app is hack proof straight from this first onboarding stage is to add Google Two Factor Authentication.

By adding two-step authentication in the app, businesses will be able to add an additional security layer which is generally avoided by generic non-crypto based apps.
2.

Conversion Rate

Since the crypto wallet app will allow users to transact money between different modes – between the same digital currency, between different digital currency, and between digital and fiat currency, they would need to be updated on the real-time currency value.
3.

Addresses' List

This feature will be aimed at making the whole transaction a lot more speedier and convenient by giving the users a mode to manage the addresses they frequently transact digital currencies with.
4.

Push Notification

Using the push notification feature, the admin will be able to notify the crypto wallet app users of the price of their digital currency, success, and failure of the transaction, address addition, etc. Through the feature, users will be able to remain up to date with all of their account activity in real time.
5.

Paper Wallet Import

A number of mobile wallet apps also come with the feature to scan the paper bitcoin wallet using the QR Code and then add keys in the app's wallet to make a transaction. The scanned information can then be used to send and receive money.
6.

Transaction Feature

The whole essence of Blockchain is to revamp the future of transactions. The most crucial part of the crypto wallet app is the transaction feature. Through this, users will be able to send and receive digital currencies within the crypto wallet app. Now, it goes without saying that it is of prime importance that this section of the app is 100% hack proof and speedy.
7.

Security Features

A common but equally important part of the crypto wallet app is the security feature that it comes with. Being based on Blockchain, the technology known to revolutionize Mobile App Security, You should give your users the option to change the pin or password or whatever private information they want to modify within the app.

Building a crypto wallet app, with all these features, from the scratch would require the backing of a technology combination that in itself is developed and combined in a way that the amalgamation would deliver a fast, scalable, and hack-proof solution. In fact, the choice of technology stack is what plays a dominant role in establishing a cryptocurrency wallet app development cost.
Tech Stack for Crypto Wallet Apps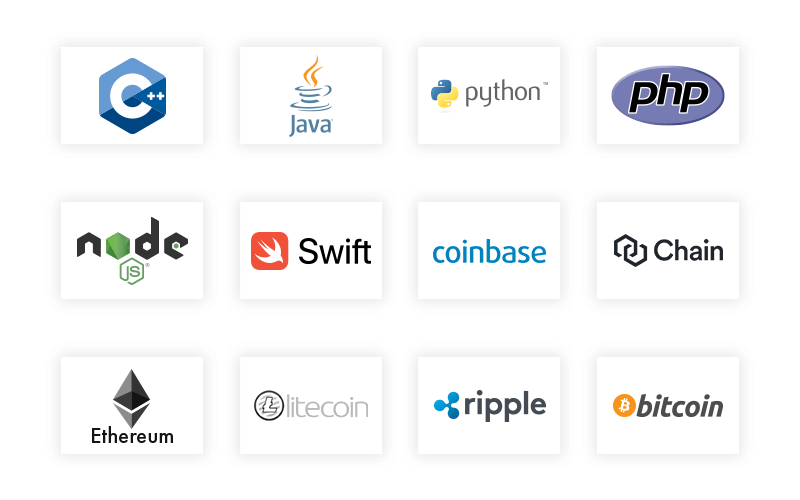 Now even with the backing of a robust tech stack, there are a number of challenges that can emerge when developing an app powered by a technology that is still very new in the industry.
Let us look at the challenges that you might encounter when you enter the cryptocurrency wallet development industry and the solutions that we have realized in our role as a Cryptocurrency Wallet App Development Company, having worked on over 10 crypto wallet app development projects.
Challenges Associated with Crypto Wallet App Development and How Appinventiv – The leading Blockchain Development Company Solves Them.
Transaction speed:
One of the biggest annoyance and concern that come attached with cryptocurrency wallets is the slow transaction speed that the users will have to face because of slow transaction confirmation.
The reason behind this slow confirmation is that usually a transaction is processed after 5 to 6 confirmations from the chain.
Appinventiv Solution:
The cryptocurrency wallet we develop comes with the facility to be confirmed with 0 to 3 confirmations from the chain (although, we don't recommend this solution as it doesn't come free of risks) the other solutions are using the lightning network, sidechain, and batch processing to lower the transaction speed.
Hack:
The most crippling issue associated with Bitcoin wallet application development is security breaches and hacks. Hackers see any and all Cryptocurrency trading platforms as a gold mine with crypto wallets being no different.
Appinventiv Solution:
At Appinventiv, we follow strict encryption and decryption standard mechanisms along with the development of both hot and cold wallet that lowers the hack instances to the minimum to none. Also, the two-factor authentication that we follow to identify the genuinity of the user, tends to limit security breaches further.
Unavoidable Reliance on Third Party:
Cryptocurrency integration in business is never free of third party inclusion, no matter how decentralized the whole system otherwise is. Cryptocurrency payment gateways also, in the end, rely on different exchanges, counterparties for providing them access to the markets.
Appinventiv Solution:
We use the decentralized exchange network of Kyber Network to offer conversion features via through cryptographically secure methods letting the users become exposed to counterparty associated risk.
Now although the demand for Blockchain wallet apps and the potential that they hold in terms of making a brand an innovative market leader, is huge, the solutions of challenges that we just saw do require a team of experts who specialize in the department. Something that requires time and money to operate and give fruitful result – the two results that businesses mostly lack.
An alternate solution from building a crypto wallet app like Bitcoin is integrating the functionality of adding 'Pay with Bitcoin/Cryptocurrency' feature in your existing application.
Let us look at how that works, and the time cost it comes attached with.
Digital Currency Payment Integration Within an Existing App
The demand and comfortability around cryptocurrencies have grown to such an extent that a number of online stores are now offering 'Pay with Bitcoin' option in their apps and websites.
This integration has come across as an alternative to Bitcoin wallets for businesses that want to have a part of Blockchain experience without having to invest in resources to make one from the scratch.
Let us look at how this integration takes place.
There are a number of third-party providers who offer the option to enable payment through Bitcoin or any other digital currency from within your existing application. The three that we mostly rely on and suggest to our clients are –
BitPay

Coinbase

Blockonomics
They offer different options for our clients. In case you wish to get the payment converted in your fiat currency value and then sent to your bank account, choose BitPay or Coinbase, but if you wish to send your funds to exchange market or bitcoin wallet, go with Blockonomics.  
The Cost of Crypto Payment Integration in your existing app will come somewhere in the range of $20k – 50k.
Now that we have looked into the different types of crypto wallets, the features that are common among all the leading crypto wallet apps, the technology stack that would go into the Bitcoin application development, and the associated challenges, it is time to look at the point that we got you here for, the cost of developing a Bitcoin wallet application.
How Much Does it Cost to Develop a Bitcoin Wallet App
Noting all the functionalities, tech stack, and the hour of resources that would go into the feature-rich Bitcoin applications development, we have made a chart of the cost estimate that you would have to pay to get your apps like Bitcoin wallet developed.
Blockchain application development cost when looking specifically at the Bitcoin wallet application segment, ranges from somewhere around $85k to 95k, depending upon the features' list that you wish to add in your app. 
Here is the cost breakdown structure of Bitcoin wallet application development –
Backend
$10,000
                                                    Development
Android
$32,000
iOS
$28,000
Web/Desktop
$7,000
Design   
$7,000
QA/PM
$5,000
Total
$91,000
In search for strategic sessions?.
Let us understand your business thoroughly and help you
strategies your digital product..
Related Articles: