How to Build a Secure M-Commerce Mobile App?

"According to a survey, nearly 7 out of 10 m-commerce mobile app users in USA use the application to grab deals and offers. On the top of it, the m-commerce market is expected to grow to $250 billion by 2020."
The m-Commerce apps have completely revolutionized the way people used to buy clothes and other products. It has leveraged the end users with a pool of opportunities, ranging from customer engagement to brand awareness and effective marketing. In such a scenario, more and more businesses are looking forward to app development for engaging their store users and flourish their commerce business.
If you are also thinking of using a mobile application for reaching more users, encouraging them to take your services, driving sales, etc., keep in mind that the hackers are working twice as hard to access sensitive data and misuse them for their benefit. Hence, the mobile app security is a crucial part of app development.
"Gartner predicted that by the year 2017, 75% of mobile security breaches will be observed due to app misconfiguration."
This indicates that the app developers can mitigate a higher ratio of the data breaches by planning and executing better and secure app development strategies. In other words, the developers have to not only focus on building user-friendly applications, but also to ensure the security of the interface.
If you are interested to know how to make a secure m-commerce mobile app, here are some factors listed by our app developers. Consider these factors and ensure the security of your mobile application.
Factors to Determine the Security of Your m-Commerce App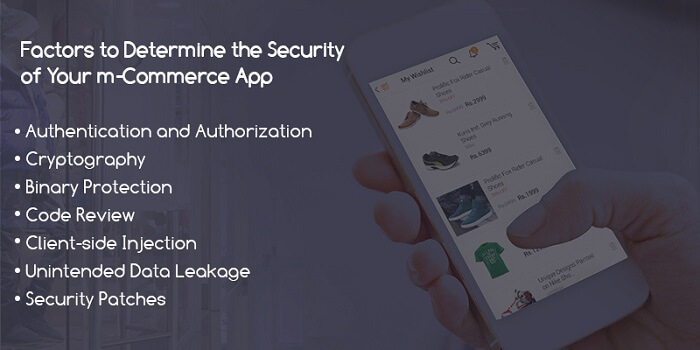 1. Authentication and Authorization
Even when a mobile app user is authenticated once, do not authorize him to take any action, especially a profile update or financial transaction. This is so because the credential could have been stolen from an insecure wireless network or some other means.
The best way to prevent such circumstances and render better experience to the users is to act for authorization every time a major action is being taken. However, it should also be kept into consideration that the users do not get irritated by this activity.
2. Cryptography
Broken cryptography is among the top reasons behind breaching of app's security. As per our market experience, many developers implement an encryption/decryption algorithm but do not focus on the proper key management. As a result, the hackers are more likely to take advantage of this condition. To prevent this situation, we recommend all the developers to ensure the proper implementation of the algorithm.
3. Binary Protection
If your application is not safeguarded by the binary protection, it is possible that an intruder might perform reverse engineering to analyze the code or exploit it. And this way, steal private data or create a chaos. So, don't forget to implement binary protection in m-commerce mobile application development.
4. Code Review
Last but not the least, code reviewing is also important to protect your application from malicious practices. By contacting the experts to review your code, you can understand what are the weak points of your application in terms of security and how to deal with them.
5. Client-side Injection
Many app development companies often trust all the inputs given by the user and process the data. This is again an activity responsible for data hacking. According to the top mobile app development services providers, some users put wrong details while some try to access duplicate account on the same phone. This is again a data breaching. To deal with this form of breach, you can apply filters and include different cross authentication techniques.
6. Unintended Data Leakage
A hacker can also get the sensitive information like credentials through various other means like data cached, logs, screen captured, etc. Thus, it is necessary for the m-commerce mobile app developers to avoid data caching, app log storage at local device memory and other such activities.
7. Security Patches
When it comes to mobile app security, it is not something designed once and applied forever. With time, the security threats are increasing, which eventually demand the application of various security measures. Thus, it is imperative for all the m-commerce application developers to keep analyzing their apps and apply security patches with time.
Finishing Thoughts
With time, the technologies and tools to build better m-commerce apps are increasing. And so, are the tools to attack them and steal secretive information. Thus, it is the need of the hour to implement the right practices and build a secure m-commerce mobile app. Remember, a compromise with the privacy of users means compromise with their trust, which ultimately means compromise with your app success.
Related Articles:
Continue exploring the landscape of product design with these helpful resources:
m-Commerce apps
mobile app data breaching
secure app development