Signs that your restaurant application has become dumb – You are not able to increase the footfall in your brick and mortar restaurants anymore. You are unable to manage table bookings. You are losing customers because they are spending too much time in your app, unwillingly. You are not able to entertain your customers as they are waiting for several minutes for their order to come out.
Sounds similar? Sadly, you have been caught by the dumb app bug.
But we, your sous chef, have you covered. In this article we will look into ways to transform your now dumb restaurant app into a smart app to help you manage not these but so many other issues by offering something that your customers actually need.
But before we do, let us look at what "Smart" even mean.
What are Smart Apps
Smart apps are those, which incorporate data-driven insights generated from users' app movements into app elements and features that define user experience.
By using the data that is generated straight from the users, app developers are able to give the users an experience that is backed by exactly what they are seeking.
Since we are talking in context of restaurant apps, let's take an example from the industry itself. Suppose your restaurant serves meal combos from 11 am to 10 pm, and lately you have been getting notifications that people have been trying to make order through your app around 12 am, but since it's past your closing time, you are not able to cater to them.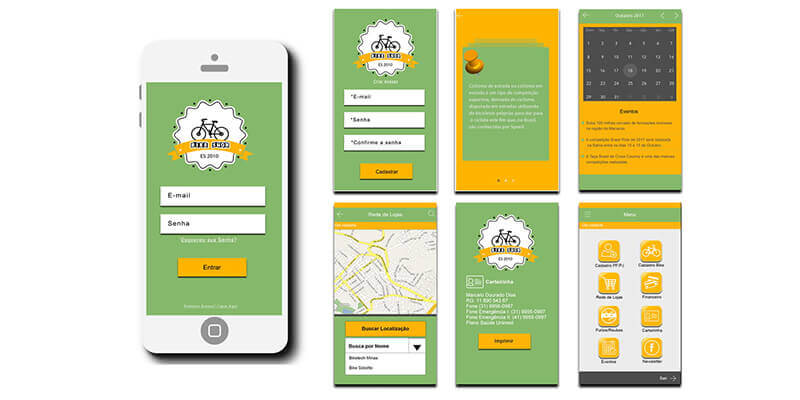 Now, by introducing a smart app in the picture, you will get insight of which location the orders are placed from and which time slots. With the information, you can plan on tweaking your business hour and delivery location to cater to that foodie group and extend your business scope.
What smart apps do is that they analyse users' information and then take actions like giving out restaurant discounts, changing delivery time, altering menu, etc. in a way that is a direct sign of exactly what the users need.
Now that you have got a glimpse of the power that Smart Apps bring with them, let us now look at some of the common restaurant pain points that are cured with its inclusion. One of the reasons why restaurant owners are now looking to hire app developers who know the art of making apps smarter.
Why Does Your Restaurant App Needs To Get Smarter
Let us approach this question scenario wise.
Scenario 1: Suppose you have a number of loyal customers who keep making the same order in your restaurant app time and again. But, since you don't have a system in place to make your users select their previous order again, they end up making the same order again and again. And then one day they find an app that has the repeat past order option, which would save their time to a huge extent, and they make the switch.
Solution: An AI mechanism that enables users to make repeat orders
Scenario 2: You serve amazing food at your restaurant and the footfall is also pretty high but lately you have been reading reviews hinting towards the issues diners are facing with the wait time in your restaurant, making them look at alternative restaurants who serve a different cuisine and have a lesser wait time.
Solution: AR/VR interactive games to keep the users entertained as they wait in the line to receive their order.
Scenario 3: You have a restaurant that offers rich delicacies and it is soon becoming a hang out spot of the millennials. But, being famous has come with its own set of perils for your restaurant. You have one receptionist who takes table booking inquiries and since you are now all big and famous, the number of calls coming in are on a very higher side, keeping the phone lines jammed at all times. This, in effect, is robbing you off of a number of customers who would have walked in but left after being for hold for several minutes on end.
Solution: A table booking app that would handle the demands coming in for space.
While these are just three, there can be a number of other situations and scenarios that can come up in a restaurant, which can be avoided altogether by adding smart elements in your restaurant app.
Let us now look at some of the ways you can convert your app into a smart app to not just give your users a more personalized and entertaining experience but also to streamline your business.
Ways You can Make your Restaurant App smart Enough to Grow Your Restaurant Business:
1. By Garnishing Chatbots
Chatbots have emerged as one of the smartest tool for taking restaurant and customer interaction to the next level.
It was incepted to take over human reps and website customers' conversations when the human reps were missing by sending out automated replies to the customers like 'we will get back in touch with you' or 'please send your email will get in touch'.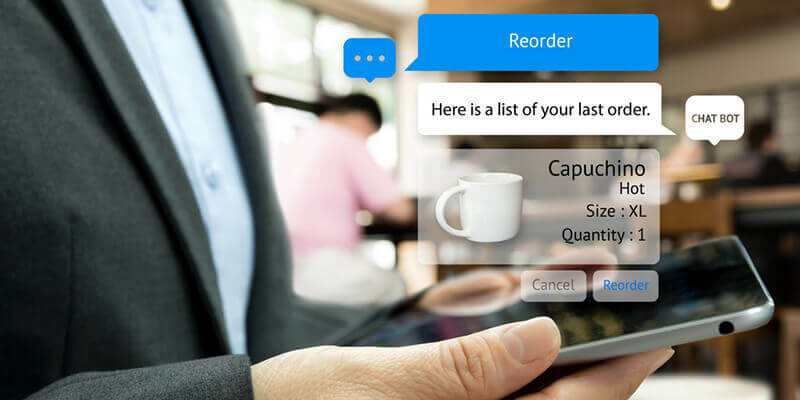 But today, by incorporating chatbots, restaurants are able to book tables, take orders, suggest what food order to make or at what time customers should drop by for easy availability of seat.
2. By Soaking in the Power of Beacons
The next course that you can add in your restaurant app to make it more relishing is Beacons.
Beacon is a proximity detection technology. What it does is that it transmits a signal that other devices can catch, so when a bluetooth enabled device that has the app (which is connected to the beacon) downloaded crosses its range, it gives out push notification to the device, which could be an offer in some retail shop or discount in movie ticket.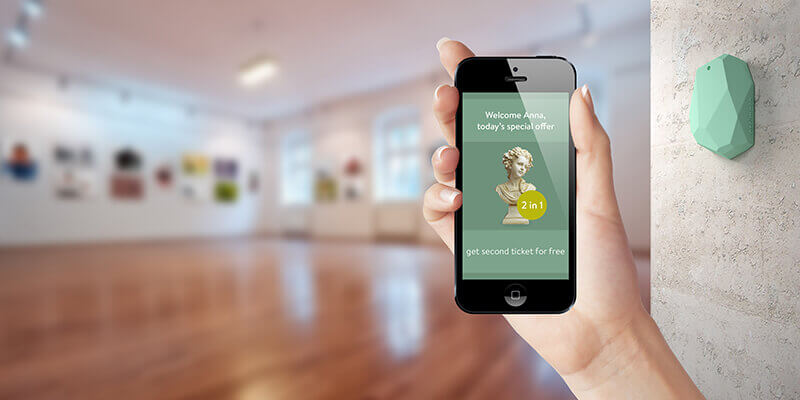 While used largely in the retail setup, Beacons are finding their ways in a restaurant setup as well.
By incorporating beacons in your app, there is a lot you can change in terms of footfalls and better restaurant management. You can allow your customers to order from their device as soon as they step in the mall, without having to actually walk in the restaurant, or you can send them custom menu or differentiated pricing. You can even inform them of the occupancy and availability of the seat
3. By Sugar Coating AI
The main ingredient that converts an ordinary restaurant app into a smart app is AI. Your app is a grand mesh of data. You have customer information, the location they are making orders from, their repeat orders, time when they are making orders and booking seats, their food preference, their decision pattern of whether to dine or order a takeaway, etc.
Your customers are constantly leaving sea full of information to your app. All of which goes completely ignored. But, by incorporating AI in your app, you can not just make sense of your data but also transform your restaurant experience to 180 degrees.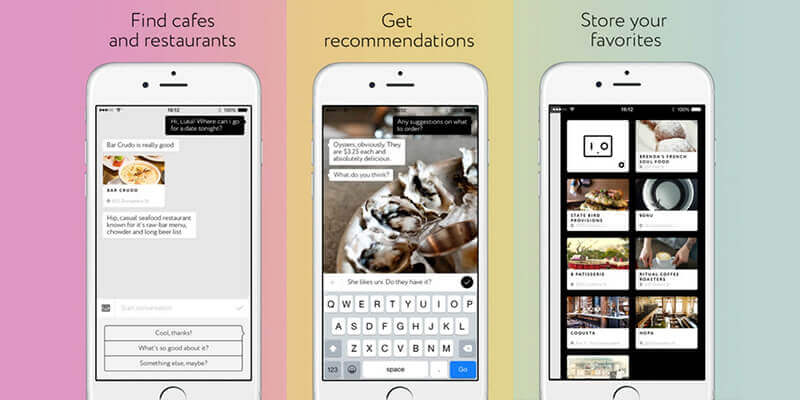 Going back to the Scenario 1 that we saw earlier in the article, suppose you have a number of loyal customers who keep making the same order in your restaurant app time and again. But, you don't have a system in place to make your users select their previous order again, it would be a huge loss for your app when these customers leave you for an app that does.
AI comes in the picture here by gathering the data of customers order and making a pattern out of it. Are your customers making the same order every day? Is the order repeating when they are ordering for a specific cuisine? Are they making the same order from a specific location? Is there a time of the day factor involved? These are just a sample of questions that gets answered through your AI enabled restaurant app.
Using this information, you can expand your menu according to their food taste, can grow your business to hit that high demand location or can simply allow them to make repeat orders with a single click.
Now that you know the what, why, and how, and why it's time to make your restaurant app smarter, the next step is to get it done. Contact our team of Smart techno experts today.
Read more blogs
In a world of evolving lifestyles and constant motion, how we dine is changing dramatically. We crave something quick and convenient to satisfy our culinary desires. And as our culinary cravings meet the digital age, food delivery applications emerge as a revolutionary solution, redefining how we enjoy the delights of gastronomy. In today's fast-paced and…
Prateek Saxena
04 Dec 2023
The restaurant industry is evolving by leaps and bounds, catering to the diverse needs of its customers. As per a report, the fast food market is growing—it jumped from $610.66 billion in 2022 to $652.73 billion in 2023 and is expected to reach $772.17 billion by 2027. A robust app can be a key part…
Prateek Saxena
17 Nov 2023
You might be running a restaurant already or in the process of starting one, but shifting online would help you expand better. And even though it might seem like a task to start a food delivery business from scratch, you only need a brilliant idea, the appropriate systems, and the motivation to make it happen.…
Prateek Saxena
21 Nov 2022