The iOS market generates billions of revenues per year as seen in the last couple of years. In 2018, App Store revenue reached $22.6B beating Google Play at $11.8B.
Businesses are going for mobility to increase their ROI and iOS is the best platform for it. Not only the revenue but also the fact that iOS users actually convert into customers is an attractive fact for businesses. Most of the service businesses are completely dependent on their mobile app.
However, there has always been a question of how to find the rightly skilled iOS developers in the market full of people claiming to be the top ios app developers. To solve this 'how', we have written this blog to help you find the best iPhone app developers in Florida. So, without further delay, let us get into it.
The Most Downloaded iOS Apps
App developers are benefitting ever since companies are going for business apps. It is clear to see now how mobility brings more profits to the business while increasing the reach in the market. Although most apps that are topping the charts on App Store are owned by Facebook yet there are apps by other iPhone application developers that have reached millions of downloads.
Let's have a look at some of them: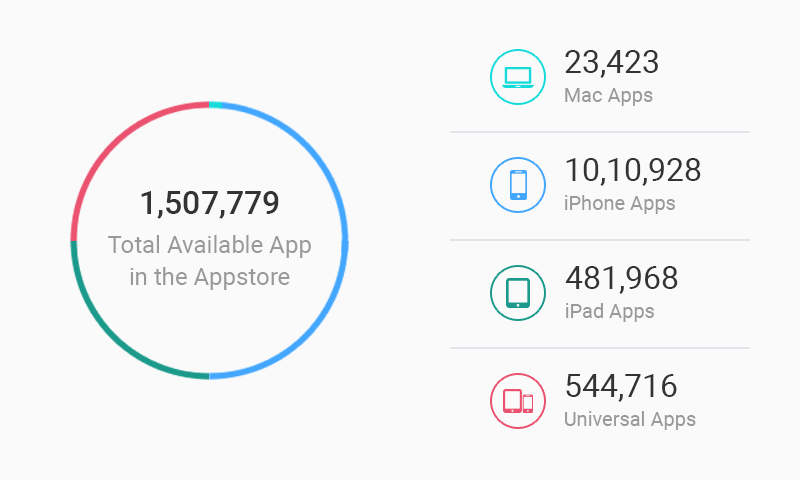 iQiyi- iQiyi is a video streaming app similar to YouTube and is said to have 480 million users. The app was built by Chinese giant Baidu and the company says users are spending 5-6 billion hours on the app.
QQ-QQ is a messaging app that was built by Tencent, a Chinese company. It offers the messaging feature just like Messenger and other features like games, music and online shopping.
WeChat- Like QQ, WeChat is also built by Tencent. The app is quite popular for chatting as it has creative features like emoji and stickers. The company says it has 1 billion active users as of March 2018.
TikTok- TikTok is a social media app that lets users shoot and edit videos as well as add different effects on them. TikTok is known as Douyin in China and has been the most downloaded app there. The app is owned by the same company that built Musical.ly. Given the popularity of this app that the latest TikTok statistics confirm, people have become keen on knowing the cost of Tik-Tok like mobile app.
Facebook- Facebook is still the top iPhone app despite having a rocky 2018. In the first quarter of 2018, the app was downloaded 24 million times. It has always maintained its place on the Top 10 charts.  
Instagram-Instagram was known for its high-quality images and now that videos have been introduced it has become a favorite of the users. It is the second most downloaded app on the App Store. The use of tech stack by iOS app developers has reduced the cost of the Instagram like app making it free to download on the App Store.
Whatsapp- Whatsapp is a messaging app now owned by Facebook. It reportedly has 1.5 billion users. The app was originally built by the founders of Yahoo! In 2007. The layout of the iOS app differs from the Android app.
Hire an iOS app developer: Individual or a company?
While looking for an iOS developer, there is a question that arises regarding the type of developer that should be hired. It is quite a crucial question especially when it comes to iPhone app development services since the market is so profitable. You cannot take any chances with your app development process by hiring iPhone app developers that are less than perfect.
Any businesses looking to hire an iOS app developer must make their requirements crystal clear so there is no confusion while the project is ongoing. It will also narrow the search area which will speed up the finding process.
Any project that needs simple design and has less risk involved can be given to freelance iOS app developers. The cost of development will be less and the process will speed up. However, businesses should not expect a very high performing app from individual developers especially at a low price. The cost to develop chat apps like Whatsapp is higher, requiring a bigger budget and more development time.
When going for iPhone app development services by a well-established company then there is very less chance of risk. The best iPhone app development company will have all the tasks managed and have a more professional approach towards the project.
Usually, companies have a dedicated team working together on an app which makes management, development and designing a well-planned process. Many businesses outsource app development services and the results are great. 
Though the  iPhone app development cost is a bit higher when a company is involved yet there is no compromising on the quality of the app. Startups are comparatively cheaper than highly successful companies. iOS app development companies in India which includes a mix of both types. In fact, India has a sea of developers ready to serve, so keep this in mind while finding app developers.
Things to consider before hiring individual iOS app developers
As discussed before, hiring iPhone app development services by individual app developer has its own advantages and disadvantages. However, if you need an individual iphone app developer , you must see to a couple of things before making a decision. Here are certain things need to be kept in mind before you hire an iOS app developer for app development:
Years of experience


Finding app developers

is not as easy as shelling peas, specially experienced developers.

Experience is one of the things that should be considered while hiring iOS app developers. More years of experience will bring more accuracy to the app and will reduce the chances of mistakes.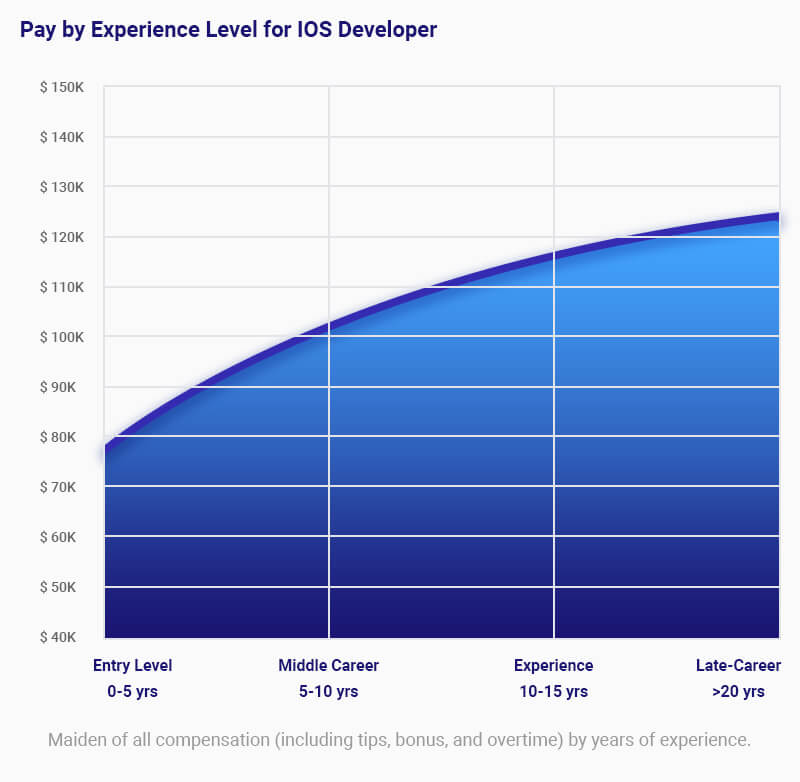 The pay of the app developer highly depends on the level of experience he has.
iOS developer portfolio


When going to find iOS app developer, keep in mind to check each developer's portfolio. Check to see if the developer has all the languages you

might need

for

developing

your app. Also see if he knows designing, cross-platform development and familiarity with the latest technologies.

Doing this will ensure an effective and

best iphone app development

.

Projects delivered


When looking for

ios app developers for hire

, one of the most prominent aspects you should look for is their success rate of delivering projects like yours.

Any developer is considered good only when he has delivered a good number of successful projects. The success rate and type of app will determine if the iOS app developer for hire is good or not.

Working style compatibility


To hire iOS app developer is one challenge but maintaining a good working relationship is another challenge. Working on an app may take weeks especially with an individual developer so it becomes crucial to have a compatible relation with him. This way you both can understand each other's needs regarding the project.
These were some points to think carefully about when you are looking for top iPhone app developers. But if you wish to hire highly professional app developers such as an organisation then check out the next section.
Things to consider before hiring iOS app development company
The iOS app development companies in India are said to be a lot cheaper than that in the USA. The reason being the competitiveness in the market. When compared with any reputed iPhone app development company California has, India is cheaper and still provides quality products.
The iPhone development companies in the USA and UK, especially iphone app development in California are highly professional than in any other country in the world. However, this does not change the fact that there are things to be considered before you hire an iPhone app developer from anywhere in the world. We will go through the points one by one:
Do your homework


Before going to hire an app developer, make sure you have done your homework. Learn all about the company and the way they work. Consider all the points while

attempting to find

iPhone app developers

.

Past performance


Even though its a professional company their past performance needs to be

checked

. This is because the previous work will help you know if the company is suitable for your project.

Set your goals and needs


These companies are highly professional and work in a systematic way. You will need to provide a clear yet detailed requirement for your app so that they can deliver the right app.

Skills


The skills of the development team should not only include UI/UX design but also have to be very good at it. The success of an app depends on the user interface and therefore UI/UX is important. The best iPhone app development company will have a team dedicated to designing the app.

Time and cost of development


Usually, the time taken by a professional app development company is lesser than individual developers but there is a chance of delay if the project is too complicated. Before finalising your choice, make sure you discuss the development timeline and cost involved in the development.
How to find an iOS app developer?
The question "How to find an iOS app developer?" is often asked by businesses or startups looking to hire top iPhone app developers. After doing full research we have found some places where you can find iOS app developers for your app.
Meet face to face
People who genuinely care about their work can be easily spotted in a crowd. To hire an iOS app developer, meet some peers outside work or go to networking events. Networking events are the best place to meet and hire iPhone app developer.

Hire from referrals
Places like Upwork, Freelancer.in, Guru, etc. are some of the best online referrals where you can find iOS app developer for hire. These places will show you search results accurately once you specify your needs.
Hire an agency
iOS app development agencies are the best decision if you want a high performing app with amazing UI/UX designs. You can call the team of iOS app developers at Appinventiv to get your app developed by highly skilled professionals. An agency will have a team of developers looking at the development process.
Hire app developers based on location
Local mobile app developers are also a way to go for app development. If you hire an iOS app developer from the same location as yours the prices will be reasonable as well as communicating will be easier. For example, if you are staying in California then it is better to opt for companies of iphone app development in California, to have reasonable charges.
Client business relationship
App development is not a one time deal. The development company and the client need to have a friendly relationship so that the work can take place in the long run too. A friendly relationship helps get the most out of the work and is beneficial for both parties.
This was our take on how to find an iOS app developer for a project. If you wish to know more contact our team of iOS developers at Appinventiv and we will assist you.
Frequently Asked Questions (FAQs)
Q. Where can I find iOS developers?
Well, you can always contact popular iPhone app development companies who have the proper experience. Always look for reviews before making a final decision. Another way is to try websites like Upwork, Freelancer.in, Guru with the abundance of freelancers. However, most people prefer trusted app development organizations to ensure the overall effective development.
Q. How do I find the best developer?
While wondering about how to find an app developer, we stumbled upon some best tips which can come in handy.
You must always look for trustworthy iPhone app development companies in your location. This will definitely reduce the development cost for your app.

Always make sure to check the portfolio and also reviews of the organization.

Going to networking is always a good idea along with socializing outside your work. This way you may

find iPhone app developer

with competent skills.

You can always check referral websites such as Freelancer, Upwork, etc. or better yet, search for app development companies with positive reviews.
Q. How much does it cost to build an app?
Well, there is no one-word answer for how much is the cost of app development. It is because there are many factors and elements at work which determine the final cost of any app. These factors are:
App Category

Location where the app development process is taking place

Features you want to add like in-app purchases, third-party app integration, etc.

UI/UX Design of the app

The complexity level of the app

App publication cost

App maintenance cost, etc.
Read more blogs
If I shouted "iOS or Android" in the middle of a crowd, the following two things may happen: A huge crowd may cheer for Android, thinking what is the fuss about iOS? The people cheering for iOS not caring about another OS  This is not to say that iOS is better (let's not start a…
Sudeep Srivastava
12 Aug 2021
Apple has a habit of introducing revolutionary changes year after year with every new operating system launch. 2020 was no different. In fact, in many ways, it was the most revolutionary year for Apple in terms of advancing user experience and privacy.  In case you missed out on the features that the new iOS 14…
Sudeep Srivastava
31 Dec 2020
Set to release in the fall of 2020, iOS 14 was announced in the June of 2020 with a slew of changes and a series of groundbreaking announcements. Like clockwork, Apple comes with a multitude of industry transforming OS additions devised to make app experiences immersive, secure, and easy. But this time around, Apple has…
Sudeep Srivastava
28 Aug 2020