For every Apprenuer, building a great mobile application takes center stage. Since the startup app development process has been repeatedly talked about, a considerable amount of time and effort is spent on discovery, design, and development.
Sure, providing value to the end-users is the prime goal behind any app but pricing a digital product is an equally important aspect, one that should not be overlooked. It should be carefully determined to build a profitable and scalable mobile app business. 
Product pricing strategy in marketing plays an instrumental role in getting your app the initial traction and visibility in the app store. How you determine the price of your product decides the success of your app in terms of the number of downloads and user retention in the long run.
But it is like walking on a tightrope-  apps that are offered for free or at a relatively lower price gather greater market share and can penetrate in the market seamlessly while apps that are offered for a higher price have the potential to garner a good ROI.
So, how to price an app? A lot of factors come into play when ascertaining the price for your app- market research, the value and functionality of your app, and the market competition. 
In this article, we will be discussing some of the ways to determine the right price of your application along with the popular pricing models for apps. 
How to Choose the Best Pricing Strategy for Mobile Apps
As mentioned before, several factors play a vital role in determining mobile application development pricing. Here are some of the best product pricing strategies that you can choose to adopt within your mobile app.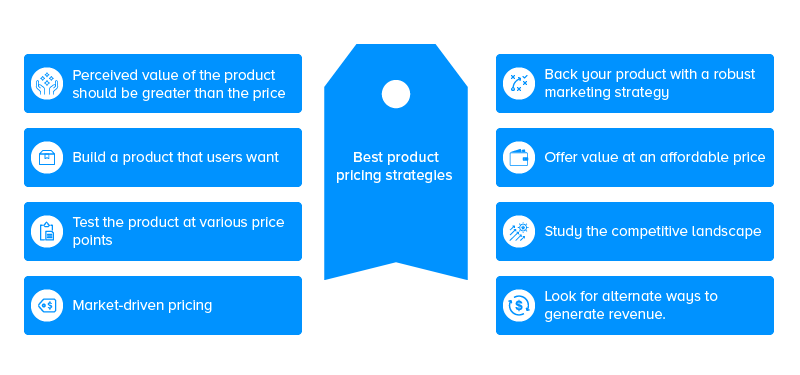 1.

Human Behaviour and psychology

Human psychology plays a fundamental role in determining the price of your product. 

Consumers are keeping up with the rapid strides in technology. It is the growing rise in consumerism that steers the scope of advancements. Customers today are well-read, well informed and they always strive to make a conscious decision.  

For every product, there are ten other alternatives available in the market, so how do you assure a customer will choose your product? 

Simple, you must ensure that the perceived value of your product is greater than its price. 

A customer should always feel that the price of your product is right and tapping into this segment becomes all the more easy when they do not have a reference point to begin with.

Before making a decision, we humans tend to compare products with the alternatives available in the market and assess them for their pros and cons. 

So, when determining the mobile application development pricing strategy you must take into account other products available in the market, characterize your value proposition and ensure you are offering a greater value than your competitors.
2.

What the market is willing to pay

The right mobile application pricing strategy should revolve around what the market is willing to pay. And to determine that, you must test your product at different price levels and see how the market responds. 

An application has a recurring revenue stream. To stay competitive, app developers for startups need to tap on new functionality and offer regular updates. So, it is essential to holistically view the recurring revenue model and not worry about the revenue per price point. 

More often than not, mobile app developers offer a product for free to garner a huge user base and generate revenue from advertisements. But later on, when you offer an upgraded product for a certain price you have already devalued the product and can't really sell it for more because the perceived value is low. 

So, the ideal approach is to test your product at various price levels and see how the market reacts to it. 
3.

Build a product that users want

A product should be built with an aim to address user concerns and it must solve their problem. When you build something that users truly want, it is easy to decide the price. Look for factors that can enhance the value of your app- a stellar design, a splendid user journey.

To determine the mobile app pricing models you need to know the app development cost, which involves factors like the actual cost of making an app, the value the product offers and the money required to thrive it. 

Having a sound knowledge of the current market trends is equally crucial and rolling out new updates and enhanced functionality is the key when opting for a penetrative pricing model.
4.

Study the market and competitive landscape

Market-driven pricing is a great approach to arrive at an optimum price point for your mobile application. Studying the competitive landscape and analyzing your user base can help you discover opportunities where the competition is lacking. 

For instance, launching your app at a relatively lower price than your competitors gives you an advantage in the market.

Understanding the market demand for a product and viewing it from the customer's perspective helps a great deal in deciding the right price. 

It is crucial to establish early on what makes your product special and what value does the competition in the market demand from your app. 
5.

Robust marketing strategy

In today's fast-paced environment, the power and reach of social media is expanding every day. In such a scenario, backing your pricing strategy with a robust marketing strategy is more like a necessity. Having an understanding of the current market trends along with a marketing strategy in place helps in maximum user acquisition. To retain users in the long run, rolling out enhancements in every quarter is a good strategy.

So, leverage the power of social media to create the buzz around your product and gain initial traction. Don't be fixated on the top of the funnel, it is ideal to look at things holistically. Curating rich content for social media platforms ensures the word about your app reaches far and wide and generates the maximum number of downloads. 
6.

Affordability

Besides offering the desired functionality, your app should be affordable for customers. It is only fair to offer value to your customers at a decent price. 

Penetration pricing strategy helps businesses attract new customers due to the low cost of making an app. It is considered a classic strategy because it uses behavioural psychology to drive customers to purchase the product. The pricing for any digital product should also take into account the sustainability of your business.
7.

Understand what your product and target customers demand

It is crucial to realize early on that no one size fits all. What may have worked for someone else, would not necessarily work for you. There will be new opportunities that you can tap into to app development for startups. 

Think out of the box, be unconventional in your ways, and look out for alternate models to generate revenue. 

For instance, the wide pool of data generated from your app could be of value to someone. Healthcare apps generate a huge amount of data that is useful for doctors and researchers.
8.

Paid vs free

Deciding whether to launch an app for free or paid, involves a couple of factors, like the required number of users. If you want to gather a huge user base at once, free is the go-to choice.

With paid apps, users expect more features and functionalities. They certainly do not like paying each and every time a new enhancement is rolled out. 

Also, when the customers pay to avail in-app purchases, you must ensure it offers sufficient value. 

Taking cues from what the competition is doing is a good practice to establish yourself in the market. You cannot choose a paid pricing model when others in your niche are offering similar functional apps for free. However, if your app has advanced functionality and a unique proposition which is not found in similar apps, users can be willing to pay more.
Types of Pricing Strategies for Apps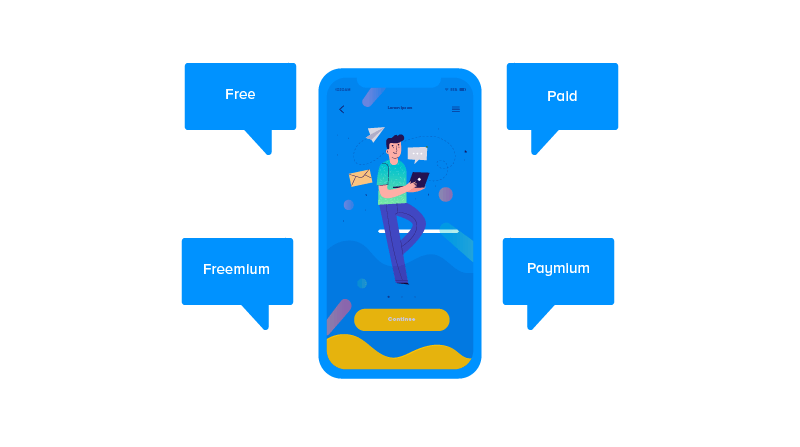 1.

Free

We don't usually get a lot of things for free. The 'Free' tag is not just a pleasant surprise but also a great tool to attract a large pool of customers. The same applies to the free app pricing model.

As the name suggests, these apps are free to download, and in most cases, the primary source of income is through advertisements. Free apps are often seen as a great tool to attract a large pool of users and retain them in the long run. They are meant to facilitate communication and customer service. 

Depending on the purpose of your application, there are two types of free pricing strategies to choose from. The former is a Completely free strategy, which is used when you already have a well-established product or a service in place. In such a scenario, the app is an add-on tool for the users. The goal behind completely free apps is not to make money directly from the app but redirect potential customers to other revenue streams. 

For instance, free apps involve features like coupons, discount notices and other pertinent information which encourages users to take action. The app is used to spark interest, support the marketing strategy and drive users to other revenue channels. 

The latter is an in-app advertisement strategy. In this strategy, the apps are offered for free but users see ads while using the app. Primarily, gaming apps use this strategy to generate ad revenue. With in-app advertisements, the key is to ensure that the advertisements that are being displayed are relevant to the users.

There are services through which you can easily filter the ads by user relevance and format and ensure the ads in your app actually pique the users' interest.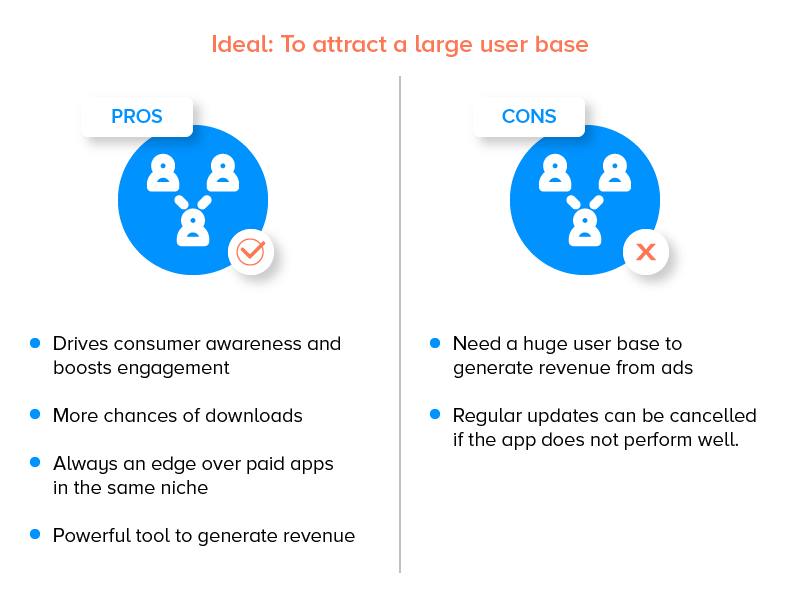 According to Statista, mobile app pricing statistics indicate that the distribution of free and paid apps is such that 96 percent of apps in the Google Play store are freely available whereas in iOS 90.3%  apps are free.
2.

Freemium

The freemium pricing model is a modified version of the free pricing strategy. This model is highly popular and widely used by businesses. Freemium apps can be downloaded for free but include limited functionality and features. To generate money from these apps, in-app purchase opportunities are created. There are three freemium strategies to choose from depending on the tiers, features, and incentives. 
Two-tiered approach – It includes apps that customers can download and use for free but there is a premium functionality that can only be availed upon payment. This strategy is widely used in gaming apps where users have to buy in-app currencies, extra lives or upgrade to additional levels. 

The second model includes apps which offer full functionality but only for a limited period of time. The idea behind this strategy is that users can see the vision and get familiar with the app's utility, and after a while, they will be willing to avail the services.

The last model includes apps where all the features and functionalities are free except it comes with built-in advertisements. The catch here is that a small amount is charged from users to offer an advertisement free app.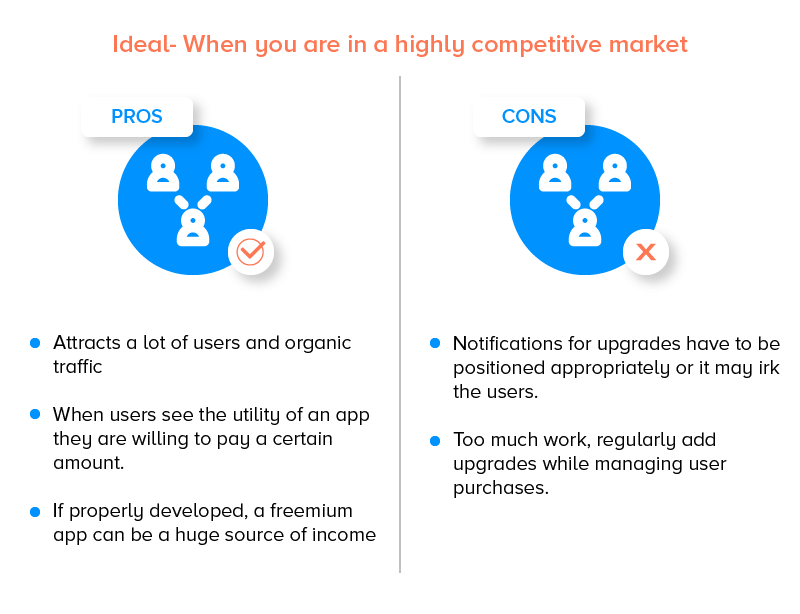 3.

Paid

The name clearly gives it away, for paid apps, customers have to pay to download the app. Due to the huge popularity of free and freemium apps, the paid model is considered least effective. 

In case you opt for a paid pricing model, it is essential to back it up with a compelling marketing effort. To drive users to purchase your app over a free equivalent, you should have an effective marketing strategy in place. Besides the description of the app in the app store, a potential customer must be equipped with the value you are offering with your product. 

With a paid app, users tend to have higher expectations. But once you manage to attract a user, they will turn into a loyal customer if your app offers the perceived value. 

To leverage the paid pricing strategy, many brands opt for a week free trial. It is a good tactic to approach potential long-term users by showcasing what your app is all about and giving them the opportunity to make a choice.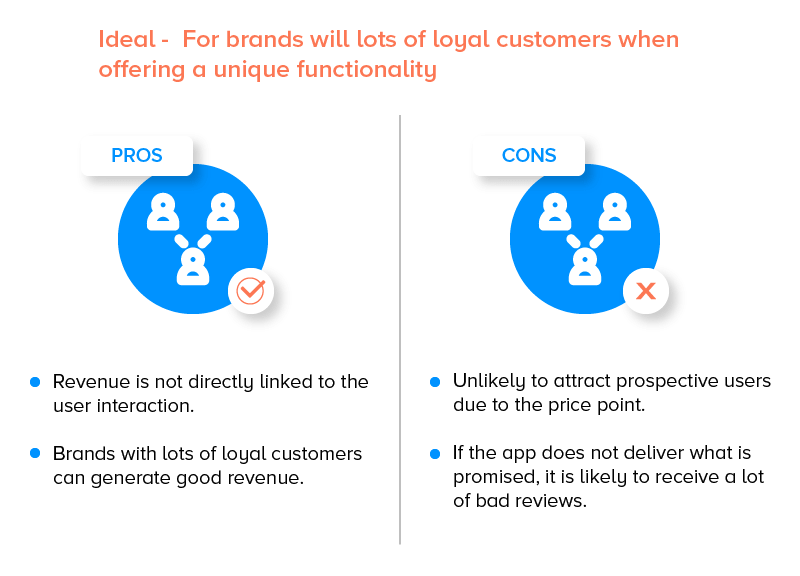 4.

Paymium

Paymium is the amalgamation of freemium and paid model. For paymium apps, the users not only pay for the app but also pay an additional cost to avail an added functionality. Although it is not a widely used strategy, it does have the potential to generate great revenue streams. 

This best pricing model works well for music and social networking apps. This strategy can rapidly gain traction if exciting content, unique functionality, and useful features are introduced on a regular basis.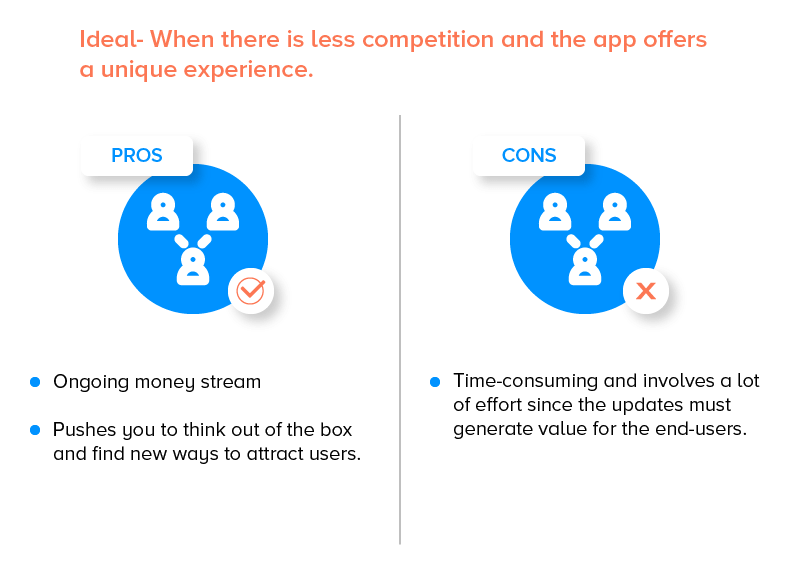 Conclusion 
The app market is growing by leaps and bounds. To penetrate in the market with ease and carve a niche, you must choose the right pricing strategy for apps and take the aforementioned insights into due consideration. Pricing models for apps play a fundamental role in determining an app's success. It is essential to choose the right monetization strategy as early as possible. Your product pricing strategy for apps should meet market and user expectations, offer the perceived value and help you accomplish business goals.