Google Pay is Finally Here, Replacing Android Pay and Google Wallet
February 22, 2018
2. min read
Last update on:
July 16, 2020
Google has made 2018 tremendously exciting by officially rolling out its new payment android app, Google Pay.
Earlier, Android users were supposed to pay their bills and purchases in numerous ways: using Android Pay app, from Chrome through fill-in payment information, by sending P2P payment request on Google wallet, and so on. But, now they can do everything with one single payment platform – Google Pay.
Google Pay
Google Pay is basically a combination of Google Wallet and Android pay, but with some additional services to streamline the mobile payment process and make the transactions secure.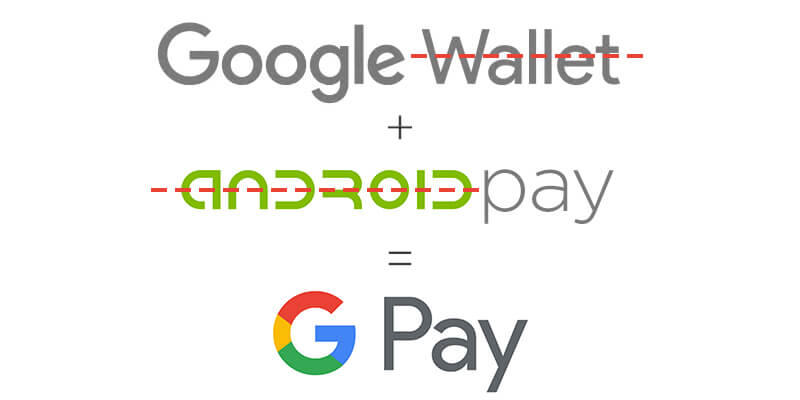 If you might know, the origins of Google Pay entered the market back in 2011. In those days, the payment platform was offering NFC payment support which was not acceptable in most of the stores. Google then launched Android Pay in 2015. With the app, banks had to embrace the platform, but the carriers were not involved.
While many banks have started supporting the platform now, the app had still not met the expected goals. Besides, Android users were expecting a straightforward payment process. Keeping all this into consideration, Google planned to roll out an update with an online check-out feature, but with a new name – Google Pay.
Wish to know what's new in the Google Pay app and how can you enjoy them? Here's all you need to know.
What's New?
Besides the name, there are many more changes in the app – making it better than Android pay app.
New App Interface
The app interface is divided into two tabs: a 'Home' tab and a 'Card' tab. In the former tab, you can find your main payment card along with recent payment activity, list of nearby stores with NFC payments, offers and loyalty cards based on your location, and other related information. While in the latter tab, you can get access to all your individual credit/debit card information, loyalty cards, live gift card, and much more.
Reminders
The most notable addition to the android app is Payment reminders. The G Pay app features the option to set up a reminder for sending/requesting money transfer in the future.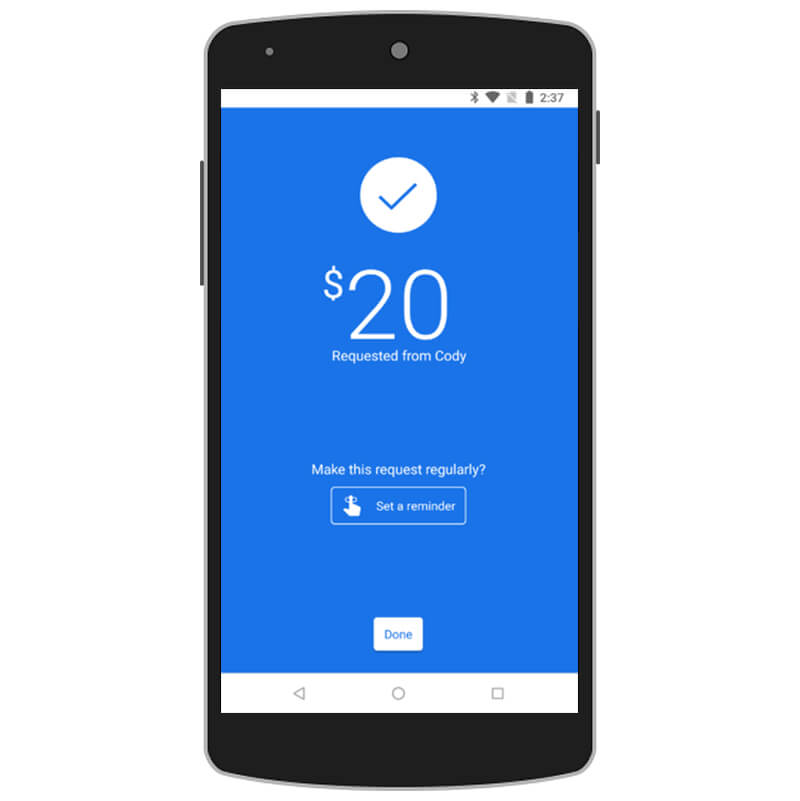 You can configure the reminder with details like amount, time of the day (morning, noon, evening, or night), the frequency of reminder (daily, weekly, monthly, or yearly). Apart from this, you can also customize the reminder for specific days.
Once you set the reminder, it will appear on the screen of Google Home app, Google Calendar and other linked Google services.
Since this functionality is directly linked to the sending money feature which is expected to be added to Google Pay mobile application soon, we can be hopeful for a distinct tab for reminders and option of setting a reminder without making the first payment.
Besides this, there are slight changes to the app (compared to Android Pay app), like a few adjustments to colors and layouts, and change of word 'wallet' to 'Pay' or 'Pay Send'. And yes, one more difference that I found in the Google Pay app is the single channel of notifications.
How to Use Google Pay android app?
If you are an Android Pay user, you need not go through any hassle. The app will automatically get converted to Google Pay, once the update is rolled out by Google. All your personal information and credit/debit details will be transferred too.
But, in case you are new to mobile payment service, you can download the app easily from Google Play Store. Follow the setup instructed as shown in the app, add a payment method and here you go. In case, your device's hardware is not compatible with Google Pay app's requirements, the android app will let you know.
Once the G Pay app is on your phone's screen, you can use it for online shopping or purchase items at local stores, or for sending/receiving money from friends.
Shopping with Google Pay application
To use it while shopping at a local store, search for the 'G Pay' logo or 'NFC terminal' image in the store. Unlock your phone and scan it via a scanner of your phone. The Google Pay application will automatically launch, fill all the details and show the instructions to be followed further. All you need to do is to enter a PIN or enter your name for confirmation. Isn't this cool?
Likewise, you have to search for 'Buy with G Pay' (or logos of Android Pay/Google Wallet) at the checkout. When found, tap on the button and relax! The app will automatically process the further steps, provided you have set up a payment method.
Sending/Receiving Money via G Pay App
Right now, Google Pay app is not providing the 'Send Money' functionality. The tech giant has rebranded Google Wallet app as Google Pay Send with some design modifications for providing this service. However, it is expected that Google Pay app will introduce this feature in the future.
Apart from the users, the developers can also use the app for crafting a seamless payment process into their mobile apps and websites. They can easily avail the facility to pay by G Pay app by simply calling a Google API. The API will determine if the user has Google Pay enabled or not, and in the positive case, will accept the payment via Google Pay mobile app (which is still getting routed through the android app developers' traditional payment service providers like Braintree and Stripe).
Though it's not yet clear if G Pay app will rock in the mobile world or would be declared dead just like Android Pay app, one thing I'm hopeful for is that the experience will be far much better. After all, weren't we hoping for a single app providing all the mobile payment-related services under one umbrella?
Google Pay (or called G Pay) is released across different online platforms and in-store locations. Download the android app today and share your experience in the comment section below!
In search for strategic sessions?.
Let us understand your business thoroughly and help you
strategies your digital product..
Related Articles: