How Chatbot is Shaping Business Growth Story

My mother recently booked an Air India flight through a leading travel website. After booking the flight that suited her, she got a message on WhatsApp from the site, with her flight's PNR number: A Chatbot Application doing.
Being  in Chatbot App Development line, my interaction with the technology is greater than what my mum has (Who, by the way, got very excited after being a little skeptical).
The reason behind her skepticism yet attraction towards the technology is similar to companies, who have now incorporated Chatbots in their service plan, once had.
Chatbot is now no more a new concept for the world. Today, almost all the companies belonging to the Service and various other industries are invested in the Chatbot mechanism. It has opened a whole new realm of customer engagement for business across all domains.


What is a Chatbot, Really?
Chatbot or Chatterbot is a computer program, which simulates human conversation through the text chats or voice commands or at times, both.
The software can either be incorporated in your existing application or it can also act as a standalone app like Siri.
With the definition out in the open, let us first look at the Chatbot Market before moving on the industries that have successfully make them a part of their business and the working of the in high demand technology.
Chatbot Market Forecast
You'll see nothing but growth when you sit down to do Chatbot Market Analysis. Something that was validated by Grand View Research in their recent report.
Here are the key findings from the report:

The international Chatbot market is anticipated to reach upto USD 1.25 billion by 2025, witnessing a growth of CAGR of 24.3%

Bots find numerous applications in healthcare, e-commerce, and BFSI sectors. Large enterprise have emerged as the biggest end-user segment in the year 2016 and has been estimated to register an average CAGR of 24.2% by 2025.

The chatbots in the marketing domain are expected to see the biggest growth between 2017 and 2025 as these directly connects the users to their service providers.

The Asia Pacific zone is expected to witness a substantial growth in the next decade because of the technological developments around prime economies. The local market is also expected to grow at CAGR of 24.7 % from the years 2017 to 2025.

The main participants in the Bot industry consist of Poncho, WeChat, Baidu, Kik, Babylon Health, Varo Money Inc., SRI International, and ReplyYes. They have found extensive applications in the large enterprises for they enable a better understanding of the consumer behavior with the adaptation of machine learning.
The reasons behind this surging demand for Chatbot can be directly linked to its widespread uses in a few of the most once-traditional industries.
Messaging apps had already revolutionized industries by bringing them on the world's fingertips, years ago. By becoming available on just a text distance, messaging apps solved one of the biggest issues faced by the customers and the brands: timely response.

While, the messaging apps solved a major issue, but it still had its limitations. It was not possible for customer care reps to be available on text at all hours. A problem that now got solved with the advent of Chatbots.
By incorporating chatbot mechanism, companies now no more had to worry about not responding to users on time, as they now always got an automated response.
Let us look at the four industries that have already/ on the verge of adapting the Bot technology in their processes:
Industries using Chatbots

Education

Beside answering students' queries and scoring their essays, Chatbot has found itself reminding students to take a lesson or to go through what they studied, again.
By taking over two of the most mundane tasks – grading and making students repeat what they learned, Chatbots are opening up spaces in teachers' daily task sheet to upgrade the education system, globally.
Customer Service

One of the most evident uses of Chatbots can be seen in the Customer Service industry. Every time you visit a website or app that says 'Live Chat', the chances are that the one who would be replying to your query is not a human but a bot. And it's not just limited to website chats. With apps like Elves, you can now easily order things online, check the status of items you ordered or are out of stock by having a highly interactive chat session with a Chatbot.
Psychological Health
Chatbots when feeded with emotion trigger words, can have customized interaction with the users, proving to be a very empathetic, efficient tool when it comes to handling mental health issues. There are even apps in the market like Nadia, which have personalized interactions depending on your tone of voice and word usage.
Assistance
After customer service, the most on the most on the face example of Chatbots is Assistance. Apps like Siri and Google Assistant have been used by the world since a very long time now. Upon being connected with a device's operating system, these assistance Chatbots perform a series of functions from playing music to calling someone on the user's behalf and even booking tickets or making a search on Google.
While these are just the four areas whose Chatbot adaptation is openly there, there are many other industries like Banking, Travel, Healthcare, and News & Publishing that are also not lagging behind.
I am sure it would have been established by now for why your brand need to invest in Chatbot development, let's now look at the basics of Chatbots: Of how they actually work.
How does Chatbots Work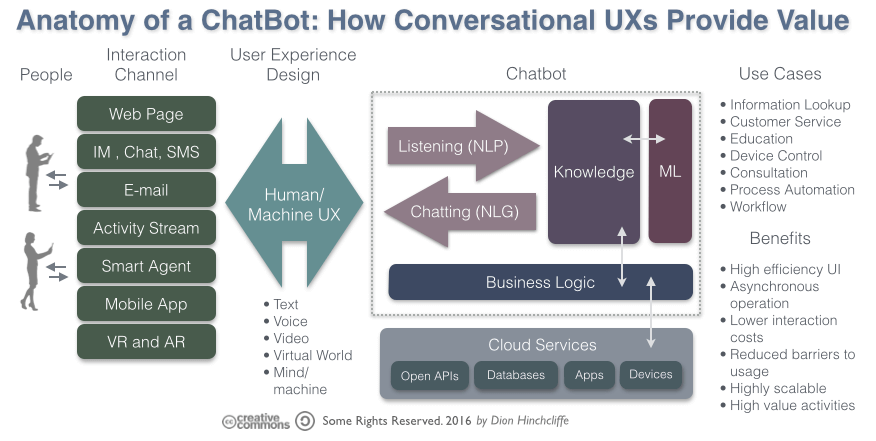 Chatbots are categorized into two groups according to the functions they serve: 1) those who work on explicit commands and 2) the ones that uses machine learning.
The first type is very simple. Bot is designed to respond to specific/ strict commands, if a user says something otherwise, it won't be able to understand.
The second category is a lot more advanced. They use Natural Language Processes and Machine Learning Algorithms, so they understand not just the specific commands, but also human language, as they expand their learning while communicating with the users. In short, they have a brain of their own.
Machine learning
One of the factors that has played a major role behind making chatbots a part of all industries' future is – Machine Learning technology. It is entirely focused on the creation of programs, which can study and respond to previous experiences and patterns.
Natural Language Processing
To make quality interactions with the users, the bot needs not only learn how their users interact but also understand them.
Natural language processing is based on various types of machine learning algorithms, which offers language generation and language understanding. It enables users to interact with a virtual bot, not with the help of commands, but as a human.
Since you now know the types of bots available for use, let's now finally see how you can make a Chatbot Application for mobile devices for your brand.
How to Develop a Chatbot Application?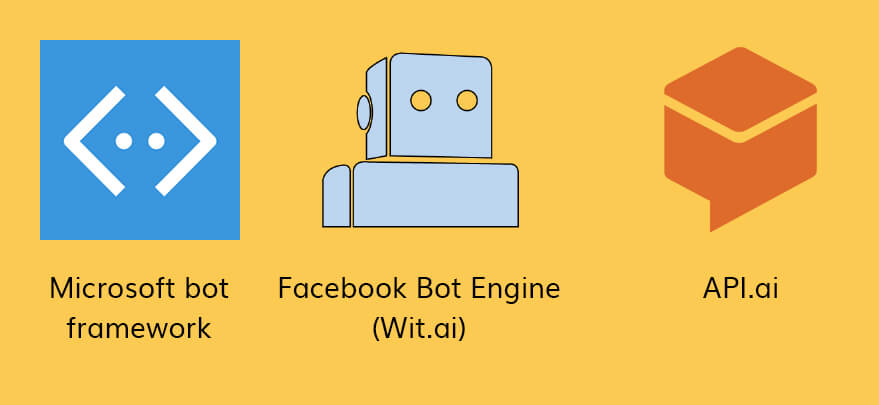 When it comes to chatbot development, a company has two options. A. Use readymade platforms to make your bot on or B. Make it from the scratch using tools.
When using a platform to place your chatbot on, you have a number of options ranging from Slack, Discord, Telegram, Kik, and Facebook Messenger. The limitations in using platforms are that you can only host your bot on these and not elsewhere.
To remove this limitation, companies also use tools to develop their own chatbots that can be hosted anywhere. For that, there are a number of tools, but these are the ones that we use – wit.ai, api.ai, textit.in, IBM's Watson, and coverse.ai.
You are now set to make your customer service game stronger, with your own Chatbot
Related Articles:
Continue exploring the landscape of product design with these helpful resources:
chatbot app development
chatbot applications
chatbot technology