Flutter vs React Native: What to Choose for Mobile App Development?
May 18, 2018
2. min read
Last update on:
January 22, 2020
Originally published May 18th, 2018, updated October 31st, 2019.
There was a time when the mobile app development industry was only restricted to developing an app individually for iOS and Android, but the tables have turned now, 100%.
Today, investing in a mobile app development company that excels in developing a single app that would work on both Android and iPhone, on one codebase, has become the trendy business agenda.
A guide to Cross platform app development a.ka. 'The Trend' became mainstream when Facebook launched and popularized its cross platform app development framework called React Native back in 2015.
Ever since then, businesses – to avail the cost and development benefits that React Native app development had to offer – had been moving to the framework after getting a staring-at-profit answer to the question 'Is React Native the Right Platform for Your Next App?'.
And thus, without an ounce of doubt, React Native got popular and the top shots like LinkedIn, Instagram, Walmart, etc moved to the platform.

A popularity that got a dent, a rather impactful one, in March 2018.
Google in the Mobile World Congress announced the beta release of its own cross platform SDK called Flutter.
In just a matter of 2 months, Flutter for mobile app development have been able to develop apps that are competing neck to neck, backed by the power that Google has bestowed upon it in the shape of the features like Support for AndroidX, Game Controller, and More.
The latest version of Flutter released is 1.9.1 that came right after Flutter 1.9 packed with features like support for macOS Catalina and iOS 13, new material widgets, and so on.
Coming back to today.

The present day situation is that Flutter and React Native have gone into an open war of traction and mass adoption and the search query of either of the frameworks comes back with the result showing – 'Flutter vs React Native'.
The dissection has been done to such an extent that we were able to draw a comparative infographic to know the best cross platform app development of it. Here it is – The difference between Flutter vs React Native 2020.
[table id=46 /]
1.

Flutter vs React Native : User Interface

Proprietary Widget vs Native Component

When comparing React Native vs Flutter on the grounds of User Interface, both Flutter app development services and their React Native counterparts have a stark difference when it comes to the building blocks that they use for their UI development. While on one hand React Native taps into native Android and iOS components with the help of third party or custom components, Flutter functions with proprietary widgets that are 100% customized.

These widgets are both in Material Design for Google and Cupertino for Apple, making UI one of the possibility factor Flutter's win in the battle of React native vs Flutter 2019.
2.

Flutter vs React Native : Native Appearance

Native look and feel is something that both Flutter and React Native for mobile app development are promoting as their USP.While the proof of React Native's performance is available for the world to take a peek in and explore, the same can't be said with guarantee for Flutter.

The reason that companies hire Flutter developers is its feature to use device's core functionalities without any third party component. Moreover, it has what it takes to go far in the journey of developing native look and feel apps for iOS and Android.
3.

Flutter vs React Native : App Performance

Talking of the Flutter vs React Native performance comparison, Flutter takes the crown. It is much faster than its React Native Development counterpart. Since, there is no JavaScript bridge for initiating interactions with the device native components, the speed of development and running time gets expedited drastically.

This added to the point that Flutter has set the animation standard at 60fps is a clear sign of its high performance. Lastly, since Flutter is compiled into the native ARM code for both Android and iOS, performance is the one issue that it would never face.
4.

Flutter vs React Native : Framework Maturity

The difference between Flutter and React Native is that the later was first released in 2015 while Flutter first Beta release was made in the Mobile World Congress which was held between February 26th and March 1st. So, talking of maturity, Flutter is less mature as compared to React Native. Since it is still in its infancy stage, Flutter application development will take some time before it gets mature.
5.

Flutter vs React Native : JavaScript vs Dart

It is difficult to compare Flutter with React Native on the basis of the language that they are based on. While on one hand JavaScript has become widely accepted and adopted after years of use by the react native mobile app developers, Dart, Flutter's language, is extremely easy to write codes in and thus come with a low learning curve.

Now, because Dart is very new and Google has a habit of killing off languages like what it did with Angularjs, the adoption rate in the industry is not very high. But the subset of developer community that has been working it has all good things to say about Flutter development services.
6.

Flutter vs React Native : Industry Adoption

Since Flutter is considerably new in the cross platform industry, the number of businesses that have adopted the SDK for developing their cross platform apps are very less. While on the other hand, the benefits of using React Native for app development lies in the showcase page of numerous apps that have been developed using the framework.

However, the fact remains that even after being new, brands with their partnered Flutter application building company, have launched apps on the SDK which are rather complex like Google AdWords or Hamilton Musical, and even an eCommerce giant like Alibaba.
7.

Flutter vs React Native : Configuration & Setup

We found that Flutter's setup process is much more straightforward while analyzing React vs Flutter. It is because Flutter comes with the provision of automated checkup of system problems, something which React Native misses to a great extent.
8.

Flutter vs React Native : Tooling

When it comes to Tooling, Flutter doesn't match up to React Native, YET. Since Flutter is at least 3 years old, the range of IDEs and tools supporting it are much higher in number.

But then, Flutter framework can definitely boast of its compatibility with Visual Studio Code, IntelliJ idea, and Android Studio. Moreover, the debugger, Dart linter, auto format, code analyzer, and auto format tools of Flutter have received some very favorable reviews.
9.

Flutter vs React Native : Lifecycle Management

Commonly speaking, React Native tends to do a much better job at simplifying the app lifecycle handling and optimization. Flutter lifecycle management only gives you the scope of working with widget inheritance that only allows for stateless and stateful conditions, minus any tools for explicitly saving the application state.
10.

Flutter vs React Native : Code Structure

As compared to JavaScript, the React Native language, Dart has no separation between style, template, and data in the file, which makes styling a lot messy in Flutter as compared to React Native.

I know this doesn't sound very major, but the developer experience with Flutter have known to be getting affected because of this.
11.

Flutter vs React Native : Documentation

While the chaotic state which React Native documentation is in, is expected from a framework that is heavily open source, but it has a lot to learn from Flutter documentation.

Google is known for its clear, detailed, and well formulated documentation and with Flutter they have continued the expectation.

When you look at the present day comparison of Flutter vs React Native in 2019-2020, you will find that Flutter is lagging behind and it is. But the situation is going to change.

Flutter in a very short span of time has started getting all the right traction from businesses, in fact when you look at their Showcase page, you will find that the apps that have been made using Flutter belong to the complex category, which are being used by multiple people at the same time.

Add to this the libraries that they are continuously adding in their portfolio, along with the on-point documentation, and you will get a framework that is ready to take on the cross-platform world.

In fact, Google itself is not shying away from challenging Facebook on the face. So, we have to say that between React vs Flutter in this scenario, we have Flutter as the winner.

In case you missed the existence of Flutter in depth documentation for React Native, here's a summarized version.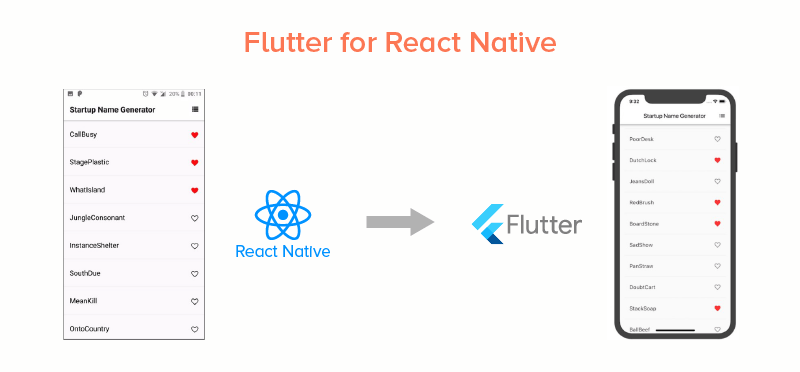 Flutter for React Native is Google's document helping developers apply their present day React Native knowledge in developing Flutter apps.
The document details the Flutter app development process. This link particularly explains the Flutter for React Native, that page intended to show that any developer who has already worked on the React nNative can easily switch on Flutter.
The documentation is a clear invitation for the developers community on both iPhone and Android side to deviate from React Native and experience the ease and flexibility of Flutter.
On the face documentation guiding developers to switch from React Native to Flutter is not the only way Google is trying to pass React Native in the race to mass adoption. The move to add Material Theming and Cupertino widget in the cross platform SDK ecosystem has added a whole new punch of expressive user interface into apps developed using the Flutter SDK, something that React Native still lacks and relies on other Design Kits for.
Fueling this Flutter vs React Native 2020 fire further is the new additions that have been introduced both the top cross-platform tools.
Between 2018 and now, especially after 2019's Google IO event announcements, a number of new changes have been brought into both the domains which have now paved the road to great competition.
Let us look at what is new in Flutter and React Native in 2019.
What's New in Flutter in 2020?
Flutter launched its 1.7 version in July with ample of new features and improvements, including:-
Android X Support – This makes it possible for Flutter mobile app developers to update their designed Android apps without compromising on backward compatibility feature.
OpenType Rich Typography Features – Flutter is releasing a new set of typography features like tabular and old-style numbers, slashed zeros, stylistic sets, etc, which will enhance app UI experience.
Besides, Flutter for Web has also been made available with a focus upon moving Flutter beyond smartphones and enter Chromebooks, Windows, and Mac. This, as a whole, gives an impression that Flutter has a higher future scope and should be considered by Android and iOS developers in 2019.
What's New in React Native in 2019-2020?
Last year in November, React Native laid down a roadmap for what was left for 2018 and 2019 as well, making the whole event of building mobile apps in React Native a lot more exciting.
The elements that were added in the list are something that is all set to redefine what React Native stands for.
They have planned to:
Make APIs stable

Create a Better GitHub Repository

Better Documentation

React Native's surface area is being removed by unused and non-core components

Plan to improve support for tools and platforms which are famous in the open source community.

Facebook will be consuming React Native via Public API to reduce instances of breaking changes.
Apart from these, React Native 0.60 was launched in July with own set of new changes like:-
New Screen – A new screen is introduced that shows relevant instructions like editing App.js, document links, process to debug menu, and more. This has been considered as an effort by the community to enhance the user-friendliness and popularity of React Native over Flutter.
Support for Android X- Alike Flutter, React Native will also support AndroidX (Android Extension Library). This implies that regardless of whether you pick React Native or Flutter, AndroidX will be a part of your development process.
With these changes now being introduced or being prepared to be added in both Flutter and React Native ecosystem, the war of React Native vs Flutter is only going to get denser now.
To conclude, while yes, Flutter will take time to surpass the popularity that React Native has gathered over time, but give it time and it will jump right on and off the React Native's user base. 
Frequently Asked Questions About Flutter vs React Native
Q. Between flutter and react native, which one to choose in 2019-2020?
It is tough to say since both the frameworks are doing really well. So, I would recommend taking decision based on the comparison factor shared in this article.
Q. Will flutter replace react native?
Yes, Flutter will replace React Native and become the ruler of Cross-platform development in the future.
Q. How popular is flutter?
Though new in the market, Flutter has earned significant popularity in the market. Various popular brands like Reinvently, Hamiliton, Topline, and Google Ads have embraced the UI framework.
Q. Is react native still in beta?
No, it is not.
Q. Why flutter is better than react native?
Flutter, backed by Google, deliver more of native experience than React Native and does not rely much on third party libraries for introducing new functionalities. This gives Flutter an upper hand over React Native.
In search for strategic sessions?.
Let us understand your business thoroughly and help you
strategies your digital product..
Recent Articles: