Spotify has become an undisputed leader in the music streaming industry. 
The Sweden-born media service company has bridged the gap between listening to favorite songs and buying MP3 tracks online. It has enhanced the way people listen to music, across the globe. 
The popularity that Spotify has found for itself can be validated by the following 30+ stats for this music streaming platform that we will be covering in this article.
Here, we will look into the Spotify statistics in different aspects to help you gain valuable insights about the company and its strategies to rule the music streaming world. 
Before that, let's take a quick recap of the Spotify basics:
Spotify – The Utopia for Music Lovers
Spotify is an on-demand music streaming service that serves users with access to millions of songs, podcasts, and videos from artists across the globe. The company, founded by Daniel Ek and Martin Lorentzon, entered the market back in 2006. And since that day, it has proven to be the pole star of the industry – giving users everything that adds melody to their life.
While various factors contributed to the growing popularity, including its target audience and business model, what became the core reason is the opportunity to access content for free.
The application, lets users sign up using their email address or connect via Facebook to get access to content. This provides users an option to start listening to music online without making any commitment or paying monthly subscription fees.
What's more, Spotify launched its lite version to make its presence in developing countries. The popular music streaming platform also introduced Cosmic Playlists, which lets users enjoy the tone and theme of music as per their astrological signs.
With this covered, let's dive into the Spotify target market and look at the different Spotify statistics.
Statistics & Facts About Spotify
1. Spotify has a market cap of $23.88B
As of March 2022, Spotify has a market cap of $23.88 billion. This makes Spotify the world's 759th most valuable company by market cap.
2.

The Sweden-based company raised a total amount of $2.1B.

As per the latest Spotify facts, the company has raised a total of $2.1B funding in over 18 rounds. Their latest funding was raised from a Post-IPO Equity round on Feb 25, 2021.
3.

It has acquired 24 organizations.

When focusing on Spotify vs other music streaming services, another fact that makes the former a leading one is that it has acquired 24 organizations so far. Their most recent acquisition was Whooshkaa in December 2021.
4.

Spotify is available on multiple platforms.

Besides Android and iOS platform, the company has applications available on Apple macOS computers and Microsoft Windows. The company also introduced the 'Spotify Connect' functionality to enable users to listen to music from a wider range of entertainment systems. 
5.

The top competitors of Spotify

Spotify faces tough competition from Apple Music, Amazon Prime Music, Youtube Music, and Google Play Music. However, it has an edge over some of its rivals, resulting from its focus on user experience and low pricing.
6. Spotify app recorded 13.37M downloads from Android users in October 2021.
According to Statista, the streaming service generated nearly 13.37 million downloads from Android users in October 2021.
[Also Read: How Much Does it Cost to Develop a Music Streaming App Like Spotify?]
7.

The total Spotify app install reported on Android platform is over 1B.

As per the latest Spotify facts, the total number of Spotify app downloads in the Android market exceeded 1 billion on May 2, 2021.
8. Spotify is available in 180+ countries
Spotify is currently available in 184 countries, with Europe, North America and Latin America leading the race of subscribers. Spotify plans to expand its operation in more countries in the coming years. This gives a clear indication that the music streaming application is on a mission to make its availability in every corner of the world.
9. Spotify Lite app is available in around 37 countries.
The lite version of the application that demands only 10MB to install and operate has gained popularity in nearly 37 nations.
10. Over 10

M of users have installed the Spotify Lite app.

By making its presence in 37 countries, the lite version of media streaming application has been installed by over 10M users.
11.

Spotify has 406M active users.

As per the Spotify user statistics, in the fourth quarter of 2021, the number of Spotify monthly active users is around 406 million. This marked an increase of over 60 million in just a year.
12. Spotify has 180M premium subscribers.
Another Spotify user stats to watch out for is that the media streaming application has gained 158 180 million premium subscribers as of the fourth quarter of 2021, up from 55 million in the corresponding quarter of 2020.
This gives a clear indication that Spotify's business model of targeting both free and premium users individually is a successful formula. So, every entrepreneur wishing to enter the music streaming domain must consider it while discussing the idea with their team.
13.

55% of users have registered on Spotify via their Facebook accounts.

By offering social media integration service, Spotify has cut down the hassle of creating a unique account and increased the chances of user acquisition. Something that can be concluded from the value shared above.
14. 83.1M of Spotify users are from the USA.
Another Spotify user stat to consider is that the US is their best market. According to eMarketer, Spotify currently has 83.1 million users in the US, of which 44.7 million are paying subscribers.
As per Spotify's internal research, the brand's popularity has increased by more than 3x in India since its launch.
15.
Spotify's brand popularity increased by 3X in India. 
As per Spotify's internal research, the brand's popularity has increased by more than 3x in India since its launch.
16.

29% of Spotify users are millennials.

It's true that one-fourth of Spotify's audience is millennials. As depicted in the graph below, people from all walks of life are enjoying the Spotify music streaming service.
17.

56% of Spotify users are male.

While it's true that Spotify is a male-dominating platform, it is slowly and gradually gaining appreciation from female users also. This can be concluded from the following graph.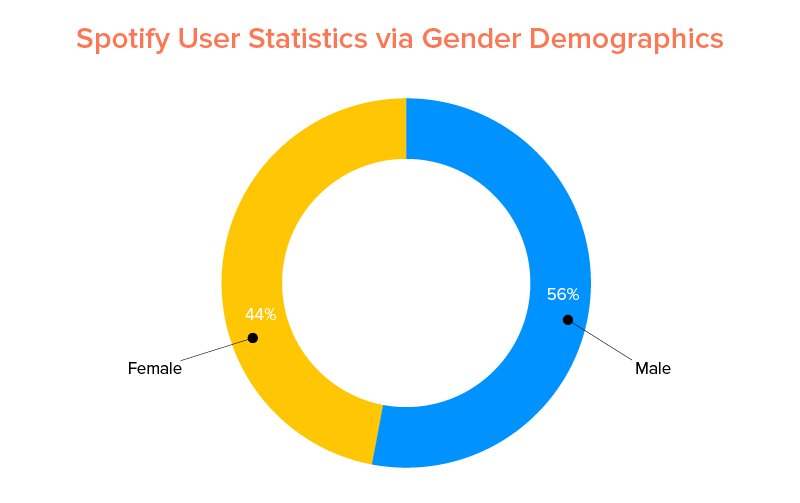 18.

52% of users are listening to songs on Spotify from their smartphones.

Spotify, the music streaming service, is available on different platforms. But still, smartphones and tablets are the two platforms where Spotify is getting more love. 

Around 52% of Spotify users are accessing its services from smartphones, while 10% from their tablets.

[Also Read: How to choose the best platform for app development?]
19.

A premium subscriber consumes about 2.4MB per minute on Spotify.

To enjoy the best streaming quality, a premium user devour 2.4MB per minute, which counts to 115.2MB every hour. This subscription cost is much higher than what is demanded by Spotify's competitor, Apple Music.

So, to ensure that people do not deviate towards Apple's service, the application also brought the option to change the setting to normal streaming speed. And, this way, enjoy music streaming without making a hole in their pocket.
20.

Spotify is being tuned by users 148 minutes every day.

On an average, users listen to songs on Spotify for 148 minutes every day on their cross-platform device. This is yet another Spotify usage statistic that shows that this on-demand entertainment application is enjoying a higher user satisfaction level.
21.

10% of US adults tune to Spotify many times a week.

Just like other countries, the US audience is also listening to Spotify songs in different frequencies, as shown in the graph below.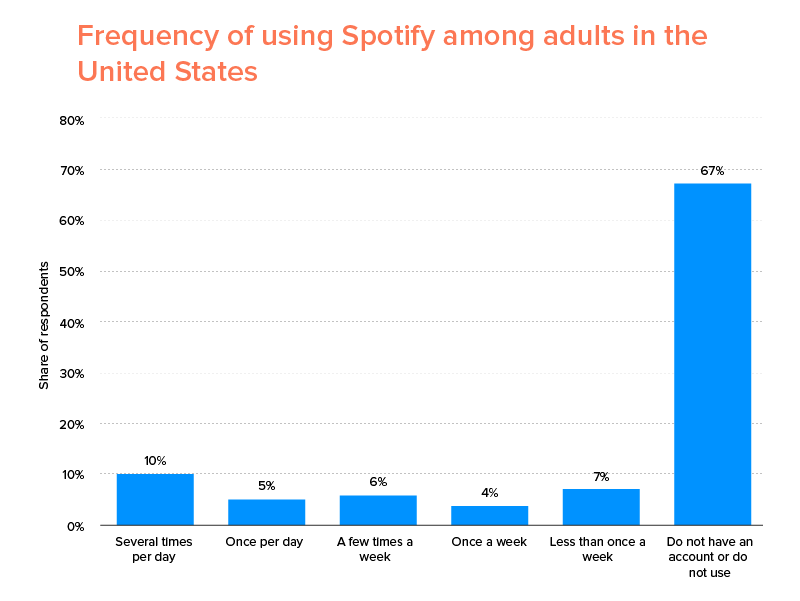 22.

A user devotes time to 41 artists weekly.

On an average, a user listens to tracks from 41 different artists a week. This gives an impression that Spotify comes up as a platform that offers higher discoverability options to artists and makes them connect to a wider audience easily.
23.

There are more than 3M podcasts on Spotify.

The Spotify podcast feature is also gaining huge momentum in the marketplace. As per the latest stats for Spotify, there are around 3.2M podcasts available on the platform, while many more are hoping to be added soon.

Bonus Read- How Much Does a Podcast Application Development Costs 
24.

Around 80M+ tracks and 4B+ playlists are available to users.

As per the latest statistics for Spotify, the app offers more than 80M tracks and 4B playlists curated depending on different factors, such as theme, mood, age, and gender. These songs, that includes both the modern and ancient ones, have not just proven to be a challenge for other on-demand music service providers but also for radio.
25.

Over 60,000 songs are added every day on the platform.

Spotify app offers users with a unique facility to upload tracks from their personal devices, in addition to listening to those already available. As per Spotify listening stats, a ripple effect of this is that around 60,000 songs enter the Spotify platform on a daily basis.
26.

100 songs have been played a billion times on this music streaming app.

As per Spotify listening statistics, as of February 2022, from 'Shape of You' to 'Closer', 'Rockstar', and 'Havana', around 100 songs have been played billion times by Spotify users.
27.

17% of playlists played on Spotify are personalized.

The type of playlists available on Spotify are broadly divided into three categories – UGC, personalized, and curated playlists. Among these, 17% of playlists enjoyed by users are personalized.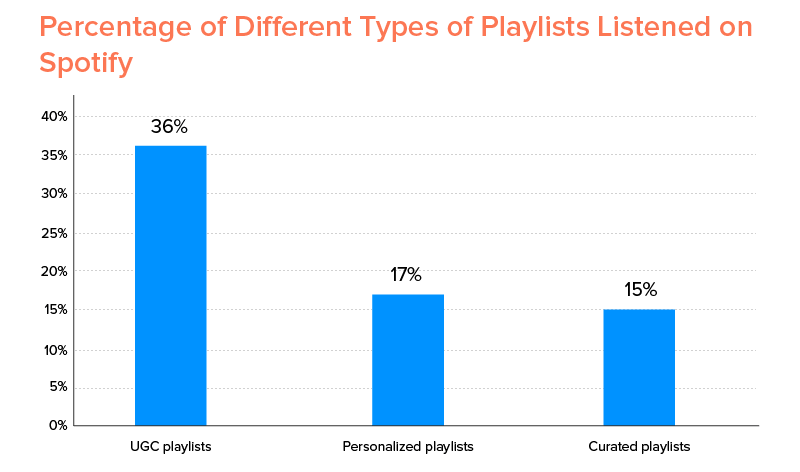 28.

Nearly 20% of songs available on the app have never been played.

While Spotify has made it extremely easy for artists to spread their music and get the limelight, there are still various songs that go undiscovered. As per the Spotify statistics 2022, about 20% of available songs have never been tuned by anyone on the platform.
29.

Spotify annual revenue generated is €9.67B.

As per Spotify stats, in 20210, Spotify generated a revenue of over 9.67 billion euros, up from 7.88 billion in the previous year. The majority of Spotify's revenues came from its premium subscribers rather than ad placements.
30.

Spotify generated 2.69 billion euros in 2021
As of Q4 2021, Spotify generated over 2.69 billion euros, up from 2.15 billion euros in the corresponding quarter of the preceding fiscal period.
31. Spotify generated 8.5B euros via premium segment
Another Spotify stats indicating the Spotify growth rate in terms of its business model is that it earns accelerating revenue from both premium and ad-supported services. Something that can be concluded from the following graph.
32.
The US is the country from where Spotify is earning huge revenue.
As per the latest Spotify stats, this music streaming platform, with its presence in over 180 countries, is generating revenue from different locations. However, the US is the largest contributor of revenue, followed by the UK.
33. €21 billion of Spotify generated revenue went to rights holders.
According to businessofapps.com, Spotify gave €21 billion to music rights holders since its launch, as of February 2021.
Final Note
Now, as you have gone through these stats for Spotify in 2022, it is likely that you will find yourself convinced with the growing opportunities in the music streaming industry. Various new brands are already planning to invest in this domain, wherein many industry trends and technologies are taken into account for driving higher competitive advantages. This is making both business enthusiasts and users excited to know what will unfold in the future.
If you are also planning to launch an entertainment app or fantasy sports app, contact a reputed entertainment app development company. A media and entertainment app development company will answer all your questions and guide you through the entire process of media app development.
Frequently Asked Questions about Spotify
Q. How many subscribers does Spotify have in 2022?
A. As per the Spotify statistics 2022, the app Spotify has around 180 premium subscribers.
Q. How much money has Spotify made in 2021?
A. As per the latest Spotify stats, in 2021, Spotify earned nearly €9.67.
Q. Is Spotify the biggest streaming service?
A. Yes, it is the biggest streaming service of the time. And the whole credit of this win over Tidal, Pandora, and other music streaming applications is Spotify's vast device support, wider music catalog, varied plans for paid and free subscribers, and more.
Read more blogs
We live in a world where people value information delivery mediums as much as they do insight. Video has become the most palatable source of ingesting information for people, with the average person spending over 100 minutes (or more) consuming video content on a daily basis as of now in 2022. Consequently, video streaming protocols…
Prateek Saxena
12 Dec 2022
Packed with useful information, engaging shows, and joyful banter, podcasts are highly engaging. Unlike blog posts that need reading or watching, podcasts require minimal engagement from the users.  Podcast apps today are highly in demand among users. They are evolving as a new channel where listeners can listen to the premium audio content of multiple…
Prateek Saxena
16 Oct 2020
The media and entertainment industry is most proactive in enhancing itself for the digital shifts of tomorrow. In fact, what was thought of the marketplace prior to the pandemic outbreak, has only been proven right and rather catalyzed by people staying at home and turning to streaming services for entertainment.  One of the most glaring…
Prateek Saxena
30 Jul 2020