Everything is better with a bag of weed.
When Brian and Stewie from Family Guy sang and danced to the tune of everything is better with a bag of cannabis, little did they know that they are not just insinuating a happy world but also a green P&L statement of businesses operating in the cannabis industry. 
With the legal marijuana market poised to be USD 66.3 billion world by the end of 2025, there is hardly any cannabis enthusiast and money enthusiast entrepreneur who is not thinking of entering the goldmine space. 
Now, while the stringent rules are keeping people from entering the industry as cultivators and dispensary owners, there are a few low-stringent sectors, which offer a chance at growing green money (pun intended). 
One such cannabis sector that entrepreneurs are willing to enter and investors are ready to fund in 2021 is Cannabis Delivery Service Business. 
And through this article, we are going to help you start the business. 
But first, let us give you a few feel high statistics on how big the market, which you are only a few steps away entering from, is.
Cannabis Delivery Market Size
How to Start a Cannabis Delivery Service Business in 8 Steps
The infographics that you just saw above is a sign of how lucrative the cannabis industry is for people who wish to start their business in the domain and how bright is the future of marijuana industry. But, because of the presumed taboo around the sector emerging from the impression that it is illegal, makes it seemingly difficult for entrepreneurs to enter the domain.  (See here: how entrepreneurs can survive in the cannabis market).
We say seemingly because when you know the steps to start a cannabis delivery service business, it becomes a matter of crossing the steps to emerge as an industry leader. 
Let's get started with the steps for starting a medical marijuana delivery service business. 
Step 1. How to raise funds for cannabis delivery service?
Finding funds for your business is never an easy shot. And when you are looking for funds for your cannabis delivery business, it becomes all the more difficult. Inspite of financial institutions opening up to the idea of cannabis being legalized across nations, they still are wary when it comes to lending credit to entrepreneurs to start their cannabis delivery service business. 
So how can you get your cannabis cash in place? 
Let us show you some ways. 
Seed Capital
"A seed round is aimed at building a product, service or technology; and getting some early traction, typically in the form of beta or pilot customers," Viridian Capital Advisors President Scott Greiper explains. "This will help you establish some reference cases. Investors will want references from clients in the future."
Your seed capital should mainly come from your friends and family or your personal savings. Full disclosure, you will not have many options if you choose to take the traditional funding route because banks and other loan organizations would not be willing to get associated with your business. 
Alternative
It is understood that not everyone come with the same financial background, so for them finding alternatives for seeking funds become the need of the hour. 
Here are some other ways you can get funding for scaling your cannabis delivery app business.
Cannabis specific funds (and a couple hedge funds)

High net worth individuals

Angel investors

Business accelerators and incubators

Musicians, athletes and other celebrities

Industry-specific holding companies
*Bonus: Funding Platforms for Marijuana Startups* 
Here are some cannabis industry's institutional investors you can reach out to when seeking funds for your cannabis business:
Ackrell Capital

Canna Angels

Benchmark Capital

Floris Funds

Casa Verde Capital

Green Growth Investments

Founders Fund

Ground Zero Ventures

Greenfield Capital Partners

Halley Venture Partners
Step 2. Where to Set Up Your Cannabis Delivery Business?
Location choice is pivotal to the success of your cannabis business. While every other state in the USA allowing consumption of cannabis, it is important to know where to set base of your cannabis delivery business. 
An open market would allow anyone who adhered to the legal formalities to start a cannabis business to start their delivery business, irrespective of which state they reside in. 
Contrarily, closed market only makes it possible for its residents to start a cannabis centered businesses. You will have to live in the state and pay taxes for a few years to become eligible to start a cannabis business. 
This is why, it becomes important to do a proper market analysis before crafting a complete cannabis delivery business plan.
Let us look at some of the most cannabis friendly states in the USA to start your cannabis business in. We have arrived at these states following certain metrics like: legal environment, ease of market entry, cost of market entry, market opportunity, and tax climate.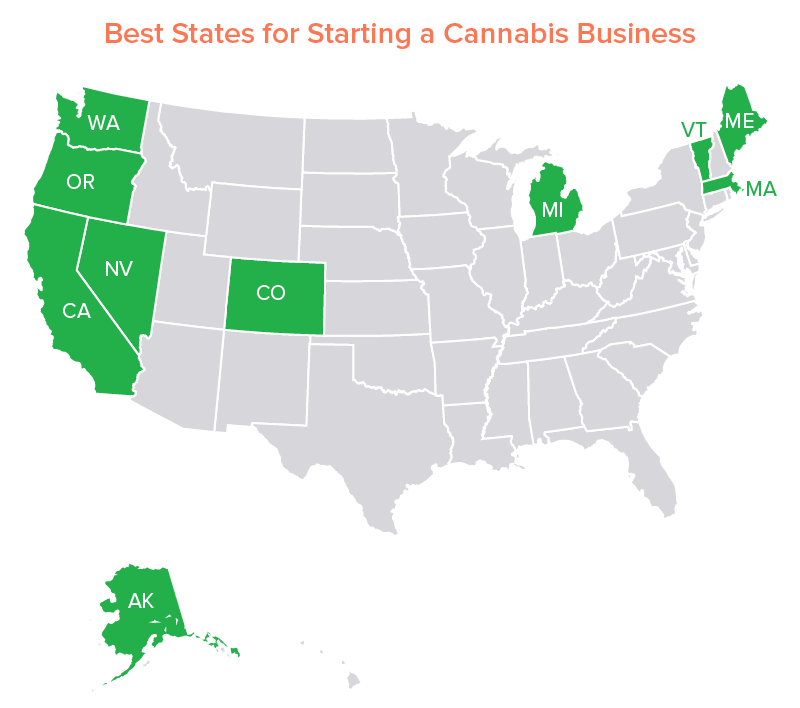 Step 3. Follow the Rules and Regulations to the Letter
One of the very first things you will have to do is get the necessary licenses to get your cannabis delivery app business off the ground. While in California it is legal to deliver cannabis until it meets the necessary weight, it is not the same everywhere. 
To be on the safe side, you will have to have a Business License in place. 
When attaining the licenses, you will come across two different scenarios: A. When your marijuana delivery service is affiliated to a storefront dispensary and B. When your marijuana delivery service is not affiliated to any storefront dispensary. 
If the cannabis delivery service is not affiliated with any storefront dispensary you might want to apply for Retailer Non-Storefront business license, which would require you to secure a not open for public premises.
If you have a storefront dispensary, you would have to apply for a regular Retailer business license. 
Now, the important thing to note here is different states come with different set of rules and regulations. Here are the details of state wise rules and regulations that your cannabis business must follow, depending on where it is operational. 
The Bureau of Cannabis Control has published a document of Instructions for Completing the Cannabis Retailer Application. And in order for you to operate legally, you too will have to adhere to the application's requirements.
Step 4. Sourcing the Cannabis to Sell 
The prerequisite of being a cannabis delivery business is to have a source from where you will get your product to then sell ahead. Most of the cannabis dispensaries already have their delivery service, so it might be difficult to get in touch with a dispensary and propose to handle their deliveries. 
The best bet that you have when it comes to getting your product if you don't cultivate it in your farm is to talk to the cannabis manufacturers or the growers and get it from them upon striking a wholesale discount deal. 
At this stage, it is very important that you only partner with manufacturers who are legally allowed to grow cannabis and not people who are operating as black market. 
Step 5. Understanding Cannabis Delivery Compliances
Unlike your regular food delivery app business, the cannabis delivery business model is very different. 
The first thing that you will have to keep into consideration is the cannabis delivery license in terms of the amount of cannabis you can transport at any given point in time and the amount of transactions you can make. 
In terms of the vehicle that you are using to deliver cannabis from point A to point B, you would want to go with a vehicle that is not too big in size or have the words similar to cannabis painted on it to attract attention. 
You will also have to ensure that there are necessary security measures in place to ensure that the drivers carrying the product are safe. 
In addition to this, the GPS installed in your vehicle should be connected with your cannabis delivery service app and should be kept switched on at all times. 
Things to consider with respect to the drivers:
Should be minimum 21 years old

Should have the necessary documents highlighting that they are allowed to carry cannabis

Should not drive under the influence, under any condition. 
Step 6. Cannabis Delivery Service Business Payment Options
"Transactions in the U.S. involving the purchase or trade of marijuana are not permitted on the Visa network, until such time as federal law allows," a Visa representative wrote in an email.
No matter how legal cannabis become in the USA, card companies and 90% of the operative banks will not open up to the idea of allowing making transactions for buying and selling cannabis. 
Now until you want to take the offshore route, like opening a Swiss bank account or charge money under false names, you will only have 2 options to take money from your clients and devise your cannabis delivery service business financial model. 
Take Cash Payments
Use e-Wallet Apps
Option A, is something that we don't promote because of its own set of challenges. Option B however, is a lot more feasible considering you will be able to get access to the amount in a more expedited and safe manner.
Step 7. How to Get Cannabis Delivery App Approved on the App Stores?
While the world is opening up with the idea of legalizing Cannabis, the App Store and Play Store are taking their own sweet time. 
There are a number of cannabis specific apps that have seen resistance on the stores for the presumed nature of the service. While some said that words like "recreational," "retail," "adult use" or "21-plus,"  instigated app rejection, others didn't have any answer as to why were their cannabis delivery app rejected. 
Google, on the other hand, announced a ban on marijuana apps in May. 
Talking about the statement, a Google representative went on to say "These apps simply need to move the shopping cart flow outside of the app itself to be compliant with this new policy," the spokesperson said. "We've been in contact with many of the developers and are working with them to answer any technical questions and help them implement the changes without customer disruption."
Ultimately, the cannabis delivery approval process comes down to the context your app description is portraying to the stores. 
Step 8. How to Find a Cannabis App Development Company?
The process of shortlisting an app development company is very similar across genres. But the only thing that will differ in case of cannabis app development company is that these agencies would have a very in-depth knowledge about the industry and the rules, regulations that prevail in it. 
It would help to go with a mobile app development company who has worked on cannabis delivery app project before for they will have a good understanding of how to develop an app that gets approved in the store while not demanding a hefty amount on the name of medical cannabis delivery app development cost. 
FAQs about Starting a Cannabis Delivery Service Business in the USA
Q. What types of financing are available for cannabis businesses?
Since it is difficult to get seed funding from banks because of federal laws, you will have to rely on your family or friends for attaining the seed capital. If not, you will still have some alternatives to go with when looking for financing options to start your business:
Cannabis specific funds (and a couple hedge funds)

High net worth individuals

Angel investors

Business accelerators and incubators
Q. How Technology is Changing Marijuana Delivery?
There are many ways technology is getting involved in the marijuana industry to make it better. One of the most prevalent one being mobile applications which are making the order and delivery of cannabis instantaneous. Other technologies like AI and Blockchain are also helping in streamlining the farm to consumer life-cycle.
Read more blogs
The cannabis business has just received a massive boost from all across the world. The legalization and acceptance of cannabis by government entities and the general public open up new avenues for the cannabis industry to expand. New cannabis policies are bringing in opportunities that are in some ways altering the industry.  To prove this…
Peeyush Singh
20 Oct 2021
The cannabis business is recently legalised in 20 states of the U.S., and as this business shifts from the black market into the mainstream, it has encountered unparalleled development. Like every other business, the journey in the legal cannabis business can be fun, invigorating, and yet somewhat overpowering. Thus, following a couple of tips to…
Peeyush Singh
04 Aug 2021
Cannabis! Is it legal? Well!! This is the first response of most people when they hear this word. Right? We all know what cannabis is and how it is used for health and wellness. But what we are missing is the use of technology in the cannabis industry and its growing market. So here we…
Peeyush Singh
09 Jul 2021