Originally incepted as a means to get Play Store to fetch the app listing to place the app higher in the list of category apps, Play Store Optimization has today become a necessary means for businesses to get their apps to rank higher among the list of thousands of similar apps in a category.
Just like your regular Search Engine Optimization mechanisms, Play Store Optimizations also show their effect only when worked from both on store and off store front.
Here is what both the factors entail-
On store factors – These include having the right set of keywords in the app description or its title to enable Play Store search algorithms to fetch them when showing results for a particular category. These features also play a huge role in getting an Android app featured on the store.
Off store factors – These include having enough backlinks coming in from different sources. The sources can be anything – articles, videos, or mentions. Another element that we will be adding here is users' ratings and reviews. Although, they get uploaded on the store, but the app publishers have no control on them.
For a better understanding of both the factors, read on store factors as the one that the publisher has control on and the off store one as a set of an element that publishers have no control over.
Now that you know the two factors that would directly impact the rank that you are visible on in Play Store search result, let us now get in depth of it – Of getting your app optimized for the Google Play Store to reap the benefits of the time and effort you have spent into getting it developed.
1. Market Research
The first step towards optimizing your app to rule the Play Store chart starts with a thorough market research.
Since the end goal of all your ASO efforts is to get maximum downloads, and app store optimization is 80% about keywords and phrases, you will have to get into your users' heads to know what they are looking for.
You will have to know who your users are, what are they looking for in an app that they would then move to their home screen and what words are they using to find that application both on search engine and within the app stores.
To understand what is going on in your users' head, you will have to frequent the place they frequent to show/vocalize their needs.
Once you have their insight, the next entity you will need to analyze in depth is your competitors.
Competitor analysis is as important as knowing your customers' needs. You will have to gain an understanding of what they are offering to your customers, on what mode, in what context, etc. You will have to pay attention to the power words that they are using in their app description, that are making the users install their app.
Go through their review section and see what experience users are having on their app, visit their Youtube channel or go through their blog sections to know what image they are creating in the market and what their users are liking in their offering as compared to thousand other similar apps.
An insight into both – your customers and your competitors – will show you exactly what your customers are looking for and the words they are using and getting converted with.
2. Keyword Optimization
With a very clear understanding of what your customers are looking for and the standards that your competitors have set, the next stage is to convert those insights into keywords and phrases that your users will search for your app with.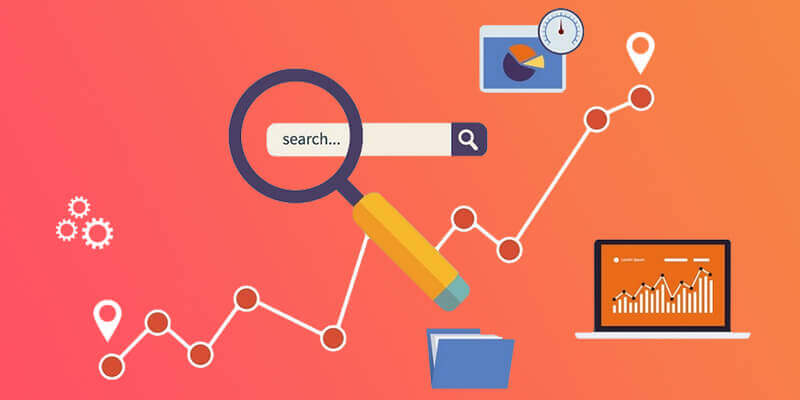 Before we move on the steps to optimize your app description and other app elements on the Google Play Store, let us first look into the process of finding the keywords that you should be putting in your app details page.
There are two ways of finding out keywords to use in your app's Play Store page –
Use what your competitors are using OR
Go manual and find keywords that the world is using when looking for a product or service in your category.
For the first method, make use of websites like "App Annie" and "Sensor Tower". Both the websites give you a detailed list of keywords that your competitors are ranking on, which you can copy/borrow/ steal for your own app.
If you are planning to take the manual route, these are the steps that you need to follow –
Step 1: Open your Google Keyword Planner Tool and select 'Search for new keywords and ad group ideas' and enter your app domain in the Search bar and click on 'Get Ideas'.
In the list that comes up, do not stress too much about the average monthly searches that are coming up on your query, focus your attention on the 'Ad Group Ideas' section. This section will have a list of keywords that users are also looking for or the similar keywords.
Step 2: Use reverse dictionaries available on the internet to get a list of words associated with your keyword.
Step 3: Once you have got the list of keywords ready with you, the next step is to refine the list.
There are three categories on the basis of which you should judge if your keyword is viable enough to get you good ranking on the Play Store or not –
Relevancy with your app idea
Difficulty range under 20
Mid Level Traffic and Search Volume.
These steps would give you a list of keywords that will help you in getting your app's ranking up in the store along with its visibility and download probability.
Now that you have the refined list of keywords, let us now move on to their usage in your app's Play Store page.
3. Title
Title is the number one element that needs to be optimized for Play Store. It has a direct impact on both search result and conversion rate. Google has extended the app title character limit to 50 characters since July 2017. To make the most of this space, put in a strong keyword next to the brand name as your app title.
An optimized title can look like any one of these four types –
Brand name: Keyword(s)
Brand name – Keyword(s)
Keyword(s): Brand name
Keyword(s) – Brand name
4. URL
The URL package is another element that can bring in a direct boost in the Play Store ranking number. You can include your keyword in the URL as well to increase its chance at visibility.
Remember that you will have to check the Play Store package URL before you publish your app. Once set, it cannot be modified later.
A successful example to prove the point that having keywords in app url impacts its ranking and download probability to a huge extent, is Nintendo's Super Mario Run game. They have added a very competitive keyword in their URL – Zara, which has made them rank a lot higher than other running games on Play Store.
5. Developer Name
One of the least thought about app page elements which you can incorporate with your keyword is 'Developer Name' section. Also, Google saves the Developer History and apps that come with a positive developer history ranks much higher than those who don't. But coming back to incorporating keywords for making Play Store fetch your app because of your developer name, if you make your primary keyword your developer name, you will be able to rank higher a lot sooner.
6. Short Description
The 80 characters short description section on your app page can easily take your app name up the Play Store ranking list. You should plan the short description in a way that it has the keywords in under 20 characters and explain exactly what your app does differently from the thousands of other similar apps.
The sign of a well crafted short description lies in how seamlessly it blends keywords with the app's USPs, while giving the users something that would grab their attention in microseconds. To gain users' attention, a number of brands have started using emoticons in their app's short description section.
7. Long Description
Play Store App Description section is your place to shine. Unlike Apple, Google offers ample space to its developers to showcase their app, fill in keywords, and convince their users why the app is better than the thousands of similar ones in the market.
In the 4,000 character space that Play Store gives you, make sure that you have entered the keywords and their synonyms in the first line and in the last 5 lines of the description, as that is what will make it searchable.
When drafting your app description, make sure it is well formatted and structured. It should have all the necessary information that would persuade your users to install the app. Feel free to mention your accomplishments, use emojis, have details of the updates you rolled out, and social media profile names for the users to follow through.
8. Icon
In the time when the mobile app users have no time to waste, icons are the first thing that they see before deciding whether to even click on the app detail or not. A clearly distinctive icon is what triggers maximum click throughs. For a business to make a lasting impact on its users, the icon needs to be picture perfect and an exact representation of what the app is about.
The biggest mistake that you can make is uploading a pixelated image because you were unsure of the icon size. Although, your partner mobile app development company will handle this for you, but for the sake of expanding your knowledge, here is the image detail –
32 Bit png
512X512 Dimensions
1024 Kb File Size
There are some things that you need to be wary of when it comes to designing your app icon, such as –
No copying of design and layout,
Avoid having text on the icon photo,
Use the latest design trend present – it can be gradient or line icon or something absolutely fresh in the market.
Lastly, until you become all famous and popular, avoid using icons that are not self explanatory of what the app is about.
9. Feature Graphic
The next visual cue that your users will follow after your app icon is the feature graphic. A well designed feature graphic is not just a stepping stone to taking users to the next stage, but also a major driver of conversion rate.
Google has set two requirements for the app feature image –
24 bit png or jpeg
1024X500 Dimensions
Here's how you can optimize the feature graphic of your android app
Do not place any necessary information by the bottom or near the borders of the image
Use Large Font Size
Keep changing it according to different schemes or campaigns
Localize the text in your featured image, if any (more into this later in the article)
Continuously keep A/B testing your featured image and its content to see what works with your users and what doesn't.
10. Video
Paste YouTube URL in the "Promo video" section of your Google Play Store listing to add video to your app page. Videos have become one of the most powerful marketing tools of today's time when the users are getting less and less patient. One of the coolest things about adding a video in your app page is that the views that you get on your play store listing gets added to your YouTube views count, automatically.
Before you upload a video on your app page, know of these two requirements –
Use an individual YouTube URL instead of the URL of a Playlist or Channel
Make sure that the video is not age restricted and that everyone can view the video.
Lastly, just like you did with your feature image, localize your app video as well to reach a greater user base.
11. Screenshot
Screenshots are your only way to create an impression about your app in front of the users. They provide a direct look into how your app looks and moves. In fact, majority of the onlookers get converted into app installers on the basis of the screens they are shown.
Your screenshots should be the best representation of your app's features. You can even add texts or highlights on the screens to explain a complicated image. Don't restrict to uploading just two screenshots, use all the slots that Google has given you. It also helps when your screenshots move from one to other in form of a story, so give it a shot.
Google has laid down a number of guidelines that are to be followed when it comes to uploading screenshots on the page, here they are –
320X384 Dimensions
24 bit png or jpeg
With this, we have now covered all the on-store factors that can up your ranking in the Play Store, and now it is time to move on to the off-store factors, which are not in control of the app publishers.
12. Rating & Review
The first element that has an impact on play store ranking is the rating and review section of your app description page. While you don't have a direct impact on whether users would like your app or not, you can most definitely make it easy for them to like your app by giving them an app that they would love, by default.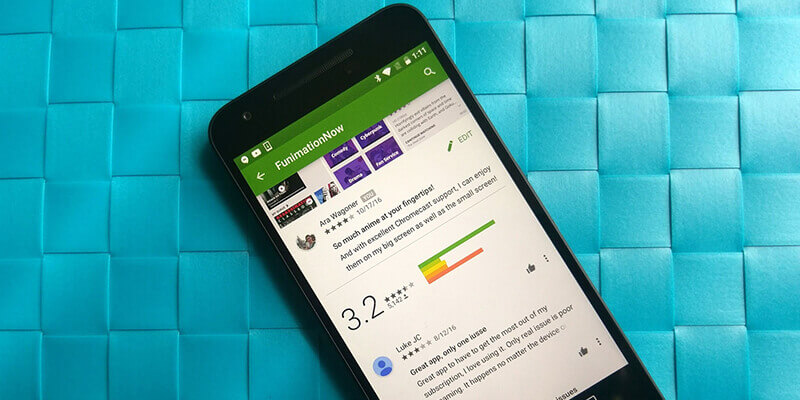 By being active in the review section, you can create an impression that the issues are heard and by constantly adding updates that touches upon those issues will also make you your users' favorite. But, above all, the only resort to getting higher stars and great reviews is by offering your users an app that they need, that comes bug free, and ultimately is something that offers some value in their life.
An important thing to consider here is that you should at all times be responsive. Don't let your users think they are unheard or ignored.
13. App Update
Another non keyword related element that has an impact on bringing up the app ranking is App Updates. To be in trend and to keep offering your users something new ever so often, you will have to keep updating your android application. It can be as minor as a bug eradication or can be as major as a UI/UX change.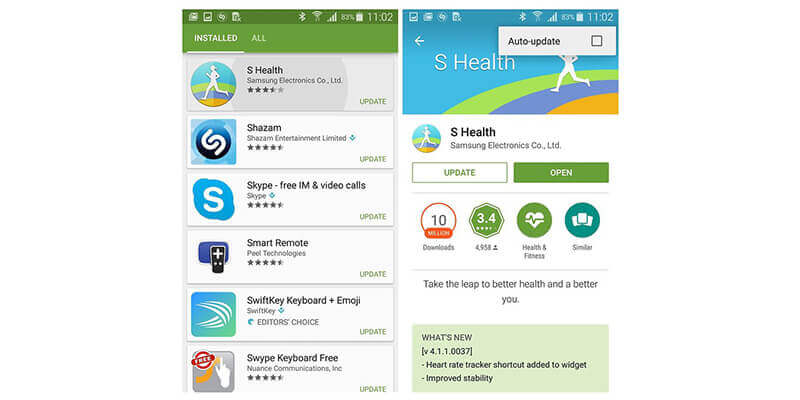 Although, there is no written time when an app should be updated, but you should aim for updating your app at least once in every 30 to 40 days. And, once you do, your users should be informed of the same. They should know that the app was updated and the details of the new update.
While you can send an email to every user individually, highlighting what the update was about, but the ideal practice is add the details in your app description section under What's New or Update (version name).
14. App Localization
There are a number of statistics doing round all over the internet, hinting towards how app localization hold the immense potential of bringing in a sharp rise in the app revenue charts. Majority of the Play Store users, as opposed to the common beliefs, belong to non english speaking nations, a section that is majorly ignored when an app is designed, developed, and promoted.
Lately more and more brands are coming up with localization tactics to expand their users base and growth, revenue chart. What it means to localize is not just translating the language from dialect A to dialect B, it means changing everything from videos to visuals according to the audience that is meant to cater.
Suppose yours is a language teaching app, now instead of explaining everything your app is about in English in your screenshot or video or even your feature image, have them designed and developed in a variety of different languages, so that the native speakers get attracted towards the app as well.
15. A/B Testing
There is no single point formula to ranking high on the Play Store listings specially when you are competing with million of other mobile apps. You will have to constantly keep making tweaks here and there to see what is working and what is users not responding to.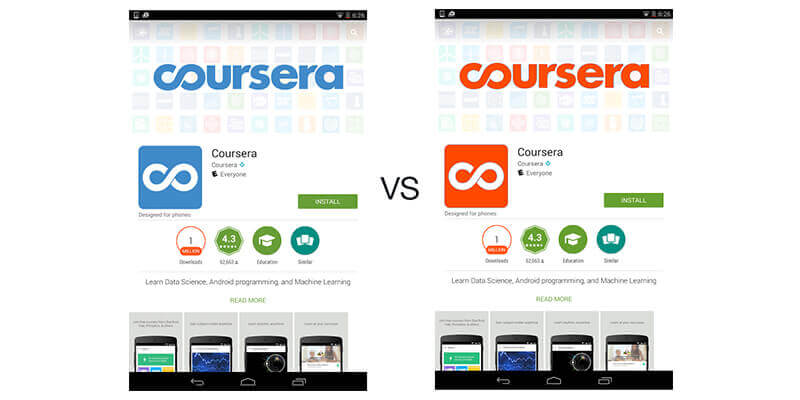 What we would suggest is that keep changing your screenshots, app descriptions. Keep shuffling your keyword list and changing your app's details accordingly. It is only when you will constantly change your app's look and read, your users would get to see something new on the page, creating a curiosity to install the app again, if uninstalled earlier.
A/B Testing should be a continuous process, you should always remain in touch with your app developers so that you are always in trend when the app users compare you with the thousands of apps in the similar category.
16. App Indexing
The idea is that the maximum traffic you send to your app listing page, the more higher you go up in ranking charts.
Now, the process of sending traffic off to your mobile app listing is not an easy one to follow. You will have to promote it in enough places and among a range of different people.
Apart from promotion, you will also have to invest time in getting your app listing page indexed. Two quick ways to make your app indexing ready are –
Focusing on Nouns as keywords
Having related words phrases as well, in addition to the specific seed keywords.
So here was the complete guide of getting your app higher on the ranking charts.
The two takeaways and parting notes that I want you to take along with you as you step in this cut-throat competition are –
A. Choose your Keywords Wisely, go with ones that have medium level traffic and competition and
B. Keep A/B Testing your ASO practices.
Read more blogs
Android 10 was a big shift for Google in the Operating System environment. We did not just finally get to work around the long-awaited Dark mode and saw several important changes happening on the app permission front, we also saw the end of an era.  With Android 10, Google brought its tradition to name operating…
Avinash Sharma
02 Apr 2020
Whenever we talk about the top programming languages to consider in the development ecosystem, the first few names that strike are Java, Python, C++, Swift, SQL, and JavaScript. However, the world of programming languages is not confined to these languages only. There are various other programming languages that are slowly and gradually rising up in…
Avinash Sharma
01 Oct 2019
Linking the power of mobile and the web together has always been one of the major challenging tasks for the development community. While the purpose saw several tools and frameworks trying to develop the perfect blend of performance and wide reachability, the result had always been sub-par.  But in 2015, everything changed.  Designer Frances Berriman…